Coeur Mining (NYSE:CDE) released 2017 earnings results last month, and the figures were exceptional. Q4 was by far the strongest as AgEq production was 10.8 million ounces and AISC came in at the lowest level in years. As a side note, production numbers exclude the San Bartolomé mine (which is now being counted as a discontinued operation since it has been sold).

(Source: Coeur)
The financial results are below. I have highlighted the cash flow figures as that's most important for any business; the surge in Q4 was eye popping. $91.8 million of OCF was generated in Q4 alone - that's almost equal to the entire operating cash flow that was generated in all of 2016. Free cash flow was $44.8 million in the fourth quarter, a fivefold increase compared to the prior quarter. For the full year, cash flow from operating activities was $197.2 million, an increase of over 100% compared to 2016. Free cash flow increased $85.5 million (from -$25.1 million to $60.4 million) in 2017.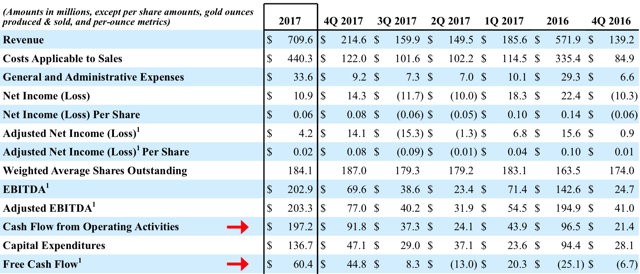 (Source: Coeur)
This graph shows the FCF that has been generated over the last few years. Needless to say, 2017 was a dramatic turnaround for the company. As a side note, these figures exclude San Bartolomé. If you plug that back into the equation, the free cash flow in 2017 and previous years would be stronger. Technically, FCF for last year was almost $72 million if you include cash generated from San Bartolomé. So if you use other sources (i.e. Morningstar, etc.) for cash flow figures, that explains the discrepancy you are seeing.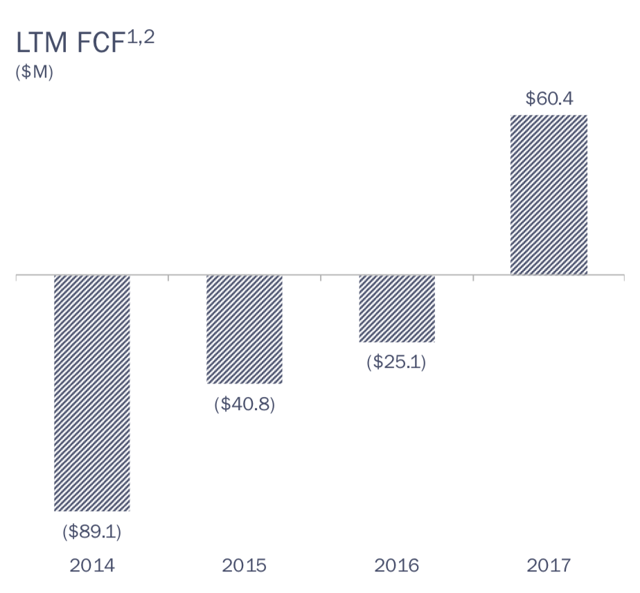 (Source: Coeur)
The main driver of that cash flow was the company's Palmarejo mine, which saw increased silver and gold grades at the high-grade Independencia vein. Average silver grade in Q4 jumped to 6.92 oz/t - far higher than previous quarters. Gold grade also increased by about 25% (to 0.10 oz/t). If you look at the very bottom of the graph you can see the FCF figures. This mine generated $110 million of free cash flow for Coeur in 2017. As a side note, Q1 of last year did have similar levels of FCF, but that was a result of unsold ounces from Q4 2016 finally being sold in the following quarter. That can be seen when you analyze the silver eq. ounces "produced" vs. "sold" lines below for Q1 of last year. Long story short, Q4 2017 was by far the best quarter ever for Palmarejo.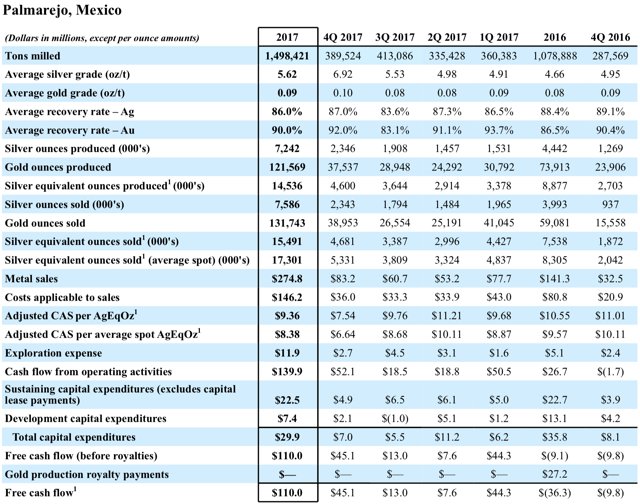 (Source: Coeur)
This mine will continue to be an outperformer as the Independencia vein is now ramped up. I don't like to use the term "game-changer" as it's often an overhyped description that many investors use too frequently, but Independencia has transformed this operation. That's already apparent in the numbers above.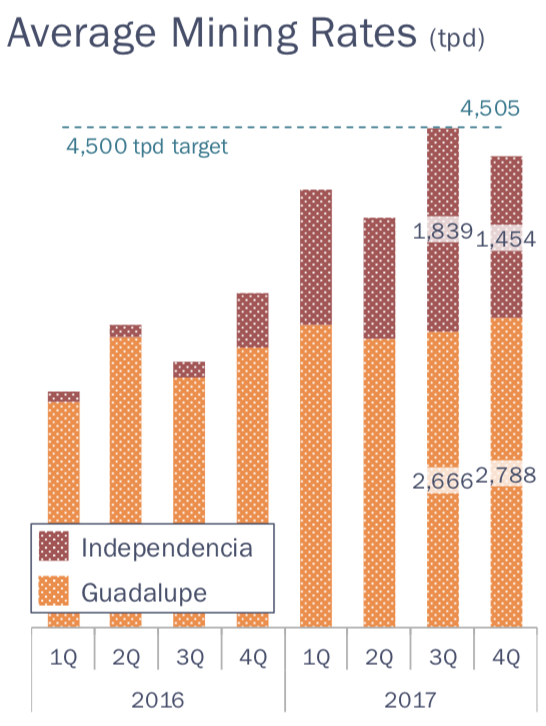 (Source: Coeur)
All of Coeur's mines generated free cash flow in Q4 2017. Wharf has been a dependable and consistent cash flow positive asset, so it's no surprise that Q4 was another strong quarter of cash generation for the mine. Rochester and Kensington have been lumpy, but they managed to post positive results last quarter. In fairness to Rochester, the mine was in a high capital spending phase. Last quarter we finally started to see the kind of cash flow this mine is capable of generating. Kensington also had a positive quarter of FCF even though capex was greater than it was in previous quarters.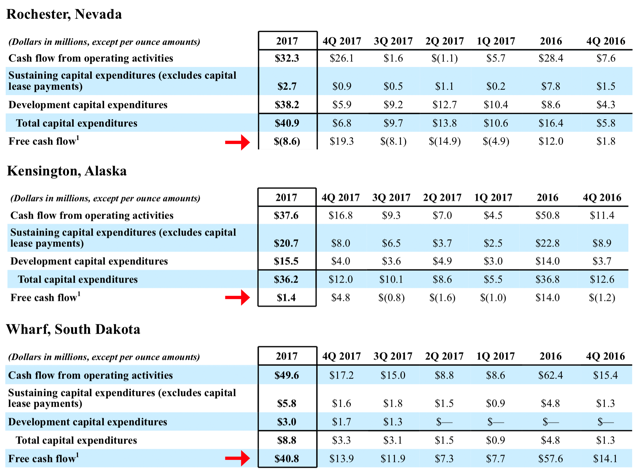 (Source: Coeur)
I also want to add this about Wharf: Coeur paid $105 million for the mine in early 2015 when it acquired the asset from Goldcorp, and since then, Wharf has generated $127.5 million in cumulative free cash flow for Coeur and a ROI of 20%.

(Source: Coeur)
This mine isn't done yet as reserves have significantly increased as well since Coeur purchased the asset. Wharf's mine life is now roughly 10 years compared to a mine life of about 7 years at the time of the acquisition.

(Source: Coeur)
The company also saw a bump up in reserves at its other mines as well in 2017. The company has a solid foundation of long-life assets to build off, and they have already added another one with the Silvertip acquisition. Silvertip will allow for the company to continue this consistent increase of silver equivalent production, as output for this year is expected to climb to 37.7 million AgEq ounces.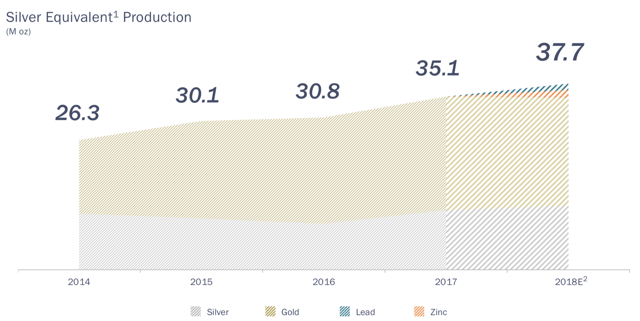 (Source: Coeur)
Higher Cash Costs For 2018
The stock initially sold off after earnings were released as Coeur is forecasting a fairly good jump in AISC for 2018 compared to prior year levels.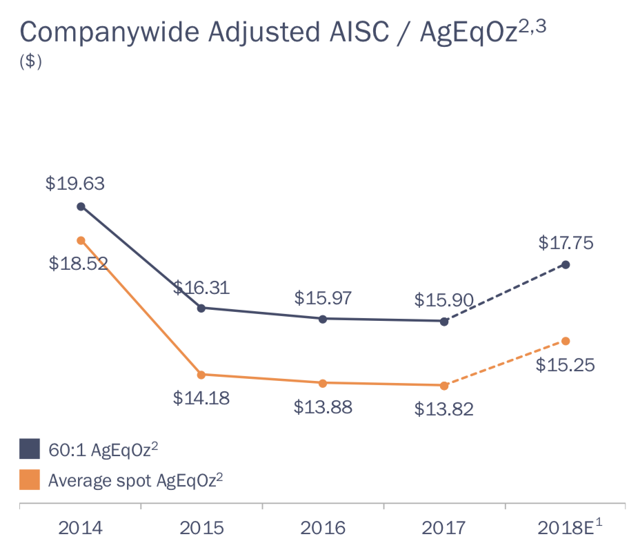 (Source: Coeur)
Breaking this down further mine by mine, all operations with the exception of Kensington are expected to see higher costs. This increase in AISC is because of elevated costs at Silvertip as it ramps up production in 2018, lower grades and higher stripping costs at Wharf as it's a slightly lower-grade year according to the mine plan (about 4 million tons of waste needs to be moved to get at some additional higher-grade material in subsequent years), and Palmarejo and Kensington will have more sustaining costs going forward.

(Source: Coeur)
However, while sustaining costs are increasing, development costs are falling as projects are now complete. For example, development capital expenditures at Rochester totaled $38.2 million in 2017 due mostly to the Stage IV leach pad expansion (which was completed and commissioned during the third quarter). This year, capital expenditures at Rochester are only expected to be $7-$15 million. Coeur said in the earnings press release that:
the Stage 4 project was one of the last pieces of our multi-year strategy at Rochester to achieve a higher level of scale and efficiency. We expect 2018 to be a strong cash flow year at Rochester as we now start to see the payoff from the strategy.
In 2017, Rochester generated negative $8.6 million of free cash flow, so there should be quite a turnaround this year for the operation. We are already starting to see that given how much cash flow the mine generated in Q4. Costs will be higher for Wharf, but CDE stated it "will still generate good free cash flow again in 2018." In the end, this year Coeur will see a reduction in total capital expenditures (even though sustaining capex will be higher), which means even more potential free cash flow generation compared to 2017.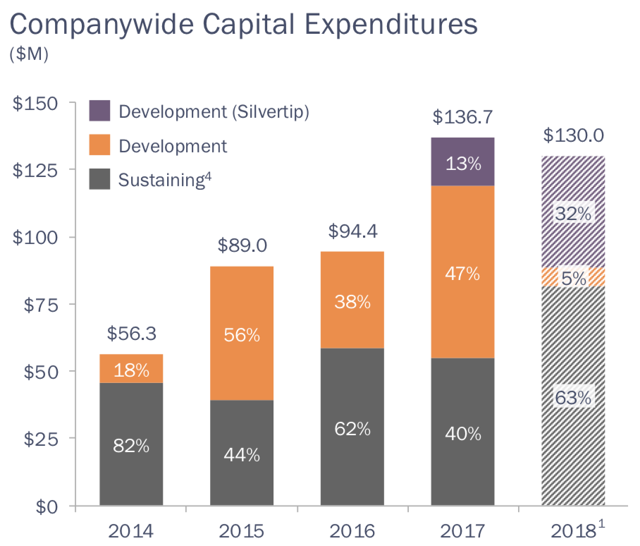 (Source: Coeur)
Two Issues
1. One issue that investors should be paying attention to at the moment is the water problem with the Jualin deposit at Kensington. Coeur has spent the last few years developing Jualin, which will be a high-grade ore source for Kensington and will have a significant impact on the mine's economics.
Q4 output at Kensington was almost 35,000 ounces of gold thanks to a big jump in grade. The Jualin deposit is now online and production is "expected to accelerate throughout 2018." Though when production guidance was given earlier this year, I was surprised that Coeur was forecasting such low figures from the mine. I would have thought the Kensington would at least be able to squeeze out 125,000-130,000 ounces in 2018, maybe even 140,000 ounces. It was perplexing why this higher grade ore wasn't going to boost production. I thought CDE must be anticipating lower tonnage. But why? The company did mention in the press release that they will dewater the mine area to "facilitate more efficient drilling, development, and mining activities" and the Raven deposit "is expected to remain a supplemental source of higher-grade material throughout the year." We needed more clarification on this matter.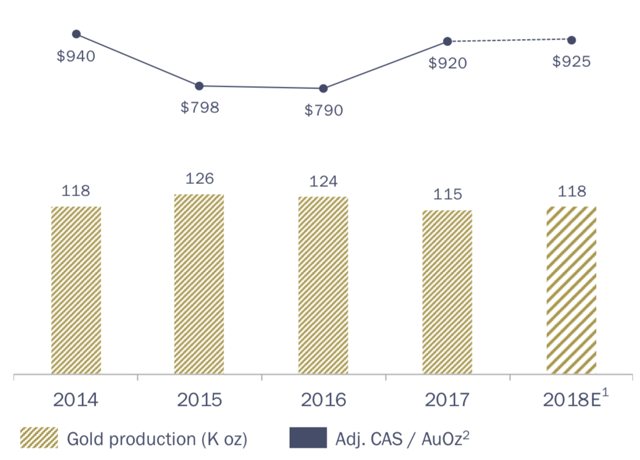 (Source: Coeur)
Coeur went into a little more detail in the earnings press release and it appears they are having a problem with water seeping into Jualin and they have been "grouting that whole way down as we've done that development, and water has just been a constant struggle and has slowed us down." Coeur also stated that it has taken them longer than planned to start accelerating mining activities at Jualin due to the amount of water they've encountered.
The company has begun efforts to dewater Jualin and they are still mining development ore out of the deposit. Coeur now expects to hit commercial production levels later this year.
The company needs sources of higher grade ore in order to make Kensington a sustainable free cash flow generating asset. The reserve grade is around 6 g/t, Jualin is more than triple that grade. If they can ramp that deposit up to full production, then it should transform the operation. Coeur only needs 200-400 tons per day of higher-grade material to supplement the 1,500-1,700 tons per day of reserve-grade material in order to make this a strong cash flow producing asset.
To show the impact higher grade ore can have on the operation, in Q4 2017, the mined grade at Kensington was 0.22 oz/t and free cash flow was $4.8 million. Compare that to the first three quarters of last year where the mined grade was 0.17 oz/t and Kensington generated negative free cash flow. This is pretty simple: similar tons milled but with a higher average gold grade equates to far more gold ounces produced. Last quarter's mined grade was much better than previous quarters thanks to high-grade ore being sourced from the Raven zone. Both Raven and Jualin are expected to contribute this year. It's important for Coeur to fix this water issue at Jualin so this deposit can contribute mill feed to the overall operation.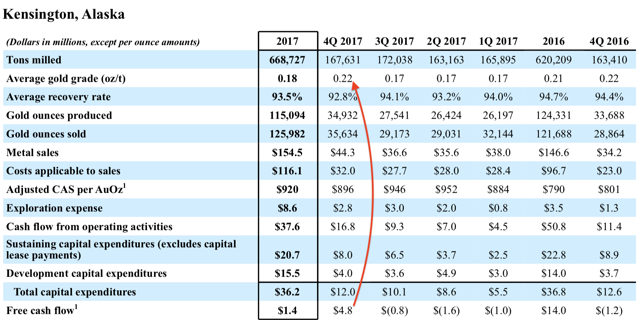 (Source: Coeur)
2. Another issue, albeit a minor one, is it appears as though the ramp up to 1,000 tpd at Silvertip is running behind schedule. Previously, the company said they:
"plan to put Silvertip in production by the end of the first quarter of 2018 and start to ramp up to production rates up to 1000 tons a day later in the year."
In the earnings press release, though, they said:
"mining and milling rates are expected to accelerate and end the year around 750 metric tons per day. We expect to reach and sustain a 1,000 metric ton per day rate in 2019."
The company needs a permit to operate at 1,000 tpd, 365 days per year, and they don't anticipate receiving that permit until the end of this year. That's likely the reason for this delay in ramp up.
Of these two issues discussed, the only one that concerns me is what's taking place at Jualin. The delay in the mine permit at Silvertip is just a minor issue.
Why Palmarejo Could Outperform
Palmarejo is expected to be down for the year in terms of AgEq output. Although if you look at the production schedule that was released two years ago, 2018 was forecasted to be a stronger year than 2017. Next year was/is to be even better. The mine has been outperforming this production schedule, and I believe that it's possible that Palmarejo will exceed 2018 guidance.

(Source: Coeur)
This is the company's flagship asset and the cash flow machine for Coeur. If this outperforms then CDE should have a great 2018.
Summary
2017 was a very strong year for CDE. Production for 2018 is expected to increase, but so are cash costs. The jump in AISC might appear highly negative, but development costs will be much lower this year and all operations except for Silvertip are expected to be free cash flow positive. Investors are just looking at this on the surface, they need to dig deeper to understand that overall free cash flow for this year could be even stronger due to the huge reductions in development capex.
If production at Palmarejo exceeds expectations, and all other operations perform in line with guidance, then it should be a solid year for the company. Two things investors need to watch for: the ramp up progress at Silvertip and the dewatering at Jualin. It's important those go smoothly.