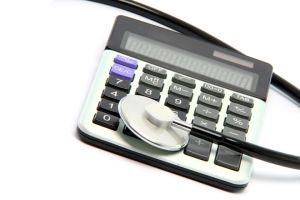 After a smooth rise from last year's lows, stocks stalled out over the past few weeks. Which way would they go? Many pundits predicted higher prices ahead, using the rationale of "still cheap." However, this is one of those times when valuation measures don't mean much. Here's why, how we should view this drop and, most importantly, how to take advantage of it.
Why the drop? The stock market entered the earnings dead zone too "toppy" just as economic reports started showing slower growth.
The period between earnings reports, like now, is a kind of no-man's-land where economic reports and other news take over. The current period will last until April 10, when Alcoa (AA) leads off the first quarter 2012 reporting cycle.
These dead zone times allow analysts to fine-tune their expectations based on the latest information, and they allow investors to reevaluate their positions. Therefore, any excess reactions during the earnings period can be adjusted.
The recent earnings reports were good, but not dazzling. Therefore, the stock market's continued uptrend and subsequent pause seemed to fully value that most recent information, putting buyers and sellers into a stalemate. Such positions (at the end of uptrends and downtrends) often result in a reversal.
Moreover, we are seeing many economic reports coming in with continuing improvement, but at a slower rate. This more moderate growth was underlined in Ben Bernanke's recent comments. Because stock prices are built upon expectations, a slower growth rate necessarily weakens stocks' support.
Caterpillar's (CAT) recent decline reflects those factors and mirrors the moves of many stocks: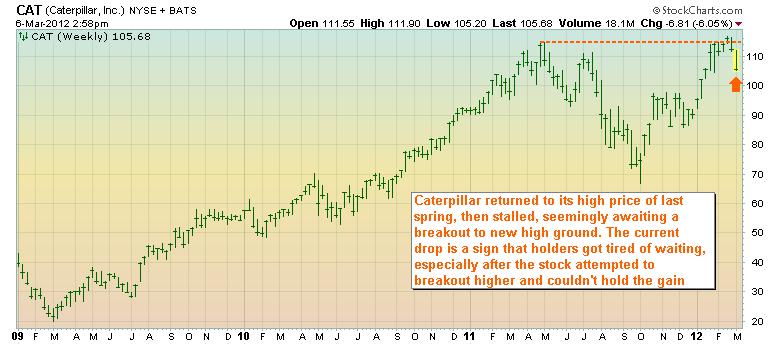 (Stock chart courtesy of StockCharts.com)
How should we view the drop? As an adjustment and a shift change, not as the beginning of a bear market.
To me, the best saying about today's situation is, "When stocks cannot go up, they go down to make room." During this earnings dead zone period, only surprisingly good economic news will bolster the stock market. Therefore, the current weakness can continue until analysts and investors see what the first quarter earnings reports show.
Moreover, we can expect stock prices to decline further to produce more attractive valuations. Yes, valuations are "still below normal" compared to average historical measures, but we also have a "still below normal" economy and investor interest in stocks. We will see all three factors become normal again, but not quickly, and certainly not today.
On the positive side, the economy and financial system continue to improve, and companies remain successful. Therefore, we shouldn't expect this drop to be a precursor to a bear market - just an adjustment to make prices more enticing to buyers.
Important: The above descriptions imply that, after the drop, we will get more of the same from the stock market. However, I believe that there will be a shift to a "new" bull market, with investors more focused on individual stock selection, particularly the search for special opportunities offering higher growth potential. The large, leading companies likely will still grow, but at a reduced pace.
How can we take advantage of this period?
I have explained my strategy in three recent articles.
On Feb. 9, I discussed getting prepared for the stock market change in "As The Stock Market Shifts Gears, So Should We." here
On Feb. 17, I explained the need to sell holdings and select a strategy that meets our investing style to take advantage of what's coming in "3 Steps To Winning In The New Bull Market." here
On Feb. 21, I focused on why cash reserves can be an important strategy component in "Build Cash Reserves For Superior Stock Returns." here
Now that the stock market appears to have begun its shift, I would add the following recommendation: Practice patience as stocks settle to lower levels.
Many stocks have been sitting atop significant run-ups and have only just started weakening. The list is broad and many haven't had a meaningful drop for some time. Thus, the current decline could give us some attractive buying points at 10% to 15% off recent highs.
The Bottom Line
The stock market appears to have entered a period of both price adjustment (down) and its changeover from the "old" bull market leaders to the "new" bull market environment of stock picking for superior returns.
Because so many interesting stocks have been sitting near their highs, we can wait for prices to come to us. Remember: A 0% cash yield handily beats a -10% (or more) stock drop while we wait.
Importantly, don't expect to market time and jump in all at once. Setting up for the "new" bull market, individual stocks likely will exhibit different paths from the stock market. Therefore, we should expect to get buying opportunities separate from whatever the overall market is doing.
Disclosure: I have no positions in any stocks mentioned, and no plans to initiate any positions within the next 72 hours.
Additional disclosure: Positions held: Long some U.S. stocks. Long commodity ETFs (both bull and bear - i.e., inverse). Significant cash reserves from recent U.S. stock and U.S. stock fund sales (including Cerner [CERN] mentioned in the Feb. 9 article).