Preamble
As investors/speculators we need to be aware of a myriad of factors that impact on our decision-making process. In this article we will try and cover just a few of them that we believe are important to this process.
Russia or indeed many other countries take the number one slot in the main stream media as sensationalism is the name of their game. On any given day a different country can be problematic but usually for a limited time only. Apathy on the other hand is with us and remains entrenched as a major threat to our way of life. In general, apart from a few exceptions, we are apathetic to towards Debt, Independence, politicians, central bankers, etc.
Debt: Most of the countries in the western world are stuck in a state of progressive debt creation. The solution to every problem is to throw money at it and then more money regardless of the existing debt pile and the mounting interest that needs to be found to service it.
This can't go on. The ability to fund such an existence gets more expensive every day and therefore the risk of default increases. Given an increased risk the lender will demand a higher return on his funds and so the spiral into the depths of failure continue unabated. One marker we can use for measuring the effect of the increased cost of funding is the US 10-year bond which has sprung to life of late and as we write is currently flirting with the 3% level. The days of negative or zero interest rates now look to be numbered. As the 'base' rate increases so will the cost of most financial instruments such as mortgages, credit card loans, bank loans, etc, they will cost more impacting on our everyday life styles.
When we go to the voting station do we vote for less spending on health care, transportation, education, defence, not a chance. We accept the goodies and sink back into our soporific state of blue sky bliss.
Independence: The European Union is governed by unelected bureaucrats except for Britain which has finally baulked and possibly Italy who may follow the Brits to the exit. In US there are only two main parties, and both are big spenders with little regard to the trillions that they already owe. Neither of these two super states offer the populous true democracy or fiscal prudence.
Politicians: Most have a short-term outlook with the priority being to stay employed with the good of the country being of a secondary consideration.
Central Bankers: Indulge in lots of rhetoric about the coming 'normalisation' of interest rates. At a snail's pace we occasionally get a tiny rate hike, but we are a long way from normalisation. History tells us that even beyond biblical times the rates were around 6%. Can you imagine the mayhem that would be caused if we were to return to that level of funding costs?
The point is that we do not react to losing our independence, political ineptitude, central bank manipulation, etc, we yawn and hope it will be alright on the night.
The Outcome:
Debt stories never have a happy ending, political bungling carries a cost, manipulation of the financial system has pushed it to breaking point.
The Goldilocks stock market is teetering on the edge of the abys, the bond market bull is on its last legs, bubbles in many asset classes are about to burst.
Bitcoin is now half of the value that it was recently
Residential property values in major cities such as London and New York have started to correct.
Investors and speculators alike are now looking to cash out and move their funds to a vehicle that has limited downside so that they can preserve their wealth and possibly make a profit.
Conclusion:
Given the above synopsis that many of the high-flying sectors of the economy are about to fall we need to look further afield if we are to generate profits and avoid taking a financial bath.
Without a crystal ball none of us can know where these funds will go next. They could return to cash and stay there, however, most currencies are still active in the race to the bottom, so investors may not want to linger there for very long.
The overriding question that we wrestle with is where will the funds go? I am not a perma-bull or perma-bear on any sector of the market, but my personal interest is in the precious metals sector of physical gold and silver and their associated mining stocks. The reasoning behind this way of thinking is that this sector is so unloved, and it is closer to its bottom than any top. The downside risk is now limited, and the upside reward could be record breaking. If some of these exiting funds are reallocated into the precious metals sector, then it could be the place to be.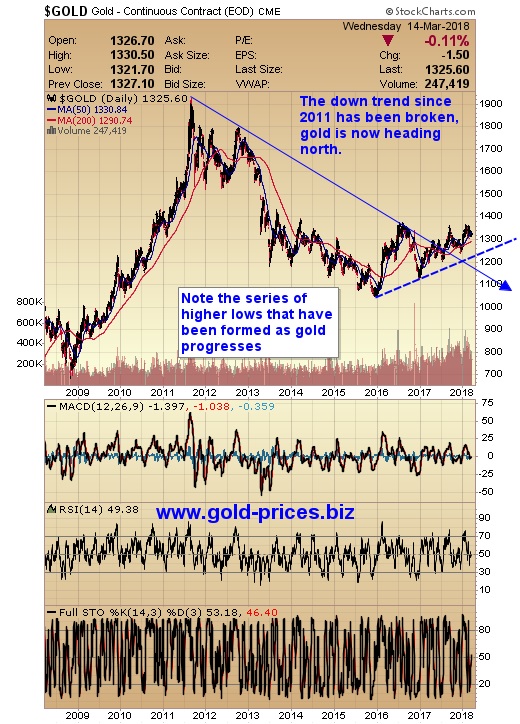 A quick look at the chart of Gold's progress shows that it has broken out of its recent downtrend and is making slow but steady progress. Several higher lows have formed along the way, but the resistance at $1360.00/oz needs to be overcome in a convincing fashion before this sector will attract the non-believers.
Go gently these are treacherous waters.
As per usual your comments are most welcome whether you agree with us or not.
Disclaimer: www.gold-prices.biz makes no guarantee or warranty on the accuracy or completeness of the data provided. Nothing contained herein is intended or shall be deemed to be investment advice, implied or otherwise. This letter represents our views and replicates trades that we are making but nothing more than that. Always consult your registered adviser to assist you with your investments. We accept no liability for any loss arising from the use of the data contained on this letter. Options contain a high level of risk that may result in the loss of part or all invested capital and therefore are suitable for experienced and professional investors and traders only. Past performance is neither a guide nor guarantee of future success.
Disclosure: I/we have no positions in any stocks mentioned, and no plans to initiate any positions within the next 72 hours. I wrote this article myself, and it expresses my own opinions. I am not receiving compensation for it (other than from Seeking Alpha). I have no business relationship with any company whose stock is mentioned in this article.