Massive growth in LED lighting adoption has been predicted for years as the most efficient lighting to replace incandescent, fluorescent, and other legacy lighting systems. Beginning in about 2012, significant LED adoption began to take hold which resulted in approximately 12.6% of the installed base of lighting systems by the end of 2016 according to a U.S. Department of Energy report. The transition slowed in 2017 due to reduced business investment spending and other issues. As LED materials prices fell, businesses held off purchases with expectations of lower pricing. As demand for materials increased, price decreases abated in 2017 as demand outstripped supply, stabilizing materials prices, according to one report. Like all semiconductors subject to Moore's Law, LED prices will likely continue to decline while performance increases. As performance features are added, some manufacturers will be able to differentiate their products beyond what is available in commodity-type items, muting the effects of price erosion. In addition, with little inflation in basic materials costs, there existed reduced motivation to invest in lighting systems. Now that some inflation has begun to show up in the numbers, that is likely to change. As the graph below demonstrates, the Producer Price Index (PPI) has been moving up since the end of 2015 and, as predicted by many analysts, prices will likely continue an uptrend due to increased global demand. Faced with the foregoing, there will be more incentive to invest in lighting systems that will likely cost more later.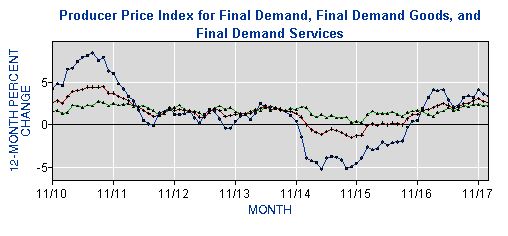 (Source: U.S Bureau of Labor Statistics)
In fact, evidence now appears to be building to substantiate a view that the LED lighting industry may be due for an upturn. First, lower corporate taxes and repatriation of funds will provide cash for investment. In addition, an overall increase in the economy and GDP will necessitate businesses to invest in capital improvements.
Beyond economic growth, LED lighting offers unique opportunities to invest in existing facilities without expanding fixed costs. With an average payback period of 1-4 years, LED lighting pays immediate dividends in energy savings for existing industrial, commercial, office, and institutional facilities. In addition to savings, LED provides an opportunity to configure lighting output to optimum visual characteristics and performance, enhancing worker perception and performance. Accordingly, some analysts are forecasting that 2018-2022 will show marked improvements in the business, documented in at least one report. Second, the ISM Purchasing Managers Index (PMI) is moving up significantly both year over year and monthly, ending at 60.8 in February, pointing to the highest expansion in manufacturing since 2004. The data suggests that companies not only will have funds for investment but also have the sentiment to execute on it.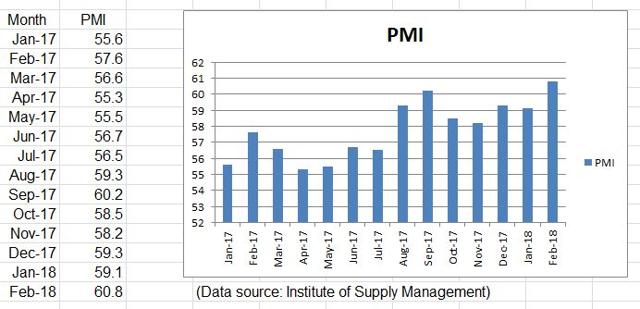 In addition to the foregoing, a Business Round Table survey just reported that 137 CEOs expressed the highest level of confidence in the 15-year history of the survey.
According to a U.S Department of Energy report, LED lighting made up 12.6% of common lighting installations at the end of 2016. The report estimates that the installed base of LED installations translates into $4.7 billion annual savings in reduced energy bills, or about 469 trillion British thermal units (tBTU). The report further stated that savings would have been 10 times greater if lighting applications would have been installed with top-tier LED lighting technologies which include connected lighting controls, which were installed only in only 0.1% of lighting systems at the end of 2016. Extrapolating the foregoing numbers to just 50% of adoption, along with connected-ceiling controls, offers a sense of potential energy savings available, which would also result in a much cleaner environment.
The chart below illustrates energy savings, as well as potential energy saving that could have been attained with connected controls, in key categories of lighting installations. It is apparent from the data that retrofitting to LED involves much more than changing light bulbs when the greatest savings potential is in controls connected to lighting. Another key fact revealed in the report is the fact that "Overall, acceptance has been faster for outdoor applications (street and roadway, parking garages and lots, and building exteriors) than for indoor categories." The foregoing could be significant when evaluating past and potential future performance of LED players.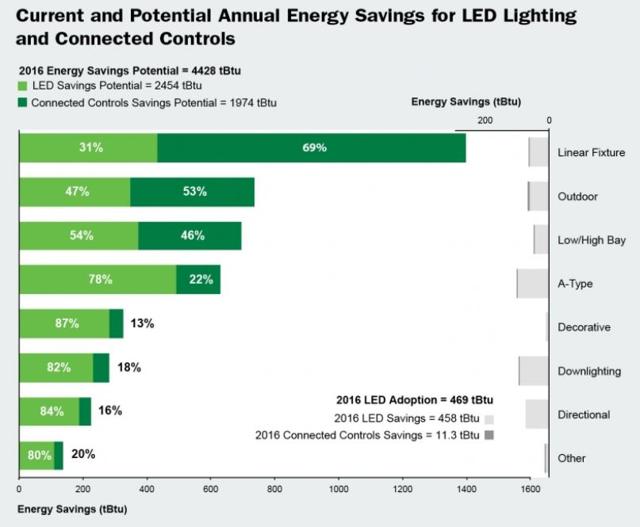 (Source: Energy.gov, U.S. Department of Energy)
In spite of the foregoing, the lighting industry, and especially LED lighting, suffered market weakness and underperformance in 2017, which has extended into 2018. Individual U.S. stocks of LED pure plays have largely declined over the last 12 months and have underperformed the market by a wide margin, which is evidenced in the stock charts below. The stocks of two European players, Philips Lighting (OTCPK:PHPPY) and Osram Light (OTC:OSAGY), which could be considered pure plays, have performed in a similar manner in the last several months. While the charts reveal that Cree (NASDAQ:CREE) has made a move to the upside, it is due mostly to a recent acquisition announced for the purchase of Infineon RF-Power business to operate in its Wolfspeed division, which will be discussed later. While the LSI Industries chart shows upward movement, it was down over the last 12 months (as are all the others with the exception of Cree).


(Courtesy of StockCharts.com)
In the aftermath of stock market moves up, with the Nasdaq currently trading at an all-time high, many investors look for segments of the market that have not participated but have the prospect for upside. LED lighting could be such a segment. Over the last several years, the LED lighting business has suffered from pricing pressures due to overcapacity of materials as well has industry weakness due to lack of business investment. The foregoing can be deciphered by viewing the charts above for six LED lighting pure plays, which have mostly moved sideways to lower.
The remainder of the article will focus on the U.S. LED lighting pure plays represented in above charts. In addition, GE (NYSE:GE), Flex Ltd. (NASDAQ:FLEX), which was formerly Flextronics, and Eaton (NYSE:ETN) are large players in the market, but not pure plays.
Acuity Brands:
One of the most notable players above is Acuity Brands (NYSE:AYI) that has been a lighting industry powerhouse and growth story for years, which grew revenue 80.5% over the last five years and EPS 61.7%, from $1.8 billion to $3.3 billion and from $2.42 to $6.63 per share respectively. In the latest Q1 results, however, the company reported decreased revenue and earnings, for the first time in seven years, reflecting industry weakness. During the earnings conference call, management indicated that it is bullish on the long-term prospects in the business, due in part to tax reform and strong readings on the Dodge Momentum Index which, despite a tepid rise in February, has moved up significantly since the end of 2017. Management further elaborated on the conference call that, while they are bullish on the business, they do not expect a quick upturn due to tax reform.
As noted in the graphic below, Acuity depends on new construction for 50% of its business, which is measured by the Dodge Index and which could explain some of the recent downturn. Operating with 21 separate brands, it is apparent that Acuity is well diversified by channels of distribution and end markets. Also noteworthy is that the company is pursuing lighting technology improvements with lighting controls and the IoT and recently announced the acquisition of Lucid Design Group, a provider of building analytics.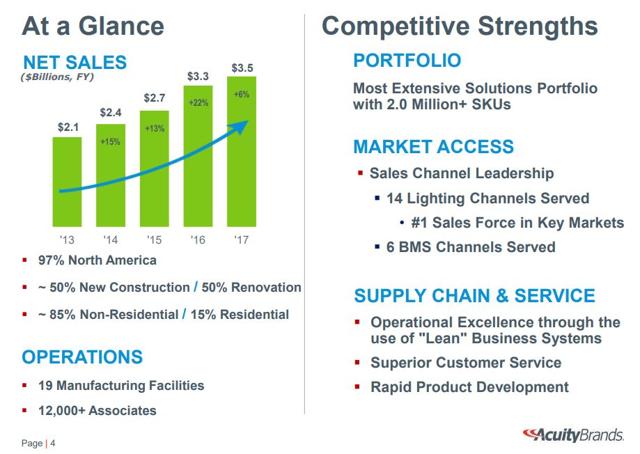 (Source: Company presentation)
While management stated on the conference call that LED products make up two thirds of net sales, it should be realized that 50% of its business is new construction, which is largely made up of fixture sales. With 2 million total SKUs, however, Acuity is a huge and growing LED player.
Cree:
Cree has been an innovator in the LED space, both in materials and lighting, However, the stock has floundered over most of its history, ranging in price between about $10 to $90 over the last 20 years. A full description of the company's business can be obtained with a recent SA article. However, in September, Gregg Lowe was appointed CEO and in just a short time the company has been set on a new course. Mr. Lowe was successful in positioning Freescale Semiconductor for the eventual sale to NXP Semiconductors (NASDAQ:NXPI) at a premium.
After a five-month study of the business, management held an Analyst Day Presentation in New York which presented a comprehensive plan for the business, including guidance on where it expects the business to be in 2022. In essence, the lighting business will remain about the same, while the Wolfspeed and LED semiconductor are being positioned for major growth, as illustrated in the graphic below.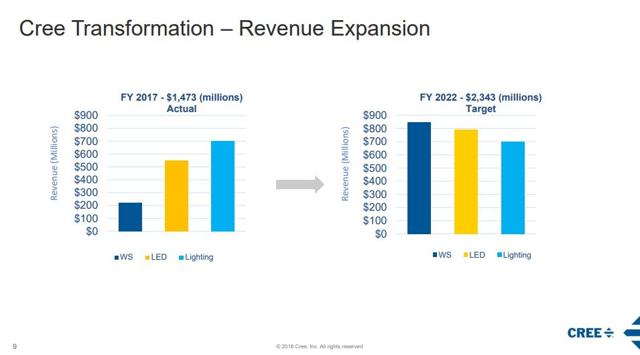 (Source: Analyst Day Presentation, used by permission)
It is apparent that management is re-positioning the company to capitalize on its greatest strengths. The plan calls for increasing gross margins from a current 25.7% to 40% by 2022, with operating margin at 20%. Gregg Lowe has a reputation for execution, as exemplified at Freescale, and in his short time at Cree, the business (and the stock) is moving. On Mr. Lowe's first day on the job, the stock was $26.29 on September 26 and now trades near $42.00, for a gain of 60%. It is apparent that Cree is executing on a turnaround that will have lasting power to position the company for sustained growth in revenue and earnings.
Energy Focus:
Energy Focus (NASDAQ:EFOI) was in high-growth mode for several years as it grew from $9.4 million in revenue in 2013 to a peak of $64.4 million in 2015, which declined to $19.8 million in 2017. As the graphic below illustrates, the company is primarily in the business of supplying LED tubes which replace fluorescent lamps. It ramped up revenue selling to the U.S. Navy, converting Navy ships to LED. When sales tapered off from the Navy, it began a restructuring of cost cutting and diversification into fixtures, controls, and sensors. Early in 2017, the entire management team was replaced with a new executive team put in place to restructure the company, cut costs, and implement a new business strategy. Fiscal 2017 revenue consisted of $4.6 million and $15.2 million in sales to the military and commercial applications respectively. During 2017, the company introduced a new product line, RedCap Emergency Backup, which is designed to provide energy to LED lighting systems following a loss of power. The company also announced plans to participate in the connected ceiling market.
While the global power backup market continues to be a growth business, with many challenges to harness and resupply energy worldwide, it is difficult to envision a small player the size of Energy Focus achieving a major presence in an already over-populated space. While it may be a unique concept to backup energy directly in lighting applications, most power backup systems handle complete operating systems at scale. To date, the company has not offered guidance on product category revenue for 2018. Since management stated on its Q4 earnings conference call that new product introductions would take 12-18 months to gain traction, it could be assumed that 2018 revenue will consist mostly of lighting tubes and standard fixtures. A big drawback to selling lighting tubes is the fact that they have limited control and connectivity features utilizing lighting technologies mentioned in the U.S. Department of Energy report. While the company has a stated goal of diversification beyond lighting tubes, its degree of diversification is currently unclear.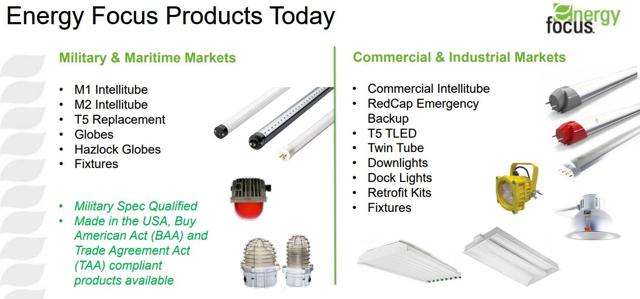 (Source: Company presentation)
LSI Industries:
Much more established in the LED industry, LSI Industries (NASDAQ:LYTS) has annual revenue of about $341 million. While currently losing money due to the downturn described earlier, the company has done better than most due to its position in the industry.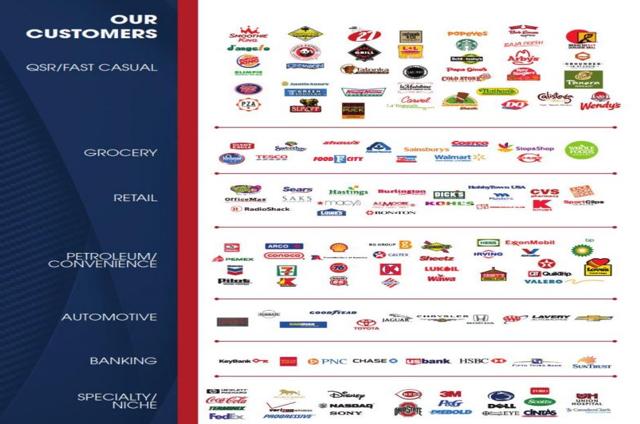 (Source: Company presentation)
As noted in the graphic above, LSI has a strong position in retail and provides a complete product offering in graphics, lighting, and technology, as illustrated in an investor presentation. As noted in its 2017 Form 10K, the company offers turn-key solutions from a single source. Accordingly, the company performs a wide variety of services, including design and construction of graphic signage, lighting, and technical enhancements. The company has been very active in exterior lighting, particularly with petroleum service stations. As noted earlier in the U.S. Department of Energy adoption report, exterior lighting has experienced wider LED adoption than other lighting applications.
In February of 2017, LSI announced the acquisition of Atlas Lighting Products, a supplier of LED lighting fixtures to lighting distributors. Atlas has annual revenue of about $56.5 million, which provided a boost to revenue comparisons. Management stated that the acquisition was complementary to its existing business with very little overlap. In addition, the acquisition opens up a new distribution channel, expanding its market reach.
Orion Energy Systems:
Orion Energy Systems (NASDAQ:OESX) currently trades near 85 cents per share, but there is much more to the story than the stock price appears to indicate. Historically, Orion has been a leader in the industrial lighting space, with clients consisting of 40% of Fortune 500 companies. Some of its clients are represented in the graphic below included in a recent investor presentation. Its energy savings products were sold mostly to national accounts during the transition to fluorescent lighting. With the transition to LED underway, the company has new opportunities to upgrade clients to LED. In the last two years the company has begun a transition beyond the industrial and commercial market, which represents 13% of the overall market, to an agent sales model which has increased the addressable market to 77% of the overall lighting market. The company maintains a national account base of selected clients like Toyota and Ford Motor Company, which were early adopters in selecting Orion, and from which the company continues to book revenue.
Operating mostly in the industrial space, high bay lighting and controls were a major part of the business. However, in 2013, the company acquired Harris Lighting, which was principally a supplier of troffer lighting in commercial and office environments. The acquisition enabled the company to add and expand technologies and new products in the troffer lighting space, which expanded the addressable market. Currently, Orion markets products that offer the highest performance in the industry. For example, its ISON class high bay lamp provides 214 lumens per watt (LPW), which is only available from Orion. The company also markets highest LPW products throughout its product suite and historically sold a proprietary line of lighting controls. Currently, the company incorporates sensors and other devices into its fixtures that can be utilized with almost any connected ceiling, lighting control system that a client may select.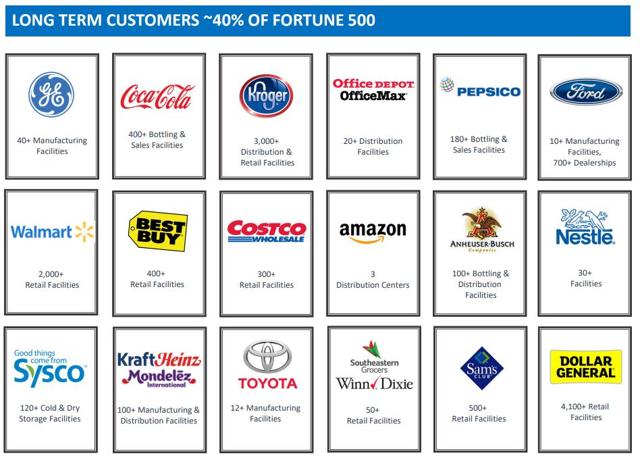 (Source: Company presentation)
The stock price of Orion has been driven by a long transition to LED as financial results were compared to declining legacy product sales numbers. As reported on a Q3 earnings conference call, the company has transitioned its LED revenue to 91% of lighting sales at the end of the quarter. Orion has continued to reduce operating costs during the transition period and maintains a strong financial position relative to its size, as shown in the graphic below. In spite of constrained revenue during the current downturn, management was able to improve gross margins to 29.6% at the end of Q3. Orion appears to be positioned well for an improved LED lighting market and, as the process begins, the stock could experience significant upside with new business announcements.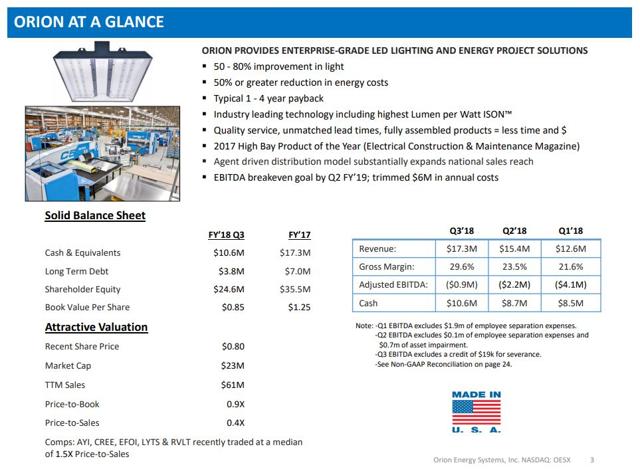 (Source: Company presentation)
Revolution Lighting:
Revolution Lighting (NASDAQ:RVLT) experienced rapid growth in the 2013-2016 time frame, growing from revenue $26 million in 2013 to $172 million in 2016 (source: Form 10K). During the time frame, Revolution stock climbed from 87 cents in 2012 to a current range near $3.60. The company was an early participant in LED adoption and achieved major growth through nine acquisitions over eight years, consisting of Lumificient, Seesmart Technologies, Relume Technologies, Value Lighting, Tri-State LED, All Around Lighting, Energy Source, EL Lighting, and TNT Lighting (source: Form 10K for fiscal year 2016).
Revolution's revenue weakened significantly in 2017, declining 11.6% from $172 million to $152 million. The company reported net losses during 2013-2016, which accelerated to $53.9 million in 2017. A review of the company's product offerings reveals that it remains mostly in the lighting tube business. While management has announced plans to diversify its product offerings, a review of company reports, conference calls, and presentations did not ascertain the level of diversification in the company's products. Revolution expanded its client base in 2017 by securing an initial contract with the U. S. Navy to supply lighting tubes. Previously, Energy Focus (EFOI) discussed earlier was a sole supplier of lighting tubes to the Navy, which represented a business win for Revolution.
Due to the importance of connected controls and technologies imbedded into lighting fixtures, as referenced in the U.S. Department of Energy report, it is difficult to envision how lighting tubes will have a growing significance in LED adoption. In addition, LED lighting tubes are being sold by a growing number of suppliers internationally. As a consequence, there has also been significant price erosion in the category with increasing availability of commodity-type products.
Key metric comparison:

While the companies discussed above can all be considered LED lighting pure plays, comparisons are barely relevant when considering size and scope of businesses, ranging in market cap from $6.4 billion to $24 million. Due to reliance on lighting tubes and lack of clarity on diversification into a complete line of lighting products and controls, the remaining discussion will concentrate on four players with the exclusion of Energy Focus and Revolution Lighting.
There is little doubt that Acuity will continue to dominate the lighting business and will be a key player as LED adoption continues its ramp. Since 50% of its business is new construction, its future results could be affected significantly by the construction business. Recently released new housing starts for February reported a 7% decline year over year which could affect the Acuity business if the trend continues. Since residential construction is only 15% of its new construction business, the effect could be muted, especially if new business investment takes hold. As referenced in the stock charts above, Acuity stock has corrected significantly, especially when considering the fact that it traded at a high of $210 one year ago. On a relative basis, however, it is currently trading at a forward PE of 14.7. Since management continues to guide that it sees no quick turnaround in the business, there is significant skepticism in the near-term future of the company. Meanwhile, the company remains a cash machine, generating $316 million in cash flow from operations during fiscal 2017 while spending $358 million in share buybacks during the period. Regardless of the current outlook for revenue, Acuity will no doubt continue to be a major beneficiary in the LED transition as well as a general turnaround in its business. Further, the company remains a standout with gross margins of 42% during the downtrend.
Cree presents a different opportunity as the lighting business becomes a lesser portion of its business and it focuses on LED materials and the Wolfspeed business. The excellent performance of the stock price alone seems to indicate that the company has turned a corner and is now positioned for long term, more predictable performance. While the shares appear expensive with the current level of business at a forward PE of 80, enhanced financial performance will likely reduce the premium in the not too distant future. CEO Gregg Lowe has stated repeatedly that a primary reason he accepted a position with Cree was due to its trove of intellectual property, which includes 5,000 patents, and which has undoubtedly grown significantly with the purchase of the Infineon business. The acquisition will provide an immediate 40% boost to the Wolfspeed business, according to a presentation on the acquisition. As of the latest Q2 quarterly report, the Wolfspeed business had a quarterly run rate of about $70 million, representing 19% of total revenue. Meanwhile, the Q2 report included cash flow from operations of $105 million for six months at an annual run rate over $200 million. Recently, the company has been making significant cash investments (capital expenditures of $85 million over six months) in expanding capacity of Wolfspeed operations due to demand outstripping the company's ability to supply. Lastly, Cree continues to spend about $40 million per quarter on R&D, about 11% of revenue, boding well for future growth.
As a leader, especially in the retail space, LSI Industries appears to be well set as an immediate beneficiary in LED adoption. Many brick and mortar retailers experienced strong 2017 holiday sales. However, 2018 is forecast to be even better. Strong retail sales should bode well for LSI as retailers gear up to remain relevant in the face strong online sales growth. In addition, LSI's acquisition of Atlas Lighting Products should continue to benefit the company with cross-selling opportunities and entry into the distribution side of the business. As reported in Q2 results, the company maintains a strong balance sheet and reasonable levels of debt in the aftermath of the acquisition of Atlas. Gross margins have remained relatively weak at about a 26% run rate but did improve to 27.4% in the latest reported Q2. With the stock currently trading near $7.85, it appears that it may be fully valued at a forward PE of 18.7.
Orion Energy Systems appears to offer the best value and potential biggest move to the upside as LED adoption ramps up. The company has implemented several rounds of cost cutting to bring costs in line with current operations. With a low level of debt and about $11 million in cash, the company has the ability to execute its business plan as the market improves. In spite of the downturn, management was able to increase gross margins to 29.6% at the end of Q3 (source: Form 10Q). In evaluating the lighting fixture products of all the companies discussed, Orion stands out as a leader in all categories in terms of performance and ease of installation, as illustrated in a presentation. In addition, the company offers three price levels for most products in its ISON, Apollo, and Harris lighting categories. Orion also maintains an impressive list of clients that offer a runway to LED adoption as it ramps up. It is easy to assume that a stock selling in the range of 85 cents may not offer an upbeat portrayal of future success. As mentioned earlier, however, the company has experienced poor quarterly comparisons over a period of years due to the winding down of the legacy business and recent poor market conditions. With a current annual revenue run rate of $60 million, market cap of $24 million, and price-to-sales at .40, the stock appears to be a bargain. Even in the current market, the company would be a viable acquisition candidate with its excellent product lineup and client base, worth several times its current market cap. In addition, management and directors at Orion Energy Systems have purchased 141,681 shares over the last two weeks on the open market.
Overall market and competitive factors:
When it comes to retrofitting U.S. businesses to LED lighting, the above players, along with GE, Eaton, and Flex make up the largest players which currently bid for LED lighting projects (according to various sources obtained by the author). There is no doubt competition from offshore sources, but when it comes to large projects that incorporate leading systems of lighting controls and connected ceilings, businesses rely mostly on U.S. players that not only compete on price but also on total system installation and long-term support. In addition, there can be considerable disruption to businesses that undergo lighting projects, so product availability and service are crucial elements of lighting projects. Accordingly, competition among the LED players discussed is limited to some degree by differentiated products and services of the main players that supply industrial, commercial, and institutional clients, which are not likely affected by offshore competition and price erosion to the degree that other market segments encounter.
Risks:
While the author believes some of the ideas presented will be profitable investments for many investors, inherent risks cannot be overly stated. Due largely to a downturn in the lighting business, most of the companies discussed have reported losses over the last 12 months and before, with the exception of Acuity. Orion Energy Systems, with a long history of losses and current stock price near 85 cents, especially represents a speculative investment. While the author believes it offers exceptional opportunity, readers should not invest in the company based solely on the content of this article, and do so only after understanding the risks outlined in the company's Form 10K beginning on page 11.
Conclusion:
Due mostly to weakness in the lighting business, and especially LED, the foregoing companies discussed have mostly performed poorly and below the overall stock market. As is usually the case, however, lagging segments of the market can offer the best opportunities once conditions improve. LED adoption has been muted during most of 2017, which has spilled over into 2018. However, with a forecast CAGR of 13% from 2017 to 2022, a resumption of an upward trend is set to continue. Business and productivity investment has been so weak over an extended period of years that it is hard to imagine otherwise. As the business investment climate begins to change, it will take a while to get the attention of many observers who continue in low expectation mode. However, the signs are all there, in the PMI and other indicators that point to strong sentiment and business spending ahead. LED lighting appears to be positioned for a recovery and an uptick in adoption which should offer exceptional opportunities.
Disclosure: I am/we are long CREE, OESX. I wrote this article myself, and it expresses my own opinions. I am not receiving compensation for it (other than from Seeking Alpha). I have no business relationship with any company whose stock is mentioned in this article.
Editor's Note: This article covers one or more microcap stocks. Please be aware of the risks associated with these stocks.