The National Association of Home Builders (NAHB) released its Housing Market Index (HMI) for the month of March last Thursday. The data, though deteriorated ever so slightly, still showed very elevated builder confidence in the housing market. Yet, investors penalized builders' shares Thursday, continuing a trend that has their year-to-date performance deeply in the red. So what do homebuilders know that investors in their shares do not?
| | | |
| --- | --- | --- |
| Homebuilder Shares | 03-15-18 | YTD Thru Thursday |
| iShares US Home Construction (ITB) | -1.3% | -12.4% |
| SPDR S&P Homebuilders (XHB) | -0.9% | -8.4% |
| PulteGroup (PHM) | -1.7% | -12.6% |
| D.R. Horton (DHI) | -2.1% | -14.7% |
| K.B. Home (KBH) | -2.6% | -11.7% |
| Lennar (LEN) | -1.7% | -6.8% |
| NVR (NVR) | -0.9% | -13.7% |
The iShares US Home Construction (BATS:ITB) security is concentrated in the shares of home builders, and so reflects their miserable year-to-date performance. The table here shows the performance of some of the nation's most important publicly traded builders. We see that without fail they all failed on March 15 when the Housing Market Index was published. Now, HMI is obviously not the only relevant data point being considered by investors today, but it was the one bit of industry information refreshed on Thursday. Oftentimes directional change will matter more than the absolute level of a data point, especially after the gains these stocks have booked since the lows of the crisis. It seems that is what investors were focused on, as they possible took profits, and on other relative issues currently plaguing the popular press.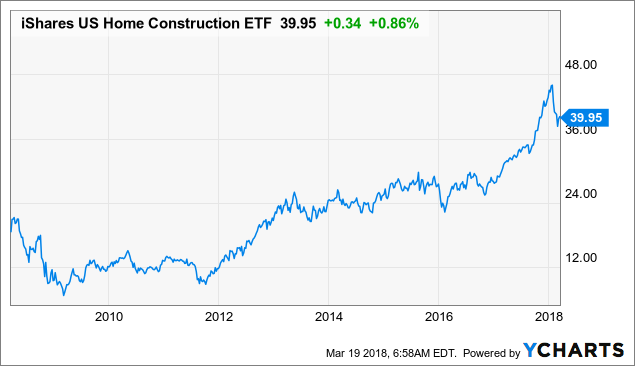 The Housing Market Index
The NAHB HMI for March showed builder confidence slipped slightly but stayed strong at a mark of 70, versus 71 in February (revised from 72). Any mark above 50 signals positively for housing, though directional change matters for investors looking for any actionable signal of a change in the marketplace. You will be reassured to know that despite recent issues I do not see that, and suggest relative investors use weakness to find opportunity to buy relative shares. I view the recent share weakness as a disturbance in an ongoing uptrend.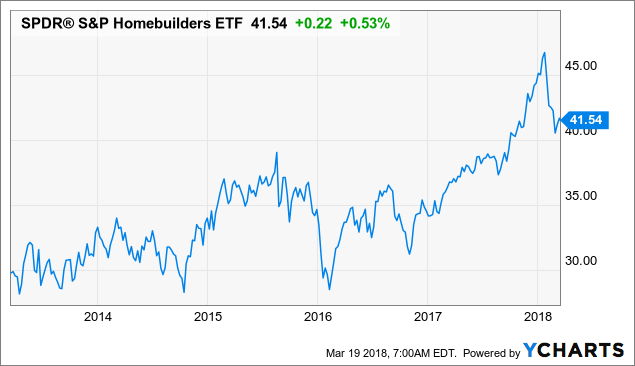 The HMI is broken into three components, asking homebuilders to rate the current market, the forward market and also actual buyer traffic. The component index measuring current sales conditions was unchanged at 77 in March. That is a high level, and reflects builders' insider knowledge about their market, which I believe we should trust now.
The measure for buyer traffic fell three points, however, to a mark of 51 in March. Remember, though, that housing supply is so short now that a large percentage (43%) of sales are occurring within one month of listing for existing homes. Thus, we are not going to see a lot of homebuyers making multiple trips to the store, so to speak. Still, I expect buyer traffic to get better as the year progresses, because housing sales demand should only increase from here as a fully employed workforce becomes better able to buy homes.
The HMI measure for expected sales conditions six months forward fell two points to a reading of 78, which is still enthusing and elevated. Too many of us too often read into a decrease and ignore the fact that the figure is excellent in absolution. That is the case here and on the headline index. I do not trust this forward looking figure as much as the other two, because it must have some component of it tied to an area where builders are probably not experts.
I believe builders are basing their answers here on two things. First, their looking at current demand and contracting for new construction; that much is tangible. However, builders are probably also basing part of their answer here on what they are reading and hearing about things like trade wars, congressional seats, inflation fear, Fed expectations etc. That is an area where they probably are not the best judge. Things can go haywire here on two fronts; first, a lot of the information they are looking at is going to be flawed, exaggerated or irrelevant, and secondly, their ability to weed out the noise is going to be imperfect.
Covering this data point through the earlier days of the real estate recovery, I noted that builders seemed to fail to recognize it even while it was well underway. That much was reflected in low and lagging HMI readings at the time, as the economy was gaining traction. In my opinion, it is because the NAHB is comprised of a diverse group of builders, some large and well-capitalized and some small and not so well equipped to partake in the earlier days of the recovery. These two groups of builders saw the market environment differently back then, because of their different perspectives. It, therefore, is extremely enthusing now to see the data point pointing so positively. It means capital access is improved and builders are building again, all of them.
Currently, builders are hearing and worrying about (rightfully in some instances) the impact of trade war, inflation, the Fed, rising mortgage rates etc. These are legitimate areas of concern, but concern may be overdone, where on net the expanding economy, benefiting from complementary global growth, tax reform and full employment, along with pent-up demand for housing, should far outweigh the negatives.
Focus on the Forest
Investors reading into this data point and other recent soft data, even in the form of sales, are in my opinion missing the forest for the trees. Seasonal softness has become regular around this time of year over the last few years. Sometimes this seasonal weakness impacts the broader stock market, and I believe that can have an impact in planning and spending for homes - I believe it has in the past. I think that is exactly why, along with tight housing inventory, we are seeing the current lull.
Those who sold these stocks last Thursday on a fearful reading of a slight decrease in the index, are probably missing the point and the signal homebuilders are providing. Still, depending on the Fed forecast this week, and you'll want to read my upcoming work on the subject, these stocks could take another hit. First quarter GDP might also disappoint and harm the sector, but some of the recent data pointing in that direction has been positive. In conclusion, I see this current lull in housing stocks and housing as an opportunity to partake further in what I believe will be the continuation and expansion of growth this year and probably next year too for the real estate sector. For all of my work on real estate and other markets, readers are welcome to follow my column here at Seeking Alpha.
Disclosure: I/we have no positions in any stocks mentioned, and no plans to initiate any positions within the next 72 hours. I wrote this article myself, and it expresses my own opinions. I am not receiving compensation for it (other than from Seeking Alpha). I have no business relationship with any company whose stock is mentioned in this article.