Whenever an industry is dominated by a single player, it is often assumed that they are the only company that can thrive in it. The truth, however, is often very different.
In the semiconductor space, Intel (NASDAQ:INTC) is the 800-pound gorilla, dominating the industry. Intel is seen as the de facto industry standard. However, it is not the only company in the semiconductor space. Advanced Micro Devices (NASDAQ:AMD) has been competing with Intel since its founding in 1969 (Intel was founded in 1968), and while it may never overtake Intel in terms of sales, we think that now, AMD makes for a good investment.
Year-to-date, shares of AMD have rallied sharply and have outperformed both Intel and the S&P 500. Shares of AMD are up nearly 28% year-to-date.

Yet, it is important to keep this rally in context. Over the past year, shares of AMD have underperformed the Intel and market, losing over a quarter of their value as investors continued to worry that AMD is losing ground.

In terms of market share, AMD has in fact steadily lost ground to Intel. The latest figures show Intel with 72.4% of the semiconductor market, and AMD with 27.6%. In 2006, however, AMD managed to approach parity with Intel in terms of market share. In the first quarter of 2006, AMD managed to grab 48.4% of the market, to Intel's 51.6%. These figures are from PassMark, which take thousands of daily performance tests and compile daily market share statistics. The large sample size used means that these results should be reliable. These results, however, measure the PC semiconductor market. In terms of overall revenue in the entire industry, Intel had a market share of 15.9% in 2011, compared to AMD's 2.1% share.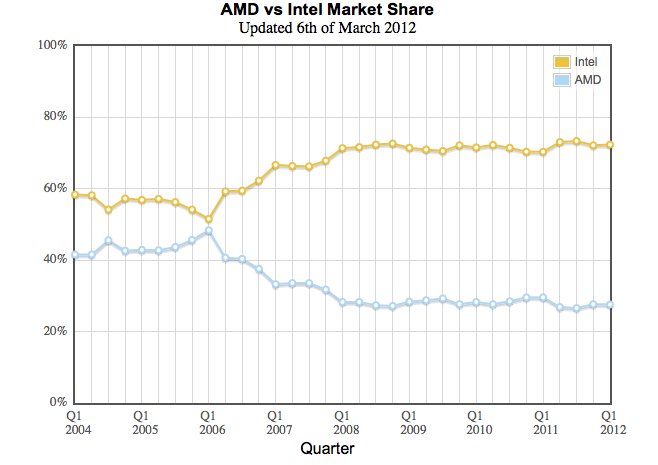 What happened to over 20 points of AMD market share? Between then and now? Several things happened.
The ATI acquisition saddled AMD with billions in debt just as the financial crisis was approaching, hampering its ability to invest in its business at a crucial time. The performance of its chips in that period suffered, and thus, Intel was able to swoop in and wrest back dominance of the semiconductor market.
The financial crisis: Intel's stronger balance sheet and financial flexibility allowed it to ride out the recession and financial crisis as AMD suffered large losses and had its very solvency called into question. As such, AMD had to make a number of moves that in the short-term, caused it to lose further share.
Below, we break down AMD's financial results for the 6 years, as well as Intel's, so that readers may see how these companies operate.
| | | | | | | |
| --- | --- | --- | --- | --- | --- | --- |
| | 2011 | 2010 | 2009 | 2008 | 2007 | 2006 |
| Intel Revenue | $53.999 Billion | $43.623 Billion | $35.127 Billion | $37.586 Billion | $38.334 Billion | $35.382 Billion |
| AMD Revenue | $6.568 Billion | $6.494 Billion | $5.403 Billion | $5.808 Billion | $5.858 Billion | $5.627 Billion |
| Intel GAAP EPS | $2.39 | $2.01 | $0.77 | $0.92 | $1.18 | $0.86 |
| AMD GAAP EPS | $0.66 | $0.64 | $0.45 | -$5.15 | -$6.08 | -$0.34 |
| Intel Net Income | $12.942 Billion | $11.464 Billion | $4.369 Billion | $5.292 Billion | $6.976 Billion | $5.044 Billion |
| AMD Net Income | $491 Million | $471 Million | $304 Million | -$3.129 Billion | -$3.394 Billion | -$166 Million |
| Intel Operating Income | $17.477 Billion | $15.588 Billion | $5.711 Billion | $8.954 Billion | $8.216 Billion | $12.090 Billion |
| AMD Operating Income | $368 Million | $848 Million | $664 Million | -$1.955 Billion | -$2.865 Billion | -$47 Million |
| Intel Operating Cash Flow | $20.963 Billion | $16.692 Billion | $11.170 Billion | $10.926 Billion | $12.625 Billion | $10.632 Billion |
| AMD Operating Cash Flow | $382 Million | -$412 Million | $473 Million | -$692 Million | -$310 Million | $1.3 Billion |
Intel and AMD operate on two different levels, despite having been in the same industry for decades. Before we continue, we must note that this article should not be seen as being bearish on Intel. We fully believe that Intel will continue to grow both revenues and profits and somehow transition to a mobile future. That being said, we think that AMD can be successful as well, and that the Street is being too negative on AMD's ability to compete and generate sustainable profits into the future. We see no reason to doubt AMD's survival, for a number of reasons.
A counterweight to Intel: Intel's dominance of the semiconductor market has earned it the scrutiny of anti-trust agencies all across the world. Intel has had a number of anti-trust cases brought against it, by both AMD and governments all across the world. Agencies in the United States, Europe, and Asia have all investigated Intel for violations of anti-trust law. Intel's dominance of the market places its customers into a difficult position. On the one hand, its products represent, at the moment, the high end of the market. But, allowing Intel to have the entire market for itself is untenable. If PC makers had only Intel as a semiconductor supplier, they would be subject to the inevitable price increases Intel would impose on them. Therefore, they support AMD as a counterweight to Intel.
Solvency risk has been removed: During the financial crisis, AMD's very survival was in doubt as the company bled billions. But now, AMD is solidly profitable, and the balance sheet is much healthier. At the end of the last quarter, AMD had over $1.9 billion in cash & investments on the balance sheet, and debt of just over $2 billion. The money from the settlement with Intel in 2009 and the initial Global Foundires deal is allowed AMD to begin deleveraging itself, and the company is continuing to strengthen the balance sheet. (A note: AMD's revised agreement with Global Foundries' will deplete cash by $425 million, and the SeaMicro acquisiton will deplete cash by $281 million. We cover the strategic effects of these deals below) When taking these deals into account, AMD's cash balance falls to $1.208 billion.
Manufacturing: The issues plaguing Global Foundries are steadily resolving themselves, and AMD is free to make arrangements with other manufacturers, and this should put the company on a firmer competitive footing with Intel. AMD is now a fabless chip company, and is free of the manufacturing burdens that Intel must deal with on a daily basis. It can devote all of its resources to designing chips, not factories.

AMD has gone through a great deal of tumult in the past 6 years, with the financial crisis, the acquisition of ATI, and the massive restructuring of its business. But, going forward, we see a number of opportunities for the company going forward.
SeaMicro
On February 29, AMD announced the acquisition of SeaMicro, a private company specializing in energy-efficient and high-bandwidth micro servers. SeaMicro's technology used Intel's chips, and AMD has stated that they will be transitioning to Opteron chips going forward. Overall, the Street was positive on the move, and this could be a loss for Intel going forward. Intel itself has stated that micro-servers will make up 10% of server revenue by 2015. This is where the growth in the server market currently is, and AMD now appears to have a prime way of breaking into that market. AMD has stated repeatedly that it will not be competing with its server customers (HP, etc...)
The SeaMicro deal is consistent with AMD's long-term strategy of diversifying away from the x86 platform, and executives have said that going forward, AMD will be increasingly platform agnostic, choosing whatever platform is necessary to generate the best performance and value, such as x86, ARM, and MIPS. The SeaMicro deal will be accretive to revenue in 2012 and begin contributing to GAAP EPS by 2013.
Global Foundries
Global Foundries was founded in 2009 as a joint venture between AMD and ATIC, a subsidiary of Abu Dhabi's investment vehicle. AMD decided that in order to compete more effectively with Intel, it had to divest itself of its manufacturing arm. Therefore, on March 2, 2009, Global Foundries was founded as the third largest independent semiconductor foundry firm. AMD however, retained a stake in the company, with the goal of eventually divesting itself fully of its manufacturing side. And on March 4, 2012, just over 3 years after it initially began its divestment, AMD announced that it had divested itself of its final 14% stake.
If AMD is transferring its stake back to Global Foundries, shouldn't it be receiving cash, instead of shelling out $425 million in cash, to say nothing of the $278 million in non-cash charges the company will take in the first quarter of 2012? The answer lies in the termination of the exclusivity agreement between the two, as well as a renegotiation of their manufacturing contract. AMD expects to pay Global Foundries $1.5 billion in 2012 for semiconductor manufacturing.
The change from "good die pricing" to a take or pay model puts AMD in a better position to "capitalize upon yield improvements throughout the year," according to Oppenheimer. The termination of exclusivity removes an overhang in regards to AMD's roadmap, specifically its reliance on one manufacturer for its 28nm architecture. It is possible that now, AMD will source its future APU's (application processing units) at Taiwan Semiconductor (TSMC).
Valuation
Even when accounting for the steep run that AMD has had so far in 2012, the shares still trade at under 11 times earnings. AMD now trades at around at 0.76x NTM sales, which is a discount of 59% to the Philadelphia Semiconductor Index and a 55% discount to the S&P 500. One may argue that AMD deserves to trade at a discount, but these levels are inconsistent with the historic averages. Historically, AMD has traded at a 48% discount to the Philadelphia Semiconductor Index and a 32% discount to the S&P 500. We see no reason for such a large deviation from the historic valuations of this stock when the underlying fundamentals are the best they have been in years.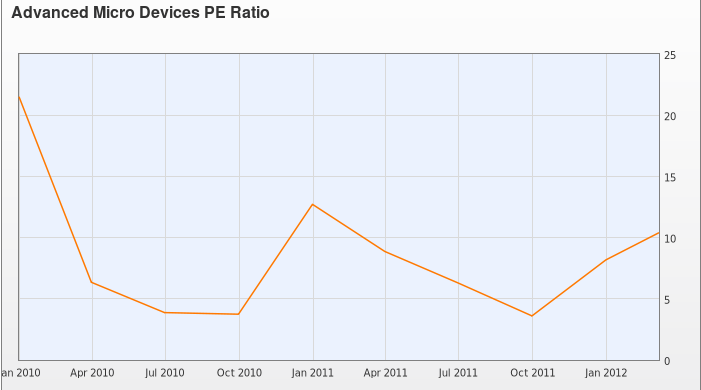 Even after the run so far in 2012, AMD's valuation is not stretched. The Reuters average price target for AMD stands at $8.43, representing upside of over 22% from current levels.
Conclusions
Investors must not assume that Intel will overpower AMD. The market simply will not allow for Intel to be the only player. We are by no means bearish on Intel. But, we think that the recent initiatives undertaken by AMD, namely the SeaMicro deal and the restructuring of its relationship with Global Foundries, will position the company to be a more effective competitor to Intel in the years to come. AMD has transformed itself into a fabless chip designer, has strengthened the balance sheet, and has a product lineup that is the best it has been in years. We think that investors who add to or initiate positions in AMD will be rewarded for their faith in a company that too many people think will be left in the dust.
Disclosure: We are long INTC via our holdings of the SPDR Dow Jones Industrial Average ETF. We may also initiate a long position in AMD sometime in the near future.