Alio Gold (NYSE:ALO) announced a merger with Rye Patch Gold (OTCPK:RPMGF) this week. This is one of the most ideal mergers that I have seen from a shareholder standpoint. Both companies were trying to become a solid mid-tier producer. This combination accomplishes that goal. After the merger, Alio Gold shareholders will own 53% and Rye Patch Gold shareholders will own 47%. It's basically a 50/50 partnership.
Stock Name

Symbol (US)

Type

Share Price (US)

3/20/2018

FD Shares

(Post Merger)

FD Mkt Cap

(Post Merger)

Alio Gold

Gold

$2.05

91M

$182M
Investors did not embrace the deal, pushing down the share price of both Alio Gold and Rye Patch. I think this was from the apprehension that Rye Patch's Florida Canyon mine has not yet proven itself to be profitable. There's some fear that this could pull both companies down. I think that fear is misplaced.
Alio's share price has been falling all year and is down about 63% since last summer's high near $6 (see chart below). Investors began selling when Alio diluted shares by 25% in July. Then earnings reports missed, adding to the selloff.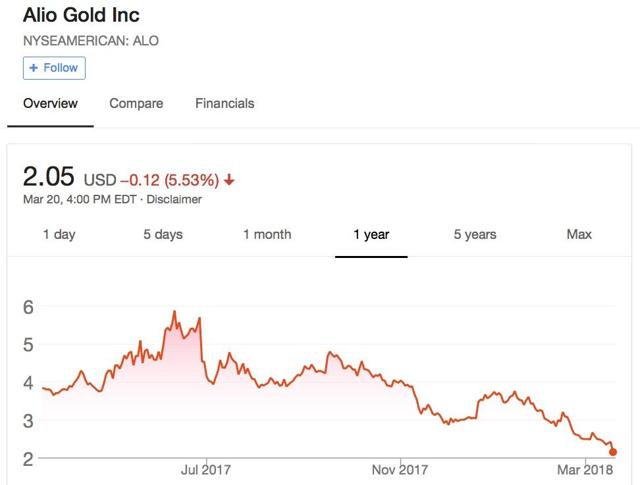 They ended the year producing 84,000 oz at their San Francisco mine, which was just below their 86,000 guidance. Costs were up a bit from expected $750 cash costs to around $800 per oz. All in all, their execution wasn't that bad, and they made $14 million in net profit.
Guidance for 2018 is at 90,000 oz of production, with cash costs around $800 per oz. They plan to produce for five more years at San Francisco. That short mine life doesn't give investors a warm and fuzzy feeling.
Their second mine, Ana Paula, looks great. Cash costs are expected to be around $500 per oz, with production at 115,000 oz per year. It's a 2 million oz deposit, with significant exploration potential. Investors should be excited about this project, but they don't seem to be.
Ana Paula should be producing around 2021 or 2022. I guess investors don't like to project out that far. But I do. I like to chase future cash flow.
Now let's combine Rye Patch. After the merger, they will have a balance sheet with $74 million in cash and $29 million in debt. They will produce around 165,000 oz in 2018, with all-in costs (free cash flow) around $1200 per oz. That's not great, but not terrible either, and what we care about is the future.
Rye Patch has the Florida Canyon mine, which is producing around 75,000 oz. It has 1.5 million oz and is a long life mine. Then they have Lincoln Hill, a 1 million oz development project that should produce 50,000 oz annually. Plus, Wilco is another 1 million oz development project that should produce 50,000 oz annually.
Alio's projects are in Mexico and Rye Patch in Nevada. Combined they should be able to grow into a 250,000 oz annual producer by around 2022. What could that possibly be worth at $2,500 gold? I'll take a look below.
The following analysis is based on data from my website (www.goldstockdata.com).
Properties
Do they have a flagship project? Yes.
Do they have a pipeline of projects for growth? Yes.
Do they have the exploration potential to expand resources? Yes.
Is the grade and recovery rate satisfactory? Yes.
Is the location satisfactory? Yes.
Do they own it? Yes.
Are there any red flags for their properties? Yes, Florida Canyon needs to prove that it is profitable at $1,200 gold.
People
Do you consider it a strong management team? Yes, I consider the Alio Gold team to be very capable of building and operating mines.
Is it an exploration or production team? Both.
Do they have experience? Yes.
Do they have a track record for building mines? Yes.
Are they investor friendly and not always diluting? This is still to be proven. They diluted 25% of shares in 2017.
Have you listened to a CEO interview? Yes, I'm impressed by him.
Are they cash focused, always keeping a strong balance sheet? I would say no, but I could be wrong. Expect them to add debt to their balance sheet.
How much stock does management own? Unknown.
Do the website and company presentation provide adequate guidance and details? Yes.
Projects
What are the resources? 7 million oz (post merger).
Long life mine? Yes.
What are the current/estimated cash costs and all-in costs per oz? Current cost are around $800 per oz, with all-in (free cash flow) around $1200 per oz.
How will their development mines be financed (debt, equity, streaming)? Likely a combination of debt and equity.
How much money will the need to develop their projects? Ana Paula has a capex of $137 million, plus it will need another $15 million or so for the pre-feasibility, feasibility, and permitting phases. The Rye Patch development projects are both smaller and will need less capex.
Risk Issues
What are their most significant risks? The price of gold dropping is probably the most significant risk. Florida Canyon could potentially be a problem.
Share Structure
Is it highly diluted? No. After the merger, they will have 91 million FD shares.
Timeline Risk
What is the timeframe until they reach full production of their development projects? Probably five years.
Market Cap Size
Is the market cap too big or too small? After the merger, it will be around $180 million (if the share price remains at $2.05).
Balance Sheet
What is its cash/debt situation? $74 million cash and $29 million in debt (post merger).
Valuation
What's its potential future market cap growth rate at $2,500 gold? 1500% at 250,00 oz of production (see below).
What's its potential future free cash flow at $2,500 gold? $300 million annually at 250,000 oz (250,000 x $1200). (This assumes all-in costs are $1300 per oz).
What are its future reserves valued at today? $36 per oz at 5 million oz ($180 million/5 million oz).
Future market cap growth calculation
Current market cap: $180 million (post merger)
Potential future market cap: 250,000 oz x $1200 = $300 million annual cash flow x 10 = $3 billion
Compare the two values and you get a 1500% increase. Note that you could use a 5x multiplier to be conservative, but I expect strong mid-tier producers to be valued at 10x free cash flow.
Is Alio Gold highly undervalued? Yes, with a potential increase of 1500% and future reserves valued at $36, it is highly undervalued.
This valuation assumes they will reach 250,000 oz of annual production, all-in costs will be $1300, and future gold prices will reach $2,500. Plus, it assumes Mexico will not raise their mining tax or royalty rates.
Note: You can check the data included in this analysis at Alio Gold's website and www.aliogold.com.
Editor's Note: This article covers one or more microcap stocks. Please be aware of the risks associated with these stocks.