Less than two weeks ago I wrote an article about the European deep freeze that arrived in late February, making it unusually cold for the continent just as winter was supposed to be ending. At the end of winter natural gas storage facilities tend to be depleted, so Europe started importing natural gas massively from the only supplier with spare capacity and an ability to respond on a short notice. That supplier is of course Gazprom (OTCPK:OGZPY). On March 1st it set a new one day record in gas deliveries to non CIS countries in Europe of 710 million cubic meters. It was the ninth day of new all-time record deliveries in a row. Clearly, Gazprom came to the aid of Europe in a time of need. It is now set to do so again given another week of unusually cold weather for this time of year. I do believe that the benefits that Gazprom is set to reap from the weather Europe experienced and continues to experience this month will extend into the whole year and beyond.
2018 is likely to be another record year for Gazprom exports.
As I pointed out in my previous article regarding the first late February, to early March deep freeze that Europe experienced, late February tends to be the time when spring weather arrives for most inhabitants of the continent, aside from perhaps the Scandinavian countries. Instead, they got a roughly ten day period of what most Europeans consider to be severe winter conditions. So, while ordinarily this time of year it might already be the start of the period when natural gas storage facilities might start to get filled or at least stop declining, instead it will be a period of further draw-downs.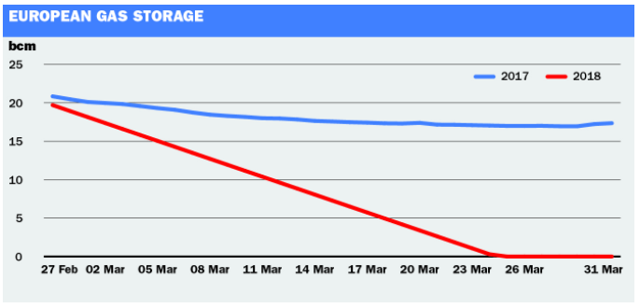 Source: ICIS.
As we can see, the month of March typically sees a more or less complete cessation of natural gas draw downs. While this year, it is set to keep going, possibly reaching actual full depletion by the end of the month, even as Gazrprom is continuing to pump gas at rates that are higher than usual. I should point out that even the 2017 level of gas in storage was considered to be rather low by historical standards, therefore we can expect demand for natural gas to remain strong throughout the year, given the seemingly depleted reserves in storage. Based on what we know so far, it seems that this year may be another year of record Gazprom sales to Europe, which would make it the third year in a row at this point.
I should also note the fact that given the significantly higher price of oil which in the Old World tends to affect the price of longer term pipeline gas contracts that are tied to the price of oil, Gazprom is likely to not only see higher export volumes but also higher natural gas prices.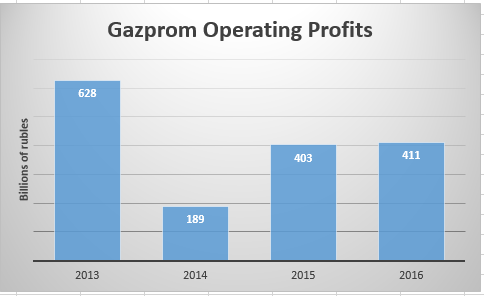 Data source: Gazprom.
As we can see, following the 2014 shock to the system that Gazprom received, just like most other oil & gas producers, it managed to recover a great deal of its profitability rather nicely. I should mention that the devalued Russian Ruble played a significant role in this, because Gazprom's exports are valued in Dollars or Euros. But such is the advantage of a country having its own currency, which it can adjust to its needs, or the market will adjust it, as was the case with Russia.
Beyond 2018.
As I already pointed out in my first article on this subject, when the late February winter weather hit Europe, the odds of current Gazprom pipeline projects to Europe being obstructed seemed very low already. Surely European leaders have come to realize that continuing to depend on Ukraine as a transit country for the only source of natural gas that can be relied upon to be delivered on short notice may not be a wise choice. We should keep in mind that natural gas flows through Ukraine were disrupted on two occasions, both times in winter, due to a Ukraine-Russian pricing & payments dispute. Every time Russia decided to stop delivering gas to Ukraine due to the disputes, Ukraine decided to remove the gas from the pipeline unilaterally, causing Russia to shut down the pipeline.
The Nord Stream 2 pipeline, which at this point seems to be a done deal was still on occasion targeted for obstruction attempted by some factions in the EU. Given the bad news in regards to Netherlands natural gas production which half a decade ago made up about half of all EU domestic supply is in free-fall, at least a portion of that 55 Bcm/year of extra natural gas capacity that the new pipeline will bring, will go to making up for the loss of Netherlands production. The rest will go to increased demand, which I see happening once Germany decommissions more nuclear power plants, as well as perhaps reducing reliance on Ukraine as a transit country to some extent. I doubt that Ukraine will cease to be a transit country for Russian gas any time soon, but a much-reduced role now seems inevitable. It will just gradually lose its strategic importance in this respect.
Turk Stream will further reduce reliance on Ukraine as a transit country. It still remains to be seen what role it will play in supplying natural gas to the EU, but its role in supplying Turkey is set, meaning that pretty much all natural gas exports to Turkey will now flow directly to its shores. At present Turkey still receives some gas via Ukraine, but it already has the blue stream pipeline, which supplies Turkey with 16 Bcm/year. At the very least, it will be feeling more secure in knowing that its gas supplies will never depend on whether Ukraine & Russia can get along or not.
Same cannot be said about other countries, especially in Central Europe. Hungary is set to run out of natural gas in storage within days, with on-going Gazprom supplies being the only lifeline thereafter. But at the moment all of Gazprom's gas supply to central Europe flows through Ukraine. In effect, Hungary and many other countries in the region will be literally praying for no friction between Ukraine & Russia for the next few weeks. If a repeat of the 2006 or 2009 crisis were to happen right now, it would be a disaster, given the lack of reserves in storage. For this reason, I believe that many of these countries will lobby hard for the EU to refrain from obstructing a connection to the Turkstream project, which would give them an alternative route to Ukraine. Many of these countries would have had this extra level of energy security if the EU would have not obstructed the South Stream project and I have no doubt that they are thinking of that right now. I don't believe that the EU will want to be blamed in the future for member states running out of gas at any point in time, because it selectively blocked pipeline projects. There is already enough acrimony at this point on a range of other issues.
Aside from the new pipelines to Europe, there is of course the pipeline to China, the new LNG facilities, as well as a range of other projects and project opportunities that seem to suggest Gazprom has a bright future ahead. In the end, it is sitting on massive reserves of a fuel that is set to be in very high demand as the world tries to do its best to at the very least stem the growth in coal use in order to try to fight climate change, as well as a range of local environmental issues associated with burning coal. In this respect, in my view there was never any reasonable doubt in regards to Gazprom looking at a bright future. What has been occasionally questioned, perhaps for good reason is the shorter to medium term outlook, as Gazprom seemed poised to become a victim of geopolitical events. Even before this month, it was starting to look more and more like it is not the case. For the month of March of this year, weather patterns came together to unmask the true reality of Europe's natural gas supply security. As storage facilities run empty Gazprom is not only cashing in this year, as the only supplier which has the ability to respond on short notice, but is set to cement its status as the indispensable supplier of gas for the old continent.
Editor's Note: This article discusses one or more securities that do not trade on a major U.S. exchange. Please be aware of the risks associated with these stocks.