The popularity of the PEG ratio has dampened its usefulness, but the idea of comparing value to growth is one that will always be useful. Simply dividing P/E by ROE, however, is not sufficient going forward. Sophisticated investors know the importance of top-line growth, as well as cash flow. Also, PEG comparisons taken statically provide no insight into which investment is truly superior. Looking at past performance and consistency of results is also necessary in order to separate the winners form the losers.
With that said, let's see this week's comparison of two medical appliances and equipment companies:
Stryker (NYSE:SYK)
The company operates in three segments: Reconstructive, MedSurg, and Neurotechnology and Spine. The Reconstructive segment offers orthopaedic reconstructive (hip and knee) and trauma implant systems, as well as other related products. The MedSurg segment provides surgical equipment and surgical navigation systems, endoscopic and communications systems, patient handling and emergency medical equipment, reprocessed and remanufactured medical devices, and other medical device products. The Neurotechnology and Spine segment includes neurovascular products, spinal implant systems, and other related products. The company sells its products through local dealers and direct sales force to doctors, hospitals, and other healthcare facilities, as well as through third-party dealers and distributors primarily in the United States, Ireland, Germany, France, Switzerland, the United Kingdom, Japan, Canada, the Pacific region, and Latin America. Stryker Corporation was founded in 1941 and is headquartered in Kalamazoo, Michigan.
Zimmer (ZMH)
Through its subsidiaries, Zimmer engages in the design, development, manufacture, and marketing of orthopedic reconstructive devices, spinal and trauma devices, dental implants, and related surgical products in the Americas, Europe, and the Asia Pacific. The company offers orthopedic reconstructive devices that restore function lost due to disease or trauma in joints such as knees, hips, shoulders, and elbows; dental reconstructive implants, which restore function and aesthetics in patients who have lost teeth due to trauma or disease; spinal devices that are utilized by orthopedic surgeons and neurosurgeons in the treatment of degenerative diseases, deformities, and trauma in various regions of the spine; and trauma devices used primarily to reattach or stabilize damaged bone and tissue to support the body's natural healing process. It also provides surgical products comprising surgical supplies and instruments designed to aid in orthopedic surgical procedures and post-operation rehabilitation. In addition, the company offers healthcare consulting services. Its customers include orthopedic surgeons, neurosurgeons, oral surgeons, dentists, hospitals, stocking distributors, and healthcare dealers, as well as agents, healthcare purchasing organizations, or buying groups. The company was founded in 1927 and is headquartered in Warsaw, Indiana.
By the Numbers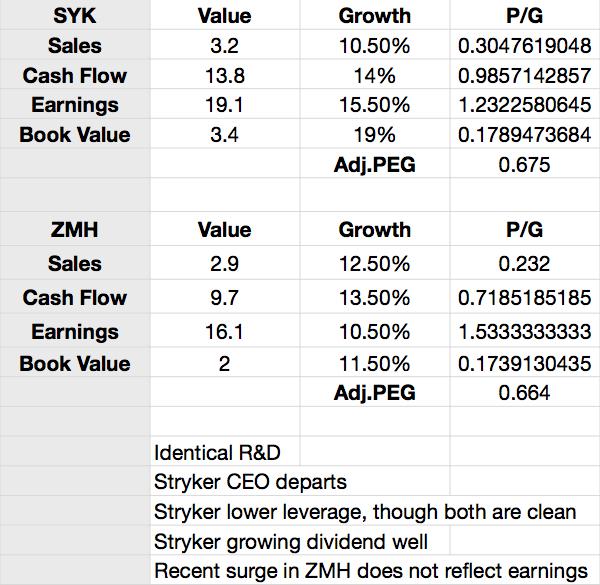 Above we have the adjusted PEG figures. This incorporates 4 aspects of growth and value as opposed to the standard PEG. The figures are based on 5 year averages for both growth and the multiples. A and adjusted PEG of 1 does not indicate fair value as most people use the regular PEG (since book and sales multiples should hopefully not be double digits as cash flow and earnings are). Instead it is strictly a relative measure of value. From this we can see that SYK commands a slight historical premium to ZMH.
Below that I have put some key qualitative notes. Both spend similar proportions of sales on R&D and both have very similiar foreign sales (about 40%). Zimmer, however, is 81% tied to it's reconstructive implants business, while Stryker's biggest business (orthopaedic implants), constitue 41% of sales. Stryker's CEO departed abruptly in February, and this is a big red flag from a Phil Fisher/growth perspective. This being said, it has less debt of the two, and is growing the dividend nicely.
While ZMH missed their most recent earnings (resulting in a yoy decline), SYK continues on their usual path. Year-to-date ZMH is up over 12% while SYK is up a measly 6% - the weaker performer is outperforming.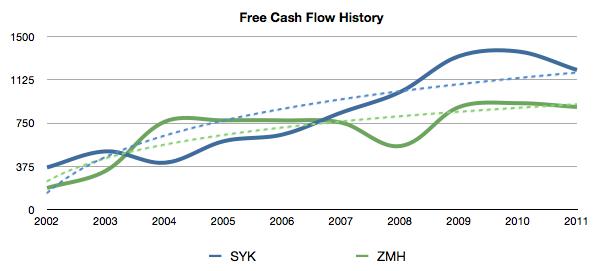 The biggest factor left out of the adjusted PEG is free cash flow. I'm a free cash flow nut and believe that if you have to judge a company on one number, it's FCF. The figures on the left are in millions $. Not much analysis here, SYK is the winner.
SYK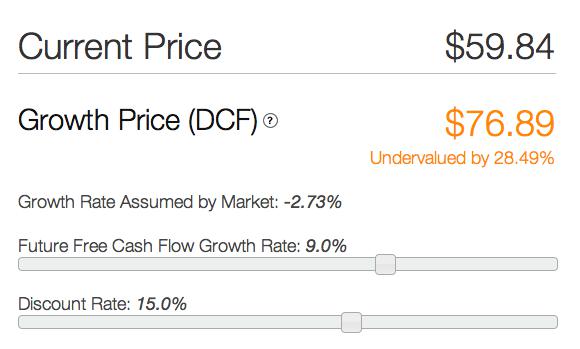 The future free cash flow growth rate for both is calculated using a sensitive average of past performance. The growth rate assumed by market is a reverse engineered dcf. A discount rate of 15% is a very high hurdle, the norm being closer to 11%. Especially in this environment where bonds yield nothing, having these two equities undervalued at a 15% hurdle rate is telling of the industry.
Conclusion
So what do I think you should do with this info?
If you currently hold either (obviously depends on how long): generally be looking to sell ZMH at $68, will get resistance much higher. Continue to hold SYK.
If you own neither: pair trade (sell ZMH buy SYK) with time horizon no longer than 2 months. Buy ZMH and flip at $64 for quick profit.
The only thing stopping me from being a long term buyer of Stryker is the change in management. Once the new CEO has been found and announced, do your due diligence, and if they fit the bill, pull the trigger.
Disclosure: I am long GRVY.