Do you believe in climate change? Either way, a loudly expressed opinion on this subject is sure to raise the temperature in the room at your next cocktail party.
Many of the world's governments, particularly in Europe and the UK, have come down firmly on the side of climate change and have enacted tougher measures for carbon emissions, which has sent major utility companies scrambling for viable alternatives.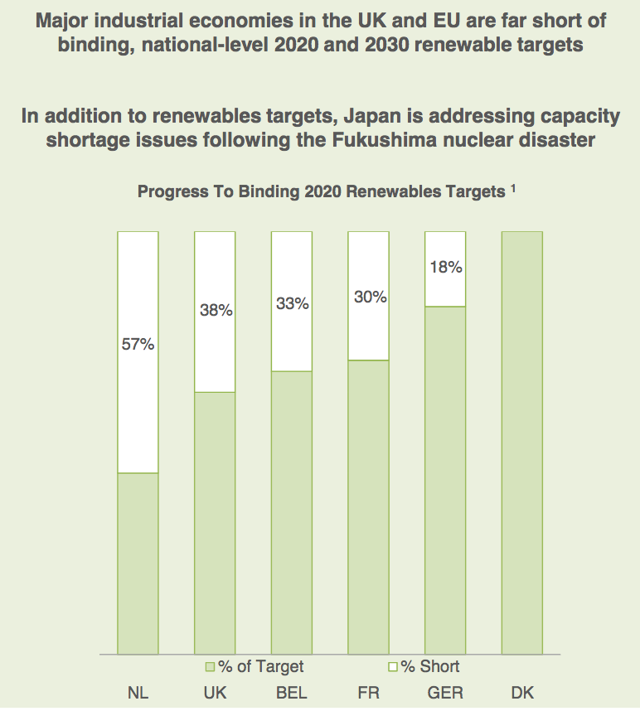 (Source: EVA site)
That's where Enviva Partners LP (NYSE:EVA) comes in. EVA is the world's largest producer of wood pellets, supplying ~ 14% of global production. It sources its feedstock from the forests of the southeastern US, which happens to be, by far, the cheapest source on the planet for wood pulp: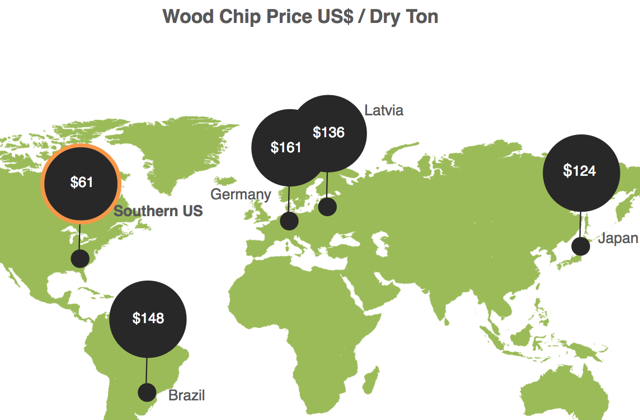 (Source: EVA site)
The company's sales strategy is to fully contract its production capacity. Its current capacity is matched with a portfolio of off-take contracts that has a weighted average remaining term of 9.5 years, worth $5.8B, from February 15, 2018.

One of the many things which sets EVA apart is its scale. Although this company is much smaller than other firms in the lumber production industry, it's backed by RiverStone, a $38B private investment firm with some very deep pockets, which owns EVA's sponsor/GP, which has invested heavily, $550M, in production facilities since EVA's 2015 IPO. It has also attracted another heavy hitter, the John Hancock Natural Resource Group, which has invested in two joint ventures so far.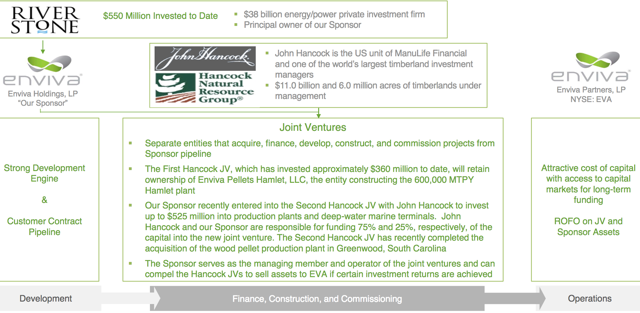 (Source: EVA site)
This strong backing has allowed EVA to become a fully integrated operation as it controls both production and transportation assets, i.e. port terminals: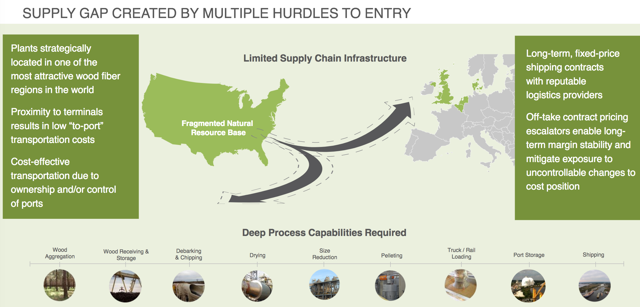 (Source: EVA site)
We began writing articles about EVA back in September 2015 when it was trading at $12.47. Since then, it has risen 109% and is currently trading at ~$26.10.
Distributions:
EVA is in the usual Feb-May-Aug-Nov. LP cycle and should go ex-dividend again in early May. EVA issues a K-1 to investors at tax time. Since this is a tax-deferred investment, you'll get more tax advantages from it by not holding it in an IRA. There can be tax reporting consequences resulting from holding an LP in an IRA - please consult your accountant before investing.
Our High Dividend Stocks By Sector Tables track EVA's price and current dividend yield in the Basic Materials section.
At $26.10, EVA sports a very attractive yield of 9.50%:

Coverage was weaker in Q2 and Q3 '17, but blew out in Q4 '17, rising to 1.28X, thanks to the latest dropdown from its sponsor:
"On 10/2/17, the Partnership completed the acquisition of Enviva Port of Wilmington, LLC from its sponsor's joint venture (the "First Hancock JV") with affiliates of John Hancock Life Insurance Company. This transaction, which we refer to as the Wilmington Drop-Down, included a deep-water marine terminal in Wilmington, North Carolina." (Source: EVA site)

IDR's - IDR distributions were much higher, at $3.398M in 2017, vs. $1.077M in 2016, but were still only 5% of total DCF.
The columns below, from the left, are: Q4 '17, Q4 '16; full-year 2017, 2016.
(Source: EVA site)
Earnings:
Management raised distributions by 12.65% in 2017. Q4 '17's blockbuster figures just about made up for EVA's lackluster Q2 and Q3 '17 DCF figures, which were lower, due to the company recalibrating its production facilities, in order to meet a wider variety of customer specifications for its pellets.
Overall, 2017 saw good growth in net revenue, net income, and EBITDA, but flat DCF growth caused coverage to slip 15%. On the Q4 '17 earnings call, management commented that, "I will note that the full-year 2018 coverage is expected to be in the range of 1.12 times to 1.18 times, but some quarters in 2018 maybe below that."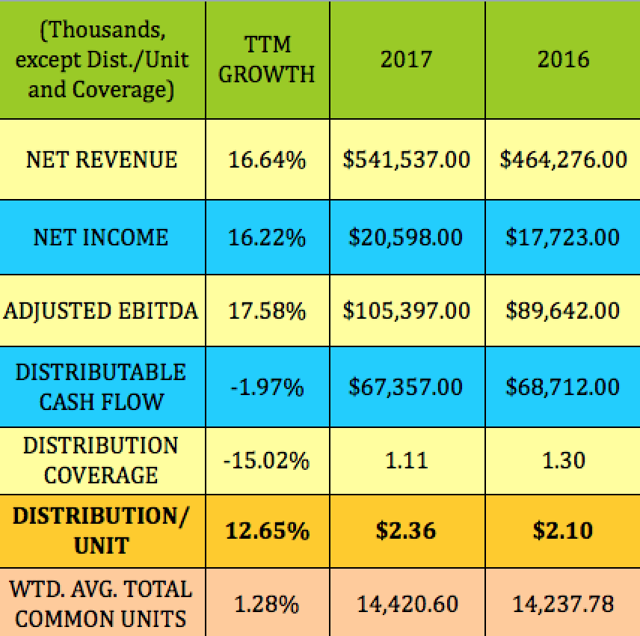 Q4 '17's growth percentages were impressive, with all categories growing - revenue was up by 27%, net income up by 198%, and EBITDA up by 44%, and DCF up by ~60%.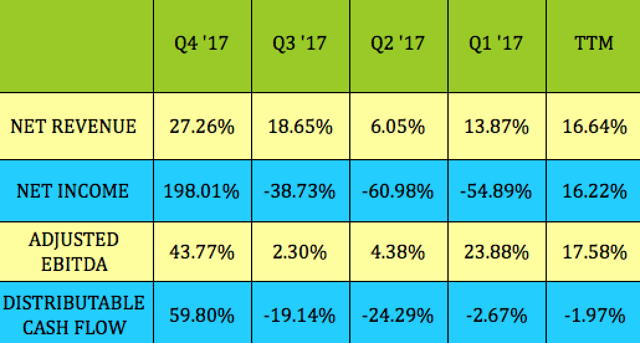 Q4 '17 also was a blowout sequentially, as revenue rose ~22%, net income rose ~25%, EBITDA rose ~23%, and DCF rose ~24% vs. Q3 '17.
(Note: Unlike GAAP presentations, these figures are not "recast," as if EVA had owned the Wilmington acquisition in the previous year. We prefer to see what effect acquisitions have upon a company's operations.)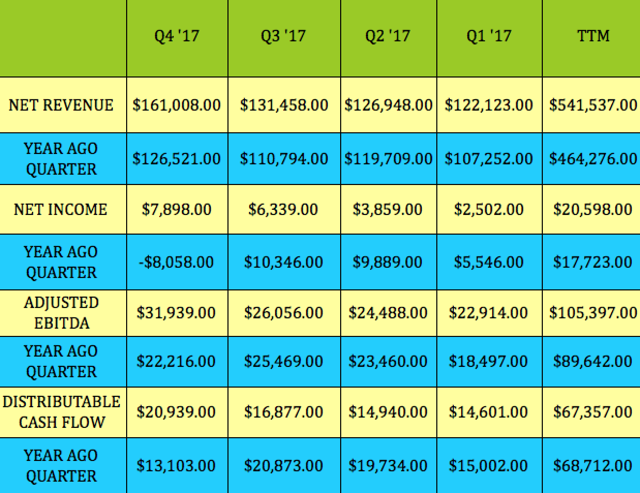 2018 Guidance:
This table compares management's 2018 guidance to EVA's actual figures for 2017. Net income is expected to rise 38%-58%, EBITDA by 12%-16%, and DCF by 18%-24%. Management said that the company would pay "at least $2.36/unit in distributions in 2018," which implies minimum distribution growth of 7.20%. (Source: EVA site)
On the expense side, maintenance capex is forecast to rise by 15%, and interest expense by 5.5%, due to the new assets and more debt to finance them. EVA had an EBITDA/interest coverage ratio of 3.23X in 2017, which will improve to 3.52X in 2018, judging by these guidance figures.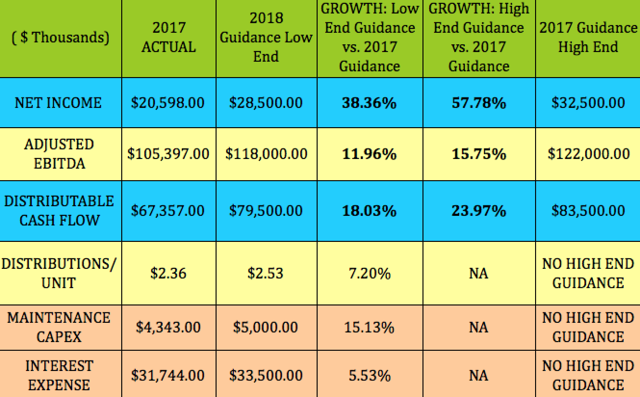 Risks:
Counterparty Concentration - EVA's 10K showed that three customers make up 93% of its mix. When asked about this on the Q4 earnings call, management said,
"We are going to be dealing with kind of in the dozen range I still think we will be concentrated around three or four kind of main that represent roughly 75% of the book, DRAX being the largest of those."

(Source: EVA 2017 10K)
Fire: Hey, wood burning can work both ways, right? Enviva reported that a fire commenced at its deep-water marine terminal in Chesapeake, Virginia, late on 2/27/18. "The fire was quickly controlled due to the efforts of onsite personnel and the Chesapeake terminal's fire suppression and mitigation processes, with assistance from local fire departments and other first responders." However, "the Partnership does not expect the fire to impact the guidance provided in its earnings release on February 22, 2018 for full-year 2018 adjusted EBITDA and distributable cash flow, subject to recoveries under insurance policies it maintains to mitigate against certain risks and other contractual rights." (Source: EVA site)
Policy Switch - There's debate about whether or not burning wood pellets decreases carbon emissions. A new, cheaper lower carbon emitting technology may possibly come along, which could change the emphasis and usage of wood pellets. However, we don't believe this would be a "turn on a dime" change - these are huge users, and large government bureaucracies that play in this space, both of which are not known for speedy decisions.
Environmental Pushback - There's also debate about EVA's feedstock usage and whether it helps or hurts forestry growth/management, and, ultimately, the environment.
The company explains its sources in its 10K and in other presentations:
"The wood fiber used for wood pellet production comprises predominantly pulpwood, which derives its name from its traditional use by the pulp and paper industry and includes roundwood (typically thinnings from forest management operations and the tops and branches from sawlogs), and wood residues (primarily mill residues, a byproduct of sawmilling and veneer mill operations). Our procured wood fiber consists of low‑grade wood fiber: Wood that's unsuitable for or rejected by the sawmilling and lumber industries because of small size, defects (e.g. crooked or knotty), disease or pest infestation." (i.e. This wood product won't work for the Housing or Furniture industries.)

"Demand for the non‑merchantable trees, waste products or byproducts that we use is generally low because they have few competing uses. The tops, limbs and other low‑grade wood fiber we purchase would otherwise generally be left on the forest floor, impeding reforestation, or burned. Wood pellet production provides a profitable use for the residues from sawmill and furniture industries and for the trees that are thinned to make room for higher value lumber‑grade timber. U.S. demand for such low grade wood fiber historically emerged from the pulp and paper industry. However, due to the decline in demand from paper and pulp, many landowners lack commercial markets for this wood fiber. Wood pellet producers help fill the gap."

EVA typically sources its feedstock from a variety of sources: "As a result of the fragmented nature of tract ownership, we procure raw materials from hundreds of landowners, loggers and timber industry participants, with no individual landowner representing a material fraction of any of our production plants' needs." (Source: Enviva 2017 10K)
We've noticed that there are a few SA investors out there who actually own tracts of forest and sell to Enviva - we'd welcome your comments/input on this issue.
New Developments:
On the earnings call, management referenced several new sponsor projects and customer contracts, which will bring future growth.
"The Partnership recently entered into two additional agreements with ENGIE to sell 90,000 metric tons ("MT") in 2018 and 585,000 MT in the aggregate from 2019 to 2023. In addition, the Partnership previously announced it has entered into an agreement with Ørsted (formerly Dong Energy Thermal Power A/S) for the supply of an additional 200,000 MT in the aggregate from late 2018 through mid-2021, incremental to the volumes under the existing off-take contract."
Hmmm, Dong Energy - wonder why they changed their name?
"The Partnership also entered into a firm long-term take-or-pay off-take contract with Marubeni Corporation to supply 100,000 MTPY of wood pellets for ten years commencing in 2022 to a new power plant in Japan."
Another future potential dropdown asset:
"Our sponsor announced in December 2017 that its development subsidiary entered into the Second Hancock JV to acquire, develop and construct wood pellet production plants and deep-water marine terminals in the Southeastern US. The new joint venture will be managed by the sponsor. As previously announced, the Second Hancock JV completed the acquisition of a wood pellet production plant in Greenwood, South Carolina (the "Greenwood plant"), and is expected to invest incremental capital to improve the operational efficiency and increase the production of the facility. The production of the Greenwood plant initially will be sold to the Partnership under a take-or-pay off-take contract and will continue to be exported from the Wilmington terminal."

"In addition, our sponsor and John Hancock is expected to provide the Second Hancock JV with the capital needed to fund the planned development of a deep-water marine terminal at the Port of Pascagoula, Mississippi, and at least two additional wood pellet production facilities, subject to certain terms and conditions."

"The First Hancock JV, the existing joint venture between affiliates of our sponsor and John Hancock, will retain ownership of Enviva Pellets Hamlet, LLC, the entity constructing a 600,000 MTPY production plant in Hamlet, North Carolina (the "Hamlet plant"). Our sponsor expects the Hamlet plant will be operational in the first quarter of 2019. Production from the Hamlet plant is contracted to supply MGT Teesside Ltd.'s Tees Renewable Energy Plant, which currently is under construction in the United Kingdom."

"Hamlet and Greenwood represent just the most recent plants in a series of investments we and our sponsor, through the Hancock JVs, are making to meet the long-term demand of our customers in Europe and Asia," said Keppler. "With demand continuing to outstrip available supply, we expect to add significant drop-down inventory for the Partnership in addition to the two plants and port already under operation and construction."
Tailwinds:
Biomass offers a cheaper and more "on-demand," stable base than solar and wind, which is further supporting EVA's sales. In addition, "the capital costs required to convert a coal plant to co‑fire biomass, or to burn biomass exclusively, are a fraction of the capital costs associated with implementing offshore wind and most other renewable technologies. Furthermore, the relatively quick process of converting coal‑fired plants to biomass‑fired generation is an attractive benefit for power generators whose generation assets are no longer viable as coal plants due to the expiration of operating permits or the introduction of taxes or other restrictions on fossil fuel usage or emissions of GHGs and other pollutants." (Source: EVA site)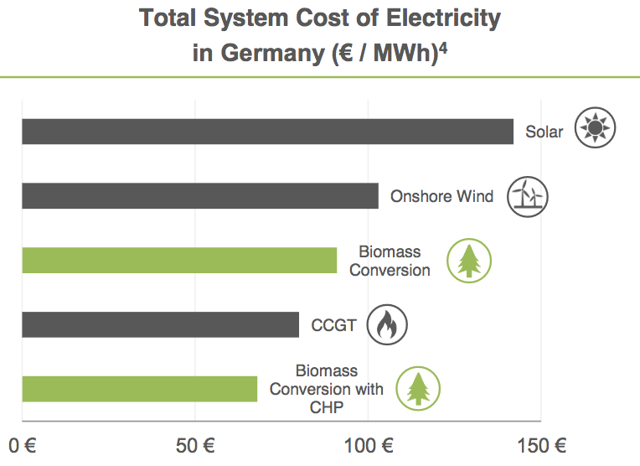 In Japan, costs are projected to go even higher by 2020: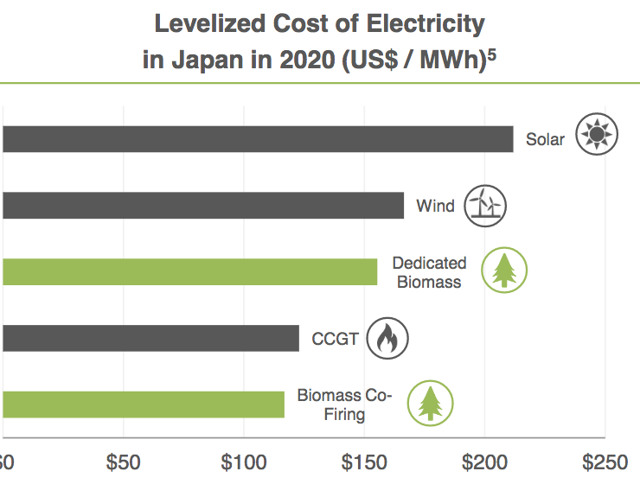 (Source: EVA site)
In addition to the growing industrial demand for pellets, EVA also has seen more demand for heating usage, which management is expecting to grow by 4% over the next few years. Management referenced this on the call:
"You have heard me talk about opportunities in the heating market for wood pellets in Europe and we have recently executed contracts to deliver several shipments to the operator of the district heating loop in Paris."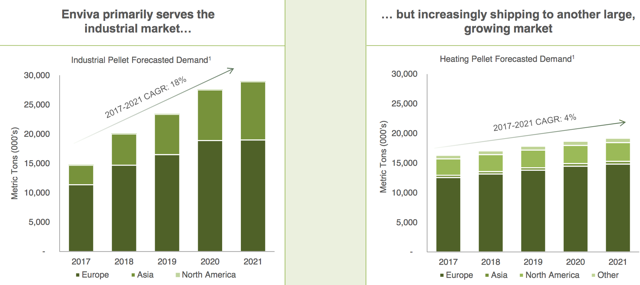 (Source: EVA site)
Management also is forecasting total production and purchase to make quite a rise in 2019: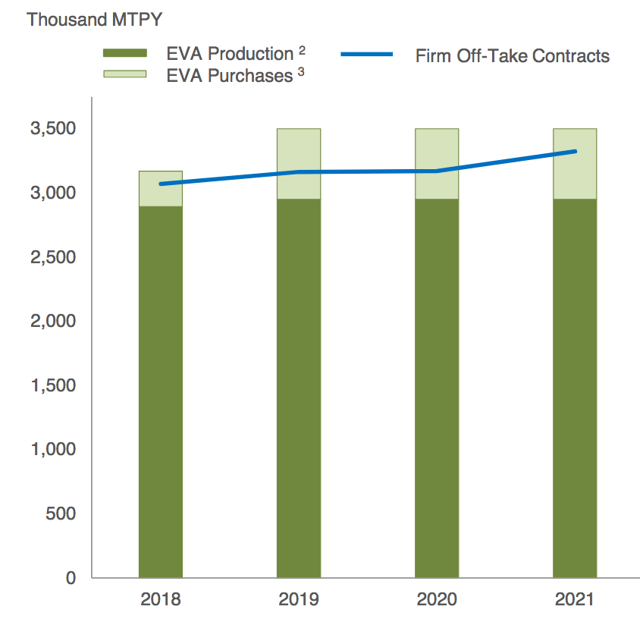 What's behind all of these new contracts? Governments in the EU, UK, and Japan keep raising the ante. Here are management's references to these tailwinds, from the Q4 '17 call:
"The European Parliament recently voted to increase the share of renewable energy generation to 35% by 2030 substantially higher than the 20% goal for 2020."

"In the UK, the government affirmed an additional renewable obligation certificate, or ROC, an incentive for DRAX, which DRAX said will allow it to convert a fourth unit to biomass from coal by the end of the year expecting to drive increased and more stable demand for wood pellets across its power plants."

"In the Netherlands, €6 billion were made available to renewable energy projects during the spring 2018 round of the renewal incentive program called the SDE-plus. We expect this trend will result in additional incentives to several large scale industrial steam projects using wood pellets, which is expected to drive further growth."

"Asia, where significant growth is expected as the Japanese governments target 6 to 7.5 gigawatts of biomass fired capacity by 2030 representing 15 million to 20 million metric tons a year of demand. The government has actually approved 13 gigawatts of biomass fired generation from the 2017 feed-in tariff applications, well in excess of expectations."
Performance:
This all sounds very encouraging to us, but apparently not to Mr. Market, who hasn't quite tossed his pellets into the fire, but hasn't warmed up to EVA's units recently either.

Analysts' Price Targets:
At $26.10, EVA is currently 10% below analysts' lowest price target of $29.00, and ~21% below the average $33.00 price target.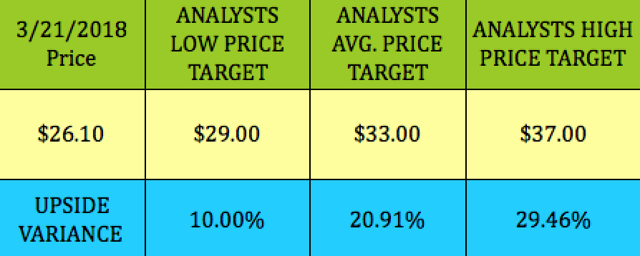 Valuation:
EVA's valuations, particularly its yield and price/sales, look better than broad industry averages. Generally speaking, its price/DCF of 9.98 is a bit higher than we've seen for high-yield LPs in other industries we cover, such as midstream pipelines or shipping, where we're seeing averages of ~9x.

Financials:
Not a lot of joy here, in terms of industry comps. Management took on a bit more debt in 2017, which raised both debt leverage ratios. Net income rose 16%, which makes ROE look better against Q4 2017's lower equity base, but made for a lower operating margin, vs. Q1 '17.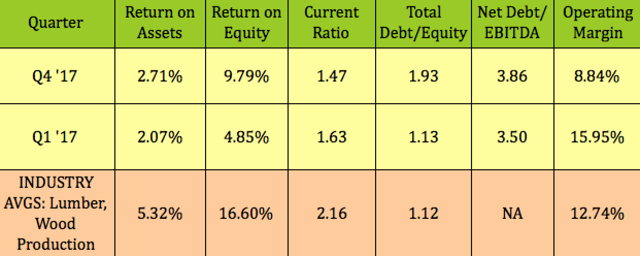 Debt and Liquidity:
In its October 2017 purchase of the Wilmington terminal from the Hancock JV for $130.0M, the Partnership made an initial payment of $56.0M, which was funded with borrowings under the Partnership's revolving credit facility and cash on hand. In addition, upon first deliveries to the Wilmington terminal from the Hamlet plant, the Partnership will make another payment of $74.0M to the Hancock JV, which is listed on the balance sheet as a long-term payable.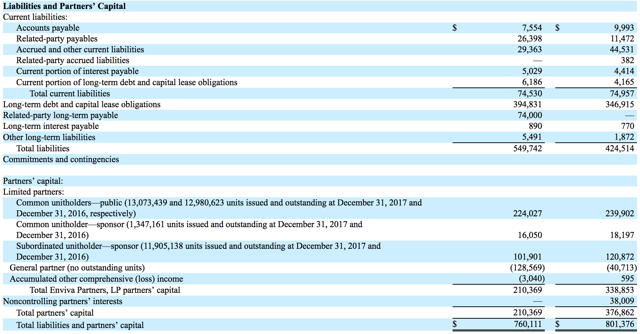 (Source: EVA 2017 10-K)
As of 12/31/17, the company was undrawn on its $100M revolving credit facility and its first debt maturity is in 2020:

(Source: EVA 2017 10K)
Options:
We feature option-selling trades for EVA in our DoubleDividendStocks.com subscription service, which we can't reveal here, but you can find 30 other trades in our free Covered Calls Table and Cash Secured Puts Table.
Summary:
We continue to rate EVA a buy based upon its continued growth prospects, supported by strong industry tailwinds, its niche leadership position and strong moat, and its well-covered yield.
All tables furnished by DoubleDividendStocks.com, unless otherwise noted.
CLARIFICATION: We have two investing services - Our independent, legacy site, DoubleDividendStocks.com, has been specializing in increasing yields via selling options on quality high dividend stocks since 2009.
Our new Seeking Alpha service, Hidden Dividend Stocks Plus, focuses on undervalued and undercovered dividend stocks and income vehicles, with yields ranging from 5% to 10%-plus. There's a 2-week free trial period for this service.
Disclaimer: This article was written for informational purposes only, and is not intended as personal investment advice. Please practice due diligence before investing in any investment vehicle mentioned in this article.