The stock market in 2017 had a very consistent run, with the DJIA up over 24% and the SP500 up over 18%. 2018 has started off more tentatively and with greater volatility. The prospects of increased economic growth, are being tempered by the uncertainty, of inflation, interest rate increases and possible trade wars.
In 2017 the average hedge fund returned 11.4%. This comparatively poor performance however does give informative insights due to the large dispersion in terms of performance among different strategies and managers. Michael Platt of Blue Crest Capital delivered mover than 50% return two years in row. A study by Preqin showed that 51%of funds that generated returns of 5% or more in 2016 experienced net inflows; by contrast, two-thirds of funds that generated a loss of greater than 5% in 2016 saw outflows in 2017.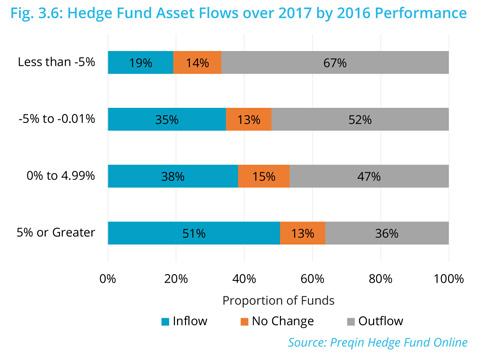 Under this circumstance, Catalyst Forum conducted its annual survey among the wealth managers and family offices (or "Smart Investors") to get a indication where the investors would like to place their investments in 2018. Going forwards, the appetite of investing in alternative funds changed markedly in 2018, with investors growing pickier.
An excerpt of the survey is shown below. (The full report can be found here.) For each strategy, we included ETFs with similar strategies as guidance to small investors.

Low-correlation strategies continue dominating the investing interests.
Investors continue to be drawn to those strategies that provide a low correlation with broader market and in turn deliver a higher risk-adjusted return. This should be a favorable environment for managers with an active management style that can capture price spreads and arbitrage. Quant & CTAs have witnesses a surge of interest, which probably continues in the more volatile markets of 2018.
ETFs to be considered: CLIX, MOM, RALS
Interests in "Commodities and Energy" sees the biggest percentage jump.
This could be driven by inflation fear.
ETFs: DBS, USO, GSG, GUSH
Emerging Markets remains favorable among investors.
Although down from last year, Interests in "Emerging Markets" remain the respectful 4th place. iShares' emerging market index beat SP 500 by a wide margin in 2017.
Interests in Macro strategy has show a moderate increase.
The changing of the guard of central banks cast shadow over future policies. It requires an expert's hand to navigate today's domestic inflation vs. global slack environment.
With potential interest rate hikes, it is no doubts to see the biggest drop on interest in Credit & Fixed Income.
Investors flee from this space in fear of more hawkish watch under new Fed Chairman Powell. The potential tighter monetary policy in combination with loose monetary policy makes this space less attractive
Investors' interest in Mortgage related fund and Real Estate funds drops dramatically.
Most Real Estate markets are close to, or, at the peak of the cycle and investors are wary of committing new capital.
Strong interest in infrastructure projects.
This could reflect the current administration's commitment to those projects.
In general, investors think that the market correction in early 2018 is a wake-up call that the period of low volatility is over.
This is arguably a boon for the actively managed investment industry as investors need professionals to assist their investment decisions, as well as adjusting their strategic asset allocation.
Disclosure: I am/we are long GUSH. I wrote this article myself, and it expresses my own opinions. I am not receiving compensation for it (other than from Seeking Alpha). I have no business relationship with any company whose stock is mentioned in this article.