Please know that I am applying value investing principles to every stock investment I touch at this point in time as I take defensive market positions. I have written past articles which outline my reasons for wanting to build a crash-resilient portfolio. Please read them if you want to know what the reasons are.
Also please note that the majority of my investments are outside the stock markets in physical assets which I have more control, and have less counterparty risk, in what I expect will be an era of higher market turbulence and volatility.
I am not gambling solely on metals price leverage, and I want some moat on my decisions should the silver market not turn the way I expect it to. Markets can stay irrational longer than investors can stay solvent. Therefore, the value methods provides me with moat to protect my portfolio in both short and longer term.
I am particularly interested in the silver metal space given my recent article on the attractiveness of the resource sector and the silver metal fundamentals. In order to wrap my arms around silver producers, I conducted a research study of 60+ primary silver companies in North, America, South America, and Australia.
Mining District Filter
I chose these regions due to their relative safety and lower geopolitical risk. The country risk discount value was determined from a research study performed by Svetlana Baurens in collaboration with the Swiss Banking Institute, University of Zurich, and Dr. T. Hens. The title of the research is Valuation of Metals and Mining Companies and contains the following chart on country premium risk.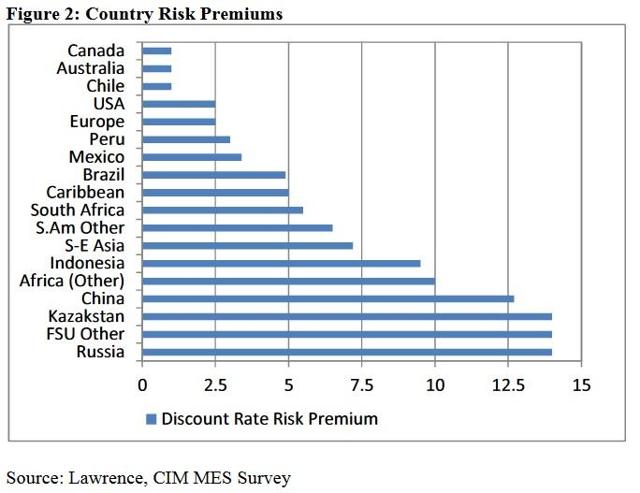 Source: Svetlana Baurens
I am interested in minimizing as much country-specific risk as possible, so I only considered mines operated in countries whose discount rate premium (used in NPV analysis) was equal to or less than about 5%. I also eliminated South Africa due to some recent changes in government policy regarding mining companies which have raised the discount rate I would use on mines to well over 5% due to banks potentially balking at the changes.
Study Population: The Silver 60
I found about 60 companies, post filter, that were engaged in the exploration or production of primary silver resources in my chosen jurisdictions. I will call these the Silver 60. I won't print the whole list for brevity purposes, but see below for my final list of chosen candidates.
My interest in primary silver producers results from their leverage to the silver commodity price, which I expect to have a sharp rise in price once gold gets going again.
Instead of doing deep dives on each of these companies, I had to develop a metric for screening out ones in which I knew I would likely not be interested to come up with the short list of interesting candidates. Further work will be needed to weed out the ones I may invest money in.
Screening for Value
That led to development of what I call the super score, a crude measure of project value which consists of total resources and reserves multiplied by the published projected/realized recovery rates and AISC (all in sustaining costs) premiums. Essentially it is calculated as:
(Recovery Rate, as a) * (AISC premium, as b) * (total resources, as c)
where a= a percentage, b = ($16.50 silver price - AISC), and c = (total silver equivalent ounces).
Variable A represents the percentage of recoverable ounces expected to be produced from the stated resources, B represents the difference between the median silver market price and how much the company needs to get it out of ground, and C represents the total reported resource ounces.
I used both inferred, and M&I, resources in my calculations. Since exploration companies may not have calculated P&P reserves yet, I just included P&P reserves as M&I resources. $16.50 is about the median price silver has been trading at for about the last 6 months so I used that value in AISC premium calculations.
Caveats to my Screening Method
Note: I used AISC instead of AIC (all in cost) because AIC is not provided by as many companies to allow for ease of comparison. I am also somewhat skeptical of AIC numbers until production is actually achieved for a while. I intend to examine company management history of proficiency as well as the company's individual financial situation to account for potential additional costs to the AISC, realizing this is not a perfect substitute for a real number. But it works well enough for early screening. I will factor in AIC numbers later where they are available, most likely for the producers only.
I divide the super score by current market cap of the stock (using Wednesday prices), to determine which companies are likely undervalued today. Any company trading above a 1 (where potential value is greater than current market cap) will receive a closer examination from me. Any company below a 1 value gets ignored for now in my value investing approach, because they are overpriced at current valuations.
Because I already filter out higher risk countries, I have essentially set all of the discount rate premiums for companies I am looking at within a defined acceptable range. Other factors in NPV analysis, such as projected mine life, will be examined only for any company that passes the initial screen and only for companies that have done their feasibility analysis to estimate mine life.
Also note that early stage exploration companies with no reported resources and/or cost estimates are left out of this study intentionally.
The Elite Eight Silver Value Options
Nine companies out of 60 emerged from the value filter. They are: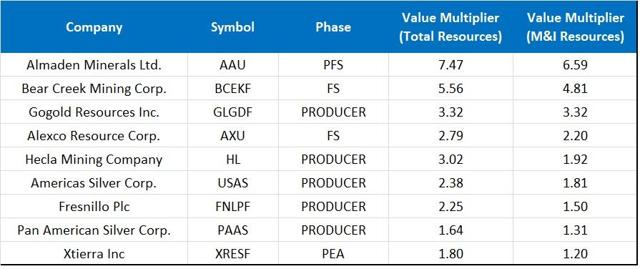 Source: My calculations based on public data published by each company
The table is sorted by the M&I resources value multiplier (last column), calculated by dividing the M&I super score by the current market cap. Larger values indicate higher potential value over the market cap.
Despite passing the value screen, I am also knocking out Xtierra because they need cash badly, have lower resource grades, and I think they have higher hurdles to overcome than the others. I had already done some research on them. I may examine them more closely when I get to the early stage explorers to see what progress they may have made.
That leaves the top eight companies as the value elite candidates that I am going to perform additional analysis on, which will include:
management team
deposit type/quality
prospects for financing
current shareholder structure and debt
time to production (explorers) or length of mine life (producers)
leverage to the silver price (how much other metals exposure they have)
and any other factors that may come up in research
If you like this method, then I have just given you 8 good ideas to look at in the silver resource miner space while saving you quite a bit of detective work needed to separate the wheat from the chaff.
As my followers know, I don't just do general due diligence on precious metals resource companies. The extra step I take is to engage company management in a discussion as a filter. Those companies that answer my questions sufficiently may get an investment from me.
If I become an investor, or in order to make a final investment decision, I may ask to see their facilities. That last step depends on their availability and cost of me doing so (time and money) versus how comfortable I already am with them in my independent research. Most companies I won't visit unless I have outstanding questions which are best handled through an onsite tour.
In the upcoming weeks, I examine these elite eight and will write in-depth articles on the ones I am interested in. I believe that 2018 is the 'Year of the Silver Investment' and this sector is where I will be putting a sizable chunk of my stock portfolio. I believe the potential value calculations above explain part of the reason why - the resource sector is not as bloated as many others are.
Please feel free to critique my silver valuation method as long as you provide good alternatives to assessing value in a screen process. I am not interested in companies gambling solely on silver price leverage and who have high levels of debt in a make-or-break silver bull market situation. That doesn't fit my investing profile.
Also please feel free to visit my recent article, These 11 'Value' Stocks Are What Is Left Of An Aging Bull Market for a similar defensive, value-based investing approach in the broader market.
Disclosure: I/we have no positions in any stocks mentioned, and no plans to initiate any positions within the next 72 hours. I wrote this article myself, and it expresses my own opinions. I am not receiving compensation for it (other than from Seeking Alpha). I have no business relationship with any company whose stock is mentioned in this article.