Index IDEA: Large-Cap U.S. Sectors Have More Ups And Downs In 2018
After a 21.7% return for the US large cap Russell 1000 Index in 2017 in which all but one sector had positive returns, 2018 has been more of a mixed bag with sector returns. The Index has a return of -0.7% in 2018 (as of March 22) amid heightened market volatility, rising interest rates and growing global trade concerns, with more mixed returns across sectors.
Thus far in 2018, the US large cap Technology (+4.8%) and Consumer Discretionary (+2.5%) sectors have continued their positive performance from 2017, with the Financial Services sector off just slightly (-0.3%). The Consumer Staples (-9.4%), Utilities (-6.2%) and Materials & Processing (-5.3%) sectors have turned negative in 2018 after posting positive returns last year.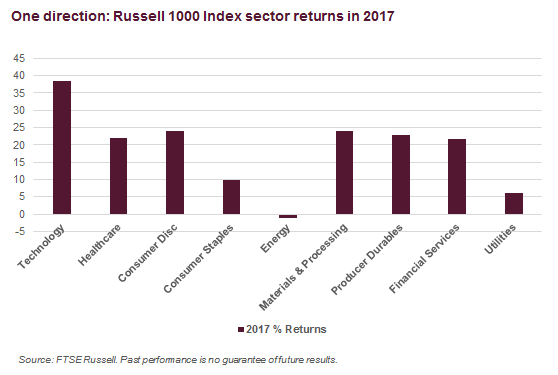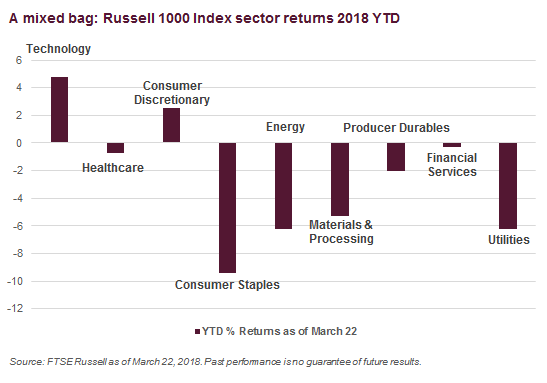 Joe Sullivan, director, Interactive Brokers Asset Management:
"Some sectors can significantly under-perform the overall market when volatility is high. These are situations where utilizing investment strategies that provide the opportunity for broad-based and diversified sector exposure can be can be beneficial long-term."
Rolf Agather, managing director, North America research, FTSE Russell:
"Market indexes can be a very useful tool for investors to measure and compare performance across global asset classes and markets. This is particularly true in the case of market sectors, which clearly fluctuate in performance over time as demonstrated in Russell 1000 Index sector returns in 2018."
© 2018 London Stock Exchange Group plc and its applicable group undertakings (the "LSE Group"). The LSE Group includes (1) FTSE International Limited ("FTSE"), (2) Frank Russell Company ("Russell"), (3) FTSE TMX Global Debt Capital Markets Inc. and FTSE TMX Global Debt Capital Markets Limited (together, "FTSE TMX"), (4) MTSNext Limited ("MTSNext"), (5) Mergent, Inc. ("Mergent"), (6) FTSE Fixed Income LLC ("FTSE FI") and (7) The Yield Book Inc. ("YB"). All rights reserved.
FTSE Russell® is a trading name of FTSE, Russell, FTSE TMX, MTS Next Limited, Mergent, FTSE FI and YB. "FTSE®", "Russell®", "FTSE Russell®", "MTS®", "FTSE TMX®", "FTSE4Good®", "ICB®", "Mergent®", "WorldBIG®", "USBIG®", "EuroBIG®", "AusBIG®", "The Yield Book®", and all other trademarks and service marks used herein (whether registered or unregistered) are trademarks and/or service marks owned or licensed by the applicable member of the LSE Group or their respective licensors and are owned, or used under licence, by FTSE, Russell, MTSNext, FTSE TMX, Mergent, FTSE FI or YB.
Views expressed by Rolf Agather of FTSE Russell and Joe Sullivan of Interactive Brokers Asset Management are as of March 23, 2018 and subject to change. These views do not necessarily reflect the opinion of FTSE Russell or the LSE Group.
All information is provided for information purposes only. All information and data contained in this publication is obtained by the LSE Group, from sources believed by it to be accurate and reliable. Because of the possibility of human and mechanical error as well as other factors, however, such information and data is provided "as is" without warranty of any kind. No member of the LSE Group nor their respective directors, officers, employees, partners or licensors make any claim, prediction, warranty or representation whatsoever, expressly or impliedly, either as to the accuracy, timeliness, completeness, merchantability of any information or of results to be obtained from the use of the FTSE Russell Indexes or the fitness or suitability of the FTSE Russell Indexes for any particular purpose to which they might be put. Any representation of historical data accessible through FTSE Russell Indexes is provided for information purposes only and is not a reliable indicator of future performance.
No responsibility or liability can be accepted by any member of the LSE Group nor their respective directors, officers, employees, partners or licensors for (a) any loss or damage in whole or in part caused by, resulting from, or relating to any error (negligent or otherwise) or other circumstance involved in procuring, collecting, compiling, interpreting, analysing, editing, transcribing, transmitting, communicating or delivering any such information or data or from use of this document or links to this document or (b) any direct, indirect, special, consequential or incidental damages whatsoever, even if any member of the LSE Group is advised in advance of the possibility of such damages, resulting from the use of, or inability to use, such information.
No member of the LSE Group nor their respective directors, officers, employees, partners or licensors provide investment advice and nothing contained in this document or accessible through FTSE Russell Indexes, including statistical data and industry reports, should be taken as constituting financial or investment advice or a financial promotion.
This publication may contain forward-looking assessments. These are based upon a number of assumptions concerning future conditions that ultimately may prove to be inaccurate. Such forward-looking assessments are subject to risks and uncertainties and may be affected by various factors that may cause actual results to differ materially. No member of the LSE Group nor their licensors assume any duty to and do not undertake to update forward-looking assessments.
No part of this information may be reproduced, stored in a retrieval system or transmitted in any form or by any means, electronic, mechanical, photocopying, recording or otherwise, without prior written permission of the applicable member of the LSE Group. Use and distribution of the LSE Group data requires a licence from FTSE, Russell, FTSE TMX, MTSNext, Mergent, FTSE FI, YB and/or their respective licensors.
This article was written by
A leading global provider of benchmarks, analytics, and data solutions with multi-asset capabilities FTSE Russell's solutions offer a true representation of global markets across asset classes, styles, and strategies. Our global perspective is underpinned by specialist knowledge gained from developing local solutions and understanding client needs around the world. FTSE Russell is a wholly owned subsidiary of London Stock Exchange Group (LSEG), and is a unit of the Information Services Division.FTSE Russell's expertise and products are used extensively by institutional and retail investors globally. For over 30 years, leading asset owners, asset managers. ETF providers, and investment banks have chosen FTSE Russell indexes to benchmark their investment performance and create investment funds, ETFs, structured products and index-based derivatives. FTSE Russell indexes also provide clients with tools for asset allocation, investment strategy analysis and risk management.The Yield Book analytical insights With the recent addition of The Yield Book business, FTSE Russell extends its expertise in analytics to a highly respected analytics platform that serves approximately 350 institutions globally including investment management firms, banks, central banks, insurance companies, pension funds, broker-dealers, hedge funds and investment management firms. The Yield Book offers analytical insights into a broad array of fixed income instruments with specific focus on mortgage, government, corporate and derivative securities.