The long-awaited IPO of Dropbox (NASDAQ:DBX), the largest in the tech sector since the IPO of Snap (SNAP) last year, has finally come and passed. Dropbox braved an extremely volatile market on the day of its public debut, with all of the major U.S. indices falling more than 2.5% - despite this, Dropbox defied turbulent waters and produced a 36% "pop" in Day 1 trading, closing the day at $28.48.
To be fair, Dropbox had already opened for trading at $29, up 38% from the IPO price of $21 (the "pop" is always reported against the initial price that institutional investors paid for the primary share allocations). Owing the broad market turmoil, trading in Dropbox was rather choppy, but the company did manage to hold in well and close at a market cap of $12.54 billion on a fully diluted basis (counting all the shares issued under employee stock grants, etc.). This reverses the notion of a "down round" for Dropbox, with Dropbox's ending market cap about 25% higher than its last private valuation of $10 billion (though the fundraising itself, at $21/share, was indeed a down round)
See the company's first day trading chart below: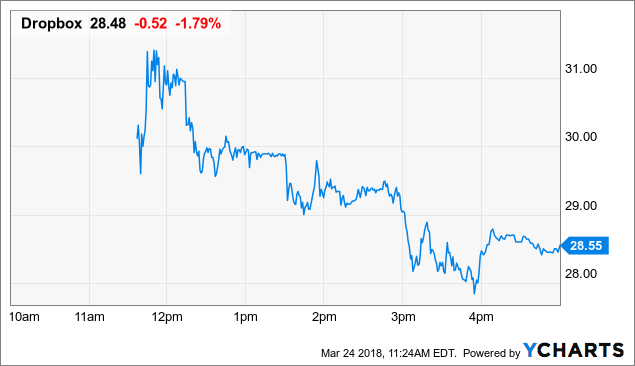 Dropbox's 36% "pop" came in well under that of Zscaler's (ZS), the security-as-a-service software company that went public the week before Dropbox and popped a staggering 106% in its public market debut. But the fact that Dropbox produced only a modest pop in its first day is an encouraging sign for investors hoping to go long.
At $28.48, Dropbox does look appropriately valued - but given the choppiness in the market of late (and the downward slide seen in the shares on Day 1 trading, as shown above), we might get an opportunity to take a stab at Dropbox at a lower price. I have my eye on the $24 handle, or about 7x EV/FY18 revenues.
Final offering details
First, here's how the chips fell in the Dropbox offering:
IPO priced at $21 per share, above the indicated range of $18-$20 (which was revised the week of the IPO, up from an initial range of $16-$18)
Dropbox sold a total of 36 million shares in the offering, of which 9.2 million was sold by existing shareholders (and thus not a fundraise)
This implies a total deal value of $756 million (36 million shares at $21 apiece), but a portion of that goes to existing shareholders instead of a pure fundraise
Estimated net proceeds of $640.9 million in the offering after netting out expenses (calculated from Dropbox's S-1 filing estimate of $579.9 million in net proceeds at $19 per share, scaled up to $21)
A $100 million portion of the offering was allocated to a private placement to Salesforce (CRM). Based on the $21 share price, this indicates 4.76 million shares went to Salesforce, which now owns about 1% of the company
Standard 15% "greenshoe" option opens up the possibility of selling an additional 5.4 million shares ($113.4 million) for IPO stabilization purposes
Fully diluted share pool of 440.3 million shares outstanding after the IPO
Here's a look as well at the company's cap table of major holders post-IPO:
Figure 1. Dropbox cap table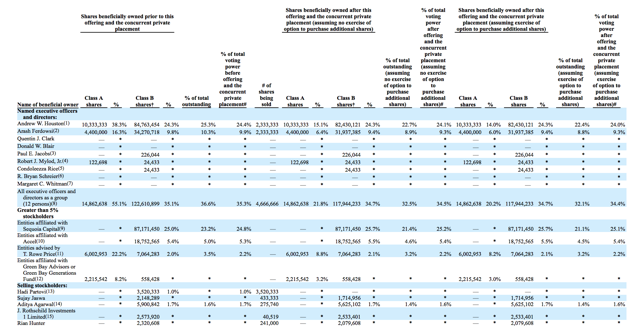 Source: Dropbox S-1A filing
Note that Drew Houston, Dropbox's outspoken founder and CEO, owns roughly 24% of the company post-offering (a huge percentage, much larger than a typical founder/CEO at IPO). Note also that Houston didn't sell any of his $3 billion stake in Dropbox during the IPO, a huge vote of confidence in the company (though we'll see if he retains his shares in September, when the lockup period expires).
Valuation update
With Dropbox closing its first day of trading at a fully-diluted market cap of $12.54 billion (using the 440.3 million fully diluted share count), the economics of its down round valuation are changed somewhat. In a previous article written prior to the IPO and back when Dropbox's pricing range was between $18-$18, I had hoped to snag Dropbox in the low $20s where its EV/FTM revenue multiple would have been 6x or below.
At $28, Dropbox's attractiveness as a long investment changes somewhat. However, given that the IPO pop was modest and shares are still below a double-digit revenue valuation (Zscaler went off the charts with a 20x revenue valuation on its first day of trading, and has roughly held that valuation since), it's still worth keeping a close eye on Dropbox and waiting for a minor dip to invest in the shares.
As always, comparing Dropbox's valuation against its eternal rival Box (BOX) offers one of the most insightful comps:
Figure 2. Dropbox valuation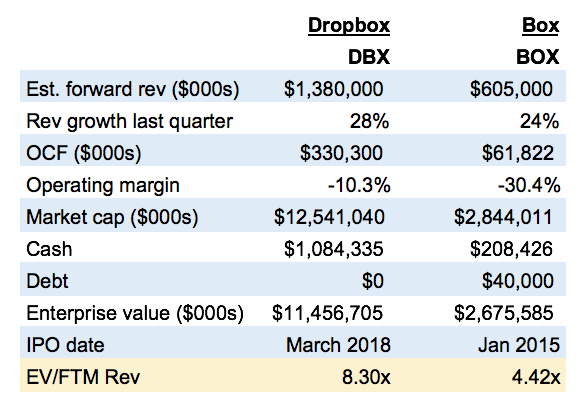 Source: author-created chart, market cap taken as of close of trading on March 23; data from public filings
With Dropbox's enterprise value now at 8.3x forward revenues (estimating 25% revenue growth on Dropbox's FY17 revenues of $1.1 billion), its now nets a valuation that's twice that of Box (note that Dropbox's cash balance is estimated by adding the company's balance sheet cash to its estimated net IPO proceeds). Note also that on the same day Dropbox went public and soared 36%, Box's stock slumped 8%, exacerbating the rift between the two stocks: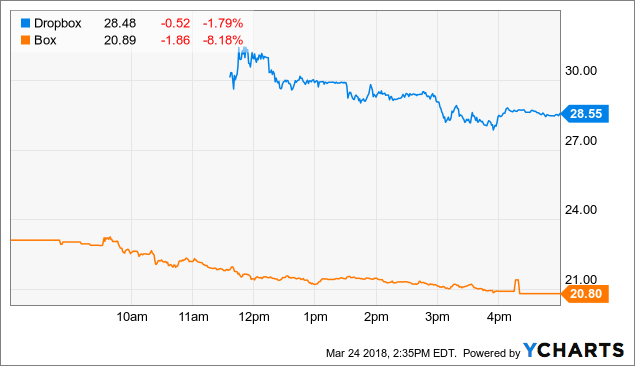 Still, however, a large part of Dropbox's valuation premium can be justified by its huge free cash flows. Dropbox generated 28% FCF margins in FY17; applying this same margin to estimated FY18 revenues of $1.38 billion (assuming conservatively that there will be no margin expansion), the company will generate $386.4 million of FCF in FY18. That puts Dropbox's EV/FY18 FCF multiple at 29.6x - which, in the context of Dropbox's massive growth, isn't too unreasonable of a valuation to pay.
There's also the hope that Dropbox for Business - the enterprise edition of Dropbox that competes directly against Box (BOX) - will take off and provide meaningful lift on top of Dropbox's existing strength in its consumer business. If so, Dropbox can continue to grow in the high 20s for an extended period of time - its growth rate is already a few points higher than Box's, despite being twice its size.
[Of course, Box CEO Aaron Levie dismissed the idea that Dropbox will ever be a serious competitor to Box in the enterprise. On the subject of the Dropbox IPO, Levie has been quoted as saying "We're like Salesforce (CRM); they're like Netflix (NFLX)".]

How should investors react?
As an investor, I wouldn't be willing to pay more than 7x forward revenues for Dropbox, implying a price target of $24 (that price also indicates a 24.6x forward FCF multiple). With Dropbox already trading so close to 10x revenues and twice Box's valuation, there just isn't that much room for upside near $30.
Fortunately, however, the markets are currently undergoing a huge bout of volatility that could see large swings in Dropbox shares. Zscaler, for one, has sank as much as 15% intraday before recovering it all the next. Dropbox's IPO could see the same volatility, and savvy investors can make robust gains from this trade. Just be wary of the valuation and be careful not to overpay, as that tendency is all too common in buying tech IPOs.