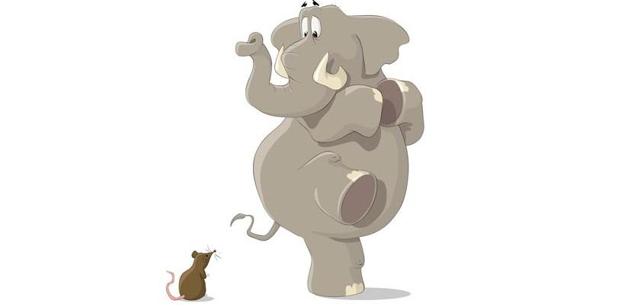 In the multi-trillion-dollar elephantine world of investing, can one ever be the mouse?
It's times like these - with interest rates rising, markets roiling, and trade wars rumbling, that I come to realize how quickly investors can lose billions of dollars for no other reason than a few ornery world leaders who can't get along. Sure, protectionism works great for just that - protection. But then when the analysts foresee shrinking future cash flows, all of a sudden I feel like a mouse stuck in a maze of elephants, and the cheese is nowhere to be found.
Here's an itty-bitty statistic that might put things into perspective: The total market capitalization of the S&P 500 is about $23.9 trillion dollars. The 3% drop in the S&P since the start of the year translates into about $717 billion dollars disappearing into thin air. Who is to blame? Is it the analysts who base their price targets on future earnings that haven't occurred yet? It is President Trump with his protectionist economic policy? Is it the institutional money managers who default to mediocrity and modern portfolio theory? Or, is it my fault, for being a small retail investor in a not-so-small world? Am I investing in companies, or trading on bite-sized pieces of news? Should I follow the crowd, or march to the beat of my own drum? In the end, will it even matter?
In the hopes of avoiding market tribulation and overcoming risk, the three ideas discussed below are the opening act, never the crescendo. Presenting them is an invitation to perform more research, and along the way demonstrate a few ways to go small amidst a large backdrop of uncertain investing, with the goal of reducing the risk reverberating from rising interest rates, volatile markets, and tumultuous trade wars.
As a preamble to the notion of being a pint-sized investor attempting to outperform the market, it might be prudent to defer to the words of Joel Greenblatt, from his book You Can Be A Stock Market Genius. In it, he addresses the themes of risk and portfolio management as it relates to diversification:
Intuitively, you would probably agree that there is an advantage to holding a diversified portfolio so that one or two unfortunate (read "bonehead") stock picks do not unduly impair your confidence and pocketbook. On the other hand, is the correct number of different stocks to own in a "properly" diversified portfolio 50, 100, or even 200?

It turns out that diversification addresses only a portion (and not the major portion) of the overall risk of investing in the stock market. Even if you took the precaution of owning 9,000 stocks, you would still be at risk for the up and down movement of the entire market. This risk, known as market risk, would not have been eliminated by your "perfect" diversification.

While simply buying more stocks can't help you avoid market risk, it can help you avoid another kind of risk - "nonmarket risk". Nonmarket risk is the portion of a stock's risk that is not related to the stock market's overall movements...

Statistics say that owning just two stocks eliminates 46 percent of the nonmarket risk of owning just one stock. This type of risk is supposedly reduced by 72 percent with a four-stock portfolio, by 81 percent with eight stocks, 93 percent with 16 stocks, 96 percent with 32 stocks, and 99 percent with 500 stocks.
There are two inferences to be drawn here. First, diversification should be less about market risk (which always exists) and more about non-market risk. Owning a basket of select sector stocks doesn't necessarily reduce market risk. Instead, diversification should impart a certain amount of "protectionist" policy on your investment strategy, as opposed to the traditional basket approach modeled by institutional managers. Second, to put it bluntly, you can still lose money! You can diversify all you want, but bear in mind you'll still be at the whim of institutional elephants stomping all over the market - not to mention your tiny profits too. So, how can one address the "major portion" of overall risk in stocks? Well, one approach might involve going small, and finding places where the elephants can't find you. In other words, be the nimble mouse, not the lumbering elephant. Well, here goes nothin'.
Strategic Alternatives: DAVIDs Tea (DTEA)
Market Cap: $93M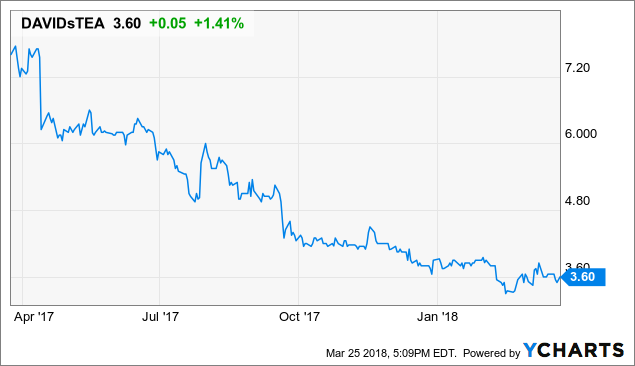 DAVIDs Tea is a specialty tea retailer headquartered in Montreal, Canada. As of fiscal year 2016 the company operated 231 stores (181 in Canada and 50 in the United States) and generated $168m in revenues (Note: DTEA reports their financials in $CAD; any $ figures discussed here were converted to USD using an exchange ratio of $1 CAD = $0.78 USD). Prior to 2017, the company reported 30 consecutive quarters of positive same-store sales growth, and generated 66% of their revenues from loose-leaf & packaged tea sales, 25% from tea accessories, and 9% from food and beverages. With a current market cap of about $93 million, DTEA is definitely the small guy.
However, three quarters into 2017, DTEA saw declines in virtually every category: sales, comps, gross profit, net loss, and adjusted EBITDA, to name a few. The company is on track for a 15% sales drop for the year, and same-store sales declined 6.8% in Q3 alone. Take it from CEO Joel Silver:
We are disappointed with our third-quarter results, which came in below anticipated sales and profitability. The decline in same-store sales of 6.8% reflects several factors, including challenges in accessories and kits. The latter can be explained by a product offering which did not excite the customer and which we are working diligently on improving. On a more positive note, our tea business was the best performing product category during the quarter, and our e-commerce business continued its strong growth over last year.
Despite the revenue declines, at ~$3.60/share DTEA trades cheaply at about 0.65x sales. The investment itself may not be my cup of tea, but the strategic alternatives are tantalizing. On March 8th, DTEA updated their strategic review process, and revealed that co-founder Herschel Segal is interested in taking the company private. For comparison, consider Teavana, which was acquired by Starbucks (SBUX) in 2012 for $620 million - that was a 379-store purchase at approximately 3.5x sales. However, the tea leaves could be bitter here, since last year Starbucks announced they were closing all 379 Teavana stores. Seems like slim pickings in the tea space.
Spinoff: Cogint, Inc. (COGT)
Market Cap: $234M
Cogint, Inc. describes itself as a cloud-based data analytics company, specializing in mission-critical information and performance marketing solutions. It is a "data fusion" company, capable of interpreting data from its massive catalog of public-record, proprietary and publicly-available reports, and using it to help enterprises make better, more informed decisions. How are they creating value? First, they gather information; suppose that I get a speeding ticket. Cogint will access the public record to log this information. Another data collection strategy comes when I fill out online surveys. Cogint is one of the companies building a database of responses. Second, it uses this data for its "Information Services" segment or its "Performance Marketing" segment to create problem-solving solutions for companies in financial services, insurance, law enforcement, advertising, etc. It's no Facebook (FB) or Google (GOOG, GOOGL), but the revenue growth is staggering. In fiscal 2016, 2015, & 2014, the company generated $187m, $14.1m, and $0.8m in sales, respectively. Furthermore, Cogint just reported revenues of $220m for 2017, an 18% increase year over year. At $3.25/share, COGT trades at about $1.06x/sales - not a bad price to pay for double digit growth.
Now comes the spinoff - Cogint has just separated its data and analytics business into Red Violet (NASDAQ:RDVT), through a 1:7.5 share dividend to COGT holders (one share RDVT for every 7.5 shares COGT). According to a February press release, Cogint had entered into a business combination with BlueFocus, and would have spun off Red Violet as a condition to closing the transaction, but CFIUS did not approve of the merger. Here is a statement from CEO Derek Dubner:
Despite a seamless CFIUS review process over the last several months, CFIUS has indicated its unwillingness to approve the transaction. Undeterred by this decision stemming from the political climate surrounding China-based acquirers, we are committed to continuing to create shareholder value and proceeding with the spin-off of our data and analytics business…Additionally, our digital marketing business, Fluent, which we believe today is more valuable than the $415 million valuation assigned by the BlueFocus transaction, will be 100% owned by our shareholders, as a standalone public company, as opposed to 37% owned as originally contemplated by the BlueFocus transaction.
Cogint also provided 2018 full-year guidance of $238-$245 million in revenues and $38-$45 million in EBITDA. So all told, what we've got is an ad-tech business growing at ~10% annually, trading at 1x sales, with a data & analytics spin. Cogint may be a small company, but they certainly seem to be planning big moves.
Strategic Alternatives: Xerium Technologies (XRM)
Market Cap: $107M
Xerium Technologies is a supplier of rollers for paper & clothing manufacturing. The company operates 28 manufacturing facilities in 13 different countries spanning North America, Europe, Latin America, and Asia. Their roll products are installed on pulp & paper-making machines, which makes the business directly correlated to global demand for paper, pulp and board. With $481 million in 2017 sales, Xerium's machine clothing products generated 60% of the revenues, with roll cover products representing the remaining 40%.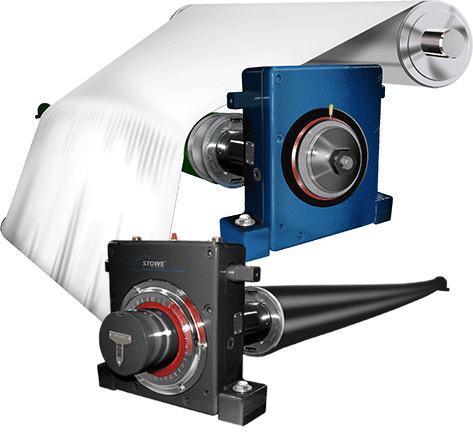 Recently, the Board of Directors initiated a review of strategic alternatives to maximize shareholder value. According to the release:
Alternatives could include a sale of the Company or of its divisions and selected assets in separate transactions, a strategic merger, a Reverse Morris Trust transaction, or other business combination […] James Wilson, Chairman of the Board, said, "Our markets are stable and our execution is strong and getting stronger. With an expected EBITDA to capital expenditure ratio of roughly 7 times, Xerium is on a path to increase shareholder value through debt reduction. However, the Company currently carries expensive debt that could be refinanced on more attractive terms by a buyer, and suffers from poor stock trading liquidity. After careful consideration, the Board has determined that there may be opportunities to accelerate value recognition or unlock additional value through strategic actions, and this is an appropriate time to identify and evaluate options for shareholders.
But before siding with the board and their insight into opportunity, it should be noted that there hasn't been much improvement in the revenues - less than 1% growth since 2015, and a 12% drop since 2013. Furthermore, although the market cap is tiny at $107m (trading at a rock-bottom 0.22x sales multiple), the company is sitting on $474 million in long-term debt. That said, XRM is a little bit more expensive on an EV/Sales basis. Will the strategic alternative review pay off? I'm not sure, but for the time being, I'll defer to management: "There can be no assurance that the Board's strategic review will result in any transaction, or any assurance as to its outcome or timing."
Until next time, caveat emptor.
Disclosure: I am/we are long COGT. I wrote this article myself, and it expresses my own opinions. I am not receiving compensation for it (other than from Seeking Alpha). I have no business relationship with any company whose stock is mentioned in this article.
Additional disclosure: I may initiate a position in DTEA or XRM in the next 72 hours. Nothing contained in this article is an offer or solicitation to buy or sell any security/investment, and is for informational purposes only.