For many years oil has been the world's most traded commodity and its cousin, natural gas - gas for short in this article - has been treated almost with disdain. If a picture paints a thousand words this chart does likewise on gas pricing since the US shale gas revolution.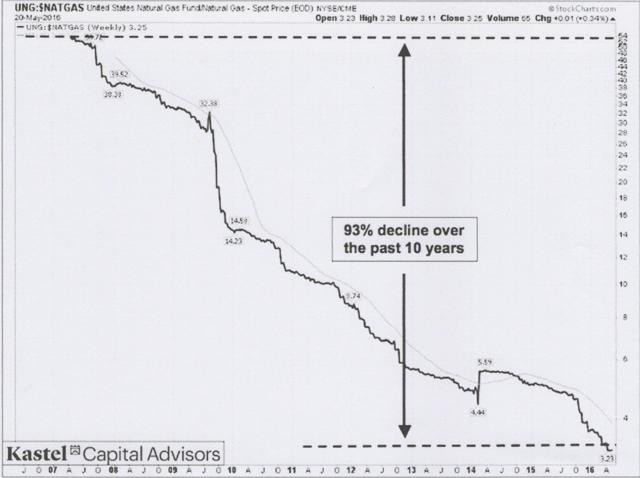 It is also reflected in the fact that vast volumes have been and still are flared off at oil producing sites around the world and also in the seemingly frivolous attitude of the US Henry Hub price which apparently deems the weather in Brooklyn to be more important than demand in Beijing or Britain. The latter being a country where they cannot get enough and are now importing LNG - liquefied natural gas - from Russia at a time new problems have arisen with that country over an alleged nerve gas attack by Russia on a former spy living in Britain. Stranger even than that the US - a country that has an abundance of gas and is exporting LNG around the world - this winter received two cargoes of LNG from Russia to save the people in Boston from freezing. Surprising that did not make headline news on CNN and others that talk instead of yet more US sanctions against Russia! Perhaps the US also has sanctions against itself if the Jones Act prevents shipping of US LNG around the US coast because the LNG carrying vessels are not made in the US! Similarly tariffs on steel - a low value commodity - may put up the cost of the pipes that transport the gas inland because insufficient of those are made in the "make America great again" US.
Demand
Instead of guessing where prices are going I will look at demand trends and they are going in one direction only - up.
Apart from the strange way of politics mentioned above politics generally worldwide relating to pollution are ensuring gas is becoming an indispensable partner with renewables in efforts to clean up the global environment. The International Energy Agency, IEA, calculates that gas and renewables share of energy supply could reach 54% of total supply by 2040 with gas providing the main share of that. This article in the Financial Times has more on the growing clout of gas. Shell (NYSE:RDS.A) also puts it well in its warning of a coming LNG supply crunch. Interestingly Shell is entering a venture with Saudi Arabia to supply gas to that major oil producer as the Saudis want to divert more of their oil consumption from power generation to oil exports by using gas for power generation instead.
Some specific points include:
- The American Chemistry Council, ACC, has said that at least 85% of US petrochemical production uses gas or gas liquids as feedstock and 310 projects with a capital investment value of $185 billion had been announced by mid 2017. Excellent sources of information are in here.
- US ethane is being shipped to Europe for use in petrochemical plants there. One of my investments Range Resources(NYSE:RRC) is supplying some of that.
- The IEA estimates that growing electricity demand in China will require the equivalent of today's US power system to be added by 2040 and gas will be used mainly to get away from the killer pollution caused today by coal fired power stations.
- In the US around 33% of electricity will come from gas fired power stations by the end of 2018 as the result of the change there from coal in very recent years and gas will become an increasing part of the mix for the long term thereafter.
- India is now the world's third largest energy consumer and the economy there is now growing at a faster rate than China's. It has massive pollution problems and gas fired power stations will provide the bulk of the increased supply need to underpin that growth and supply power to the estimated 240 million people who still have no electricity at all in their homes.
One action soon is the launching auction for right to distribute gas in 156 largely urban districts in an effort to fight air pollution, as the Modi government looks to kick start the adoption of natural gas.
Both India and China will require imported gas in the form of LNG as they have insufficient resources of their own.
- Selling gas to the energy rich Middle East sounds like selling coal to Newcastle but that has started with shipments of US LNG to Kuwait and Dubai.
- The IEA estimates that the EU's own gas output will decrease by 50% from current levels at the same time as gas demand increases to accommodate nuclear and coal plant closures.
- Similar demand needs are arising in Hong Kong and South Korea and that gas will have to be imported.
- Trucks, busses and cars are another increasing source of demand as increasing numbers come on the roads using LNG and CNG (compressed natural gas). Spanish car maker SEAT - part of VW - is making hybrids using CNG. Sweden's Volvo is selling LNG powered trucks in Europe and that will spread to other countries. Italy's IVECO recently unveiled a new LNG fuelled truck with a range of 1600 kms (960 miles) that cuts particle emissions by 95% and CO2 emissions by 90%. Clean Energy Fuels (NASDAQ:CLNE) is building LNG/CNG refuelling stations around the US.
- Trains are converting to LNG. Spain will soon run its first LNG fuelled passenger train. Russia is developing LNG fuelled freight trains to serve remote areas and Florida East Coast Railway has become the first North American rail company to use LNG for its entire fleet.
- Ships worldwide must comply with new regulations forcing them to use cleaner fuels and LNG will be a logical fuel to convert to especially for LNG carrying vessels. Ship&Bunker estimates that the 600 ships expected to use LNG would mean a demand of over 3 million M tonnes per year. The Carnival cruise line already has 9 LNG fuelled passenger ships with more on order.
One can go anywhere in the world and find power supply problems looming not only from normal demand growth but from new sources of demand being added to that. We hear much about the rapid development of electric vehicles, EVs, but little about the increased demand recharging their batteries will place on power supply systems. Crypto currencies are enormous users of energy; Bitcoin alone requires as much as all the EVs currently in use around the world require for recharging. The Motherboard site recently had an estimate that showed a single Bitcoin transaction requires 215 kilowatt hours of electricity which is the same as the amount used by an American household in one week!
Gas will become more and more the main practical and political supply solution to satisfy this increased demand in a cleaner way than increased use of coal and oil. And there is plenty of gas to supply that.
Supply
Major gas producing nations are Australia, Qatar and Russia. They will continue to be important suppliers but each has problems - all different - that could interrupt their ability to supply reliably. The US is rapidly becoming increasingly important due to reliability and low prices and this will continue as more and more export facilities are completed.
I will not dwell on the supply side today but my choice of gas producer investments are all US companies; Antero Resources (NYSE:AR), EQT corp (NYSE:EQT) and Range Resources (RRC). They have all performed poorly for a while now due to excess supply worldwide and low prices but that will change in the medium term. My main purpose today is to highlight those I believe will be winners on the service and infrastructure part of the supply equation.
Winners
- Cheniere Energy (NYSEMKT:LNG). I start with Cheniere because it has been my best investment ever in this sector. I bought in at $3.42 and sold some all the way up to $80. Those prices were before it had even shipped any LNG and now its production is nearing full swing I see no reason why the price will not return to $80 from today's level of around $54. Recently Cheniere signed a 25 year LNG supply contract with China keeping it at the head of the race that will see more US LNG export facilities continue to come on stream into the 2020s.
- Burckhardt Compressions (BCKDY:PNK) may not be a household name but it is a world leading manufacturer of reciprocating compressors. It is a Swiss company operating in more than 80 countries and has production and assembly facilities in the US. Its products are used in virtually all gas applications including LNG fuelled ships. I own it on the Zürich exchange under the symbol BCHN and would recommend buying it there as the US listing is thinly traded. It is very sound financially and in my opinion is significantly underpriced at present. Buying it on its home exchange also means an investment in the world's strongest currency - the Swiss franc.
- Chart Industries (NASDAQ:GTLS) is a world leader in cryogenics. I know little about that but do know that GTLS products are used in many LNG export and import facilities around the world. It also makes tanks for transporting LNG by road and rail, for storage and it makes end user filling station equipment. Like many companies in the sector it has suffered from the long period of low gas prices but it emerged from that in a sound financial state ready for the growth opportunities ahead.
- Core Laboratories (NYSE:CLB) provides reservoir description, production enhancement and reservoir management services to the gas and oil sector on and offshore. It is very profitable with an ROE of 57% and a very wide technical moat that makes it unlikely its performance will be threatened by others in the foreseeable future.
- C&J Energy Services (NYSEMKT:CJ) is one of the largest completion and production services companies in the US. Its services include fracturing, wireline, coiled tubing, cementing, rig and fluid management services. It went through Chapter 11 proceedings and is now nicely cash flow positive with no debt.
- Golar LNG (NASDAQ:GLNG) is my preferred LNG midstream company because it is involved in all parts of the seaborne supply chain.
- Solaris Oilfield Infrastructure (NYSE:SOI)is a relatively new and small company offering specialised, patented proppant management systems. It is growing fast and that growth appears to be soundly underpinned financially.
Gas as the new oil
HEALTH WARNING. My first example in the Demand chapter was the huge investments in plastics production facilities. This is a two edged sword. On one side that is good for the US economy and my investments in gas. On the other is a huge negative; we are polluting our planet with plastics. I therefore urge every one to search for products in paper, glass and cardboard packaging, carefully separate their plastics for recycling and try to avoid plastics that cannot be recycled - I believe black plastic is one of those.
For virtually all other uses gas is better for the environment than the coal and oil it is replacing. It has its own dangers such as the leakage of methane and here it is good to see some leadership from one of the oil and gas majors; Exxon is taking unilateral action to curb methane leaks from its shale oil and gas operations. Others will follow that lead. Bad emissions from gas fired power plants should be limited by positive developments there too.
The only threat I see to gas use is a solar disrupter. The sun sends more energy to the earth in a week than the earth needs in a year. We have had silicon cells built into panels since the 1950s and the cost of those has come down sufficiently for them to become an important source of clean energy today but by 2030 they are expected to reach their economic and technical limits so much more from such sources is limited. Among emerging solar technologies are perovskites (sounds rather Russian and may face sanctions?!) that are crystalline minerals and could provide far superior alternatives to existing solar technologies but massive amounts of capital investment and probably a long time is first needed for their development; essential ingredients that are not readily available in much of today's short sighted world.
As for gas prices, I said at the start I will not try to guess where they will go. They have bounced around mostly below $3 per million BTUs for the past 12 months and have been in bear market territory for around 10 years as the chart at the beginning of this article shows. When does a bear market end?!
One thing I am fairly sure about, things are not going to get worse from here and if they stay close to $3 my producer companies (AR) (EQT) and (RRC) should remain cash flow positive and producing provided they do that without over producing. If prices stay under around $5 many US producers will become nicely profitable and will continue to win against the higher prices from other large gas producing nations such as Australia where new LNG export projects have been shelved or cancelled due to massive cost overruns building existing ones, Qatar faces Middle East problems and Russia faces more sanctions for its alleged misbehaviour in other countries. I have yet to see calculations but the growing volumes of exports will help eat into the huge trade imbalances the US has with other countries and that is good for the economy generally as are all the massive investments in building petrochemical plants and LNG export facilities.
And if those US producers keep on producing my service company "winners" will do very well indeed. Readers will have their own views and favourites and if they share those in comments here that will help us all be winners.
One thing is for sure - the weather in Brooklyn will soon dictate gas prices no more!
Disclosure: I am/we are long AR, SOI, CLB, CJ, EQT, GTLS,LNG, GLOG.
I wrote this article myself, and it expresses my own opinions. I am not receiving compensation for it (other than from Seeking Alpha). I have no business relationship with any company whose stock is mentioned in this article.