Midstream MLPs have been beaten up. Again. In the past couple months, sentiment has been dampened by announcements of a tariff on steel imports and also a FERC proposal to bar 'double recovery' of tax costs. If that sounds a bit complicated, it is. This tax deduction ended up being a perk whose removal effected only a few MLPs. Most of the names I follow, including both Enterprise Products Partners (EPD) and Williams Partners (NYSE:WPZ), do not foresee a meaningful change.
Nevertheless, pretty much all midstream MLPs have taken it on the chin. The Alerian MLP Index (AMZ) has been crushed over the last two months.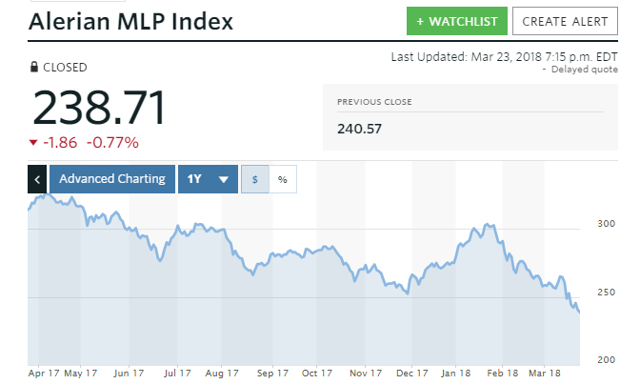 Courtesy of Marketwatch.
Income investors should accept midstream MLPs being cheap for a very long time. The negative sentiment on these pipeline MLPs seems to always find a reason to hang around, whether that be due to tax uncertainties, a general aversion to MLPs due to their somewhat complicated tax structure, or just an aversion to companies that frequently cite non-GAAP accounting ratios. As you can see, midstream MLPs have been on a downtrend for about the entire last one year, despite the fact that oil and gas prices have been stable-to-higher over the period.
On the other hand, at this point income investors can buy units of one of these pipeline MLPs and get a very generous and sustainable yield from the best of these businesses. At this time, income investors will find that, even if midstream MLPs never find their 'place in the sun,' they'll still do well buying right here.
Keep it simple
Income investors don't need to re-invent the wheel this time. Since everything in this space is down, you can also afford to be picky. Investors here can stick with the midstream names which have better coverage rates, lower leverage and simple ownership structure.
Enterprise Products Partners (EPD) always fits that bill. Enterprise is basically the midstream service provider of the petrochemical buildout along the Gulf Coast. Enterprise's critical infrastructure moves natural gas liquids feedstock from production basins in Texas and elsewhere, to petrochemical facilities along the coast. Once refined into petrochemicals, Enterprise often times takes the final products to export terminals.
New facilities are still going up all along the Texas and Louisiana Gulf Coast, and the builders are typically either large cap multi-national chemical companies or sovereign backed companies. In other words, these projects are financed by deep pockets, and Enterprise is often times the midstream servicer for these projects.
Enterprise typically has a DCF to distribution coverage ratio of 1.2 times, which puts it toward the higher end of its peers. Debt is typically somewhere between 4 times and 4.5 times EBITDA, which again puts it toward the lower end of its peers. Enterprise is a fine midstream to invest in, and it's something I will always recommend when midstreams are beaten up as a group. It currently yields 6.9%, which makes it a solid buy. I generally try to pick some up when the yield is 7%, but this will do. The chart below shows that units are just about at a two-year low.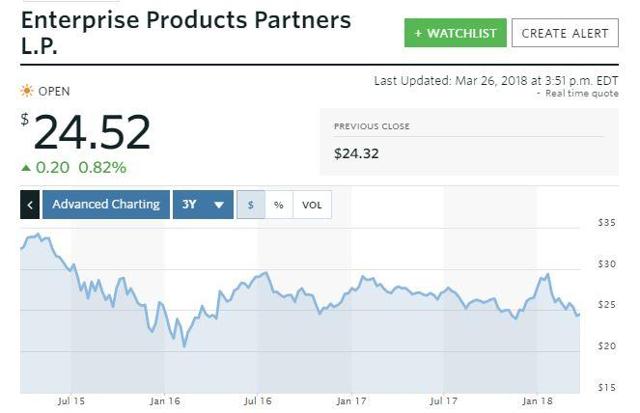 Enterprise is the favorite of mine, but I also think it's worth looking at "captured" midstream MLPs of some of the more established names. This would include names such as Phillips 66 Partners (PSXP) and Shell Midstream Partners L.P. (SHLX), both of which yield 4.17% and 6.42% respectively. Both are at or near 52-week lows, and both receive midstream infrastructure "drop downs" servicing the world-class assets of world-class companies. These midstream assets are transferred privately from the parent corporation to the partnership.
Both of these midstream partnerships had the benefit of being spun off somewhat later than many of the big names, and management took the lessons to heart and made sure both coverage ratios were high and leverage remained low, as that is what income investors certainly prefer.
In this case, Phillips 66 Partners had a DCF coverage ratio of 1.33 times in the last quarter with debt to EBITDA at 3.2 times. Shell Midstream Partners had a DCF coverage ratio of 1.2 times in the fourth quarter with debt to EBITDA at 3.8 times. If you're looking for midstream MLPs, I'd argue it's hard to go wrong with either of these names.
Conclusion
If you're waiting for midstream MLPs to finally be recognized at the valuations they deserve, you're probably getting your hopes up. I wouldn't count on midstream MLPs returning to their 'proper' 2014 valuations anytime soon, if ever. Not only have they been beaten up by the crash in oil prices of 2015-2016, but they've also been plagued by stigmas of simply being Master Limited Partnerships and all that entails.
Nevertheless, the pipeline MLPs are, for the most part, very sustainable and reliable businesses. Of them, these three are among the best, for different reasons. I would recommend either of these three right now, but I personally own Enterprise Products Partners.
If you're interested in either of these midstream MLPs, feel free to follow me here on Seeking Alpha.
However, I write about these names when time permits, and that often means I am not able to do so regularly. I write about topics at much more regular intervals in my Marketplace service, Streaming Income. In that service I write about broader themes and provide multiple actionable ideas for income investors, with all articles and updates on a strict monthly or quarterly schedule. I invite you to take a risk-free look.
Disclosure: I am/we are long EPD.
I wrote this article myself, and it expresses my own opinions. I am not receiving compensation for it (other than from Seeking Alpha). I have no business relationship with any company whose stock is mentioned in this article.