This research report was jointly produced with High Dividend Opportunities co-author Jussi Askola.
Blue chip stocks tend to trade at low dividend yields, and only sub-par businesses generally trade at elevated yields. This is the challenge faced by income investors today. We want high dividend payments, but not necessarily at the expense of low underlying business quality. Of course, sometimes we have to make compromises and will accept higher risk if the dividend yield is very high and the valuations are attractive; but generally speaking, our goal is always to earn high dividends generated by predominately higher quality companies.
In this sense, when Ladder Capital (NYSE:LADR) sold off and traded at a 9.3% dividend yield back in November 2017, we advised our investors of the opportunity.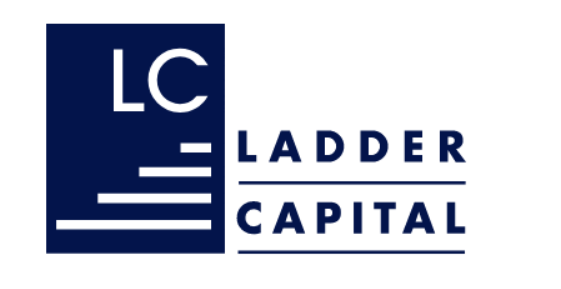 Ladder is in our view the perfect example of a blue chip in the sense that it combines:
One, if not the best, management teams of its industry.
A solid business model capable of earning excess returns.
A Capital Structure that is conservative and designed to outperform in today's environment.
In short, this is a business that would deserve a premium valuation relative to its peers. And yet, we identified that it was temporarily offered at a discounted price of just ~8x its run rate quarterly earnings.
Today, as we update our members on this pick, we note that shares have greatly outperformed.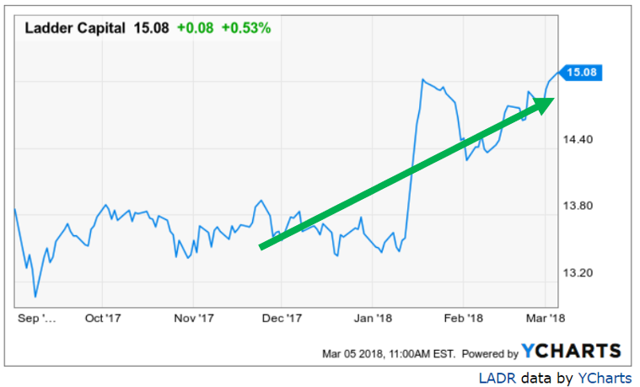 This performance is particularly favorable when you consider that REITs (NYSEARCA:VNQ) as a whole greatly underperformed in the recent months: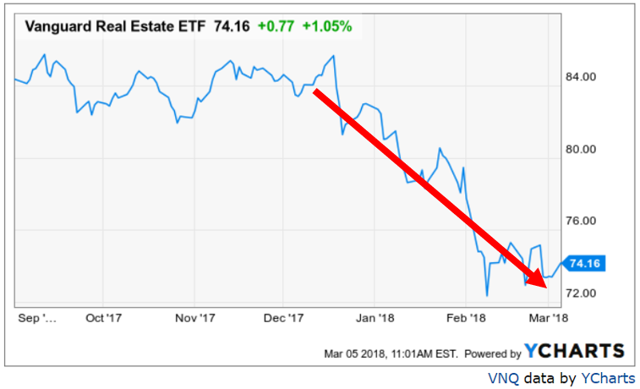 Earning a 13% return in a matter of months always leads us to ask ourselves if it may be time to take profits? In this particular case, we continue holding, let us explain why:
VERY ENCOURAGING RESULTS
The share price may have risen, but so have earnings. The year 2017 was a fantastic year for Ladder from a strategical as well as operational standpoint – allowing it to increase the dividend by another 5%.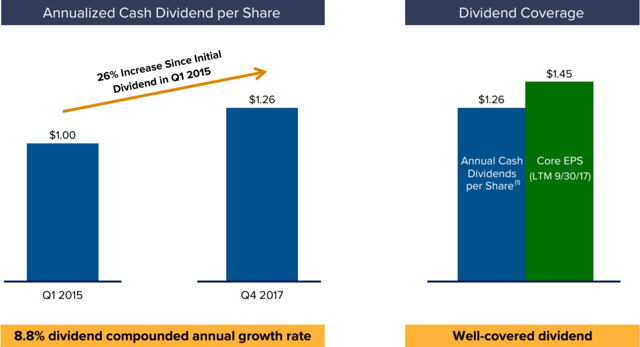 The company was able to take advantage of the high demand for financing and grew its loan portfolio by an astonishing 64%. Interestingly, this massive growth was made possible thanks to improvements in Ladder's own capital structure, which allowed the firm to liquidate a portfolio of low-yielding securities and reallocate capital into higher-yielding loan investments.
Moreover, Ladder bought lots of properties expanding the value of its equity portfolio by over $230 million or +25% as compared to 2016.
Overall, these actions among others, resulted in 13% core earnings growth compared to 2016.
The management noted in its latest transcript that this overwhelmingly positive performance was the product of high demand for financing, strong execution and a favorable environment.
I 'm pleased to report core earnings of $0.47 per share… This is our highest reported earnings quarter since the beginning of 2014. We benefited from our rapidly growing inventory of balance sheet loans, ending the year at $3.28 billion at an average mortgage loan interest rate of 6.93%.."
Even more encouraging is that the management sees this superior performance continuing into 2018.
On our last earnings call, I signed off saying I was optimistic about the quarters ahead and today I'd like to leave you with that same sentiment. As the rest of 2018 unfolds, we stand to benefit from rising interest rates."
PREMIUM QUALITY AT A DISCOUNT
We consider Ladder to be one of the highest quality firms within its space or put differently: a blue chip. For more details, we encourage readers to check out our initial thesis, which includes a more detailed overview of the operations.
The following slide from a recent investor presentation, which provides a good summary of the quality of operations: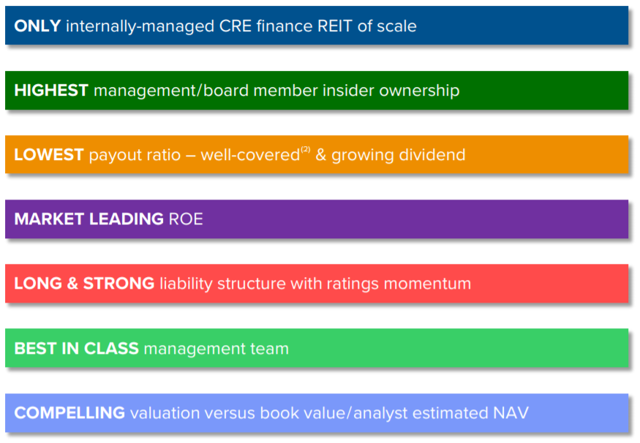 Ladder is the only internally-managed commercial mREIT, has a highly experienced team with significant track record and high insider ownership of 12% of the market cap. Additionally, its business earns market-leading returns on equity, the generous dividend has one of the lowest payout ratio among its peers, and the balance sheet structure is exceptionally strong just to give you a few positive factors.
Such businesses deserve a premium valuation in our opinion. Yet, even after the share price increase, Ladder is today offered at just about 8x its 4th quarter run rate earnings, or up to a 20% discount to peers including Blackstone Mortgage Trust (NYSE:BXMT), Starwood Property Trust (NYSE:STWD), and Apollo Commercial (NYSE:ARI).
As such, Ladder is not getting any credit for being the only internally managed commercial mREIT, and neither to the fact that this is a hybrid REIT, which holds some real estate assets. Internally managed REITs commonly trade at high premiums relative to externally managed ones, and Equity REITs also trade at higher multiples than Mortgage REITs. Despite being an "internally managed" hybrid REIT (20% equity/80% mortgage), Ladder keeps selling at a discount to peers – making its now higher share price still very opportunistic in our opinion.
PROFIT FROM INTEREST RATE HIKES
The main fear of REIT investors today is the potential implication of interest rate hikes. It has led to a massive sell-off and a very pessimistic market environment.
We think that the market is wrong here, and that instead of seeing Property REITs as a homogeneous group of securities, investors should dig deeper into the underlying fundamentals of each individual REIT.
As an example, it is clear that most net lease REITs have little growth prospects due to a heavily levered balance sheet, short maturities, and variable debt. Many will be negatively affected by rate hikes. On the other hand, other REITs such as Ladder are set to benefit from rate hikes. The reasons are:
A loan portfolio generating variable income that grows in times of interest rate increases.
A conservative capital structure with a majority of fixed rate debt and long maturities.
Ladder estimates today that for each 100 basis-point increases in LIBOR rates, it would grow its earnings by $0.13 per share.

Given that 3-4 hikes are projected for this year alone, we see this as a potential near-term catalyst that could result in share price upside.
BUY BACKS & BUYOUT OFFER
Finally, a last potential catalyst for Ladder shareholders could be a continued share buyback program or a new buyout offer.
Ladder currently has a buyback plan in place, authorized in 2014, allowing it to repurchase up to $50 million of its own shares. Stock repurchases by the Company are generally made in open market transactions. In 2017 alone, Ladder bought $2.6 million worth of its shares – providing support to its share price.
Furthermore, in January 2018, Ladder received a buyout offer by "Related Fund Management" – proposing to buy the whole company at $15 per share. Ladder quickly rejected the offer – stating that the offer was greatly undervaluing the company. We think that this could lead to more and higher offers in the near term, perhaps from the same investor or a third party investor. Following the strong performance of LADR, its recent share buyback, a new buyout offer, if it happens, should be substantially higher.
RISKS
The following are the main risks to consider:
LADR is a commercial mortgage REIT with the performance of its business model being highly correlated to the health of the U.S. economy. Should we see a recession, the price of the stock will be affected.
Commercial mortgage REITs tend to growth through issuing new shares (or secondary offerings). This can result in shareholder dilution.
Unforeseen events can lead to a deterioration of the quality of LADR's portfolio and impact dividend coverage.
FINAL THOUGHTS
To summarize, there are 4 main reasons why we believe that Ladder remains an opportunistic and undervalued investment even after the recent increase in share price:
The recent results are very encouraging and given the favorable environment, we see this strong performance continuing for many more quarters.
Despite being a "premium quality" company, Ladder keeps selling at an attractive valuation on a relative basis to its peers, but also on an absolute basis at just ~8x run rate quarterly earnings.
The company is set to directly benefit from interest rate hikes in 2018 with growing interest income coming from its loan portfolio.
The firm has a large buyback program in place.
There is interest by funds to take the company private through a buyout.
We think that all this will provide strong support for the share price of LADR.
The dividend yield is no longer at 9.3% as per the latest recommendation, but remains an attractive 8.6% yield following the recent increase in share price. The latest 5% hike in dividend is a bullish sign, and we expect more to come in 2018.
If you enjoyed this article and wish to receive updates on our latest research, click "Follow" next to my name at the top of this article.
Sources: Company presentation, fourth quarter report, & earnings call transcript
About "High Dividend Opportunities"
High Dividend Opportunities is a leading and most comprehensive dividend service ranked #1 on Seeking Alpha. We are dedicated to high-yield securities trading at attractive valuations for sustainable income and long-term capital gains. Our managed portfolio is currently yielding over 10%.
We have recently implemented many changes to our Portfolio to position ourselves for superior performance in 2018. We would like to invite readers for a 2-week free trial to help you identify the future out-performers in the high yield space.
For more info, please CLICK HERE.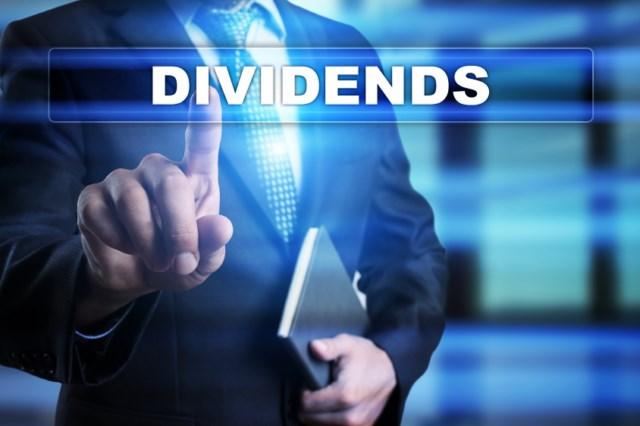 Disclosure: I am/we are long LADR, ARI. I wrote this article myself, and it expresses my own opinions. I am not receiving compensation for it (other than from Seeking Alpha). I have no business relationship with any company whose stock is mentioned in this article.