Earlier this month, I wrote about the so-called "phantom touch" and "vampire drain" problems for some Tesla (NASDAQ:TSLA) Model 3 cars (Why Are Phantoms & Vampires Plaguing Tesla's Model 3?).
I discussed how Tesla's over-the-air software updates had not fixed the problem, and speculated the cause might be the design of the touchscreen's pedestal.
With input from two sources with technical and engineering backgrounds, I suggested the pedestal is a large, chunky, solid piece that acts as a heat reservoir. Its design results in heat differentials across the touchscreen, warping the screen and producing the problems we have seen.
I invited commenters to offer competing theories, and invited Tesla itself to respond if it has any different view.
No reader came forward with any alternate theory. And, I received no communication from Tesla, and read nothing where it has addressed this issue in any public forum.
'It is worse on hot days.'
Meanwhile, the problems persist. Here are screenshots posted today (I'm writing this on March 27) showing the touchscreen anomalies, visible on the right-hand side of the screen.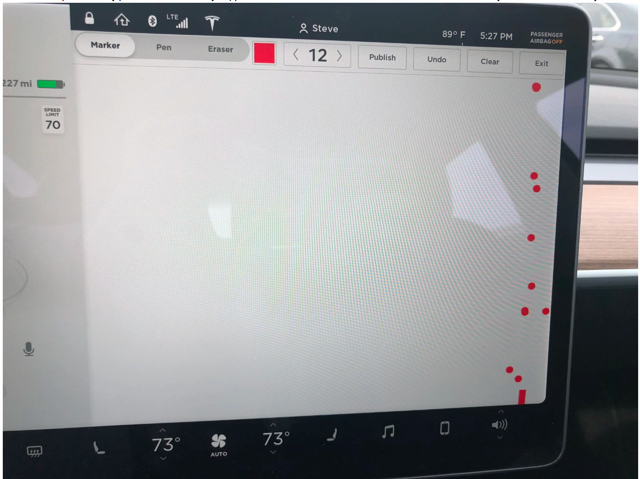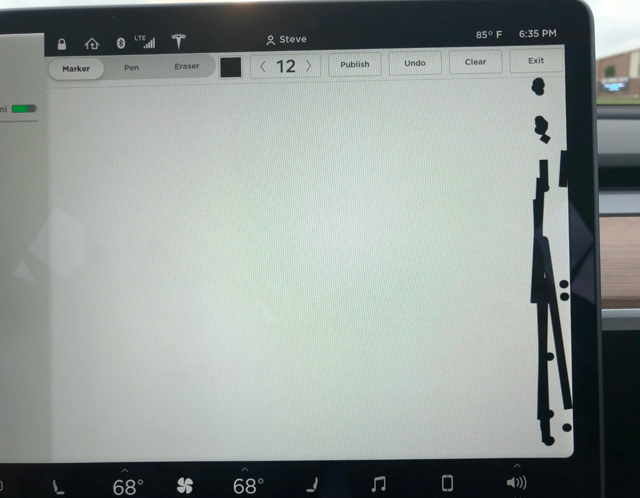 You can see the photos at post no. 20 here.
The posts elicited a quick "me, too."

What does the poster of the touchscreen photos report? This:
Here a few captures of my phantom touch. It only happens in the afternoon when the car has been in the sun all day. It is worse on hot days.
DrLegoHair from Orlando
Meanwhile, the sad saga of DrLegoHair continues. Less than a week after taking delivery, his drive unit failed. The technicians addressed an issue with the drive train and brakes, and replaced the 12-volt battery. Despite noting CAN (controller are network) fault alerts in the car's log, the technicians were unable to find any bad connections or identify the root cause of the problem.
So, after spending more than two weeks with the car, Tesla returned his car without any fix being made.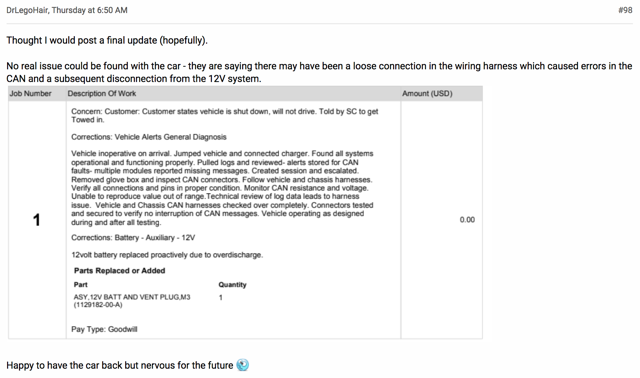 It's worth noting that DrLegoHair lives in Florida, and that his problems arose after he drove his car to work. Did he leave his car in the sun?
My sources believe the screen anomalies are caused by expansion of the ABS (short for acrylonitrile butadiene styrene plastic) plastic screen on the Model 3's touchpad. They believe the anomalies reflect a slow buckling, and that the screens are unlikely to last long.
Here's a comment from one of my sources:
Not only does (the touchscreen problem) strike me as a genuine safety hazard and a dishonest interaction with customers, but it also suggests to me that Musk is making sales decisions and safety decisions with the same recklessness demonstrated in managerial misdeeds leading up to this.

***

How can Tesla head out to raise money from investors with something like this unresolved? I can't truly believe that Tesla doesn't understand the implications. My theory is that a choice has been made at top levels to pretend that they don't know.

***

[W]hat are the ethics of this situation? If I knew of something like this involving a bank or financial company, I would be calling regulators. The whole reason I got seriously into watching the boards and Reddit was because of my suspicions about this issue. When Tesla halted production in Feb., my theory was that they were addressing this problem. But no - deliveries of vehicles since do not appear to have a redesign.
And a comment from the second source, an engineer:
I agree that the phantom touches are resulting from thermal strain. Unfortunately for Tesla, it's not a problem that can be weeded out during pre-delivery inspection. Essentially, they need to deliver the car and then let the customer find out if they have a problem. Every car is a ticking time bomb.

And to make matters worse, it's a problem Tesla won't be able to address without a redesign. Just guessing, but I doubt it can be addressed through thermal management. I think they'll redesign the way that the screen is retained in the mounting to reduce stress. And after the redesign is in place, I would expect a 100% recall because of the essential nature of the touchscreen.
Let me underline: the foregoing is speculation. But it is informed speculation, and the continuing problems being experienced give it added credence.
If the thermal strain issue is well founded, we can expect additional reports of these problems as we move into the warmer temperatures of the North American summer.
Once again, I invite Tesla to respond to this article. I pledge to print its response in full, immediately as a blog post (which I can post without delay) and then as part of an article (which must first pass editorial review).
I respectfully submit that Tesla must address this issue with its investors, customers, and potential customers.
Tesla Gets Tough
Those paint swirls and panel misalignments on your brand new $55,000 Model 3? Well, you can take it or you can leave it, but we're not going to fix it:

The responses to this post are fascinating and revealing.
Anyway, if your Model 3 looks like this when you take delivery...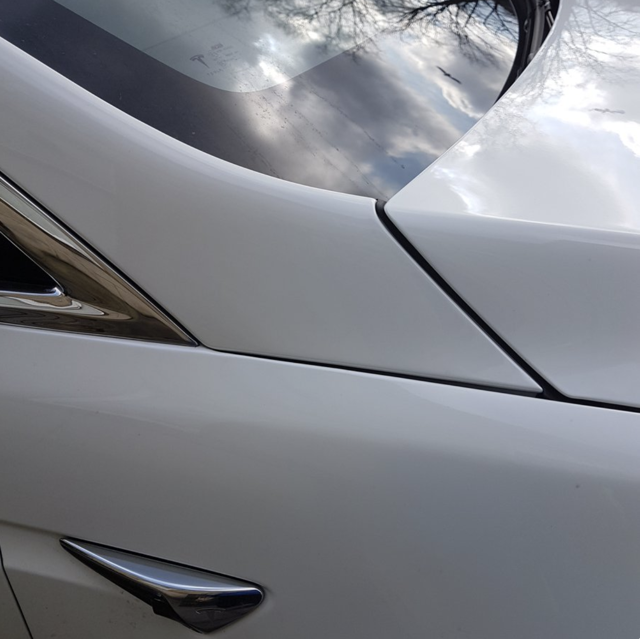 (Photo credit: Twitter's @Dope007)
... then you have two choices. Take it as is. Or get back in line and wait for another.
What Is Seen, and What Is Unseen
Remember, the flaws you can see may be inconsequential in comparison with the ones you can't see.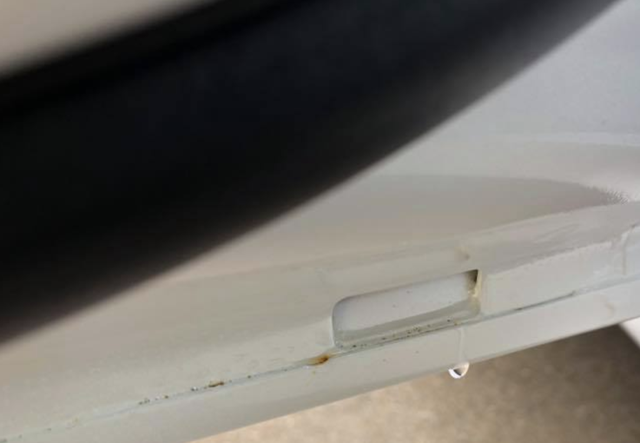 (Photo from reddit thread called "Evidence of rust on a Model 3 door")