This article was first published on Trend Investing on Jan. 28; therefore all data is as of that date.
2016 was lithium's year, 2017 was cobalt's year, and 2018-2020 are likely to be nickel's years as nickel inventories decline and nickel prices finally start to rise. Strong Chinese and global stainless steel demand and ever increasing demand from electric vehicles [EVs] using higher nickel content batteries NMC (8:1:1).
In this article the first 2 stocks are more solid and safe diversified nickel investments (with exposure to other metals) that will do ok even if the nickel boom is delayed until 2020. The last 3 stocks are nickel-cobalt optionality plays that can give out-sized returns should the nickel price continue to improve as I expect. They will also be helped significantly by strong cobalt prices. In all cases investors will need some patience with a 5 year plus investment time frame.
Nickel price and inventory
Nickel is only just recovering now from a severe bear market from 2012 to early 2016 (low of just below US$4/lb), with the price moving up in 2017 and reaching USD 6.10/lb by late January 2018. Inventory is finally slowly declining and price is recovering. Whilst some Philippine supply is expected to come back, the demand picture is strengthening as global economic growth picks up and the mass market EV boom begins.
In 2017 nickel prices rose 27.51% on the back of solid Chinese stainless steel demand. I expect something similar each year from now until 2020, as demand is steadily boosted from the EV boom. Off course this assumes Chinese demand holds firm.
Nickel LME 5 year chart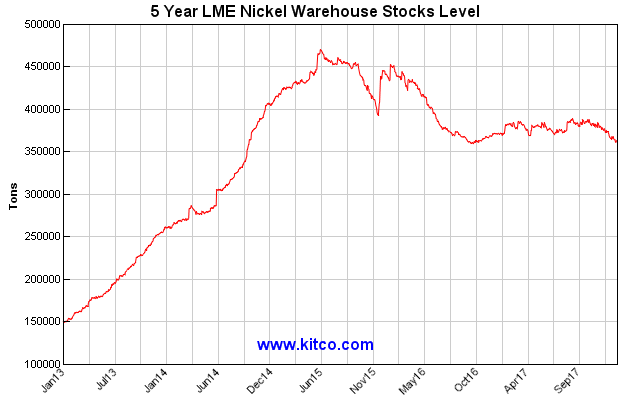 Source: Kitco
Nickel 5-year spot price - Current price is USD 6.10/lb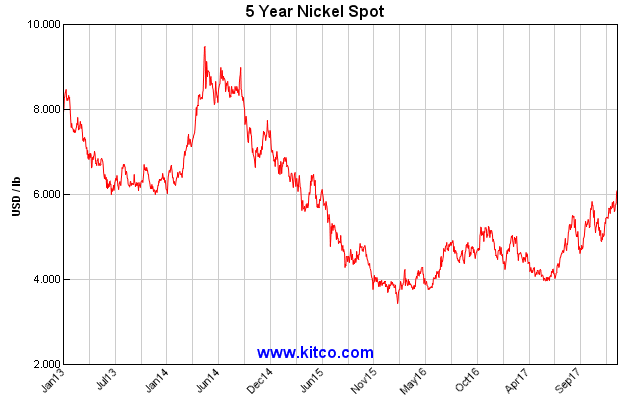 Source: Kitco
Nickel projects by reserves and resources
The chart below shows the top 5 global nickel miners by resource are Norilsk Nickel, BHP, Heron Resources (nickel assets now owned by Ardea Resources), Eramet, and Vale.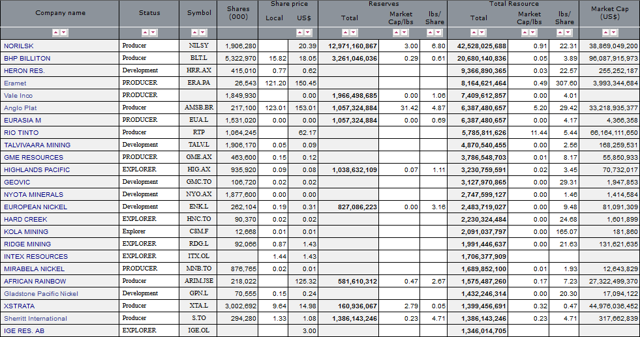 Source: 24hgold
NB: Heron Resources spun out their nickel-cobalt project to Ardea Resources.
The nickel cost curve
The chart below shows Norilsk Nickel by far leading the cost curve for nickel production.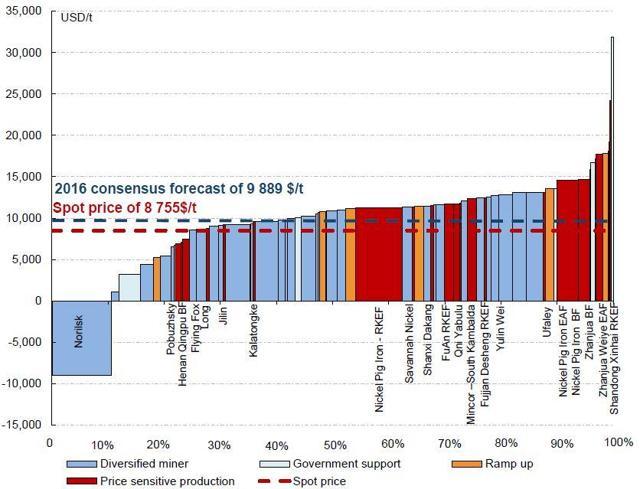 Top 5 nickel miners to consider
1) MMC Norilsk Nickel PJSC (LSE:MNOD) (OTCPK: OTCPK:NILSY) - Price (MNOD) = USD 20.25
Norilsk is an essential and clear number one nickel miner for any nickel portfolio. Norilsk has by far the world's largest nickel reserves and resources, and is by far the lowest cost producer. They are usually in the top two nickel producers by volume each year.
Norilsk has a massive nickel-copper project at Taimyr Peninsula Russia.
When investing in Norilsk investors should be aware they are not exactly a nickel pure play as the chart below shows they also rely on copper, as well as some platinum group elements ((PGEs). Cobalt is also an increasing contributor to revenues.
2017 Norilsk Nickel production guidance comparison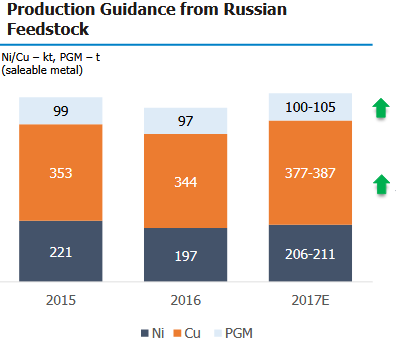 Norilsk Nickel has a market cap of USD 32.1b, and an Enterprise Value of USD 32.1b. Net profit margin for 2017 was a very healthy 25.1%, forecast to increase to 26.3% in 2018. 2018 P/E is 8.7. 2018 dividend yield is forecast to be 10.4% at a 90.4% payout ratio. Current consensus analyst target is USD 20.80, representing 2.5% upside.
Investors can read more in my article "Time To Buy Norilsk Nickel Before The Nickel Boom Perhaps Starts In 2018."
2) Eramet [FP:ERA] [GR:ER7] (OTCPK:ERMAY) - Price = Euro 121.2, USD 14.11
Eramet SA produces mining and metallurgical products. It operates business through the following divisions: Nickel, Manganese, and Alloys. Eramet is developing major projects in new activities with high growth potential, such as mineral sands (titanium dioxide and zirconium), lithium and metals recycling.
The chart below shows Eramet earns most of their revenue from manganese (around 50%), and only around 20% (in 2016) from nickel.

Source: SaxoTrader
Eramet current produces nickel from their New Calendonia mine. The company states, "ERAMET Nickel is a producer that extracts nickel ore from its mines in New Caledonia and transforms it locally into ferronickel (FeNi) at its Doniambo plant. The Sandouville plant in France transforms nickel matte into very high-purity nickel metal and salts." With improving nickel prices and production the nickel revenues should increase significantly going forward especially after about 2020.
The Weda Bay nickel-cobalt laterite project in Indonesia
In June 2017 Eramet announced that they had finalized an agreement with Chinese steel group Tsingshan (the leading world steel producer) to develop the massive Weda Bay nickel project in Indonesia. Eramet will own 43% of the holding company Strand Minerals Pte Ltd which will own 90% of PT Weda Bay Nickel. By my calculations Eramet will therefore achieve around 38.7% (90% of the 43%) of the project revenues. Nickel ferro alloys sales are expected to start in 2020, for a name plate capacity of 30,000 tons of nickel. Weda Bay has the world's third largest nickel reserves, and now has a measured, indicated, and inferred resources of 9.3 million tons of contained nickel at an average grade of 1.53%. At a potential 500m tonne resource grading 0.09% cobalt, the contained cobalt would reach 450,000 tonnes. You can view more on the project here.
Weda Bay nickel-cobalt laterite project has a potential of over 500m tonnes of nickel and cobalt ore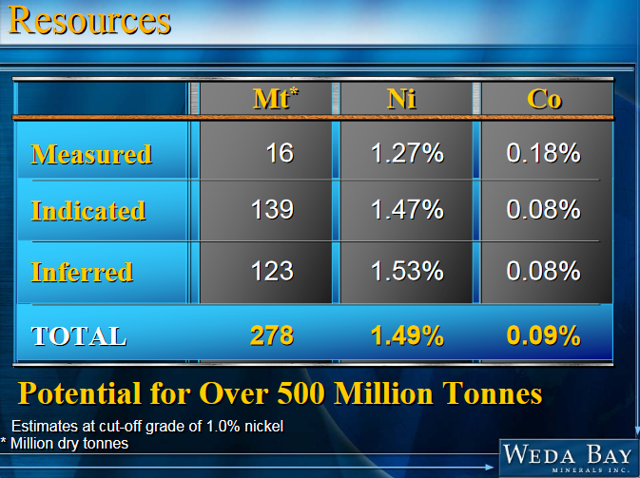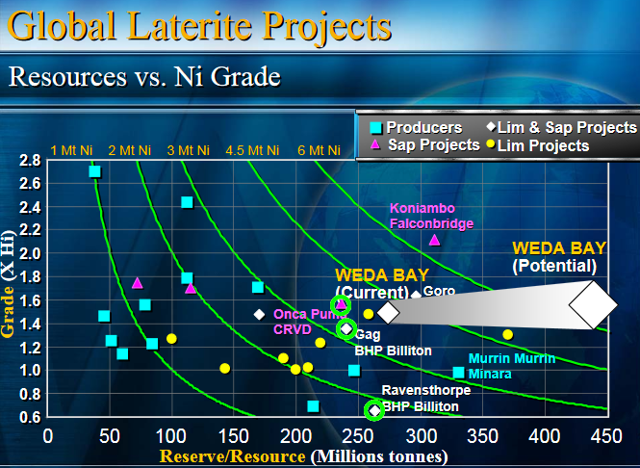 Eramet has a market cap of Euro 3.2b, and an Enterprise Value of Euro 3.8b. Net profit margin for 2017 was a 5.98%, forecast to increase to 7.33% in 2018. 2018 P/E is 15.6. 2018 dividend yield is forecast to be 0.25%. Current consensus analyst target is Euro 87.50, representing 28% downside.
Eramet has had a tremendous 120% gain in the past year helped along by a recovering nickel price, and strength from their manganese sector. Whilst I like the stock for their massive nickel reserves (and especially their potential to double nickel production after 2020 from Weda Bay), I would only be a buyer on a significant price pullback as they look a bit expensive right now.
3) Ardea Resources [ASX:ARL] (OTCPK:ARRRF) - Price = AUD 1.55, USD 1.24
Ardea Resources owns 100% of the Kalgoorlie Nickel (laterite) Project (KNP) in Western Australia, just 150kms from Kalgoorlie.
Ardea's total nickel and cobalt resource is 5.46 million tonnes (contained nickel (grade 0.7%), and 405,000 tonnes contained cobalt (grade 0.05%). Based on the table ("Nickel projects by reserves and resources") above Ardea (via Heron's ex nickel resource) has the world's third largest nickel resource, and the developed world's largest cobalt resource, albeit at lower grades.

Whilst the nickel is a laterite ore making CapEx and Opex more expensive, the ore is in soft, iron-rich clay so easy digging and usually within 50m of surface suitable for open-pit mining with a low strip ratio.
Valuation is currently very attractive with a current market cap of AUD137m (~USD105m) due to the early stage, with a PFS due out soon in Q1 2018.
My preliminary model has an unrisked NPV8% of AU$1.172b, thereby suggesting plenty of upside if the company progresses successfully to production. My very preliminary price valuation from my DCF model (risked) is AU$5.03 (3.25x upside), and my earnings model price target for end 2022 is AU$7.03 (4.5 x upside).
Investors can read more on Ardea Resources in my article "3 Well-Valued Cobalt Miners To Buy Right Now", "Ardea Resources Managing Director Matt Painter Talks With Matt Bohlsen Of Trend Investing", and the company's investor presentation here.
4) RNC Minerals [TSX:RNX] (OTCQX:RNKLF) - Price = CAD 0.31, USD 0.24
RNC Minerals ("RNC") (formerly Royal Nickel Corp.) flagship project is their 50% JV interest (with Waterton) in the Dumont Nickel-Cobalt sulphide project in Canada. The company states, Dumont "contains the world's largest undeveloped reserves of both cobalt and nickel. It also contains the 2nd largest nickel reserve and the 8th largest cobalt reserve of any deposit in the world."
The company also has a 100% share in the Beta Hunt gold-nickel producing mine in Western Australia, 30% in the Reed copper-gold producing mine in Manitoba Canada, and a 46% shareholding in gold explorer Orford Mining (US and Canada exploration).
Therefore RNC has an interest in four projects all in safe jurisdictions, and has Eric Sprott as the largest shareholder.
Comparison of world's largest nickel reserves - Dumont ranks 2nd
Valuation is very low with a market cap of just CAD 95m (US$77m) due to the lower grades (0.27% nickel), high CapEx (~CAD 1b), and not yet being in production (potential producer by 2020).
4-trader shows just one analyst target price at CAD 0.55, representing 120% upside.
Investors can read my articles "RNC Minerals Has A Very Large Low Grade Nickel-Cobalt Sulphide Project In Canada" and "RNC Minerals CEO & President Mark Selby Talks With Matt Bohlsen Of Trend Investing" for more info.
5) Sama Resources Inc. [TSXV:SME] (OTC:LNZCF) - Price = CAD 0.45, USD 0.37
Sama's flagship project is their Samapleu nickel-copper-cobalt sulphide project in the Ivory Coast, West Africa. The Samapleu and Yepleu deposits' mineralization and geological characteristics resemble rare types of intrusions that host the world's largest nickel-copper deposits. This is the reason why the company states their projects have "world class potential."
A comparison of the world's largest nickel-copper deposits
Noril'sk Nickel (OTCPK:NILSY) (2,216 Mt at 0.78% Ni, 1.38% Cu)
Jinchuan (515 Mt at 1.06% Ni, 0.67% Cu)
Voisey Bay (137 Mt at 1.68% Ni, 0.87% Cu)
Eagle (5 Mt at 3.33% Ni)
Eagle Nest (20 Mt at 1.68% Ni, 0.90% Cu)
Kalatongke (24 Mt at 0.68% Ni, 1.08% Cu)
N'komati (3 Mt at 2.08% Ni, 1.14% Cu)."
Sama has several projects including both nickel sulphide and nickel laterite projects. Additionally Sama Resources own 43% in SRG graphite (USD 108m market cap), therefore Sama's share is worth 43% about USD 46m.
Sama's market cap is just US$58m, with USD 46m attributable to their SRG asset, giving them an incredibly low Enterprise Value of near US$12m. Seeking Alpha has the EV at CAD 18m (~USD 14m).
Hence investors are paying only ~USD 12m for the Samapleu nickel project in Ivory Coast which has already seen $20m in expenditures and has world class potential. Little wonder two mining legends Rick Rule and Robert Friedland have become shareholders, with Friedland's HPX optioned to take a potential 60% stake in Sama Resources. Added to this China's Minmetals group (NYSEMKT:MMG) is already a 11.2% shareholder.
Investors can read more in my article "Sama Resources Has The Friedland Factor", or read the July 2017 Sama Resources company presentation here, or a Rick Rule video here.
Other major nickel options
Glencore [LSX:GLEN] [HK:805], BHP Biliton (BHP), Vale (VALE), Independence Group [ASX:IGO] (OTC:IIDDY).
Nickel ETFs
iPath Series B Bloomberg Nickel Subindex Total Return ETN (ARCA:BJJN).
iPath Pure Beta Nickel ETN (ARCA:NINI).
Risks
Nickel oversupply and falling nickel prices due to excess Philippines (and Indonesian) supply coming back on, or a China construction slowdown. Unlike lithium and cobalt, nickel is very impacted by the stainless steel industry.
The usual mining issues (dilution, financing and production risks).
Geo-political and sovereign risks. Norilsk operates in Russia, Eramet Nickel operates in New Calendonia (and soon Indonesia), and Sama Resources in Ivory Coast West Africa. RNC is quite safe in Canada and Ardea in Australia.
Liquidity risk (best to buy on local exchanges).
Nickel sulphide vs. nickel laterite ores
Nickel sulphide ores generally have lower grades of nickel, but the nickel is easier and cheaper to extract. Also the ore is often founder deeper adding to costs of extraction. Sulphide ore has historically been the preferred choice, but easy to access sulphide ore is getting harder to find. Nickel sulphide miners are generally lower cost producers, and offer downside risk should nickel prices fall.
Nickle laterite ores are easier to find near surface, however the nickel is harder and more expensive to extract. Nickel laterite miners are generally higher cost producers, and are impacted more should nickel prices fall.
You can read more here.
Conclusion
My top 5 covers the full spectrum of nickel miners.
Norilsk Nickel are easily my number one nickel stock pick. They are an absolute must have nickel producer and a clear sector leader (by far the largest reserves, largest production, lowest costs) and still trading at a very fair valuation, with a very nice 10% dividend yield. Upside would not be as spectacular as a junior, and downside is quite protected.
Eramet have the world's third largest nickel reserves with a reasonable grade laterite ore and cobalt by-product, with a potential doubling of their nickel production once Weda Bay is ramped up sometime after 2020. The stock looks a bit pricey right now, but worthwhile buying on a dip, if you were also positive on manganese.
Ardea Resources are an exceptionally well valued nickel-cobalt developer, with the world's third largest nickel resource, albeit a laterite resource. Positives are the safe jurisdiction, 100% ownership of their KNP project, and owning other projects. Being at an early stage they offer exceptional returns should all progress well with the usual developer risks applying.
RNC Minerals are also exceptionally well valued with a good chance to be in production by 2020/2021. Positives are the safe jurisdiction, very large resource with sulphide ore, and other projects. A negative is the lower nickel grade at Dumont.
Sama Resources are at a fairly advanced exploration stage with a very low enterprise valuation, a possible world class asset, and two mining legends on board. A negative could be the African location and Friedland can earn in to 60% of their project (some may see this as a positive).
As usual all comments are welcome.
Disclaimer: The information in this article is general in nature and should not be relied upon as personal financial advice.
Trend Investing
Thanks for reading the article. If you want to go to the next level, sign up for Trend Investing, my Marketplace service. I share my best investing ideas and latest articles on the latest trends. You will also get access to exclusive CEO interviews and chat room access to me, and to other sophisticated investors. You can benefit from the hundreds of hours of work I've done to analyze the best opportunities in emerging industries, especially the electric vehicle and EV metals sector. You can learn more by reading "The Trend Investing Difference" or signing up here.
My latest related Trend Investing articles are:
Disclosure: I am/we are long MMC NORILSK NICKEL [LSX:MNOD], RNC MINERALS [TSX:RNX], ARDEA RESOURCES [ASX:ARL], SAMA RESOURCES [TSXV: SME]. I wrote this article myself, and it expresses my own opinions. I am not receiving compensation for it (other than from Seeking Alpha). I have no business relationship with any company whose stock is mentioned in this article.
Editor's Note: This article covers one or more microcap stocks. Please be aware of the risks associated with these stocks.