Akzo Nobel (OTCQX:OTCQX:AKZOY) has chosen to sell its specialty chemical unit to private buyers. The Carlyle Group (NYSE:CG), the Government Investment Corporation of Singapore (the island state's sovereign wealth fund) and probably some co-investors will pay Akzo cash consideration of € 8.9 billion and take on € 1.2 billion of Akzo's debt. Net cash proceeds of the transaction to Akzo Nobel are expected to be around € 7.5 billion.
This is a little disappointing. Akzo Nobel Specialties would be a great addition to the universe of investable chemical companies. I had hoped for a spin-off.
The price received is in the middle of the range of values that were discussed when the intention to separate the specialty business was announced. There seems to have been a certain amount of competition for the prize – other suitors were Apollo Global Management (private), the Netherlands' HAL Investments (no U.S. listing) and a partnership between Bain Capital and Advent International (both private). This is enough buying interest to keep the price reasonable, but apparently there was sufficient caution to prevent the premium paid from rising too high. Estimates place the total consideration at about ten times EBITDA, which is neither derisory nor especially generous. One reason for this caution may have been Akzo Nobel's stipulation that the specialty chemical group's headquarters remain in the Netherlands.
On the face of it, this should have been no great impediment to an interested bidder, but it is important to remember that (with the possible exception of HAL Investments), all these potential buyers are purchasing for sale. Depending on the nature and effectiveness of the (undisclosed) legal restraints placed on transferring the group's headquarters location, buyers may have believed that their ability ultimately to resell the specialty business was unduly impaired. This might have drained some animal spirits from the auction process – and may have discouraged interest from trade buyers. Carlyle, which recently purchased German specialty chemical producer Atochem at the end of 2016, may have felt less constrained by this: Atochem would fold neatly into the Akzo Nobel specialty business.
Akzo Nobel has said that it will distribute "the vast majority" of the net proceeds of the sale through some as yet undetermined mix of special dividends and share repurchases. The net proceeds amount to € 29.69 per share – a substantial amount relative to a current share price of € 77.26.
By using the phrase 'the vast majority,' management has left itself some wiggle room, probably largely with an eye toward its 50% increase in current liabilities last year. But at least one commentator has jumped on this to suggest that it will (for a third time) revisit its discussions to acquire Axalta Coating Systems (NYSE:NYSE:AXTA). There would, admittedly, be a neat symmetry in this, since Axalta was a Carlyle buyout that it took public in 2014.
Given Axalta's generally lackluster performance over the last couple of years, potential investors do not seem to be able to generate much enthusiasm for the company's stock unless there are prospects that it will be bought out: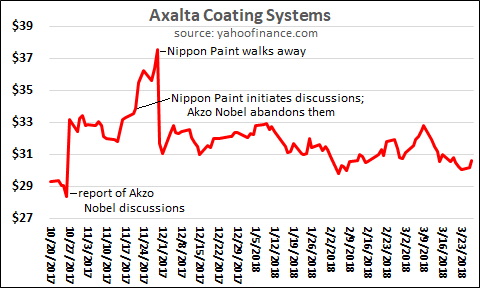 And despite their disappointment, they still seem to harbor expectations that the company can attract a solid premium over the levels at which it was trading before Akzo's interest was revealed. At $37.55, the highest level it reached when Nippon Paint (OTCPK:OTCPK:NPCPF, no ADR available) was still expressing interest, it was valued at $9.2 billion (vs. $7.5 billion today).
Admittedly, Axalta has some rarity value. With the completion of Sherwin-Williams's (NYSE:SHW) acquisition of Valspar last year, it is the world's sixth-largest paint and coatings company. It is a specialist in performance (as opposed to decorative) coatings, with a particular franchise (76% of revenue) in automotive paints, serving both OEM and refinish markets. It has a worldwide footprint (roughly a third of revenue from N. America, a third from Europe and the rest from Latin America and Asia).
So perhaps, despite its commitment to distribute the proceeds from sale of specialty chemicals, Akzo Nobel could be tempted to divert them into an acquisition. It would hardly be the first company to break such a promise. But it would do so at considerable cost to shareholder goodwill: much of its reorganization was under duress, threatened with a takeover proposal from PPG Industries (NYSE:PPG) and pressure from activist shareholders. Any significant retreat from its commitments would be greeted with derision.
And any great premium paid for Axalta would attract howls of protest. Analysts expect Axalta's 2018 earnings to recover significantly from the previous two years' poor performance, and its stock is trading at 22.6X consensus estimates, compared to 17.6X the consensus for the alleged acquirer in its current, yet-to-be-demerged form. Even apart from its need to curry favor with shareholders who have reason to be skeptical, any premium at all would be difficult for Akzo Nobel to justify, given its valuation.
Although initially hopeful, Axalta shareholders seem to realize that another acquisition discussion with Akzo Nobel is unlikely. They bid up the shares on March 27 and sold them back down again on the 28th. The behavior of Akzo Nobel's shares – rising solidly both days – suggest that its investors are not concerned about such a bid.
Editor's Note: This article discusses one or more securities that do not trade on a major U.S. exchange. Please be aware of the risks associated with these stocks.