Tech Pressure, Again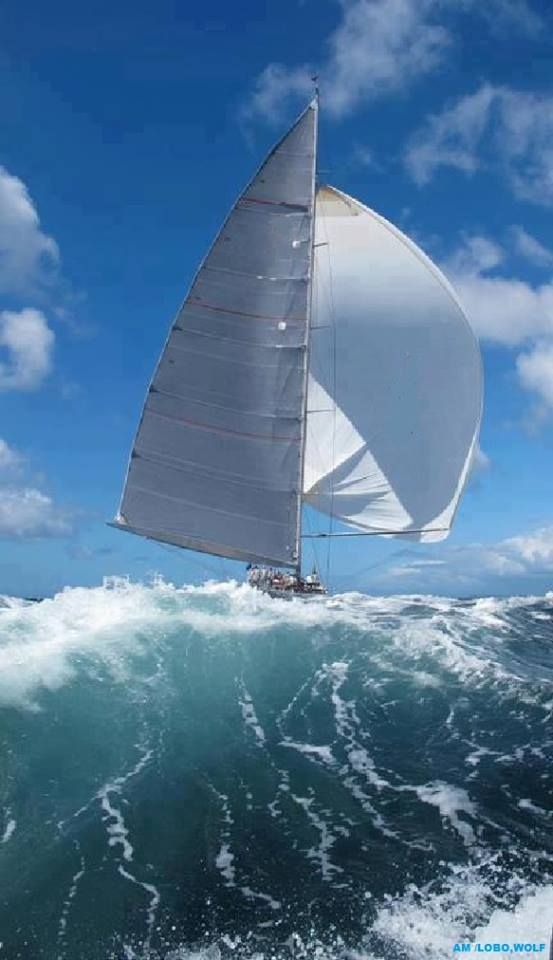 Tech stocks continued under pressure in Wednesday's trade. Facebook (NASDAQ:FB) remained under strain as the 28 year old Cambridge Analytica whistle blower continued tooting his horn before the British Parliament, making the connection regarding how data was used to influence political outcomes. PMs expressed their outrage when the whistleblower revealed that the data firm had not only influenced the American election, but also the vote by the Brits to leave the EU last year. In other words, his data firm was deeply involved in the momentous decision that the British people made when Brexit occurred.
Facebook has fallen nearly 25% from its 52 week high, pushing it into a bear market of its own.

Amazon, Washington Post: It's All The Same
President Trump has disparaged the Washington Post for some time now, portraying it as being in the forefront of purveying "fake news". the Post's owner, Jeff Bezos, has been at the center of Trump's ire for many months. Bezos, of course, is the founder of Amazon.com (NASDAQ:AMZN).
Wednesday, Amazon moved squarely into the president's crosshairs. Trump declared he wanted to regulate Amazon more severely. The pretense that Lincoln's party wishes to shrink government interference in the economy melted away, and so did Amazon's stock price. It has fallen 10% the last two days and is now down about 12% from its 52-week high.

Kim Goes To China
Kim Jong Un, leader of North Korea, made his first journey out of his country as leader of his country to meet a foreign leader. Only it wasn't the leader we were expecting him to visit. Though President Trump had announced his willingness last week to meet face to face with Kim, the Korean dictator played his hand to his advantage.
His decision to meet with ally and benefactor Xi, the Chinese president, on China's soil, could be seen by some as making an end-run around America and Trump's interests.
Bubble, Bubble, Toil And Trouble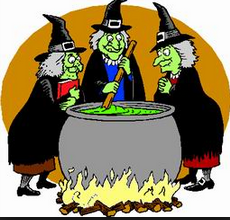 These geopolitical risks continue to be in play as America awaits China and the world's reactions to Trump's tariff on $60 billion of Chinese exports and tariffs on steel and aluminum announced last week on trading partners around the world. Traders remain on edge as trade wars fears are still very much in play.
After Tuesday's Dow decline of 345 points, the market teetered and tottered between further weakness and slight gains most of the day on Wednesday.
Hotel REITs Extend Gains
On the back of Pebblebrook's (NYSE:PEB) offer for LaSalle (NYSE:LHO), quite a number of hotel REITs piled on gains in the day's trade.

Several of our Fill-The-Gap Portfolio hotel constituents, including Chatham Lodging (NYSE:CLDT) and Hospitality Trust (NASDAQ:HPT), were among Wednesday's big gainers.

A Pebblebrook (+3.7%)/LaSalle (+16.2%) deal makes sense to BTIG's James Sullivan, who noted it's complementary in terms of asset type and geography.
The Bloomberg REIT Hotels Index is up the most it's been in 7 weeks, advancing nearly 3%.
Other names participating in the rally were DiamondRock (DRH +4.7%), Hersha (HT +2.2%), RLJ Lodging (RLJ +3.5%), Hospitality Properties (HPT +3.1%), Ashford Prime (AHP +3%), Ashford Trust (AHT +1.8%), Chesapeake Lodging (CHSP +2.4%), Chatham Lodging (CLDT +2.4%), Host (HST +2.1%), Sunstone (SHO +3.4%), Xenia (XHR +2.4%), Ryman (RHP +1.8%), Apple (APLE +2.2%).
Amazon Beat-down Silver Lining
While Amazon's stock price was taking it on the chin, down 5% on the day, investors concluded that a more regulated online behemoth would help level the playing field for brick-and-mortar retailers. This, of course, would help shore up the landlords to these retailers and make their revenue, profits, cash flow and dividends more reliable and sustainable.
Benefiting were more FTG Portfolio landlord REITs, including Kimco (NYSE:KIM), Realty Income (NYSE:O), Tanger Outlets (NYSE:SKT) and EPR Properties (NYSE:EPR).
With Amazon falling on a report that President Trump is looking at regulating the e-commerce giant, retail stocks representing brick-and-mortar store chains had a strong day.
As store brands rose, their landlords were up strongly as well. A recent reversal in interest rates is also helping lift sentiment in this battered sector.
Notable moves were seen in: Pennsylvania REIT (PEI +3.7%), Taubman Centers (TCO +3.5%), American Assets (AAT +3.8%), Retail Properties of America (RPAI +3.2%), Simon (SPG +3.1%), Brixmor (BRX +3.4%), Kimco (KIM +3.2%), Retail Opportunity (ROIC +3.1%), Regency Centers (REG +3.1%), Macerich (MAC +3%), GGP (GGP +2.5%), Realty Income (O +2.6%), Weingarten (WRI +2.6%), Federal Realty (FRT +2.5%), SL Green (SLG +2.3%), Tanger (SKT +2%), and EPR (EPR +1.8%).
Interest Rate Reversal Trend Continues
The interest rate on the 10-year Treasury continued its retreat, to 2.76% in Wednesday's trade. It is now 20 basis points below its recent high at 2.96%.
All of these factors contributed to yet a second day in a row of tremendous outperformance in the FTG Portfolio, mirrored by many readers, and our RODAT Subscriber Portfolio, mirrored by our subscribers.
By the close of trading, the S&P 500 (NYSEARCA:SPY) suffered a .29% loss and the Dow Jones (DIA) fell 9 points, or .04 %.
In stark contrast, the risk-off trade and migration to safe bonds and dividend stocks, like those we own, conferred a second day in a row of lopsided but welcome gains of 1.74% for the FTG Portfolio and a still greater gain of 1.78% for the RODAT Subscriber Portfolio. This is the second consecutive day of tremendous outperformance enjoyed by our readers and subscribers. You can read more about Tuesday's portfolio performance in this article.
Fill-The-Gap Portfolio Close, Wednesday, March 28, 2018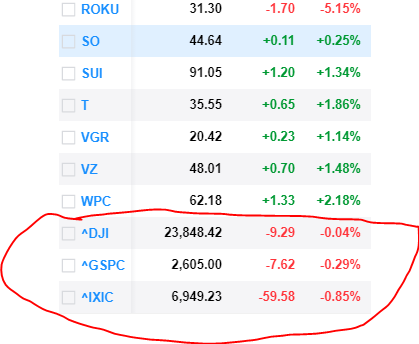 The Fill-The-Gap Portfolio
The FTG Portfolio contains a good helping of dividend growth stocks, like AT&T (T). It was built with the express purpose of benefiting from this defensive strategy.
Three years ago, on December 24, 2014, I began writing a series of articles to demonstrate the real-life construction and management of a portfolio dedicated to growing income to close a yawning gap that so many millions of seniors and near-retirees face today between their Social Security benefit and retirement expenses.
The beginning article was entitled "This Is Not Your Father's Retirement Plan." This project began with $411,600 in capital that was deployed in such a way that each of the portfolio constituents yielded approximately equal amounts of yearly income.
The FTG Portfolio Constituents
Constructed beginning on 12/24/14, this portfolio now consists of 22 companies, including AT&T Inc. (T), Altria Group, Inc. (MO), Consolidated Edison, Inc. (ED), Verizon Communications (NYSE:VZ), CenturyLink, Inc. (NYSE:CTL), Main Street Capital (MAIN), Ares Capital (ARCC), British American Tobacco (BTI), Vector Group Ltd. (VGR), EPR Properties (EPR), Realty Income Corporation (O), Sun Communities, Inc. (SUI), Omega Healthcare Investors (OHI), W.P. Carey, Inc. (WPC), Government Properties Income Trust (GOV-OLD), The GEO Group (GEO), The RMR Group (RMR), Southern Company (SO), Chatham Lodging Trust (CLDT),Iron Mountain, Inc. (IRM) and Roku, Inc. (ROKU).
Dividend growth investors have less to fear from the constant ups and downs in the prices of their stocks. In fact, if dividend income is their main focus, they are basically insulated from the fears that constantly weigh on price-focused investors, especially during scary corrections we are currently experiencing, or bear markets.
Gaze for a moment on all the dividends and nine, very recent dividend raises enjoyed by the FTG Portfolio.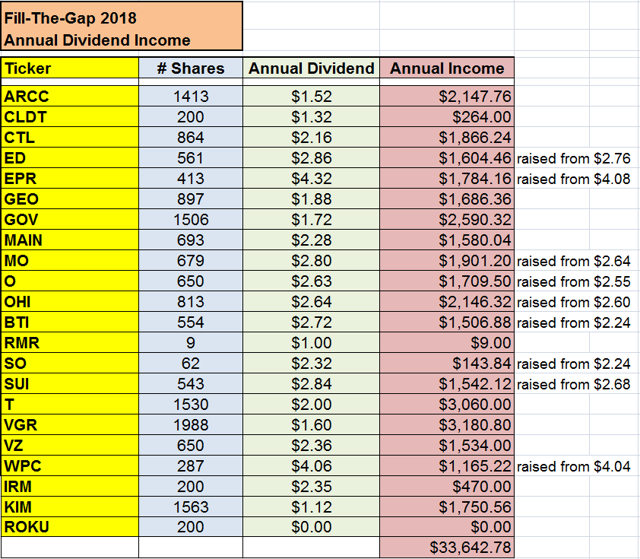 table credit: the author
Your Takeaway
You, too, can sail through the rough seas of the current and future corrections in style, if you choose to pursue a dividend growth strategy. The constant growth in green occurs on the income side and can go a long way in ameliorating the anxiety resulting from stock price meltdowns.
In times of extreme fear, like now, you may even outperform the markets as we have, as investors seek safe haven in government bonds and the type of dividend stocks we own.
Your Engagement Is Appreciated
As always, I look forward to your comments, discussion and questions. What is your perception of current geopolitical risks? Do you take account of them in your investing, or consider them just so much noise to ignore? Please let me know in the comment section how you approach these situations in your own portfolio and how you arrive at your decisions.
Author's note: Should you be interested in reading any of my other articles detailing various strategies to enhance your returns on a dividend growth portfolio, you will find them here.
If you'd like to receive immediate notifications as soon as I write new content, simply click the "Follow" button at the top of this article next to my picture or at the bottom of the article, then click "Get email alerts."
Disclaimer: This article is intended to provide information to interested parties. As I have no knowledge of individual investor circumstances, goals and/or portfolio concentration or diversification, readers are expected to complete their own due diligence before purchasing any stocks mentioned or recommended.
Disclosure: I am/we are long ALL FILL-THE-GAP PORTFOLIO STOCKS. I wrote this article myself, and it expresses my own opinions. I am not receiving compensation for it (other than from Seeking Alpha). I have no business relationship with any company whose stock is mentioned in this article.