This is the first in a series of articles that will look at how various factors influence dividend growth stocks held in a portfolio over a 10-year investment horizon. The objective is to find factors at portfolio inception that are meaningful to returns over the following decade. We want a low-turnover portfolio that delivers.
Trading vs. Long-Term Investing
A dividend growth investor typically selects stocks which have increased their dividends annually for a consecutive number of years. Because there is a preference to buy and hold where possible (unless dividends are not raised annually), it is important to consider how various factors influence long-term performance of dividend growth stocks.
As an example, consider the strategy of buying stocks making extreme one-week pullbacks. If we bought and sold stocks with this strategy every week in the Russell 1000 index, our gross performance would look like this over the past 10 years.
One-Week Pullback Strategy With Weekly Trading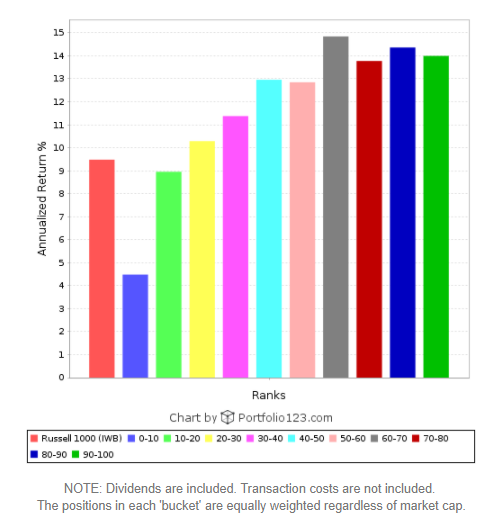 The first red bar is the annual performance of the Russell 1000 ETF (IWB) over the past 10 years. The next bar, which is blue, represents the annual return of the 100 stocks in the index which had the highest one-week price spike before purchase. The bar on the far right, which is green and the portfolio we are focusing on, represents the annual return of the 100 stocks which had the largest one-week pullback.
A trader may or may not be able to make this strategy profitable after all costs, but that is not my point. There is gross out-performance provided you buy and sell every single week. But what happens when you only trade once per year using the one-week pull-back strategy?
One-Week Pullback Strategy With Annual Trading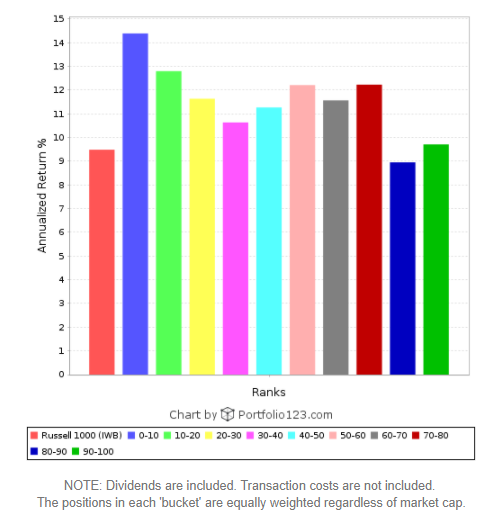 The performance inverts. This great strategy with alpha turns against us. What is a great factor for short-term investing is not so great for long-term investing.
Here in lies the motivation for this series of articles. If you buy a basket of dividend growth stocks with heavy exposure to factors such as quality, value, growth, volatility, sentiment and so forth, what will be the long-term consequence of holding these stocks over a 10-year window?
Dividend Growth Factor: Volatility
Average True Range Normalized is my preferred volatility factor. While many volatility factors look at the differences between closing prices, this factor also considers the extreme daily prices.
What is the difference?
Assume a stock closes each day at exactly $10.
Assume the stock trades as high as $11 and as low as $9 every day.
If you only consider closing prices, this stock has no volatility.
If you consider the daily trading range, this stock has an average of 20% daily volatility.
This volatility factor will look at the trailing 100-day average ATRN. In the above example, this would be 20%. The idea is to hold the lowest volatility stocks at the time of purchase and then compare this to the following 10-year holding period. Will buying and holding stocks which are currently low volatility be significant over 10 years or will our returns just fall to some average with no benefit?
But before we test this factor over a rolling 10-year horizon, I want to highlight the performance of this factor if we reconstituted our portfolio annually. The universe of stocks will be any dividend growth stock on a major exchange which has at least five consecutive years of annual dividend growth. Our benchmark will be the Vanguard Dividend Appreciation ETF (VIG).
Average True Range Normalized Annual Portfolio Reconstitution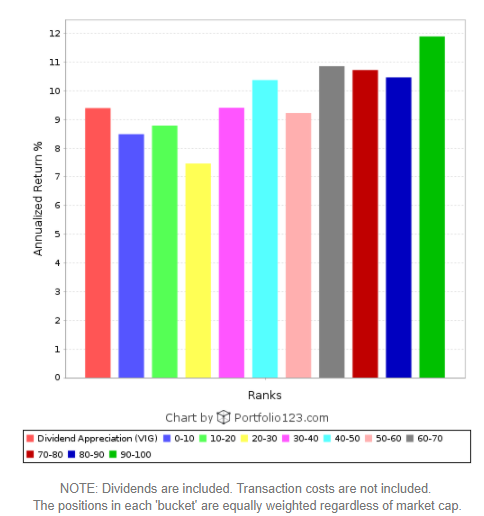 So, at least on an annual basis, the low volatility premium holds in our dividend growth universe. But what about over 10 years?
10-Year Rolling Period Test: Low Volatility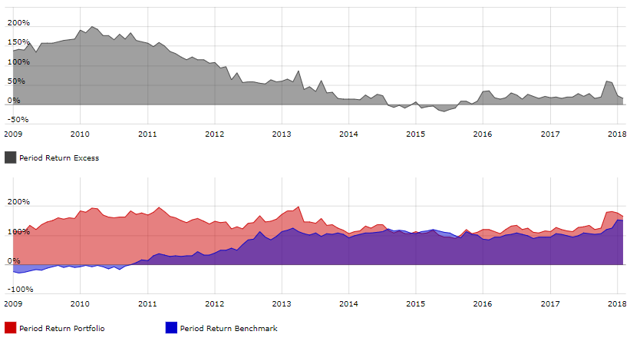 What does this above chart show us? The upper part of the chart (gray) shows us the 10-year excess return between our 50-stock low volatility "buy and hold" portfolio vs. the Vanguard Dividend Appreciation ETF (Dow Jones Select Dividend Index is used as a proxy before ETF inception date). If we bought our initial 50 stock portfolio in 1999 and held until 2009, we would have beat our benchmark by roughly 140%.
If you look to the bottom of the chart, you can see the 10-year returns for our benchmark (blue color) and our portfolio (red color). Between 1999 and 2009 our portfolio returned 115.32% while our benchmark returned -23.65%. The simulation assumes dividend reinvestment. And excess cash from dividends will trigger buying a new position as opposed to more shares of the same companies. So while we start with 50 companies we might end up with 53 or 55.
One positive aspect of our "low vol" dividend growth portfolio relates to consistency of returns. The 10-year total return for our low volatility portfolio ranges between 100% and 200%. Our benchmark has much more variance with a range of -30% to +150%.
I always like to look at the flip-side, what if we invested in the 50 highest volatility stocks?
10-Year Rolling Period Test: High Volatility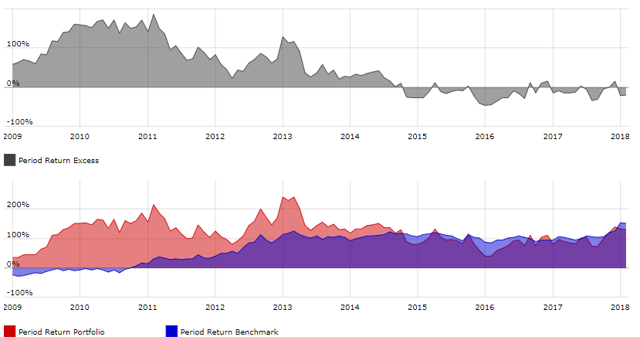 The outcomes for our 10-year "high volatility" portfolio are more variable with a range of 30% to 215%. This translates into a slightly higher risk of not having the amount of capital in your account to invest in dividend stocks. But the difference of returns between high and low volatility dividend growth stocks is not as extreme as I would have imagined.
But keep in mind what the 10-year rolling test shows you and does not show you. While you see the beginning and end result, you do not see the journey. Below is an example of our 50 stock portfolio strategy with high and low volatility stocks.
Low Volatility Portfolio 1999-2018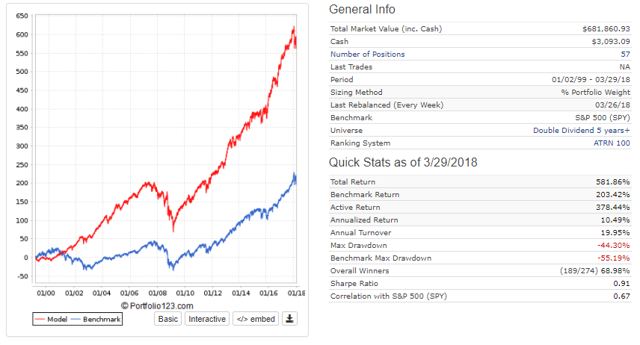 High Volatility Portfolio 1999-2018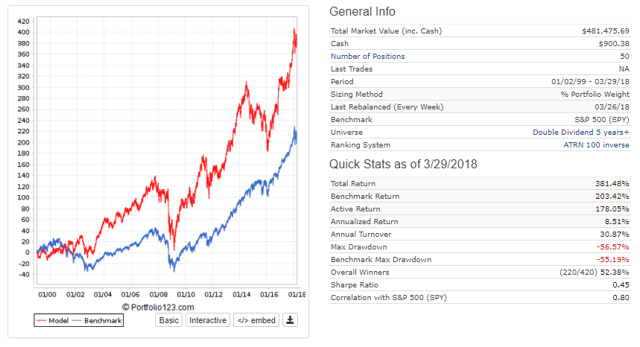 These two portfolios have 18-year holding periods (where possible). The return profile of the low volatility portfolio is much smoother than the high volatility portfolio. While this may matter very little to some as they only look at the size of the returns over 10 years, most will have at least some concern for how their portfolio goes up and down in the mean time.
The other interesting detail is that the higher volatility portfolio has higher turnover. The only reason it turns over is when stocks fail to raise their dividend. This is quite interesting in that stocks which trade with higher volatility seem less likely to increase the dividend than low volatility stocks.
Some Sample High and Low Volatility Stocks
What sort of stocks would be considered low volatility right now according to Average True Range Normalized?
| | | | | |
| --- | --- | --- | --- | --- |
| Ticker | Name | Sector | MktCap | Yield |
| (WGL) | WGL Holdings, Inc. | Utilities | 4295.68 | 2.46 |
| (AVA) | Avista Corp. | Utilities | 3356.57 | 2.91 |
| (DPS-OLD) | Dr Pepper Snapple Group, Inc. | Consumer Staples | 21277.98 | 1.96 |
| (BR) | Broadridge Financial Solutions, Inc. | Information Technology | 12789.85 | 1.33 |
| (KO) | Coca-Cola Co (The) | Consumer Staples | 184968.4 | 3.59 |
| (ECL) | Ecolab, Inc. | Materials | 39657.51 | 1.2 |
| (RSG) | Republic Services, Inc. | Industrials | 21968.49 | 2.08 |
| (WM) | Waste Management, Inc. | Industrials | 36450.71 | 2.21 |
| (JKHY) | Henry (Jack) & Associates, Inc. | Information Technology | 9344.11 | 1.22 |
| (PEP) | PepsiCo Inc. | Consumer Staples | 154993 | 2.95 |
| (PG) | Procter & Gamble Co. (The) | Consumer Staples | 199865.2 | 3.48 |
| (DOX) | Amdocs Ltd. | Information Technology | 9569.18 | 1.5 |
| (CMS) | CMS Energy Corp | Utilities | 12755.79 | 3.16 |
| (WCN) | Waste Connections, Inc. | Industrials | 18903.13 | 0.78 |
| (NEE) | NextEra Energy, Inc. | Utilities | 76928.43 | 2.72 |
| (SYY) | Sysco Corp. | Consumer Staples | 31263.74 | 2.4 |
| (WRB) | Berkley (W.R.) Corp. | Financials | 8834.14 | 0.77 |
| (AEP) | American Electric Power Co., Inc. | Utilities | 33746.69 | 3.62 |
| (MMC) | Marsh & McLennan Companies, Inc. | Financials | 42014.52 | 1.82 |
| (DUK) | Duke Energy Corp. | Utilities | 54229 | 4.6 |
| (TMK) | Torchmark Corp. | Financials | 9645.29 | 0.76 |
| (HON) | Honeywell International, Inc. | Industrials | 108512.6 | 2.06 |
And what would some high volatility names be?
| | | | | |
| --- | --- | --- | --- | --- |
| Ticker | Name | Sector | MktCap | Yield |
| (SIG) | Signet Jewelers Ltd. | Consumer Discretionary | 2330.46 | 3.84 |
| | SpartanNash Co. | Consumer Staples | 627.58 | 4.18 |
| (OMI) | Owens & Minor, Inc. | Health Care | 955.95 | 6.69 |
| | Finish Line, Inc. (The) | Consumer Discretionary | 546 | 3.4 |
| | Patterson Companies, Inc. | Health Care | 2105.18 | 4.68 |
| | Farmers & Merchants Bancorp, Inc. | Financials | 374.07 | 1.29 |
| (GME) | GameStop Corp. | Consumer Discretionary | 1278.41 | 12.04 |
| | RGC Resources, Inc. | Utilities | 184.18 | 2.44 |
| | PetMed Express, Inc. | Consumer Discretionary | 860.09 | 2.4 |
Total Returns vs. Income Stream
You will notice that I am focusing on total returns over 10 years instead of income stream growth. Why? Previous research shows a very high correlation between total returns and dividend growth. And after 10 years, if you needed more yield for withdrawal purposes, you can always switch your holdings to higher yielding products at that time.
If this is a source of contention, I can always produce another article highlighting the link between total returns and income growth.
Summary
If you are purchasing dividend growth stocks with the intention of holding for 10 years or longer, it is important to consider the impact of various stock properties. The first factor that I looked at in this new series is a volatility ratio: Average True Range Normalized.
What I found is that if you buy a stock which has low volatility, the historical range of outcomes over the following 10 years are more tightly grouped. Consistency of 10 year returns is higher. In addition to analyzing the beginning and end-points of our investment horizon, we can also say that the risk-adjusted returns were much higher during the 10 years we invested when we initially purchased stocks which had low volatility properties.
The rest of this series will be up to you. What single factors do you feel are vital when making your initial stock purchase of a dividend growth stock? I will run a similar test to the one outlined in this article on your preferred investment factor.
Disclosure: I/we have no positions in any stocks mentioned, and no plans to initiate any positions within the next 72 hours. I wrote this article myself, and it expresses my own opinions. I am not receiving compensation for it (other than from Seeking Alpha). I have no business relationship with any company whose stock is mentioned in this article.