Argentina will be in the spotlight for two exciting reasons in June this year. Millions of fans will be donning their Albiceleste jerseys to rally for Argentina's national team in the 2018 FIFA World Cup to be held in Russia, the premier event for the world's most popular sport, football (that's soccer to you Yanks). Also in June, millions of dollars will be poised to enter the country and rally the Buenos Aires stock exchange should MSCI finally elevate the nation's classification from frontier market back to emerging market status. Investors can position themselves now to prepare for an "upgrade bump".

Both Messi and MSCI will be watched closely in June 2018
Source: Zee News, El Ojo Digital
Early in the 20th century, Argentina was a wealthy, prosperous, first-class nation. Considered the most European of all Latin American countries, the capital, Buenos Aires, was once called the Paris of South America. A strong, active stock and commodity exchange allowed capital to move freely into the county and build a strong nation. Post World War II, however, troubled times befell the land of the gaucho and a series of recessions, military coups and protectionism left the country behind as Europe and Japan rebuilt and the United States set the terms for the new international order.
Until 2009, Argentina was considered an emerging market by MSCI. But under the disastrous economic and financial policies of presidents Nestor Kirchner and his wife and successor, Cristina Fernandez de Kirchner, capital controls, asset seizures, restrictions on market activity, lack of transparency, institutional erosion, loss of central bank independence and economic data manipulation choked off the financial sector and the Argentine capital markets died on the vine. In January of 2009, MSCI announced it would downgrade Argentina to frontier market status, joining other proto-markets such as Serbia, Nigeria and Lebanon. Asset managers and financial advisors either scaled down, shuttered, or moved to other jurisdictions, such as nearby Uruguay, to wait out the dark times.
Chapter Macri: A New Hope
Finally, with the election of business leader and mayor of Buenos Aires, Mauricio Macri, to the presidency in 2015, a new era of market-friendly policy making was ushered in. President Macri quickly lifted capital controls, reestablished institutional credibility, settled the sovereign debt default and began a brisk pace of policy renormalization. In 2017, investors waited with high anticipation for an announcement that MSCI would reinstate Argentina back to its rightful classification as an emerging market. However, the reclassification committee decided not to upgrade Argentina but did maintain the country on the review list for 2018, hinting it may announce the reclassification in June 2018. In their reclassification proposal, MSCI stated:
Although the Argentinian equity market meets most of the accessibility criteria for Emerging Markets, the consistency and persistence of the relatively recent changes as measured in practice still remains to be assessed. - Reclassification proposal for the MSCI Argentina Index , June 2017
Unofficially, there was some question about the strength of Macri's mandate. Specifically, mid-term elections in the legislature were coming in October of 2017 which was seen as a test of the nation's support for the new president's reforms and what support the populist ex-president Cristina Kirchner could garner in her run for a senate seat. This may have been an additional factor in MSCI's delay.
Ultimately, Macri's coalition party, Cambiemos, returned a strong victory, gaining 19 more seats in the lower house (and now controlling 45% of seats) and winning 8 additional seats in the senate (controlling 39%). Although Cristina Kirchner did manage to claim a seat, it was clear her popularity within the Peronist movement was ebbing with eyes looking to new leaders with less baggage. It would seem the march towards open markets is on firm footing and there is wide expectation that MSCI will finally announce an upgrade in June this year.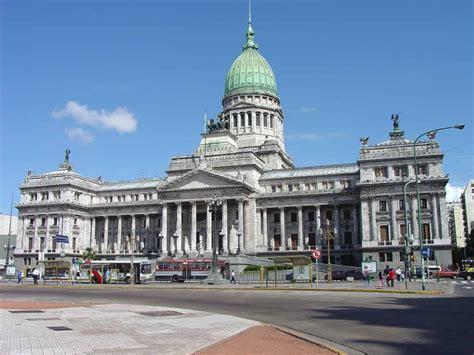 The Argentine Congress building, now full of reform-minded Macri supporters
Source: H.S.N. Congreso
What does it matter?
A reclassification from frontier market to emerging market has significant implications. Pension funds and other institutional investors may allow investments in emerging market securities but prohibit or do not even address frontier markets. An upgrade to EM status should attract new institutional money. Aside from direct holdings of EM stocks or ADRs, MSCI reports approximately $300B are in funds that adopt the MSCI Emerging Market Index as a benchmark. MSCI anticipates weighting Argentina in the EM index at 0.5%, representing a potential of $1.5B of inflows. This potential institutional flow of capital is in addition to the attractiveness to smaller investors and personal financial advisors. While emerging market investing has become relatively mainstream in asset allocation models, most still shun any country with the "frontier" label.
An upgrade bump?
Over the past few years, MSCI has upgraded 3 other countries from frontier to emerging market. In the time between the reclassification announcement and the final implementation (6 to 12 months), all countries realized significant bumps in their local stock market indices:
| COUNTRY | INDEX | ANNOUNCEMENT DATE | GAIN AT INCLUSION DATE |
| --- | --- | --- | --- |
| Pakistan | KSE100 | 2016 | +35% |
| Dubai | DSM50 | 2013 | +90% |
| UAE | ADSMI | 2013 | +46% |
Strong macroeconomic tailwinds
MSCI classification is based on market structure, not economic fundamentals. The classification committee looks for things like ease of capital flows, operational efficiency and institutional stability. The economic context is not an explicit factor. Argentina's strengthened market system should be enough to justify anticipating a reclassification and "playing the bump", but the expected upgrade also coincides with a time of encouraging economic news in the country. This means investors may want to buy for the short-term bump and stay for the long-term economics.
The 2017 IMF Article IV report on Argentina expects many key metrics to improve (see table) over the coming years and highlights multiple lines of progress in its executive summary:
Argentina's government has unwound multiple distortions and made important progress in restoring integrity and transparency in public sector operations. These policy changes have put the economy on a stronger footing and corrected many of the most urgent macroeconomic imbalances. Argentina is experiencing a solid recovery from last year's recession and, even in the face of planned fiscal consolidation and ongoing efforts at disinflation, growth is expected to consolidate in the coming years. Inflation continues to fall, albeit at a slower pace than targeted by the central bank… Private consumption strengthened in 2017, supported by greater real wages and buoyant credit growth, and private investment is also picking up.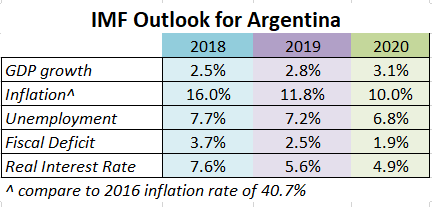 Other noteworthy statistics demonstrating the strengthened position of the Argentine economy:
Foreign reserves have more than doubled to USD 61.0B since President Macri took office after the Kirchner era drained reserves down to USD 24.5B.
A key metric Macri has publicly stated is a priority to improve is the nation's poverty rate. The poverty rate has fallen from almost 32% when Macri took office to 25.7% at the end of 2017. This coincides with a general growth in the Argentine middle class.
Macri has settled the external debt default allowing Argentina to re-engage the global capital markets. In November 2017, Moody's upgraded Argentina's sovereign debt from B3 to B2. Fitch currently rates Argentina debt as B (stable), and S&P gives a B+ (stable) rating.
Argentina's "country risk", measured by JPMorgan as the spread of tradable foreign bonds above comparable US Treasuries, fell from 621 bps before the 2015 elections to 411 bps today.
President Macri has negotiated USD 15B in foreign direct investment from China to fund alternative energy and transportation infrastructure projects. President Xi of China has stated Latin America is a critical part of the modern "maritime Silk Road".
Source: INDEC, Ambito Financiero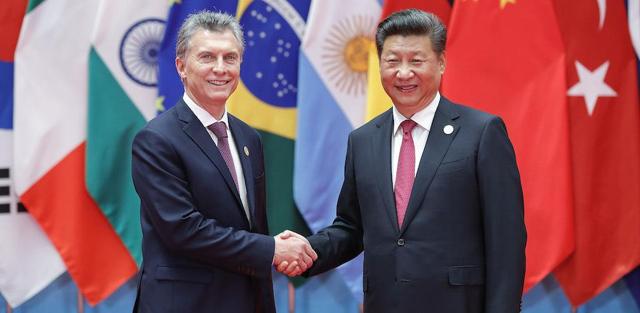 As the United States abandons its relationships in Latin America, countries like Argentina are finding new friends with deep pockets ready to help.
Source: ForeignPolicy.com
You can hear President Macri describe the changes taking place in Argentina in his own words (in English) when he addressed the World Economic Forum in Davos, Switzerland, earlier this year.
Argentina is also hosting the year-long workshops and meetings of the G20 this year, with a focus on the future of work, infrastructure development and sustainable food.
Finally, some other encouraging statistics suggest the Argentine economy is seeing a resurgence in construction activity, private sector credit growth, and a Gini coefficient (measuring wealth distribution; the lower the coefficient, the less concentrated the wealth) falling to levels comparable with the United States.
Month-over-Month Change in Construction Activity:

Source: INDEC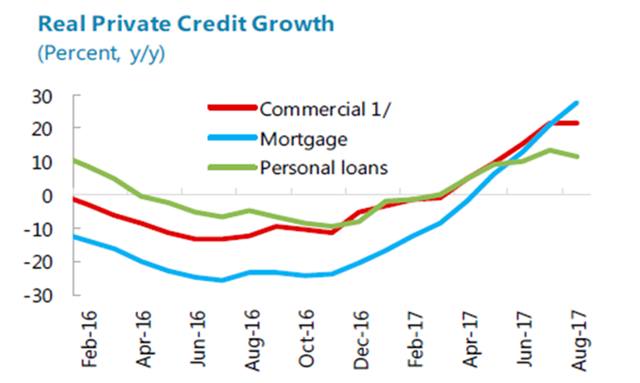 Source: BCRA (Central Bank of Argentina)
GINI Coefficient:
Source: World Bank

How to Play Argentina
Option 1: The "dumb money" play – buy ARGT
If you are thinking the story sounds good and you want quick and easy access to Argentina, it would seem obvious that the only dedicated Argentina ETF of any account, Global X MSCI Argentina ETF (NYSE: ARGT), would be the place to go. While this may benefit from a spike in demand in later buyers, there is a fundamental flaw with this strategy. Namely, the Global X ETF does a very poor job tracking the MSCI Argentina Investable Market Index (IMI) which will be the basis for stock inclusion into the MSCI Emerging Markets Index. Nearly 50% of the weighted holdings in ARGT are not part of the index, including the top two positions which make up 37% of the ETF!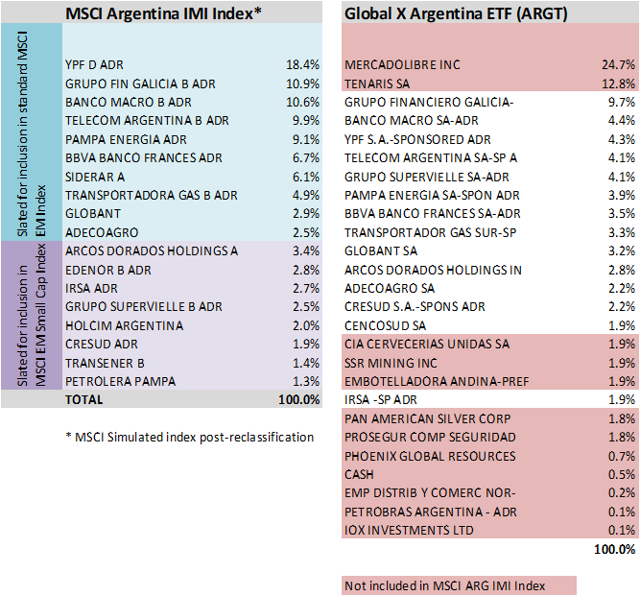 MercadoLibre Inc. (NYSE: MELI) is not, technically, an Argentine stock (incorporated in Delaware, United States), although it remains an Argentine company (founded and headquartered in beautiful Buenos Aires). MELI is a NYSE listed stock and is not even co-listed on the main Bolsa de Valores stock exchange in Argentina. It also only derives about 25% of its revenue from sales in Argentina. Thus, it is not part of the MSCI Argentina index. For the same reason you will not find the Argentina based steel tubing manufacturer, Tenaris (NYSE: TS), which is incorporated in Luxembourg and trades on US and European markets. MercadoLibre is a remarkable, dynamic company and is worth considering separately as a stock investment but should not be part of an "Argentina upgrade" or longer-term "Argentina economy" strategy.
Option 2: Buy select stocks in the MSCI Argentina IMI Index
A better strategy would be to buy a position in stocks in the MSCI Argentina IMI Index slated to be included in the MSCI EM Index. I present 3 portfolio ideas to accomplish this depending on how much commitment to the theme an investor desires to make.
PORTFOLIO 1 – Play the Bump: This portfolio simply takes the top 5 stocks of the index and weights them somewhat relative to their index weight, with a discount for the stocks with more extended valuations. This could be a desirable position to play the bump and then exit.
VARIATION ON PORTFOLIO 1 – Some of these top 5 stocks have somewhat liquid option markets. To limit risk, an investor could choose to buy at-the-money July call options on these stocks. Due to limited liquidity, prepare to hold to expiration.
PORTFOLIO 2 – Targeted Weight: This portfolio seeks more breadth and diversifies over more economic sectors while remaining mindful of valuation levels. A good option for the investor interested in the longer-term theme of a strengthening Argentine economy.
PORTFOLIO 3 – Dance the tango: For the investor more committed to the Argentina theme and willing to commit additional resources to justify an expansion in number of positions, a more intimate inclusion portfolio includes smaller cap stocks that help round out the exposure.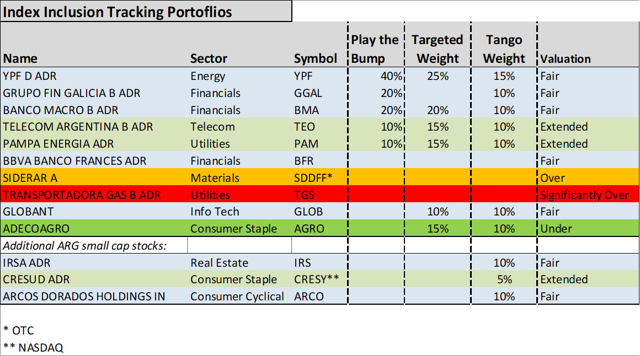 RISKS
Obviously, there are a number of factors that could derail the investment theme I have tried to articulate here. Among the more salient are:
The MSCI reclassification group may decide not to upgrade (this year).
Global markets could fail to find their footing. Although frontier markets tend to enjoy a lower correlation to the main developed market indices longer term, any global shock is sure to send short-term headwinds that could hinder a bump from playing out.
Argentina fundamentals could change. The winds of change tend to blow through Argentina as fiercely as the famed Patagonian winds. While the country does seem to be entrenched in a period of relative stability, it is, at the end of the day, still Argentina.
Conclusion
Investors looking for an opportunistic theme should consider positioning for a categorization upgrade in the near term and macroeconomic-driven upside surprises in the medium to longer term. Past upgraded by MSCI from frontier market to emerging market status have seen gains of 35% to 90% between announcement and implementation. While ARGT may see some volume-driven price appreciation, a position in the top stocks actually in the MSCI Argentina Index (YPF, GGAL, BMA, TEO, PAM) is more likely to see the effect of increased institutional interest. Additional holdings will help diversify an Argentina mini-portfolio for longer time periods (GLOB, AGRO, IRS, CRESY, ARCO).

Argentina may have much to celebrate on the field and on the floor this year. Loyal fans will hope for the former. Shrewd investors can participate in the latter.
Source: Firstpost, ICBArgentina
Disclosure: I am/we are long YPF. I wrote this article myself, and it expresses my own opinions. I am not receiving compensation for it (other than from Seeking Alpha). I have no business relationship with any company whose stock is mentioned in this article.
Additional disclosure: I may take additional long positions in a number of stocks in the MSCI Argentina IMI Index indicated in this article over the next 30 days.