The present article was first published on June 19, 2017, as a Marketplace piece for my subscribers only.
I have long thought that plug-in electric vehicles (PEVs) will eventually beat out hybrid electric vehicles (HEVs) and that battery electric vehicles (BEVs) will tend to dominate plug-in hybrid electric vehicles (PHEVs) in the U.S. electric car race.
In Figures 1 and 2, we can see some evidence for the two trends for the periods 2013-2016 and 2013-March 2017, both in absolute terms (i.e. sales units) and relative terms (i.e. penetration rates). See at the bottom of Figure 2 for the definition of penetration rates.
Figure 1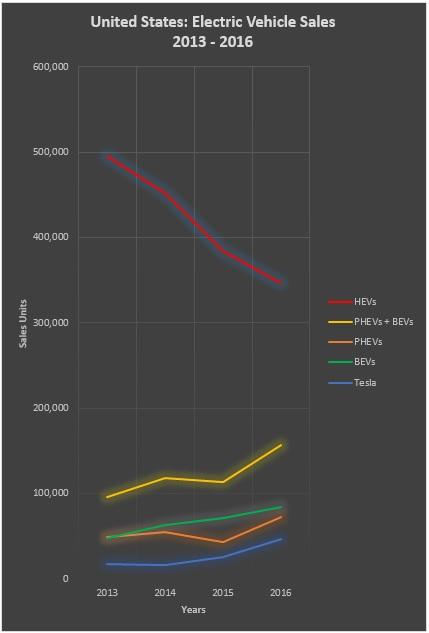 Sources: HybridCars and InsideEVs.
Figure 2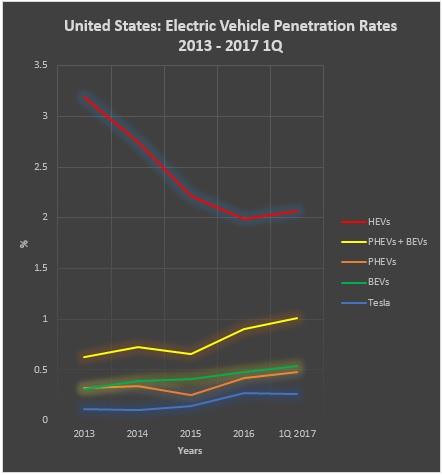 Sources: HybridCars and InsideEVs
Penetration Rates are defined here as:
[U.S. (PHEV, BEV, PHEV+BEV or Tesla) Sales/Total U.S. Auto Sales]*100.
In the following points. I summarize the main findings. First, HEV sales show a pronounced downward trend, which is in sharp contrast with a visible upward tendency in PEV sales. These movements appear to be replicated to a large extent when penetration rates are utilized. Second, from 2014 onwards, BEV sales/penetration rates seem to be always over and above PHEV sales/penetration rates.
As a first approximation, two main drivers of these trends have been identified. One, Tesla (NASDAQ: TSLA), and two, California. In Figures 3 and 4, it is observed that both Tesla's and California's market shares in plug-ins and BEVs reflect in general significant upward inclinations, which certainly validate the point I am trying to make here. At the advent of the launch of Tesla's Model 3, we can only foresee an intensification of these tendencies.
Likewise, it is not at all surprising that California has assumed the leading role not only in U.S. electric car competition but also in the fight against climate change - a good indication of which is given by the fact that, according to the New York Times, this state has already become "the nation's de facto negotiator with the world on the environment."
Figure 3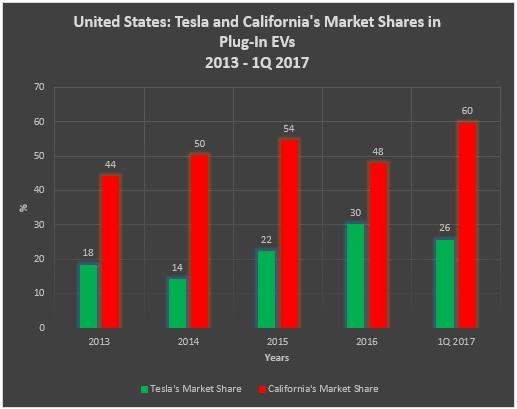 Figure 4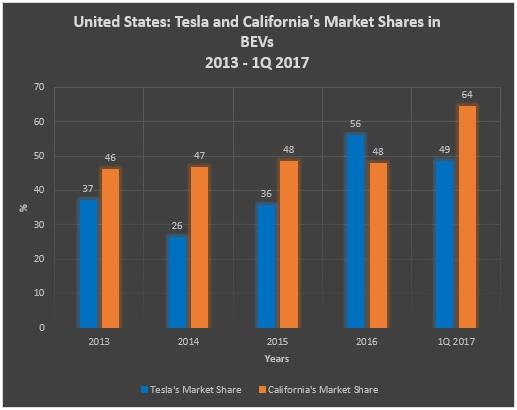 In addition, the two main trends found in the U.S. are not only replicated but reinforced in California. This is depicted in Figures 5 and 6 where it is clear, in particular, how the gap between HEV and PEV sales is closing in the period 2013-2016 and how PEV penetration rates would have already surpassed those of HEVs beginning 1Q 2017.
Figure 5
Sources: CNCDA, LATimes, Siliconbeat, and Forums Tesla.
Figure 6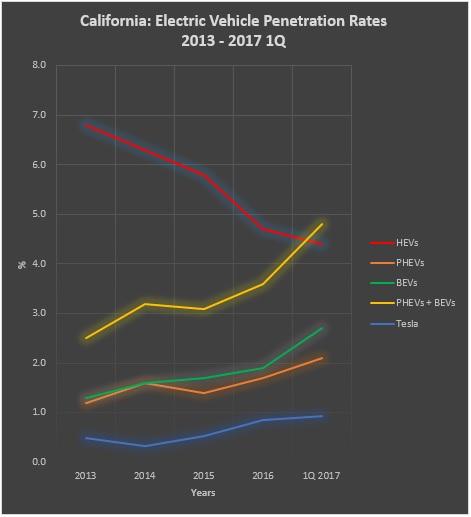 Sources: CNCDA, LATimes, Siliconbeat, and Forums Tesla.
Even though Tesla and California are main contributors to the movements identified above, they don't explain why hybrids show a clear downward trend, while total plug-ins, as well as all-electric, plug-in hybrids and Tesla's BEVs reflect a visible upward trend resulting at the end in high and negative correlation coefficients between HEVs and all the other mentioned electric vehicles, both in the U.S. and California (See Table 1).
Table 1
Correlation Coefficients

Sources: HybridCars, InsideEVs, CNCDA, LATimes, Siliconbeat, and Forums Tesla.
A New Theory Of Adoption Of Li-Ion Batteries For EVs
Over the last nine years or so, I have advanced a theory to describe the most important factors influencing adoption of Li-ion batteries for EVs, which can be applied to the present case. In their latest formulation, these factors are: Oil prices, technological development and resistance to/promotion of change. You can find the main arguments of my scheme here, here, here, here, here, and here. In what follows I present an extended version of my theory.
During the period 2004-June 2014, high level of oil prices would have explained why more and more consumers were willing to switch to hybrid, plug-in hybrid and all-electric cars.
Likewise, technological development, from the demand side, would have contributed to discovery and introduction of new Li-ion battery chemistries (and beyond them), including new cathode and anode materials and improved resource use, whereas technological development, from the supply side, would have meant, for instance, thinking of going beyond: (1) utilization of solar energy for processes of evaporation, (2) evaporation processes altogether, and (3) and production of lithium carbonate as such to go directly towards cathode synthesizing for Li-ion batteries.
Lastly, resistance to change would have translated into actions by governments, companies and individuals with vested interests to prevent the emergence of lithium battery technologies because this will put at risk their current or future privileges or advantages, while promotion of change would have implied activities performed by the same players to promote adoption of such advanced energy storage systems in their search for national energy independence or energy security, sustainable development or more efficient forms of transportation.
Until mid-2014, high oil prices explained well the increase of plug-in sales. As shown in Figures 7 and 8, however, yearly oil prices and standard deviations in relation to corresponding average values for the periods 1986-2016 (WTI) and 1988-2016 (Brent) no longer reflect this trend. Why then did plug-in sales continue to grow? I'll come back to this in a moment.
Figure 7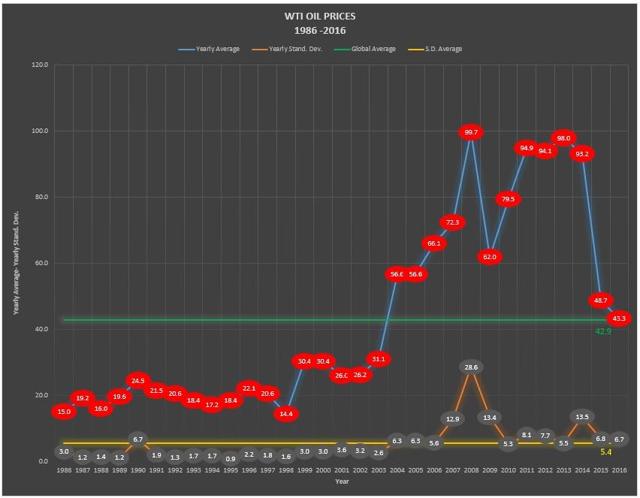 Source: EIA.
Figure 8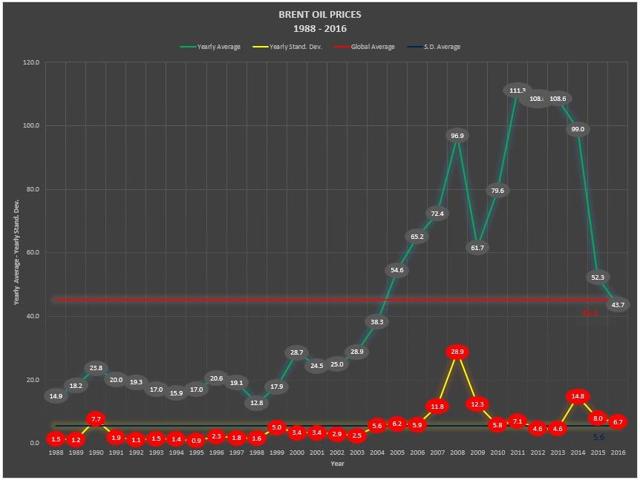 Source: EIA.
From the demand perspective, technological development in the cathode spectrum has occurred due to Tesla's importance in the market, with Nickel-Cobalt-Aluminum (NCA) batteries, manufactured by Panasonic (OTCPK:PCRFF) dominating the Li-ion battery market, while technological development in the anode space has come through use of graphite as the technology of choice but gradually changing to other technologies (See Figure 9).
From the supply perspective, the search for alternative technologies to extract lithium that go beyond solar evaporation, evaporation processes altogether, and even Li2CO3, to go directly to cathode synthesizing for Li-ion batteries, has proved difficult. After a very auspicious announcement by Posco (NYSE: PKX) in February 2016 to move in this direction, progress has been rather modest (i.e. A 2,500-ton plant utilizing lithium phosphate as feedstock from recycling batteries, inaugurated in Korea in February 2017) and Orocobre (OTCPK:OROCF) has decided to stick to their classical technology rather than acquiring other technologies (e.g. Solvent Extraction, developed by Tenova Bateman from Israel) for its second phase of development.
Figure 9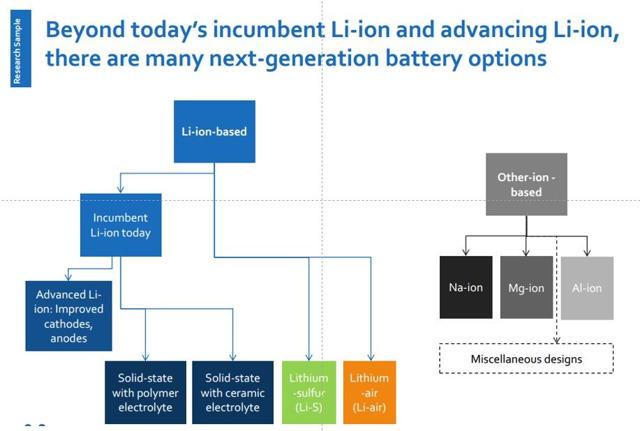 Lastly, governments and individuals (consumers) have been most active in recent times to promote adoption of Li-ion batteries, particularly for EVs. Governments have been shown to start moving from incentives to bans of gasoline and diesel and even mandatory electric car quotas of production in different countries of the world, whereas consumers have appeared to appeal to their environmental consciousness and their search for quality products to demand for more plug-ins and hence more Li-ion batteries.
There have been, however, some ambiguous reactions from companies [such as Toyota (NYSE: TM), Honda (NYSE: HMC), and Hyundai (OTC: HYMLF)] that have recently bet (albeit unsuccessfully) on H2. It does seem though that even this behavior is beginning to change as the road for electrification in transportation with different Li batteries is paved across the planet. But this is exerting a lot of pressure on the supply of lithium.
We are now prepared to advance our complete theory regarding the main factors affecting electrification in the automotive industry. This is done in Figure 10.
As it can be seen, oil prices do seem to affect HEVs in a strong way but influence PEVs rather weakly. The same kind of model appears to apply when we compare PHEVs with BEVs. Why? The argument goes as follows. Assuming lithium and oil are substitute goods, if the price of oil goes up, it can be expected that the (derived) demand for lithium will go up. Though there are limits as to the impact of the price of oil on the derived demand for oil.
As we saw earlier on, it worked fine with all kinds of EVs until oil fell non-conjuncturally beginning July 2014. In this new situation, economic logic operates better with HEVs (and to a lesser extent with PHEVs as well) than with BEVs because the former are fossil-fuel savers while the latter represent true technology disruptors.
Figure 10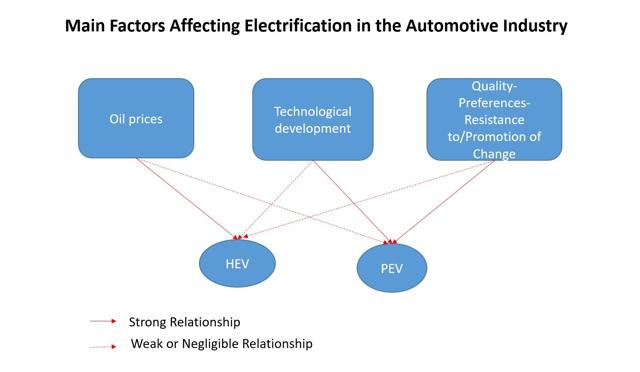 Sources: EVWorld, Seeking Alpha (1), Seeking Alpha (2), Seeking Alpha (3), Seeking Alpha (4), and Seeking Alpha (5).
This leads us to the second factor, namely technological development both in lithium extraction and processing and lithium batteries. In general, new methods of lithium extraction and processing would affect more PEVs than HEVs because plug-ins require more lithium in their batteries and as technology improves in this area more lithium will be available for those advanced batteries.
Similarly, improved lithium batteries will tend to reduce the cost of lithium (or non-lithium) batteries per kWh of energy capacity further paving the road for adoption of all-electric cars. Lastly, introduction of emerging technologies such as wireless charging could lead to lower demand for batteries and hence of lithium, but as roads electrify, chances are the world will need more gigafactories and more plug-ins, anyway.
Finally, both consumer preferences as related to concerns about climate change and the search for quality goods would complete the explanation as to why consumers have continued (and will continue) to purchase PHEVs and BEVs in spite of falling oil prices.
For one thing, this implies a strong relationship between this factor and the level of electrification in the automotive industry because, under ideal conditions, combat of climate change is likely to be affected more by PEVs than by HEVs. For another, it also means that, due to consumers' search for quality, more BEVs will be adopted because nowadays these cars constitute the most technologically advanced vehicles in the world.
We are now left with other companies' choices as well as government activities as potential factors affecting EV sales. Regarding the first issue, due to poor sales of their Fuel Cell EVs, by the beginning of 2016 Toyota and Hyundai began to show some signs of change in their EV business strategies, after announcing last year their new Prius Prime (PHEV) and Ioniq (HEV, PHEV and BEV) models, respectively. These models turned out to be a real market success.
Whereas the Toyota Prius has been commercialized since last November in the US market only having become in May 2017 the best sold model, the Ioniq Electric (BEV) started to be commercialized in South Korea in August last year, capturing a higher than 61% market share there in 2016 and expanding to Europe in 2017 with remarkable results in The Netherlands, Ireland and Norway. Furthermore, a few days ago, Hyundai was planning to increase Ioniq Electric production by 50% after higher demand. As for Honda, it is yet to be seen whether its current "zero-EV" strategy pays off, although most chances are it won't.
With respect to the second issue, government subsidies of electric vehicles in China, USA and Europe have had a fundamental effect on the increase of demand for PEVs in recent years, but the major challenge in the near future will be how to make this process sustainable, beyond any specific governmental support or incentive. As noted earlier on, China seems to be moving towards a scheme based on electric car quotas, which has the virtue of transferring the whole responsibility to EV makers so that they will now have to either take the challenge or leave the Chinese market.
Although there isn't much information on the new system as yet, we're inclined to believe that it will incentivize more adoption of BEVs than of PHEVs, given the fact that the market for HEVs in China is almost non-existent and that current pollution problems in major Chinese cities require this type of action. In the case of the U.S., it is my understanding that the EV market has already surpassed a sort of "critical mass" whereby it will no longer be necessary any kind of economic incentives for it to continue growing despite any efforts on the contrary by the Trump administration.
In Europe, except for Norway that can afford to promote e-mobility with generous incentives, elsewhere in the continent, the driver for EV growth will likely remain legislation in terms of mandatory emissions-reduction targets which, again, tend to favor more adoption of BEVs than HEVs or PHEVs.
A Preliminary Test Of The Theory
In closing, we need to check on the plausibility of the theory. For reasons of time and space though, it will not be possible at this point to test all the factors identified above. Hence we will focus our analysis on the first (i.e. oil prices) and third (i.e. quality, preferences, resistance to/promotion of change) factors only. A comprehensive analysis of technological development and its impact on EV sales and penetration rates will be the subject of a forthcoming piece.
In Table 2 the correlation coefficients between (WTI and Brent) oil prices and U.S. and California sales of the different types of EVs are presented. As we can see, in all cases, the correlation coefficients between oil prices and HEVs are high and positive. This implies that as oil prices go down, HEV sales/penetration rates go down and as oil prices go up, HEV sales/penetration rates go up. These results confirm our intuition that there is a strong (positive) relationship between oil prices and hybrid sales and penetration rates mainly because HEVs are essentially gasoline-savers and as oil prices decrease, it is no longer reasonable to buy HEVs.
This depicts neatly the current situation. Note in addition that these results are consistent with a previous take of mine on a positive, causal, unidirectional mechanism running from oil prices to Toyota's global hybrid sales.
Let's now analyze the other numbers in Table 2. To begin with, they resemble some results of a another contribution of my authorship to Seeking Alpha published two years ago where I argued that since the current falling oil prices are meant to be a structural phenomenon, they shouldn't result in a substantial market rebound in the form of a decrease of EV sales and that one way to verify this reasoning would be to find no strong positive statistical correlation between oil prices and EV sales. By EV sales I then meant plug-in EV sales, of course.
In this context, other things being equal, a non-significant or strong negative correlation coefficient between oil prices and plug-in EV sales would imply at least two things. One, that plug-in EV sales are not dependent on oil prices in the way we could expect to occur when referring to HEVs because, as it was previously stated, the latter are fossil-fuel savers while the former represent true technology disruptors and, two, that there are additional factors influencing PEV sales.
As it can be seen, in all cases the correlation coefficients turned out to be either non-significant or highly negative confirming our theory. But there's more to say about these findings. First, the correlation coefficients between oil prices and PHEV sales/penetration rates are in general lower (meaning, less negative) than those between oil prices and BEV, PEV and Tesla sales/penetration rates, which implies that other factors (than oil prices) may be less important in this case to explain the recent extraordinary growth of sales and penetration rates.
This also provides some support to the idea of a relatively stronger relationship between oil prices and plug-in hybrids than between oil prices and all-electric cars. Second, the highest negative correlation is found between oil prices and BEV and/or Tesla sales/penetration rates, which ratifies our view that oil prices have definitely very little to do with sales and penetration rates in the case of these particular EVs, which also means that other factors may have been responsible for the evolution of those variables. The question that follows is: What other factors?
Table 2
Correlation Coefficients
2013-2016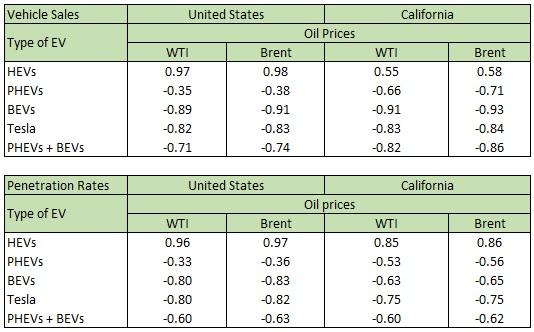 Sources: HybridCars, InsideEVs, CNCDA, LATimes, Siliconbeat, Forums Tesla, and EIA.
A preliminary way to go about them might be to look more deeply into the specific correlation coefficients between BEV sales and WTI oil prices (by model), to the extent that BEV sales have been found to be a major driver of EV growth.
This is described in Table 3 (where links to all references applied to both the table as well as the text below are included). The following comments are in order. First, oil prices seem to have significantly (and positively) affected the sales of only three BEVs: The Nissan (OTCPK: NSANY) Leaf, the Mitsubishi (OTCPK: MMTOF) i-MIEV and the Ford (NYSE: F) Focus Electric. But this result may indeed be hiding the influence of other factors. For instance, after peaking in 2014, Leaf sales collapsed in 2015 because this car was essentially dethroned by Tesla's Model S and lost some market share to the BMW (OTCPK: BMWYY) i3.
In addition, Model 3 reservations, in the first half of 2016, created high expectations about the exceptional quality of Tesla's Model 3, leading to even lower Leaf sales. As for the Mitsubishi i-MIEV, its ever-decreasing sales since 2014 are probably more related to the poor overall quality of the car. Lastly, the Ford Focus Electric is an example of a compliance EV that never really took off. After reaching almost 2k units in 2015, sales are likely to have since been reduced substantially due to limited quality of the model and, to some extent, because of Model 3 reservations.
Second, despite a low positive correlation coefficient between sales and oil prices, limited range and low quality (rather than oil prices) are probably responsible for low sales of the Smart (OTCPK: DDAIF) ForTwo ED beginning 2015. In sum, consumers' perception about poor quality of the Mitsubishi i-MIEV, the Ford Focus Electric, and the Smart ForTwo ED would have also induced them not to purchase as many of those EVs.
Third, we are now left with the group of BEVs whose sales were found to have no relationship to oil prices. Let's start with Tesla's Model S. As is well known, in 2015 this model was considered by Consumer Reports as the best car ever tested. So it's not at all astonishing that its sales growth was essentially derived from consumers' perception about the high quality of the car. In my 2015 piece referred to earlier on, I touched upon this subject by arguing that "outstanding quality at reasonable price may be the key to success for most firms producing consumer goods, including EVs."
But use of good technology at a point of time may not be enough to succeed on the market. The BMW i3 is probably the best example of that. Since its introduction in 2014, this model reached its maximum volume of sales in 2015 to fall considerably last year most likely because of Model 3 reservations. Lastly, California regulations, which force major carmakers to introduce compliance cars to meet the zero-emission mandate unmistakably explain the sales growth of the Volkswagen (OTCPK: VLKAY) e-Golf, the Kia (OTC: HYMLF) Soul, the Fiat (NYSE: FCAU) 500e and the Chevrolet (NYSE: GM) Spark, beyond any influence of oil prices.
Table 3
Other Factors Affecting BEV sales

** [1]: InsideEVs (i), [2]: Electrek (i), [3]: Seeking Alpha [4]: PluginCars, [5]: Phys, [6]: InsideEVs (iii), [7]: Electrek (iii), [8]: Evannex, [9]: InsideEVs (iv), [10]: EVobsession, [11]: GreenCarReports, [12]: Electrek (iv).
Sources: InsideEVs (ii), and EIA.
Hence it should be absolutely clear by now that Tesla's dominating role in the current EV market is not a casual occurrence but rather the result of a place gained on basis of utilization of the best technology available in all fronts, which has given their cars a competitive advantage over the rest of EVs. What this implies for other carmakers, both incumbent and new ones, is that in order to compete with Tesla in the years ahead they will have to make a considerable effort not only to introduce more EVs into the market but also to reach and eventually surpass the technological edge that Tesla has already acquired.
Finally, let me close this contribution with a few words on anti-green policies. Based on the little information available, it seems like following its decision to exit the Paris Climate Agreement, the Trump administration is primarily interested in using all forms of energies to guarantee the highest possible growth of the U.S. economy. This is aimed at reviving coal and other dirty energy technologies for use in different industries while further incentivizing internal combustion engine technologies in the automotive industry.
What Mr. Trump doesn't seem to realize though is that it might be a bit too late to stop the ongoing renewables race fostered by ever-decreasing costs and prices as well as the electric car revolution based on Tesla's introduction into the market of top-quality products with the most advanced technologies in the world.
Editor's Note: This article discusses one or more securities that do not trade on a major U.S. exchange. Please be aware of the risks associated with these stocks.