Welcome to the Weekly Oil Markets Recap Edition of Oil Markets Daily!
WTI finished the week down 1.43%.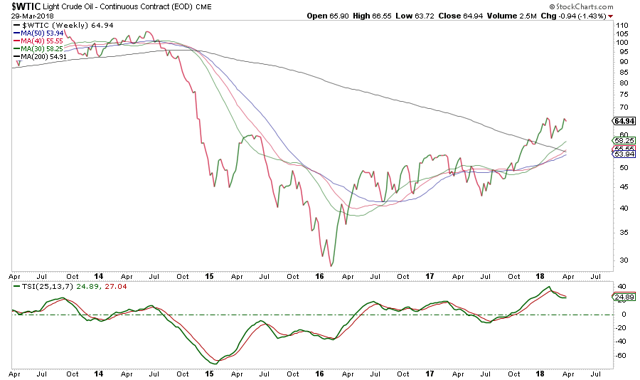 On March 19, we wrote an article titled, "Why Are Energy Equities Cheap?" And then on March 20, we published one of our exclusive pieces titled, "Price Reflexivity - What's It Going To Take For People To Wake Up To The Potential Of Higher Oil Prices For Longer?"
We purposely published these two pieces back to back because we wanted to highlight something that's been commonplace amongst the investment community. Our piece on March 19 highlighted how despite higher oil prices today, investors are using "lower for longer" to underwrite many of the energy stocks. Whether the use of "lower for longer" comes from a lack of fundamental insights in the global oil markets or mere complacency, the fact remains that investors remain unconvinced that the recent higher oil prices will stay.
This was also further echoed in a WSJ piece published this weekend titled, "Banks Forecast Gains for Crude Oil." While most analysts see potentially higher oil prices in the near-term, a massive majority of them see prices "falling."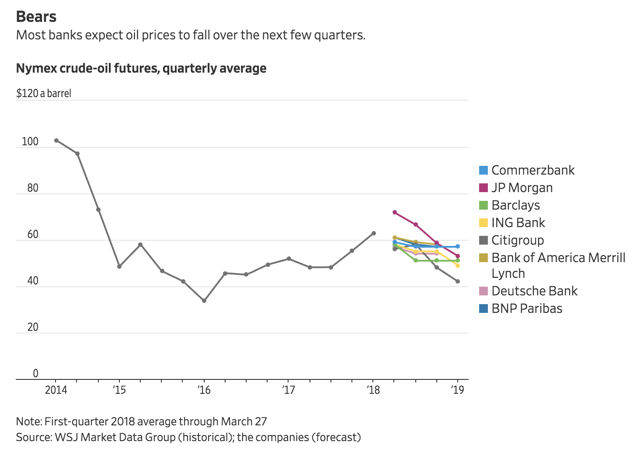 JP Morgan analyst, Christyan Malek, even went onto say:
$70 is as good as its going to get.
Despite all of them being wrong about oil prices in 2017, most of them appear to remain "quite confident" in their bearish price call. Some use shale as an excuse that the global oil markets will swiftly revert to oversupply by the end of this year, and others use OPEC and non-OPEC's termination of the production cut as an excuse. And all of them use "geopolitics" as the reason for why oil prices could move higher near-term versus the good old fashion "supply being lower than demand" argument, which is where we are coming from.
This fundamental insight along with our understanding of investors using a lower oil price deck to underwrite energy investments explains the anguish many of the energy investors (XLE) (XOP) (OIH) have had to endure over the last 15 months.
But as our articles have repeatedly illustrated these two points:
Paradigm shift - where US shale producers are now increasingly focused on return as opposed to growth.
Theory of reflexivity - where higher oil prices itself will manifest a new reality.
We believe the market's persistence in keeping energy stock valuations depressed will only last so long. So, what exactly are energy investors waiting for?
The self-reinforcing cycle
It all starts with the understanding of the boom-bust cycles of markets. Markets seldom move purely based on fundamentals, and hence why euphoria and depression sets in at market tops and market bottoms, respectively. The key is to figure out when the trigger point in these cycles is.
In 2017, the first phase of the dislocation between fundamentals and price started with oil. From March 2017 and onwards, oil market fundamentals turned ever more bullish by the day. US and global oil storage reflected an increasingly larger deficit that led to the "largest oil storage drawdown in history." But even as the evidence piled on, the investment community didn't truly appreciate the significance of it until October 2017, or 6-months after the evidence became "obvious".
Following the oil price rise, we are now 5-months into the "new oil price period" and energy stocks have continued to lag. This disconnect between energy stocks and oil has led to more and more E&P companies to shift the capex focus from growth at any cost to return (paradigm shift), and investors have started to reward the ones that have done so.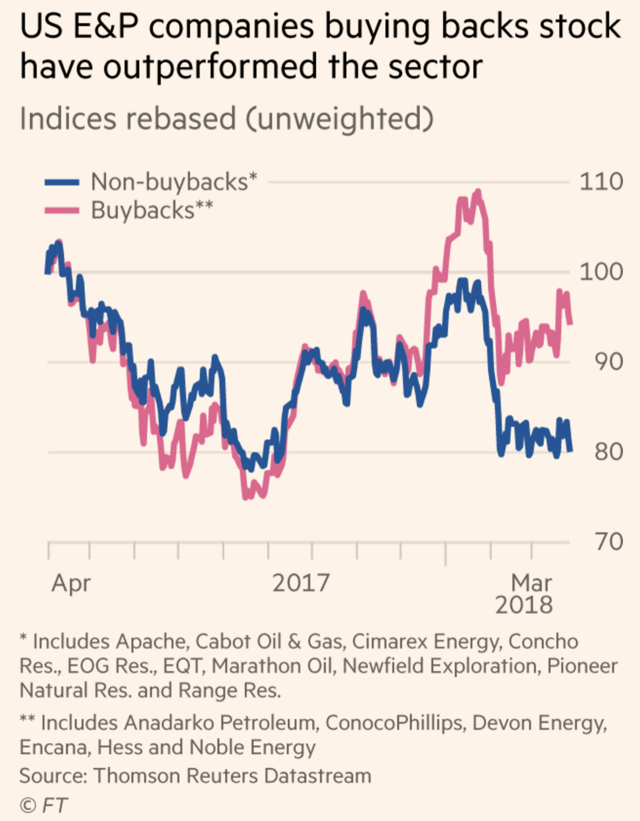 Source: FT - Wary shale investors warn against drilling at all costs
If the disconnect continues, the self-reinforcing cycle of the paradigm shift will push more and more energy companies into a return based business model as we had foreseen in 2017. This along with many of the caveats shale is facing today will breed to a new sentiment shift, and lead energy equities higher.
But more importantly, this growing disconnect is also sending a big warning message to Saudi with its plans to IPO Saudi Aramco. If energy stock valuation in the market remains at multi-year lows, the probability of Aramco obtaining a $2 trillion valuation becomes a distant reality. We estimated back in 2016 that Saudi needs $70/bbl to make the valuation obtainable, but even with Brent at $70/bbl today, investors remain complacent.
That's why we published the piece, "Price Reflexivity - What's It Going To Take For People To Wake Up To The Potential Of Higher Oil Prices For Longer?" We increasingly believe that the combination of investors using "lower for longer" oil prices to underwrite energy investments, and sell-side analysts' reluctance to accept that oil prices will move higher will require a sort of shock treatment.
So what are energy investors waiting for exactly? It appears to us that the majority of the investment community just need even higher oil prices to slap some senses into them. It's akin to an article we published on November 6, 2017 titled, "Brent Hits $64 - It's Just The Start Of The Bull Trend." We wrote:
As we wrote on Friday in our Sentiment Follows Price piece, if it's still not obvious to you that the bear thesis that gripped the oil markets in 2017 was downright delusional, then you just need even higher oil prices (than today) to slap some reality into you.
Now, instead of saying how the market is being downright delusional on oil prices, we are switching the gear and saying the market is being downright delusional on energy equities. If all energy investors are waiting for is higher oil prices, then higher oil prices will be the catalyst for energy equities.
Thank you for reading this article. If you found this article insightful, please leave a like at the bottom of this article.
For readers that have enjoyed our public articles, our weekly flagship reports cover these topics in much more detail. Subscriber benefits include:
Weekly flagship reports with topics ranging from macro themes, oil market analysis, and exclusive individual ideas.
Direct Q&A with the HFI Research team.
A chat room full of intelligent and engaging subscribers.
If you would like to see what we have to offer, see here for more info. We hope you could join the community!
Disclosure: I am/we are long OIH, XES. I wrote this article myself, and it expresses my own opinions. I am not receiving compensation for it (other than from Seeking Alpha). I have no business relationship with any company whose stock is mentioned in this article.