AT&T (T), my largest portfolio position, is currently down 8% YTD, continuing its disappointing stock price development ever since it announced the acquisition of Time Warner (NYSE:TWX) in fall of 2016. The stock has generated a lot of income for me, and with continuous reinvestment has grown into a sizable income position.
The company is a dividend behemoth and strong income generator, and despite its latest earnings capping a very solid financial year 2017 and showing some upbeat 2018 guidance, the stock has remained in no-man's land and continued to decline.
The Time Warner trial is now in full swing, and while the outcome is anyone's guess, I am confident that T's stock price should increase no matter what.
What is going on at AT&T?
Financially, the company recorded Q4 sales of $41.7B (basically in line Y/Y) and beat EPS by $0.13. It also guided for 2018 EPS of $3.50 and FCF of about $21B.
Despite reporting flat overall sales, the result is boosted by solid wireless, business and particularly international results in the quarter. The international segment led by Mexico posted 16% growth.
Compared to the previous quarter and driven by the holiday season, the company returned to growth in its video subscriber segment as it added 300,000 net adds (161,000 in the U.S. and 139,000 in Latin America), whereas in Q3 2017, it released an early warning that it lost 90,000 U.S. video customers.
Even more encouraging is that the company was also able to add a total of 4.1 million wireless net adds to its customer base of which 2.7 million related to the U.S. and the remainder to Mexico.
Apart from customer metrics and business fundamentals, I am also closely eyeing cash flow and dividend safety. In the end, my investment into AT&T is mostly for the dividend, although I feel that the stock is also ripe for some further price appreciation.
The Trial
The case Department of Justice vs. AT&T finally started on March 19, 2018 and so far the parties argued about admissible evidence and gave their opening arguments which were delayed by a winter storm. That gives a perfect snapshot of the appearance and economic sense of that entire trial. The U.S. government, presumably being triggered by the well-known distrust of President Trump opposing such a giant merger, is trying to block the $85B deal by arguing that it would somehow hurt consumers as the new AT&T-Time Warner media house would have better pricing power.
In my opinion, this whole trial is a complete farce and simply an enormous waste of resources that could have been spent much better. The latest proof of that came with the testimony of MIT professor John Hauser who conducted online surveys in an attempt to find out the magnitude of subscriber losses to rival platforms in case the merger goes through, arguing that "in the even of a protracted, hypothetical programming dispute with an AT&T-owned Time Warner, cable companies and other TV providers could lose roughly 12% of their customer base". The models behind stem from the 60s and under cross-questioning Mr. Hauser had to admit that all this is just purely fictional as he did not investigate any real-world examples of programming disputes.
This absurd study is of pivotal importance to the DoJ case trying to argue that the merger will lead to higher prices to consumers. I am not a judge, but with logical thinking alone you should already realize that this is a very weak case and that if the government were really worried about higher prices for consumers and unfair business practices, they should rather look after Amazon (AMZN) than AT&T.
In any case, regardless whether AT&T wins or loses the trial, the stock should gain in both scenarios:
1) AT&T loses: In that scenario, after an initial blip, as corporations never want to lose a case, the stock should trend higher as investors begin to refocus on AT&T's very strong fundamentals. With AT&T's debt not increasing by an estimated $42.5B for the Time Warner merger, AT&T's future expected interest expenses will considerably decline and fears about AT&T's dividend safety should evaporate. Additionally, as the company's underlying business is very solid and growing, especially in Latin America, the stock clearly deserves a higher valuation than its 10 times forward earnings. The main question in such an event is what comes next for AT&T. Are there any other potential acquisition targets the company is after or will they overhaul their entire future strategy?
2) AT&T wins: In that scenario, I believe that the stock will initially rally before investors start questioning how the new AT&T can handle its sky-high debt load and heavily leveraged balance sheet. Can they continue to raise their dividend? Do they have to take on even more debt to refinance existing debt? How are they going to cope with integrating such a giant business as Time Warner into a massive organization AT&T is. All these are valid concerns, and while the stock may be rocked initially, it won't take long for investors to realize that thanks to the recently enacted corporate tax reform and Time Warner's very strong growth engine, risks have substantially decreased.
As regards to Time Warner, the company is really rocking. Revenues are up 9% in the fourth quarter and EPS came in at $1.60. That strong revenue growth was driven by all segments, with Turner up by 22%, HBO up by 13.3% and Warner Bros. growing 10.8%. This has been of the strongest quarters for Time Warner and bodes extremely well for AT&T should the acquisition get approved. And despite all that growth, it is only valued at 14 times earnings and AT&T is expected to pay roughly 16 times earnings should the deal get approved at the $107.5 offer price per Time Warner share (with 50% in cash and 50% in AT&T stock).
An Income Strategy Session
Now that AT&T's stock is still trading at a 5.6% yield as of its close, long-term oriented investors should really welcome that opportunity to add to their position. In essence, if you are a long-term investor, this is exactly the kind of market sentiment you would like to see. It allows you to lower your cost basis while the business is making the necessary transformation steps towards the future. The day-to-day noise with heavily followed stocks like AT&T is tough to ignore, and it may be one of the most difficult challenges to have the conviction to hold and add to your position in these times.
To help cope with these unrealized losses, investors should take a step back and concentrate on the bigger picture. Long-term investors know how powerful dividend reinvesting really is, but in the heat of the moment, it is only natural to temporarily blend this out. If we project the 5-year returns with reinvested dividends of an initial $5,000 investment in AT&T at $35.65, we end up with the following metrics:
Initial investment: $5,000 @5.6% yield assuming 2% dividend growth, 15% tax rate, quarterly reinvestment, 0% stock price appreciation, purchases of partial shares
Investment value after 10 years: $8,340 or an almost 67% gain with the respective yearly net dividends depicted below.

After 5 years, the net YoC has already risen to above 6%, and after 10 years, it would reach more than 9%. This is a very conservative scenario as it does not factor in any stock price appreciation and only minimal dividend growth. In that scenario, CAGR would only be 5.8% and is basically a worst-case scenario given that it is unlikely that T's stock price will remain flat over the next 10 years. And even if it does, it is a great way to accumulate reliable and substantial income for long-term oriented dividend investors.
If you want to easily run these calculations on your own, I'd be happy if you try out this Excel-based long-term dividend projection calculator.
Investor Takeaway
AT&T has now been yielding above 5% for the best of one year over the last 2.5 years, but only for a relatively short time above 5.5%. Its current 5.6% yield is not a historic high for AT&T, but certainly at the top end of the spectrum over the last 2.5 years. Trading at a valuation of only 10 times forward earnings and boasting high dividend safety, such sentiment won't last forever.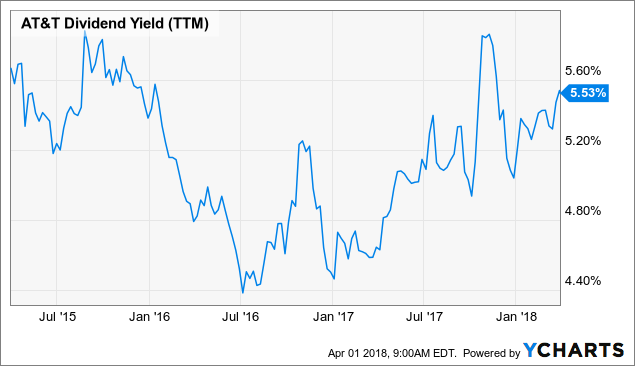 A toxic cocktail of higher interest rates and looming uncertainty on the Time Warner trial have substantially dragged down the stock price.
Investors who believe AT&T will still be there in 10 years, in 20 years and in 30 years can profoundly benefit from such disappointing market sentiment. This is the time to accumulate stock as we are presented with an attractive buying opportunity. The next ex-dividend date has not yet been declared, but it should be expected in early April (last year on April 6). This has the potential to create an even better buying opportunity and I am closely eyeing if the stock drops more than expected here.
To keep track of upcoming ex-dividend and payment dates, I use the Dividend Calendar & Dashboard Tool (make sure to follow instructions). The screenshot below shows expected gross dividend payments for March 2018 for my portfolio.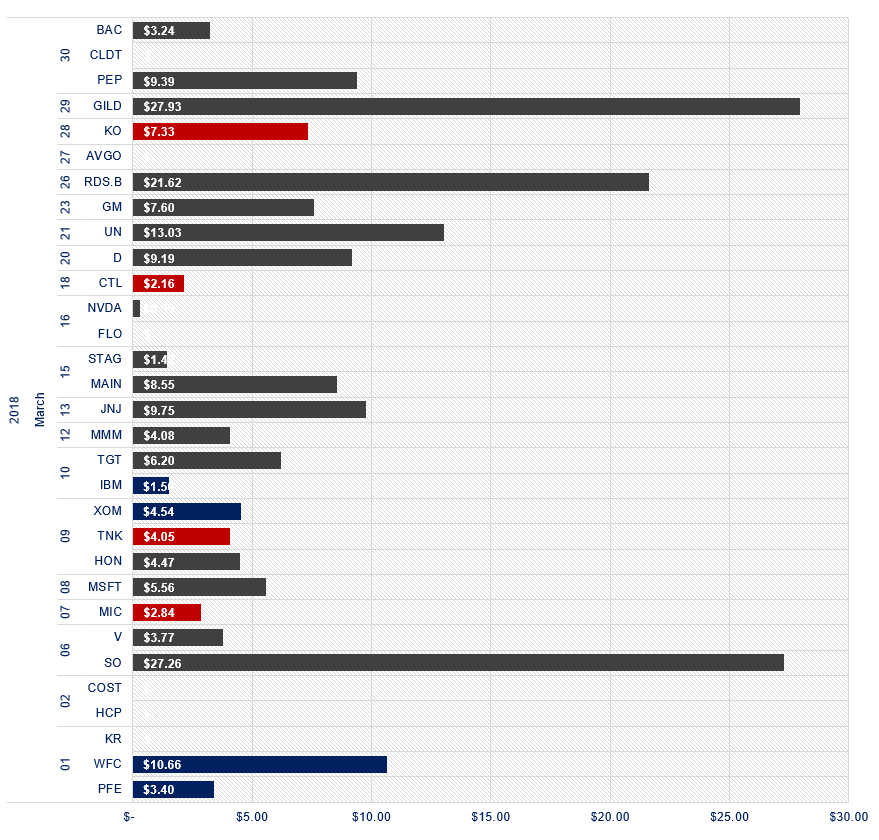 The outcome of the trial is anyone's guess, but ultimately, no matter what, it should eventually lead to a higher valuation of AT&T. I have loaded up on my T stock over the last 2 years every time the stock dipped below $36, so quite often, and as a result, currently have a 5.5% YoC which will generate great income in future years.
Do you consider AT&T to present an attractive buying opportunity or do you have little faith in T finally bucking its downward trend of dismal stock performance?
If you enjoyed this article, the only favor I ask for is to click the "Follow" button next to my name at the top of this article. This allows me to develop my readership so that I can offer my opinion and experiences to interested readers who may not have received them otherwise. Happy investing.
Disclosure: I am/we are long T. I wrote this article myself, and it expresses my own opinions. I am not receiving compensation for it (other than from Seeking Alpha). I have no business relationship with any company whose stock is mentioned in this article.
Additional disclosure: I am not offering financial advice but only my personal opinion. Investors may take further aspects and their own due diligence into consideration before making a decision