So, Apple Can Be Earning Much More
Summary
Tim Cook revealed that Apple could be making "a ton of money" if the company had chosen to utilize its huge trove of customer data.
Apple likely possesses more data than any of the technology companies and the information Apple has on its customers is also more valuable to advertisers.
How long can Apple stand firm on its principles before bowing to shareholders' pressure for higher returns?
Will the next CEO succumb to the lure of easy money and follow the footsteps of Facebook and Google?
Apple Could Be Making "A Ton Of Money" From Its Customer Data
By the time this article is published, readers should have already heard of the public backlash against Facebook (FB) sparked by its handling of user data. The episode was triggered by the fallout from the Cambridge Analytica data scandal. Tim Cook, CEO of Apple Inc. (NASDAQ:AAPL) shared his views on the matter during the March 27 Town Hall with MSNBC and the technology news website Recode. He revealed that Apple could be making "a ton of money" if the company had chosen to utilize its huge trove of customer data.
"If we monetized our customer, if our customer was our product, we could make a ton of money. We've elected not to do that."
- Tim Cook, CEO, Apple Inc.
Apple Likely Possesses More Data Than Other Tech Firms
The potential is there. Apple has plenty of loyal customers who share loads of information, both willingly and unwillingly, with the company through the use of its devices and iTunes. In fact, Apple likely possesses more data than any of the technology companies. Whatever is shared on Facebook by Apple users first goes through their Apple devices.
Whatever is searched on Google (GOOGL) (GOOG) on the same devices is probably captured by Apple as well. Technically, Apple can also be made aware of whatever is bought via the Amazon (AMZN) app, if it isn't already. Whatever is spoken to Siri is, without a doubt, processable by Apple for commercial purposes if it chooses to.
Apple's Data Quality And More Affluent Customer Base Means Greater Value To Advertisers
Most importantly, in what is generally recognized and is validated by surveys, Apple users have higher income levels and tend to spend more than Android phone users. That would make the information Apple has on its customers more valuable to advertisers than what the other tech firms can provide. Furthermore, as Apple has the first-hand information on its users' location (where they have been) and their inputs (what have they typed/searched), the data on its hands is of high quality and completeness.
But Apple Has Not Exploited Its Rich Customer Data For Advertising Purposes
Nevertheless, as Tim Cook has clarified, Apple does not monetize its treasure trove of customer data. This is apparent from its revenue breakdown. iPhone sales continue to form the bulk of Apple's revenue. The four-digit price tag of the iPhone X is not a major deterrent to owning it. In fact, the sales of hardware represented by iPhone, iPad, and Mac in the segmental reporting stood for 84 percent of the total revenue.
According to Apple, the 'Services' segment includes revenue from Digital Content and Services, AppleCare, Apple Pay, licensing, etc. 'Other Products' includes sales of Apple TV, Apple Watch, Beats products, iPod touch and Apple-branded and third-party accessories. Advertising income has not been explicitly mentioned.

(Source: Apple Inc.)
For those still not convinced that Apple earns very little from advertising, eMarketer has a detailed chart showing the share of digital ad market (see below) and Apple is nowhere to be found. While discerning readers might argue that Apple could represent a significant percentage of the 'Others', with the level of scrutiny on Apple, I would think the chances of it doing so while escaping detection are slim.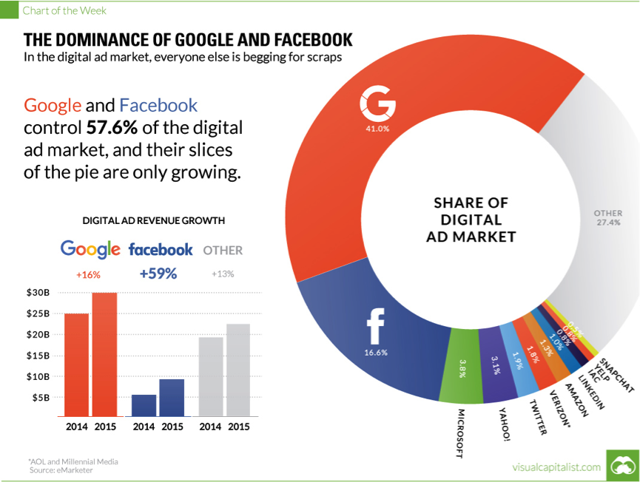 (Source: eMarketer)
What If One Day Apple Decides To Leverage Its Vast Customer Data?
Apple continues to make good margins on its iPhone sales, despite the rising costs of production. However, its revenue has stagnated. The underperformance is even starker when compared with Alphabet and Facebook. Apple's service revenue is the bright spot. The bonanza from Augmented Reality apps is on the horizon. Nevertheless, the fast growth from services might not be able to compensate the touted slowdown in iPhone sales growth. As such, some day, Apple could be pressured to leverage its substantial customer data for revenue-generating businesses not limited to third-party advertising.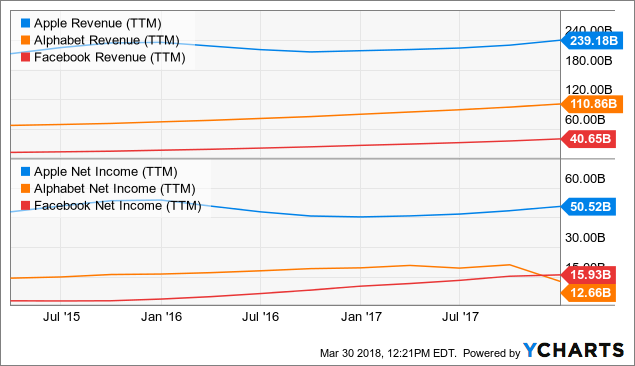 As a rough gauge of the potential, Alphabet and Facebook combined received around $100 billion in revenue from advertising in 2016. The duo earned a whopping $29 billion despite heavy spending in their other divisions. Should Apple decide to monetize its customer data for advertising and assuming it earns just one-third of what Alphabet and Facebook did in 2016, the ~$10 billion could add a cool $170 billion to Apple's market capitalization, taking its current P/E at 17x for calculations. This figure is certainly fitting for the phrase 'a ton of money'.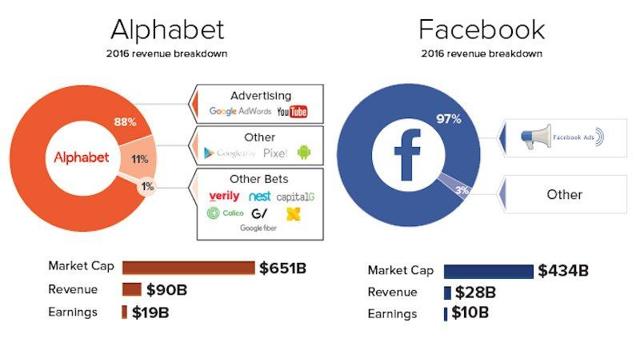 (Source: Visual Capitalist)
Should the utilization of its rich customer data lead to the market according Apple with a multiple expansion such that its P/E becomes nearer to that of Alphabet (58x) and Facebook (30x), then the contribution to the market capitalization would become much greater.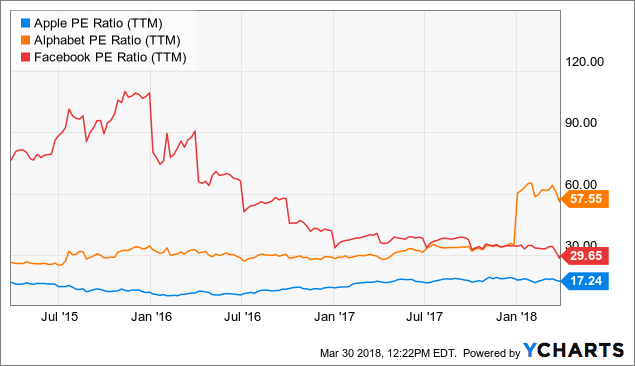 But Tim Cook Is Against The Idea Of Monetizing Apple's Customer Data
The key stumbling block to the scenario of Apple making 'a ton of money' from its customer data is the strong belief of Tim Cook that "it's not the kind of company that Apple wants to be." Cook is adamant that Apple is "not going to traffic in your personal life."
"We're looking at every app in detail: What is it doing? Is it doing what it's saying it's doing? Is it meeting the privacy policy that they're saying?" - Tim Cook, CEO, Apple Inc.
Unfortunately, Apple's current strict control on outside developers, in contrast with the more liberal app policies of Facebook, Alphabet, and Amazon could be detrimental to its success in hardware sales as well. TrendForce, a global provider of market intelligence on the technology industries, warned that Apple's high standard is a strong limiting factor in the growth of third-party apps for its HomePod.
Apple's greater focus on audio performance rather than intelligent home assistance for its HomePod is also telling. To provide "smarter" home assistance to its users, Apple would need to study its customer data in a manner that Tim Cook would regard as an invasion of privacy. As long as Apple is unwilling to do so, its smart speaker would never reach the level of intelligence as Amazon's Alexa.
As such, it would be challenging for HomePod to unseat Alexa, the incumbent champion with nearly 70 percent of the global market share of smart speakers in 2017. Hence, the billion dollar question is, how long can Apple stand firm on its principles before bowing to shareholders' pressure for higher returns? Will things change when Tim Cook is no longer the CEO?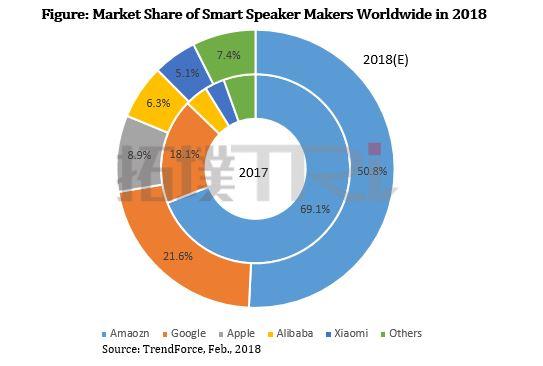 (Source: TrendForce)
Conclusion
Apple users are entrusting much more information to Apple than they do to Facebook, Google, Amazon, and other tech firms. It is comforting for the users that Apple has an apparently much tighter policy than the rest on customer privacy. However, when will shareholders put on the pressure to the company to abandon such practice so that it can increase its profitability? Will the next CEO succumb to the lure of easy money and follow the footsteps of Facebook and Google?
Would Apple fans still remain as loyal if the company becomes more liberal in its customer data usage in exchange for more 'free' services and the provision of more intelligent 'recommendations'? There are many questions that Apple shareholders should ponder about. I see a middle ground where Apple stands to profit handsomely.
What's your take? Readers who make a comment will have access to the comment thread indefinitely. Hence, please freely share your thoughts, let me know if you found this article useful, or provide your feedback in the comments section.
Author's Note: Thank you for reading. If you would like a refreshing take on stocks that you own or are interested in, try looking here. Besides US companies, I cover a number of Asian stocks as well. If you wish to be informed of my new ideas via email so that you have time to read them before the articles get locked behind a paywall 10 days from publication, please select "Receive email alerts" when accessing on a desktop computer.
This article was written by
I am honored to have been categorized as a 5-Star financial expert and ranked among the top 2% of financial bloggers on TipRanks in 2017/18. For a period, I was among the top 3 "Opinion Leaders" for Insider Ownership and Services, as well as top 5 for Long Ideas and Fund Holdings. I am an avid reader of market news and company publications with the aim of improving my investment acumen. I enjoy expressing my findings and opinions through writings. My appreciation and understanding of business strategies improved to a whole new level since completing an MBA (Distinction) from a FT100 MBA school. I have worked in companies with businesses that span multiple industries, according me with the exposure to a myriad of sectors.Check out my Author's Picks and over 190 Editor's Picks, among the highest in Seeking Alpha, if not the most.
Analyst's Disclosure: I/we have no positions in any stocks mentioned, but may initiate a long position in AAPL over the next 72 hours. I wrote this article myself, and it expresses my own opinions. I am not receiving compensation for it (other than from Seeking Alpha). I have no business relationship with any company whose stock is mentioned in this article.
Seeking Alpha's Disclosure: Past performance is no guarantee of future results. No recommendation or advice is being given as to whether any investment is suitable for a particular investor. Any views or opinions expressed above may not reflect those of Seeking Alpha as a whole. Seeking Alpha is not a licensed securities dealer, broker or US investment adviser or investment bank. Our analysts are third party authors that include both professional investors and individual investors who may not be licensed or certified by any institute or regulatory body.