GW Pharma's Cannabinoid-Based Epilepsy Position Continues To Strengthen
Summary
GW Pharma announce further epilepsy drug patent protection.
More indicators of the efficacy of cannabinoids for epilepsy treatment.
Nemus could yet become a major player in this space.
Childhood Epilepsy solutions are just the first phase in a range of treatments for GW Pharma.
GW Pharma (NASDAQ:GWPH) is undoubtedly at the head of the queue for potential approval of cannabis-based drugs for the treatment of epilepsy. New recent patent issuances have strengthened this position. Developments in Europe further press the argument of the efficacy of cannabinoids for epilepsy conditions. Other companies chasing this elixir all have their disadvantages. Nemus Bioscience remains a possible long-term but high risk play in this field.
Cannabis Oil & Epilepsy.
A recent high profile case in the U.K. has highlighted the efficacious effect of plain cannabis oil on epilepsy. This has been taken up in Parliament following a sign-in campaign and support from high-profile personalities including Patrick Stewart, pictured below outside 10 Downing Street: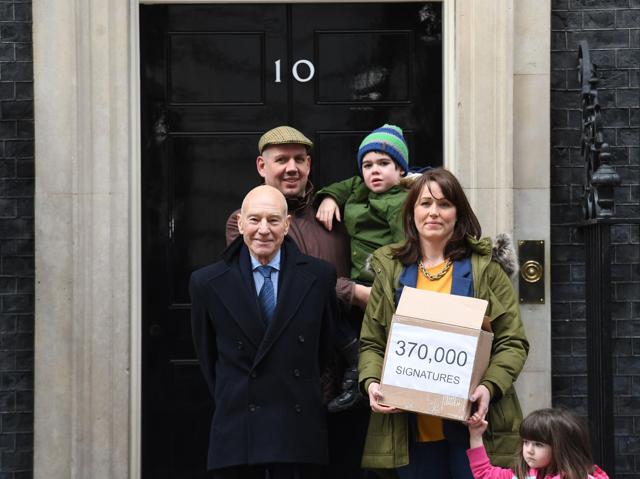 Source:Daily Mail
The unfortunate 6-year old in question has a rare form of epilepsy called PCDH19. This can lead to up to 30 seizures a day. Medical psychosis and an early death is the likely result of such a condition.
Cannabis oil is legal in most of Europe but not in the U.K. Five months of treatment in the Netherlands had led to substantial reductions in seizures. However cannabis oil is termed a "banned substance" in the U.K. It is likely the Home Office in England will provide a waiver in this instance under public pressure. It is politically difficult for the Government to hold a position that this boy should suffer and die for lack of cannabis oil.
This case in England is having two big ramifications.
Firstly it is highlighting the apparently general beneficial effects of medical marijuana for certain conditions.
Secondly it is highlighting the specifically beneficial effects of medical marijuana on childhood epilepsy. This suggests that GW Pharma and others are right to think that scientifically produced cannabinoid drugs for the treatment of epilepsy have a big future.
In the USA, 29 states have made medical marijuana use legal on prescription. However the Federal Government still has marijuana listed as a Schedule 1 drug. Absurdly, this is effectively stating that marijuana is a more dangerous drug than, say, cocaine or methamphetamine. Those drugs are Schedule 2. This just makes cannabinoid- based drugs tested and approved by the FDA even more valuable potentially, as the Schedule 1 status is unlikely to change under the present Administration.
GW Pharma Patents.
The case in the U.K. highlights just why GW Pharma and others are working so hard to produce cannabinoid-based drugs that can answer these difficult needs.
My article in December summarised the progress GW Pharma had made in bringing its main "epidiolex" epilepsy drug to market. So I will not repeat that here.
The schematic below illustrates the testing status: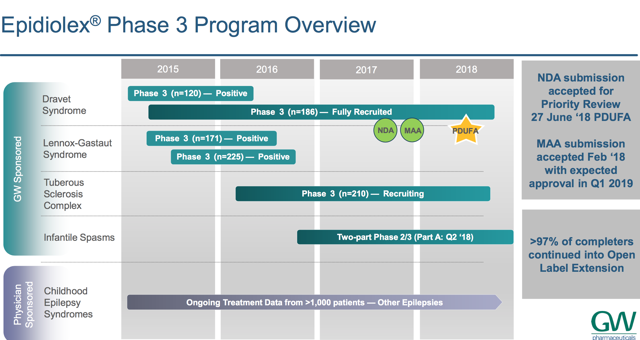 Source GW Pharma Web-site
GW Pharma have backed up their various drug developments with a strong patent portfolio. Some of that is shown in the schematic below: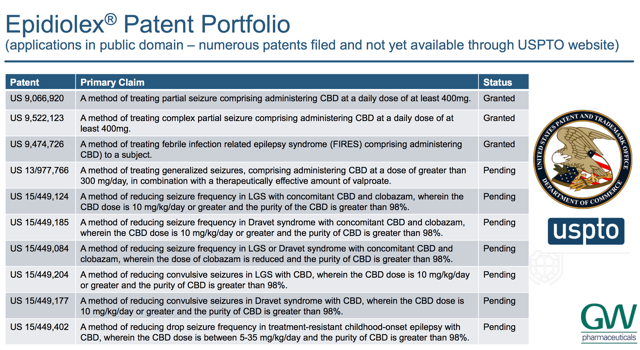 Source GW Pharma Web-site
The month of March saw an important new development in this field. The U.S. Patent & Trademark Office (USPTO) approved 5 new patents. These are subject to "epidiolex" gaining the expected FDA approval this year. These patents would be in place until 2035. GW Pharma already has "orphan" status from the FDA for its drugs. So patent protection would give it an additional 10 years effectively. Full details of the patents can be read here.
GW Pharma CEO Justin Gover stated in a Press Release dated 13th March:
"We have numerous additional patent applications under prosecution at the USPTO and will continue to work to expand our patent portfolio as we innovate and develop new "epidiolex" formulations and additional products".
Advantages of patent protection for GW Pharma can be enumerated as follows:
(1) Increased support for insurance pay-outs.
(2) Opportunities in other countries which recognise the patents.
(3) Better pricing power.
(4) Long-term product protection.
Concurrently GW Pharma have been ramping up their efforts in Europe. This is in regard both to approval with the European Medicines Agency (EMA) and in the area of patents, as my article here covered.
Similar moves for patent protection have been common in the more liberalised Canadian market. There Canopy Growth (TWMJF) have been active in this. It is another reason why medical marijuana is a much better target for investors than recreational cannabis. The latter could be adversely affected by lower prices of what is essentially a commodity.
"Epidiolex" for childhood epilepsy has to be understood as just the first phase of a long potential pipeline for GW Pharma. It is likely that it could be extended for adult epilepsy and is being tested for other medical conditions. This makes its potential very substantial though not easy to quantify. "Orphan" designation given to "Epidiolex" for childhood epilepsies is itself a sign that these are rare conditions.
GW Pharma have an FDA Advisory Committee meeting on the 19th April for "epidiolex" for childhood epilepsies. This will be followed by a full FDA approval decision scheduled for 27th June. The company's stock price is likely to react very strongly either way to what occurs at these meetings.
The financial implications of "epidiolex" approval for childhood epilepsies are vital. The amount of revenue this can bring in is subject to widely differing interpretations from analysts. As I detail below this could range between US$300 million per annum to US$1 billion per annum. To put this into context, the company's revenues for the 3 months ending 31st December 2017 were US$7.7 million.
So effectively FDA approval for "epidiolex" for childhood epilepsy would move GW Pharma from a drug development company to a company marketing and selling approved products. The additional 10 years GW Pharma can secure by the patent approval details I listed above have substantial revenue implications. The dollar value of these revenue implications depend upon whether one goes with the lower end or the higher end of analyst revenue values.
Analyst estimates for potential sales value vary widely, as I pointed out in a recent article. The most optimistic of these was one recently from Cowen and Co. This opined that it could be worth US$1 billion per annum and justified a 50% increase in the stock price. However another recent estimate put the per annum value of "Epidiolex" for treatment of Lennox-Gastaut syndrome and Dravet syndrome at just US$300 million per annum. That was predicated on the idea that customers would choose the far cheaper option of medical marijuana in this U.S. States where medical marijuana is legal.
One drug that has been approved and prescribed recently for Lennox-Gastaut syndrome is "Onfi" (clobazam). This is just for this one condition and has somewhat limited effectiveness. However in a recent article here it was estimated to have had sales of about US$400 million in the USA last year, though this is not confirmed by the manufacturers.
The World Health Organization (WHO) estimates that 50 million people worldwide suffer from epilepsy. The most common types have no identifiable cause. So the medical potential is not so much in preventing the disease but alleviating its symptoms.
There are various other companies chasing the target of cannabinoid treatment for epilepsy. These include Zogenix (ZGNX), Insys Therapeutics (INSY) and Zynerba (ZYNE). My previous article outlined why investors may wish to be wary. Investors can do their own due diligence.
Additionally it should be noted this is not a zero sum game. This is so even if some of these companies gained approval for some of their anti-epilepsy drugs subsequent to that granted to GW Pharma. No single anti-epilepsy treatment is likely to be efficacious for every childhood epilepsy condition or individual. The most bullish forecasts for "epidiolex" only take into account the drug securing about 40% of the market.
Vitally GW Pharma has a range of other cannabinoid drugs under development and testing. "Epidiolex" is also being tested for other conditions apart from childhood epilepsies. Over 160 cannabinoids in marijuana have been identified. The company has its "sativex" product approved in 28 countries worldwide but not yet in the USA. My article in November gave details of this.
Nemus Bioscience.
Nemus Bioscience (NMUS) is the sole company with Federal approval to grow marijuana for research purposes. I first wrote about this company in June 2015. It works in conjunction with the University of Mississippi, growing marijuana on a 10 acre plot of land. The contrariness of Federal policy on medical marijuana may be an advantage for Nemus. Over 25 universities and hospitals have applied to the Drug Enforcement Agency (DEA) to grow marijuana for medical purposes. All have been turned down so far.
GW Pharma have permission to grow cannabis in the UK and are allowed to import into the USA. So that gives GW Pharma and Nemus some advantages over their competitors. It means though that U.S. companies are missing out on much medical marijuana research. Much of the future drug development may be particularly from companies in Canada, Israel and the Netherlands.
The recent 10K of Nemus can be studied by potential investors. The company is targeting cannabinoid drugs for various conditions, in particular glaucoma. Other conditions targeted include chemo-therapy induced nausea and Methicillin-resistant Staphylococcus aureus (MRSA). It is working on both synthetic and natural compounds, with particular emphasis on novel delivery methods. These include rectal delivery and trans mucosal delivery.
Recently it has been emphasising second generation compounds of synthetically manufactured cannabinoids. The company state they believe this will lead to greater bioavailability and pharmacokinetics.
Its products though are also targeting childhood epilepsies (with its NB23R1 cannabinoid currently at the testing stage) and MS spasticity. These are both particular targets for GW Pharma. It is also targeting cannabinoid formulations as pain treatment in place of opioids. This is something the USA certainly needs right now.
Obviously drug development companies are risky investments because of their need to secure long-term financing. There is always a race against time for drug approvals to be won before the money runs out. One positive factor is the way that the head of the FDA, Scott Gottlieb, is trying to bring in a faster approval process for new drugs. Lower development costs should equate to higher returns for drug companies. At the same time, they may also allow for more drugs to be brought to market than turn out not to be efficacious.
The problems Nemus has been facing with financing underscore the difficulty of this process. Previously a financing deal with Schneider Finance for US$20 million fell through. Nemus instituted an arbitration petition in Orange County. This is based on Schneider's alleged failure to close the US$20 million financing following a securities purchase agreement and failure to honour the guarantee.
In February however there was better news. Emerald Health Sciences Inc announced a further private placement of shares and a warrantied commitment for future ones. The private placement raised US$3,250,000, a figure that would rise to US$4,420,000 if all warrants are executed.
The Nemus press statement declared:
"Nemus plans to utilise the capital raised for working capital and explore potential strategic opportunities which could possibly include a recapitalization plan and the potential uplisting of its shares onto a major stock exchange."
The parent company of Emerald Health Sciences Inc is Emerald Health Therapeutics Inc (TSXV:EMH), listed on the Canadian exchanges. In February they announced an investment of US$18 million from an investor. Emerald has been investing in various marijuana companies in Canada and overseas. How much future financing it has available for its investments is hard to ascertain. The Nemus stock price has however reacted favourably to the news of Emerald's investment in the company.
The Emerald announcement was followed on 23rd March by an SI Statement Registration Statement. This covers a private placement of common stocks and warrants and shares issued upon conversion of a promissory note. Up to 85.7 million shares of common stock by selling stockholders is involved.
In the S1 Nemus stated:
"We expect that our existing cash and cash equivalents will be sufficient to fund our capital requirements for at least the next 4 months. We require additional capital for the development and commercialisation of our product candidates."
The effect of these financial ups and downs on the stock price can be seen from the chart below: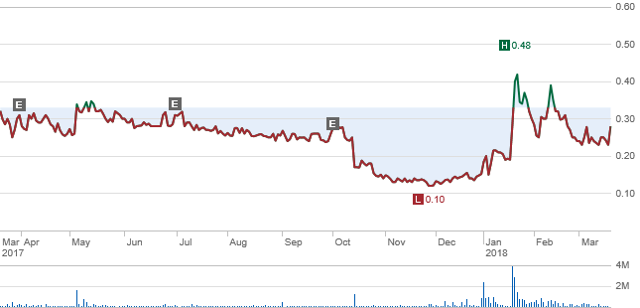 Source:Charles Schwab
One thing I especially like about the company is its apparent high calibre of researchers and executives working there. This is by no means a dubious or unethical company, unlike some in the marijuana sphere. In March the company participated in the 2018 Sachs Bio Capital USA Forum at the New York Academy of Sciences. Also in March they welcomed onboard Professor David Schubert, a world expert on cellular ageing and on the nervous system.
Conclusion.
This may not be a good time for stock purchases because of the trade protectionism announcements of the Trump Administration. However GW Pharma is not a company that should be directly impacted in a negative way by international trade disputes. So the inevitable generalised stock price decline taking place could be seen as a buying opportunity prior to the FDA decisions. The company is well-financed to continue to take the processes forwards as my article here detailed.
These recent developments in the relationship between cannabinoids and epilepsy are a bullish indicator for GW Pharma. If the FDA approval goes ahead this year, then that gives the company revenue stream to become profitable, and to continue to work on its promising pipeline going forward.
Editor's Note: This article covers one or more microcap stocks. Please be aware of the risks associated with these stocks.
This article was written by
Nick Cox is a long-time entrepreneur and investor,currently living in Singapore.He has lived and worked in the Asia-Pacifci region for many years.He is a graduate in modern history and economics from University College,London University. His investment strategy is centred around finding long-term growth companies in the region based on inspiring Management and businesses at the cutting edge of new growth areas. Asia is the leading driver of worldwide economic growth today and for the medium term.
Analyst's Disclosure: I am/we are long GWPH. I wrote this article myself, and it expresses my own opinions. I am not receiving compensation for it (other than from Seeking Alpha). I have no business relationship with any company whose stock is mentioned in this article.
Seeking Alpha's Disclosure: Past performance is no guarantee of future results. No recommendation or advice is being given as to whether any investment is suitable for a particular investor. Any views or opinions expressed above may not reflect those of Seeking Alpha as a whole. Seeking Alpha is not a licensed securities dealer, broker or US investment adviser or investment bank. Our analysts are third party authors that include both professional investors and individual investors who may not be licensed or certified by any institute or regulatory body.