Keep A Close Eye On The World's Best Video-Game Service Provider
Summary
Keywords Studios is the leading consolidator in a little-known space: The Video-Game Service Industry.
We cover what the sector entails and why Keywords should exist.
We cover the competitive advantages that allow Keywords to outperform the industry as a whole.
At almost 50x FCF, the business is still too expensive, but I keep a close eye on the business for any potential buying opportunity.
(Reminder: Currency in EUR and GBP based on €/£, USD explicitly stated).
Keywords Studios (OTC:KYYFW) is a roll-up operator in an unexpected space: The video game industry. The company has existed since the late 90's and has been on an acquisition spree the last 4 years. The business has diluted recently for more acquisitions, but the stock has appreciated approximately 600% in the last 2 years.
1. Explaining the Business
The 20-year old company operates across the world as an integrated service provider. What does that entail? It can be hard to explain the need for an integrated service provider in the video-game space using abstract terms. The value of KWS comes by understanding their relevance in the value-chain. Here is a concrete example of how KWS would provide value to a customer:
1.1. A Customer Experience
You have produced an idea for a video-game at your decently-sized video game production company. You are ready to produce a great product with excellent storytelling and fun gameplay. Here are several problems you will face and how to potentially solve them, with KWS or without:
1. You need to visualize several environments for level designers. You also need character art and cover art for your games and a few minutes of animated cinematics.
Without KWS you would need to hire artists specialized in each subject on a per-project basis. Posting ads, researching & outlining fair pay, working through applications with interviews and salary negotiations.
KWS handles all of that through their "art"-segment where everything from animations to cover art. The full depth of the KWS art-segment is outlined below:

2. You need audio for your characters. Each voice is essential for the correct atmosphere and quality of the game.
Without KWS you would need a recording studio with sufficient quality, the ability to access the voice actor talent pool and subsequently cast. Perhaps you want to integrate facial expressions through video facial capture. Afterwards you need to edit post-production sound to achieve sufficient quality while mastering and mixing.
KWS also handles all of these activities through their audio-segment. Through higher levels of utilization & activity KWS can demand lower wages for consistent high quality work. Handling infrequent project work from independent contractors requires more work from both audio providers, studios, editing, and all the other segments of the audio-production value chain.
KWS makes the production of video-game audio less strenuous for both video-game creators and audio producers. The full service offering is outlined below: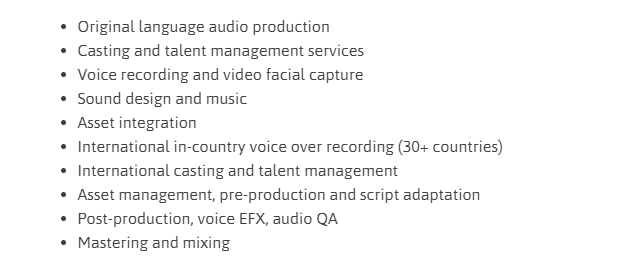 3. Before putting the game on the market you need to make sure the game retains functionality through a plethora of scenarios. Millions of users will spend hundreds of hours in your game and associate the overall quality with your brand. Debilitating bugs and other hardware issues need to be rooted out pre-launch.
Without KWS you would need to rent out a large building, hire a large amount of intermittent workers, hire managers, figure out a system for efficiently delivering useful feedback to programmers, and frequently change staff-size due to the fluctuating internal game production activity. For hardware issues you would need high fixed costs to acquire (or build) software for capability-testing.
KWS offers a highly-experienced and specialized functionality-testing team that has both user-experience testing and an extensive product suite in testing for hardware & network issues. Below is an overview of offerings: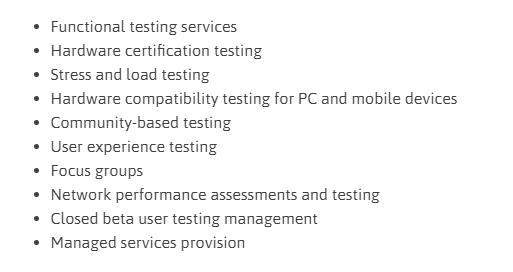 4. Developing a game is expensive, but the variable costs are extremely low. Incremental volume is essential. Appealing to the broadest possible market for your product is essential. Attempting to make a product sellable throughout languages and cultures is called Localization. The process is - roughly put- translation to make content available in non-native markets.
Without KWS the first action could be to simply translate the texts & scripts while leaving the audio intact. The quality of the experience (non-synchronized audio) obviously decreases, but even worse the texts may not translate properly. Hiring proofreading by translators of 50 different languages for a single project can remedy that, but has substantial costs in both operation and assembly. Afterwards the language must be accommodated for different age-group rating systems and checked for cultural insensitivity.
KWS has high-quality localization technologies, experienced employees, and every other asset needed to properly translate a product. KWS also handles cultural adaptation and play-through testing of localized versions.
5. Post-launch your customers require support, technical or game-related.
Independent support requires language support for the many different languages you have localized for with call-centers that, if the game fluctuates in activity, can be hard to effectively staff. You also need staff centers at different time-zones to accommodate an international player base.
KWS has teams of native speakers that not only provide technical support, but also community management. With KWS you can easily manage several time-zones worth of communities and provide international player support at every hour of the day.

1.2. The Big Picture & Market Overview
The arrangements work through framework agreements which allow the companies to utilize KWS as a partner whenever they so choose.

The framework agreements allow customers to award project on a piece-by-piece basis to KWS. KWS is not, usually, a one-time project partner, but rather a long-term strategic partner through framework agreements. The framework agreements are based on a "time spent + materials" basis that aligns revenues and costs.
The total video games market is worth approximately 110 billion USD, while the integrated services provide a (quickly-growing) 2.5 billion market. It is important to understand the competitive landscape.
1.3. Market size & Competitors
Below are the primary segments and their competitive environments: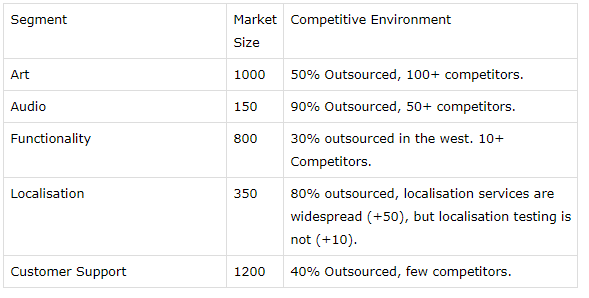 Source. Numbers in millions USD.
There are two important points regarding above table:

1. The market sizes are growing vastly above GDP.
2. The competitors usually operate within a single or two verticals.
KWS operates with 21 of the 25 biggest companies in the industry and has been involved in some of the biggest games on the market. Below is a slice of the activities that Keywords Studios have participated in.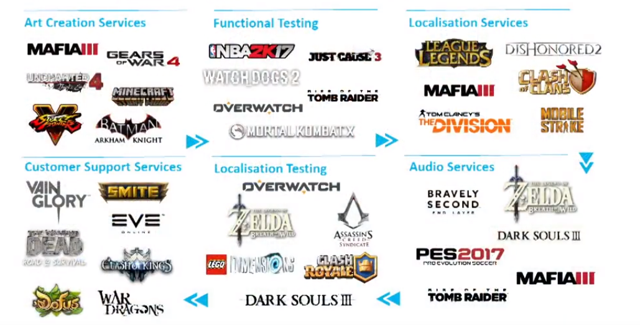 Source: YouTube Video.
League of Legends has over 100 million users active users every month across the globe and several multi-million dollar e-sport tournaments, Overwatch has 35 million players across the globe, and Clash Royale is one of the most popular smartphone games with over 120 million downloads over App store and Android. As of 2016, Keywords had approximately 400 clients.
1.5. Summarizing The Business
KWS is an integrated service provider in the video-game industry. It produced €93 million worth of sales in 2016 and is expected to produce at least €150 in 2017. Adjusted earnings were €14.9 million in FY 16 (un-adjusted were €6.9), and are expected to be at least €22.5 in 2017.
The cost-structure is approximately a gross margin around 37-40%. 22.5% of sales go to SG&A expense and a 22% tax-rate. The result is a, roughly, 12% profit margin. There are (as usual) some excess depreciation, tax credits, and other factors that decrease the actual tax rate on underlying economic earnings.
2. Why KWS Exists and How They Plan To Thrive
Why should Keywords Studios exist? Why should they earn money? Understanding the product value and value-chain positioning is the cornerstone of any Keywords Studios investment analysis.
Understanding the position in the value-chain also outlines the growth opportunities available. After comprehending the competitive advantages of KWS, we analyze the opportunities for growth and potential pitfalls.
2.1. An Integrated Provider Is Superior. Cross-selling, Trust, and IP
The essential question is: Why choose KWS over independent providers of each service?
One reason is cost-of-services. KWS can provide higher-quality products at lower prices due to operating efficiencies. An example is that KWS recently began to use specialist support teams consisting of functional localisation testers. The advantage can only be obtained by a rare cross-operator such as KWS and provides higher quality teams with in-game knowledge while smoothing the seasonal peaks and troughs of testing staff employment cycles. Providing easier lives to employees (potentially resulting in lower wages) and a higher quality product to customers.
KWS is also, simply, an efficient operator. Some acquisitions see improvements in revenue per person of 20% while doubling staff. General overhead synergies such as shared offices and fixed costs also play a role. As KWS has continued their acquisitions, operating expenses as a % of sales have consistently dropped.

Another reason why KWS is great for both video-game producers and investors is cross-selling. Cross-selling can be a bad affair when a trust relationship is used to ship high-margin products. An example would be hardware retail sellers being motivated to sell useless but expensive anti-virus programs.
At KWS, cross-selling serves an entirely different purpose. When a company hires a firm to handle art, audio, or other services they run a risk. Providing valuable intellectual property to "strangers" across 6 different activities is obviously more risky than having a single integrated provider that has demonstrated trustworthiness. Not only is IP an issue for firms, but the project managers (the people who actually decide on a provider) optimizing for minimizing career risk will also benefit from choosing the low-risk action.
A last point is the growing importance of a truly international distribution channel. KWS is extremely international in its capabilities and as a firm. 20 countries on 4 continents and broad experience operating in all cultures. Going back to the manager optimizing for keeping her job, being fired for a "culturally inappropriate" translation is obviously a career risk most ambitious execs attempt to avoid. Career risk creates significant value for a trusted provider.
It is for these reasons that KWS deserves to exist (and thrive) as an integrated service provider.
2.2. Revenue Models Changing, Service Providers Stand to Thrive
A great driver of growth will be the change occurring in the video game markets revenue dynamics.
2.2.1. A Brief History
In "the old days" the majority of revenue was generated from the sale of a game. You produce a game, you sell it for $50, you develop a sequel. Repeat ad nauseum (if money makes you nauseous).
The first change was the introduction of DLC, downloadable content packages. Users could pay for additional content in a game. Armor for their horse or a cool new adventure was available at only $19.99. The marginal costs of DLC was low and video game producers eyed an opportunity for high ROIC. High returns on DLC meant lower initial prices to "lure" customers in. In effect it usually meant the same prices on the game, but higher fixed costs in production to create a more "enticing" game. The "epitome" of the period was World of Warcraft (owned by Activision Blizzard (NASDAQ:ATVI) ) which functioned off a subscription-style revenue model while releasing multiple DLC packages (called expansions)
"The lower-margin initial games in exchange for DLC-sales" has escalated over the last few years and many new games on smartphones started to popularize games that were free, but had "add-on" adventures or characters for additional money. The trend has crept into the video-game world where many games now primarily rely on additional content packages (loot crates, loot boxes, card packs, others) to create revenue.
League of Legends popularized the concept by releasing an entirely free game. Millions of people bought the game and had the ability to buy "skins", fashion-accessories, for their favorite characters. As previously mentioned the game has over 100 million active users per month of which (in my estimation) the majority have spent a substantial amount of money on the game. The game is owned by Tencent (OTCPK:TCEHY).

Almost every single major game earns its money, today, by selling additional content. From PC to console and smartphone the name of the game is micro-transactions. Almost every single "old-school" operator is attempting to change course and implement micro-transactions. Up-front revenue is still a consideration, but micro-transactions are starting to permeate the gaming industry.
2.2.2. Why Keywords Studios Benefit
The reason KWS benefits from this change is due to the stream of content creating new requirements and more projects. As the big firms create almost monthly content to be localized. Furthermore the primary microtransactions consist of art & audio which implies growth in those services. A recurring stream of projects are obviously beneficial.
The growth of microtransactions also require a faster and more efficient process of localization and content support (audio, art) as the process becomes increasingly essential.
2.3. Great Market
Simply put the organic market growth is also an important driver for future success. Keywords Studios have consistently experienced +15% organic growth.
A reason to expect the trend to continue is the emerging market middle-class exposure. As life turns leisurely video-games stand to enter more lives across the globes. Video games are big business in emerging markets. Keywords Studios have prepared well, building out extensive capabilities in many geographies. While Tokyo is not exactly a growth geography, I believe that a case study of the activities in the region provide great insight into the operational playbook of KWS: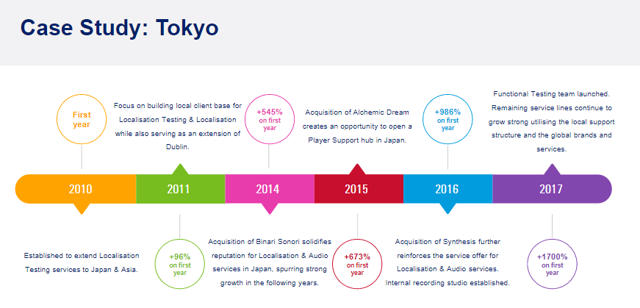 KWS built out their entire Japanese service network from a small base over a period of 7 years. KWS has offices in China, India, and Singapore.
The video-game support service also has low CapEx and little operational risk. Video-games are extremely competitive, but there are almost no integrated providers of services. Video-games are hit or miss, but service providers are diversified across hundreds of titles. The metaphorical equivalent of the video-game business is war, the metaphorical equivalent of KWS is selling bullets. To quote Jeffrey Ubben of Starboard Value: "We like to sell the bullets to the warriors. We don't like to be the warrior."
3. The Great Roll-Up adventure
Keywords Studios' primary strategy is to acquire across the video-game service industry to consolidate as the "go to global services platform". The ability to drive synergies, cross-sell, and become an increasing part of the service ecosystem are the primary motivators. Keywords aims to commit to 6-10 add-on acquisitions per year plus 1-2 larger transactions.
Keywords Studios have invested heavily into acquisitions over the past 4 years. Below is a quick table:
The newest area has been software engineering, but the biggest acquisitions have been VMC for €53.3 and Sperasoft for $21.8. Keywords is integrating the sector and I believe we've sufficiently covered the strategic rationale in section 2.1.
Valuations have averaged 1x sales and 5-10x EBITDA. Considering cross-selling and operating efficiencies, it seems that Keywords Studios is able to buy companies at below post-synergy 1x sales that are subsequently valued by the market (for now) at 6x sales.
The return target is a 2-3 year 15-30% ROI driven by synergies, growth, and efficiency. There has historically been precedent for Keywords' ability to drive growth and efficiency in their acquisitions.
There is an extensive outline of the Keywords acquisition process in terms of culture, focus, etc. at their most recent presentation, here.
3.1. The primary risk, Dilution & Leverage
Growing and acquiring requires capital. The group invested €89.1 in total (considering debt, etc.) during 2017. The capital was partly internally generated, but the majority was the result of a €75 capital raise in late 2017. The dilution was approximately 8-10%. The equity raise was fully subscribed to within two hours (source).
The company also upgraded their credit facility from €15 to €35. While the company still has net cash (of ~€10 according to my estimates) FCF generation will not suffice for another year of 12 acquisitions. In short, future dilution is necessary.
This is not extremely worrisome, as the incremental capital are invested at high rates and help make the old capital more valuable - but it should be considered when making forward estimates. KWS currently has around 20 million in net cash on the balance sheet.
4. Valuation
Valuing KWS is extremely difficult due to the large amount of complex & largely qualitative estimates regarding acquisition activity, ROIC, organic growth, and cross-selling that will occur. I have no estimate regarding true intrinsic value.
Instead of attempting to value the current KWS, I simply estimate at which price I would be a buyer. Given the growth and safety of the industry, I "only" require a 5% FCF yield to hold assets, in short a 20x FCF multiple. However given the exceptional ability for KWS to reinvest capital at materially higher rates than they can obtain it a 20x FCF multiple is still too light.
The company currently produces FCF margins of approximately 12%. Assuming 150 million of revenues in 2017, the run-rate FCF generation is 18 million.
If KWS can raise €80 million at 10% dilution over the next 4 years and reinvest said funds at 1x sales with 12% FCF margins with organic growth at 10%, the company will generate €100 million of FCF in 2023.
At a 5% required return, the stake is worth €2 billion to me. However the dilution will reduce my stake to roughly 68% of its original size giving the 2023 company a value of 1.36 billion.
I require a 15% expected CAGR to take the risks related to the above assumptions. Doing so would require a €700 million market cap today. The current market cap is €1.06 bln. I am a buyer at a GBP market cap of 615 million (a €10.88 stock price).
I do believe Keywords Studies has great potential to outperform my expectations. Particularly the expected organic growth. KWS has empirically produced closer to 20% organic like-for-like growth, but the reasons are too opaque to incorporate in a valuation.

I am a buyer at roughly €11 per share. For now I will simply keep my eye on the most unique player in the video-game space - I advise you to do the same.
This article was written by
"I came, I saw, I bought" - - - - - - - - - - - - -Currently inactive due to work and other responsibilities.
Analyst's Disclosure: I/we have no positions in any stocks mentioned, and no plans to initiate any positions within the next 72 hours. I wrote this article myself, and it expresses my own opinions. I am not receiving compensation for it (other than from Seeking Alpha). I have no business relationship with any company whose stock is mentioned in this article.
Seeking Alpha's Disclosure: Past performance is no guarantee of future results. No recommendation or advice is being given as to whether any investment is suitable for a particular investor. Any views or opinions expressed above may not reflect those of Seeking Alpha as a whole. Seeking Alpha is not a licensed securities dealer, broker or US investment adviser or investment bank. Our analysts are third party authors that include both professional investors and individual investors who may not be licensed or certified by any institute or regulatory body.