Aimmune Still Leads In The Peanut Allergy Race
Summary
Aimmune on course to become the treatment of 1st choice for peanut allergy in 4-17-year-olds.
The imagined existential threat from AnaptysBio deflates with release of their Phase 2a topline data.
Timeline and cost issues add to Aimmune's advantage.
One of the main recent stumbling blocks to upward movement in Aimmune's (NASDAQ:AIMT) stock has been concern coming from a perceived existential threat to Aimmune's prospects from AnaptysBio's (ANAB) monoclonal antibody approach to treating peanut allergy. Since the release of Aimmune's stellar PALISADES data, the pending results from ANAB's Phase 2a peanut allergy trial have been hanging over Aimmune's stock like the grim reaper.
Now that ANAB's data is out, how has it changed the prospects for success and big financial gain for Aimmune in treating pediatric peanut allergy?
NOT ONE BIT!
The case I made in my previous article for Aimmune to get FDA approval, become the best in class treatment for an unmet medical need, and attract the takeover interest of big pharma at a substantially higher stock price, remains intact (How Does Aimmune At $160 Grab You?).
To understand my thesis, one needs to coldly examine the evidence that we have in front of us.
Firstly, it's difficult to make the case that DBVT and their Viaskin patch will garner significant market share relative to Aimmune. If both products are approved by the FDA, the patch will probably attract those pediatric patients unable to tolerate AR101's stronger desensitization, and those parents who resolutely prefer a patch over pills. Aimmune's better efficacy and superb safety profile will likely lead most parents to choose the oral AR101 program.
This will be a personal choice, but in feedback I have received from parents whose children suffer from severe peanut allergy, most want to be assured that their kids will be able to tolerate an accidental exposure to the equivalent of 1.5 peanuts without risking anaphylaxis. Some parents mention that they want to monitor their children's dosing of AR101 to be assured the kids are correctly following dosage protocol. They worry that a patch could fall off and have to be worn for an extended period of time when the children are not under parental supervision.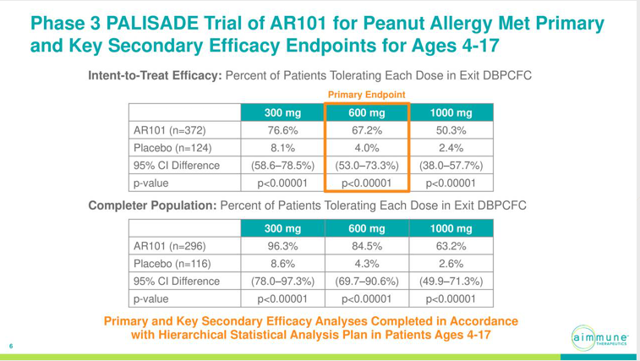 Secondly, AnaptysBio has made it abundantly clear that they are targeting a different audience than Aimmune. Aimmune is targeting patients age 4-17, of which they believe there are 1.6 million potential patients in the USA and a similar number in Europe. AnaptysBio is specifically targeting severe ADULT peanut allergic patients.
In the USA they believe there are 400,000 patients that would benefit from their injectable. And for those that think that there will quickly be a move by AnaptysBio to expand their targeted patient population to include children, pay heed: It is very likely that the FDA would view with a skeptical eye injecting children with an immunosuppressor that could have detrimental effects during child development.
In this regard, I believe it would be easier to expand Aimmune's AR101 to adults than AnaptysBio's antibody to children. (In Aimmune's slide presentation recently, CEO Steve Dilly pointed to newly revealed data that showed the same 85% successful desensitization in 18-55-year-olds as in 4-17-year-olds.)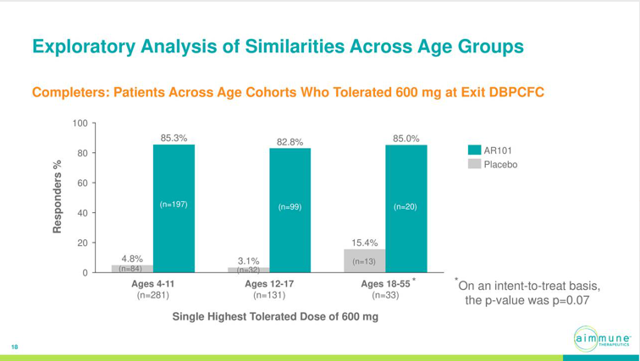 At any rate, any move to target children with ANAB's antibody would require years of future testing and proof of safety, which leads to the next important fact:
Thirdly, Aimmune is significantly ahead of AnaptysBio in terms of timing and getting a product to market. Aimmune is on schedule to get FDA approval by the end of 2019, in 1 ¾ years. AnaptysBio just reported top line data for a small Phase 2a trial. Moving forward, if AnaptysBio follows the expected course, a Phase 2b trial will last 2 years. That will be followed by a Phase 3 trial which will last 3 years.
Then allow 6 months to pull together a filing, and another 8 months for FDA action. So AnaptysBio is approximately 6 ¼ years away from having a peanut allergy product to market, 4 ½ years behind Aimmune. This long lead time advantage will allow allergists to become familiar with and prescribe Aimmune's treatment protocol for years before an antibody becomes available.
Fourth, no one is talking about this yet, but there is likely going to be a significant cost differential between the two treatment options. We don't yet know what a new monoclonal antibody would cost on a yearly basis, but if we use Regeneron's similar Dupixent as a model, we see that the cost for that antibody is approximately $37,000 per year for severe atopic dermatitis.
While it is still early and subject to revision, the executives at Aimmune have told me where they think AR101 will be: Between $5000-$10,000 for the first 6-month updosing course and around $300 per month maintenance. This is significantly lower than an antibody will probably cost.
And what about the data itself? AnaptysBio reported that 46% of patients showed improved peanut tolerance to 500 mg of peanut protein after a single dose at day 14. Aimmune showed 84.5% completer rate desensitization to 600 mg peanut protein after their treatment course. While the convenience and short time period of ANAB's antibody is impressive, the data doesn't yet show the same stellar results of Aimmune's program.
While a 2b and Phase 3 trial might show improvement on ANAB's results, it is important to note that the baseline sensitivity of ANAB's trial was much more lenient than that of Aimmune's PALISADE trial. Aimmune's patients were allergic and reactive to 10mg of peanut protein vs. AnaptysBio's patients whose baseline sensitivity was 239mg. So AnaptysBio showed a twofold increase in tolerability in 46% of patients, while Aimmune has shown a 100-fold increase tolerability in 63.2% of patients.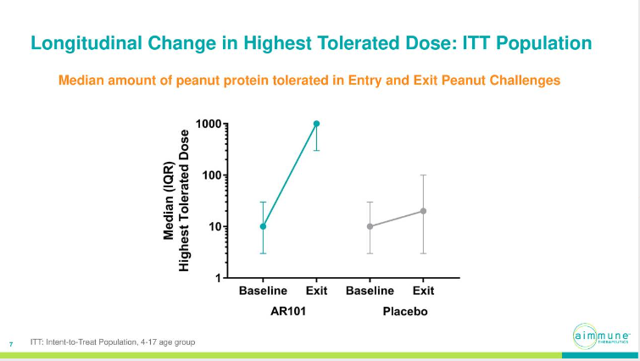 The scientists among us can argue about the apples to oranges comparisons between the two approaches, but I'm interested in the business of peanut allergy and who will be successful. AnaptysBio's results show promise and someday may yield a terrific treatment option for a segment of the adult peanut allergy community.
But it would be a huge mistake to think that Aimmune will not reach and exceed its stated goals in the pediatric population. With peak annual sales for the peanut allergy market at $3 to $4 Billion in the US and Europe (according to SA biotech writer Bob Sharma), this company is excessively undervalued trading at a market cap of $1.5 Billion. It is and will continue be a leader in its field for years to come.
This article was written by
Keith Glanz was a member of the Pacific Exchange and an Equity Options Market Maker from 1982 -2002.
Analyst's Disclosure: I am/we are long AIMT. I wrote this article myself, and it expresses my own opinions. I am not receiving compensation for it (other than from Seeking Alpha). I have no business relationship with any company whose stock is mentioned in this article.

Position includes stock and options. Keith Glanz was an Options market maker and member of The Pacific Stock Exchange from 1982- 2001.
Seeking Alpha's Disclosure: Past performance is no guarantee of future results. No recommendation or advice is being given as to whether any investment is suitable for a particular investor. Any views or opinions expressed above may not reflect those of Seeking Alpha as a whole. Seeking Alpha is not a licensed securities dealer, broker or US investment adviser or investment bank. Our analysts are third party authors that include both professional investors and individual investors who may not be licensed or certified by any institute or regulatory body.