Introduction
The Pre-salt arena, discovered only a decade ago, contributes an increasing share of Brazil's daily oil production. In the graphic below, you can see that there is a steady ramp up in Pre-salt production since 2009. You can also see a slow, but steady decline in other sources.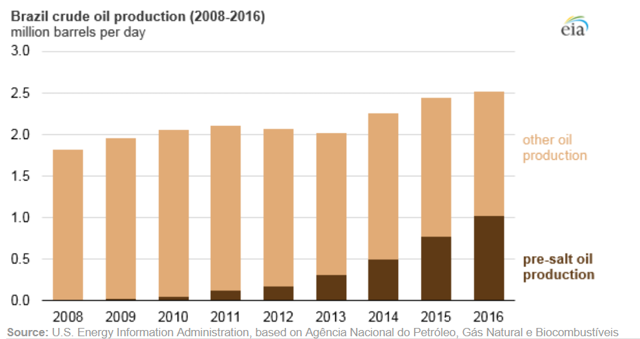 With the scandals and political strife that have become the stuff of legend in the last decade, Brazil finds it again needs external sources of capital to supply its oil requirements. In furtherance of that goal, it has been auctioning off attractive blocks, and happily pocketing the dinheiro that the IOCs offer up for them.
This article discusses this activity. Worth noting: I recently published an article stating that Capex would be returning to Deepwater. It was met with skepticism on the part of the relatively few who read it. This auction cements that conviction in my estimation, and brings the elusive inflection point into sharper view. It is entirely possible that one day, a year or two hence, we may look back and say, "This was it."
Tool Box Talk
What is the Pre-salt? It consists of oil formed from depositional activity in basins formed from the breakup of the super-continent of Gondwana 300 hundred million years ago. In modern times these deposits lie beneath a thick layer of evaporite salt, and is further overlain by additional sedimentation, and of course about 6,500 feet of water.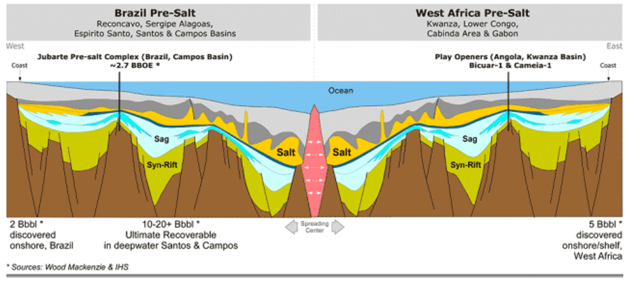 It is a massive resource that is likely replicated to a large extent in West Africa as the graphic above reveals. In Brazil, it is estimated that the Pre-salt runs from Santa Caterina to Espirito de Santo, a distance of some 800 kilometers, that may also be as much as 200 kilometers wide.
Petrobras, (PB), has drilled a number of wells in the Pre-salt and has not hit a dry hole yet (a fact which might account for the strong IOC interest in this play). This resource was originally declared so basic to Brazil's oil independence that it was restricted to Petrobras. Over time, the capital cost to develop these fields led the ANP, the Brazilian oil regulator, to open the Pre-salt to IOCs.
The success of this auction might also account for the relatively mild showing in the recent U.S. GoM auction that yielded only a $124 million for a record auction of 77K acres. By contrast, the Brazil auction net the government $2.4 billion in hard currency. In short, each auction had many of the same players, and clearly the big money was tied up in Brazil.
Who got what in Brazil's 15th Round?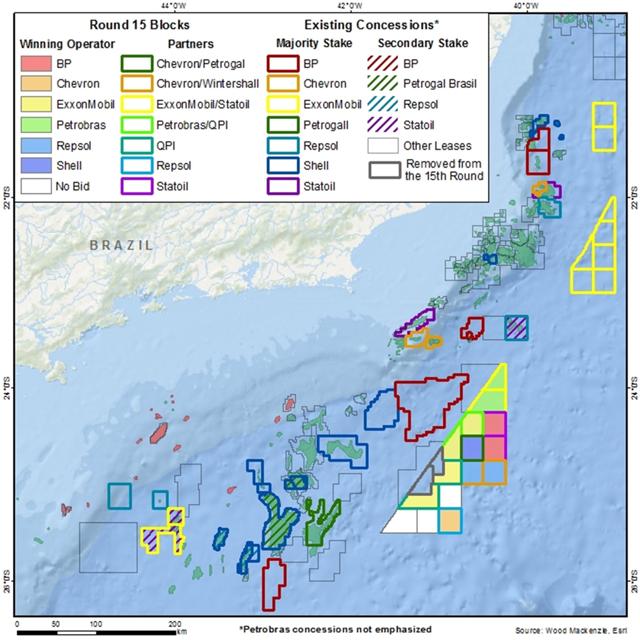 ExxonMobil
ExxonMobil, (XOM), and partners were the big winners and snagged 8 blocks to add to the 10 blocks captured in the September 2017 round. Clearly XOM who needs to start ramping up reserves replacement, and has not operated in Brazil before is on the board now. Exxon was so confident in one block, CM-789, that it paid a record $853 mm for that block alone.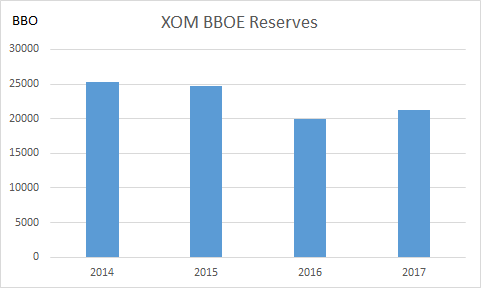 Why was Block CM-789, so special to XOM and partner Petrobras? Perhaps it was the fact that the Paleocene, turbidite depositional mechanism creates the potential for huge finds. This geology is similar to the West African structures it has tapped offshore Angola and Liberia. It has further similar acreage offshore Ghana. Perhaps they dream of a reservoir that will deliver the Erha-type performance it found offshore Nigeria- wells making twenty-thousand BOED.
Turbidite describes a depositional state characterized by a high energy environment that often yields clean, high quartz reservoirs capable of delivering wells with flow rates as high as 20-30K BOPD. These wells can produce for many years.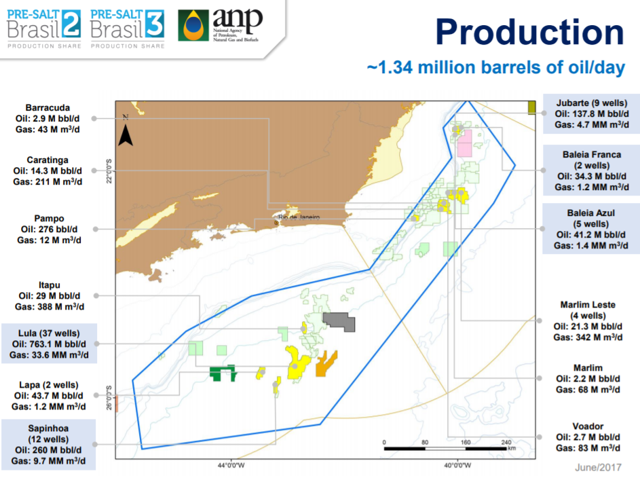 Exxon's interest is surely drawn by the tantalizing proximity to some of the Pre-salts biggest finds to date, Lula. Shown above in orange. It also absent one new Petrobras operated megafield that has just come on line, Libra. Libra is located in the Santos basin, just North of the Campos basin.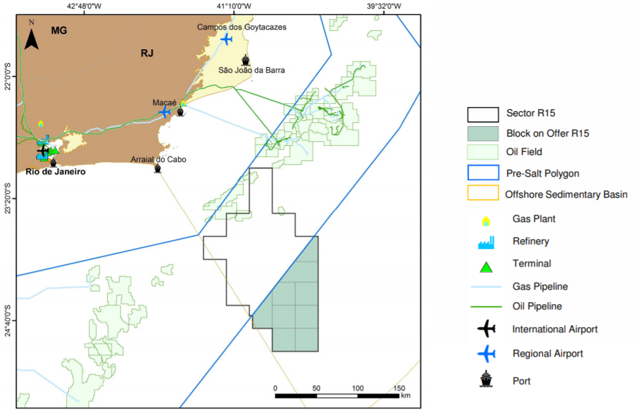 Note in the graphic above that this block is directly adjacent to the Pre-salt polygon, originally reserved for Petrobras.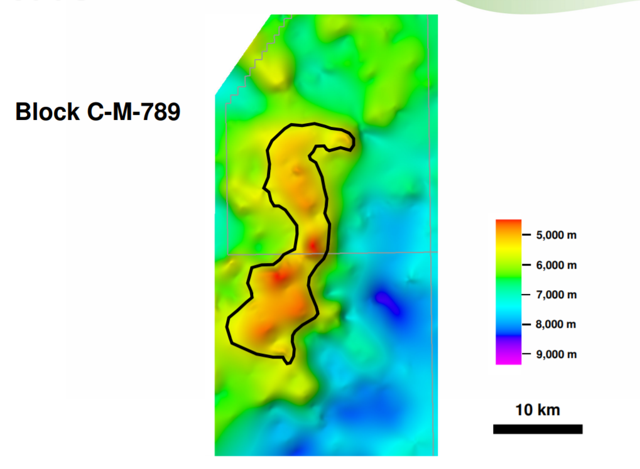 This is a structure identified as a "lead" in the ANP Roadshow prior to the lease sale. In the paste below, you see a lot of wonderful anticlines (an upward folding of the rock, with the oldest sediments at the center) that are famous for forming stratigraphic traps for oil accumulation. The ANP has helpfully pointed out in blue what might appear to be hydrocarbon accumulations just under the salt.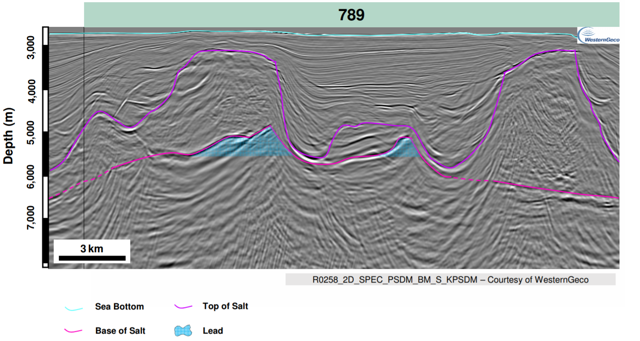 Was what XOM saw here worth almost a billion dollar front-end investment? Time will tell. One thing is for sure. With a billion on the table, exploration drilling will begin shortly. Even Exxon doesn't park that kind of money for very long. I see a rig getting a contract soon.
I view XOM as being in prime territory for an entry point. There is the potential for capital appreciation as a strike in any of these blocks will favorably impact the stock. XOM's is currently at $74.61, recent low point, and down significantly from a recent high of $89.30/sh. At current prices, XOM has a dividend yield of just over 3.0 %.
Chevron
Chevron, NYSE: (CVX), picked up four new blocks. It was the first time in a number of years CVX had participated in the Brazilian play. It has other Deepwater operations in Brazil's offshore market, key among them the Frade (FYI- "D" makes a soft "g" sound in Portuguese) project. You may recall CVX and Brazil had a bit of a dustup regarding oil leaks from shallow flows on Frade, that to senior CVX execs being slapped in jail for a weekend. There's nothing like a night in a South American jail to cool the ardor of oil execs for a particular country. Time heals all wounds however, and CVX is back in Carioca-land. Perhaps with a new set of execs.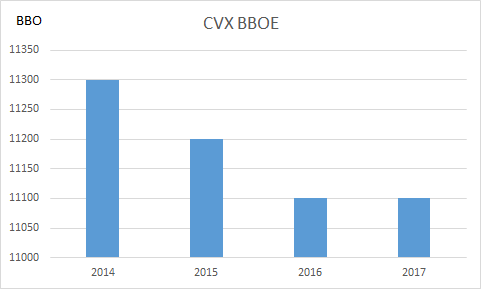 You can see that CVX has been treading water the last couple of years, with reserves being markedly down since 2014.
Shell, (RDS.A, RDS.B)
Shell has operated in Brazil for nearly 30-years. It has considerable infrastructure already, and is in a good position to develop the blocks it picked up in round 15.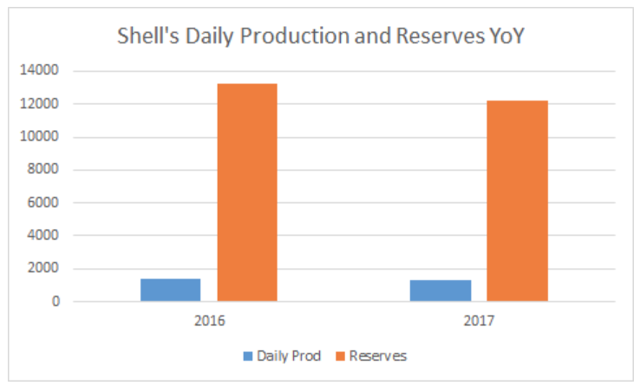 Source, previous article by author, "Facebook and Google..."
Shell picked an additional 4-blocks in round 15. Those, with the 6-blocks it picked up last Fall give it a total of 18 exploratory blocks to probe for oil and gas. It plans drilling on the highly prospective Gato do Mato (Jungle cat) block in 2019.
Repsol, (OTCQX:REPYF)
The Spanish oil operator could use some reserves addition as well. It has been treading water largely for the last several years. This particularly true when the recent suspension of their license in Vietnam to drill the CRD project is taken into account.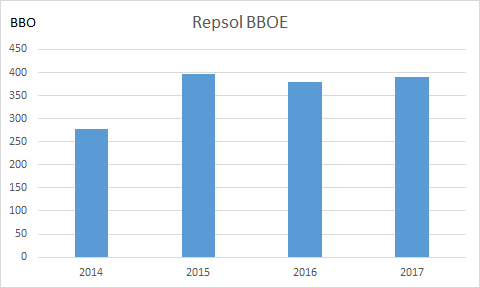 Source Chart by author
Statoil (STO), BP , and Wintershall, Division of Germany's (OTCQX:BASFY), were all winners in this auction as well.
I will be writing more detail on individual companies participating in this activity in the near future. I worked in Brazil for a number of years, and have a lot of insights into this market.
Your Takeaway
With billions of dollar in leases laid out, these companies are not going to be sitting on their hands. They need to replace reserves... badly.
This means drilling will begin to pick up in this sector, benefiting some of the OSD's we own. We view the current prices for Transocean, (RIG), and Ensco, (ESV), as being far below their true value. One day the market will properly value these companies.
Patient investors will reap the rewards on that day!
Disclaimer and Final Request
I am not an accountant or CPA. This article is intended to provide information to interested parties. As I have no knowledge of individual investor circumstances, goals, and/or portfolio concentration or diversification, readers are expected to complete their own due diligence before purchasing any stocks mentioned or recommended.
If you enjoyed this article and found it to be informative, please click the follow button for notification when future articles are published.
Also, please give a little thought to subscribing to my Market Place service for advance access to my articles. More information below.
The Daily Drilling Report
I hope you will think about a subscription to this service. I am different than anyone else covering the oilfield on Seeking Alpha. I have spent years on drilling rigs, working with oil companies, and intend to put this knowledge to work... for all of us.
Like most of you, I am a retiree. I live on social security, a pension from my employer, and savings. Savings supplies over 50% of my present income, so you can just better bet I am looking for ways to maintain, and increase it. I want safe, secure dividends from my big-cap companies, along with some price appreciation. I want to score some long-ball home runs from my small caps; companies that have the potential to double or triple within a couple of years. Those are things I want, and I expect you want them too.
Disclosure: I am/we are long RDS.A, RIG, ESV, BP. I wrote this article myself, and it expresses my own opinions. I am not receiving compensation for it (other than from Seeking Alpha). I have no business relationship with any company whose stock is mentioned in this article.
Editor's Note: This article discusses one or more securities that do not trade on a major U.S. exchange. Please be aware of the risks associated with these stocks.