It's been some time since we last discussed Seadrill's (SDRL) restructuring and it's high time to update on a number of developments. In this article, we'll discuss Seadrill's settlement with Daewoo Shipbuilding & Marine Engineering (DSME), the latest monthly operating report and the recent price action in Seadrill shares.
Settlement for West Aquila and West Libra
Seadrill signed contracts to build drillships West Aquila and West Libra on July 12, 2013 (docket 1092). On July 16, 2013, the company guaranteed payments under those contracts. Before restructuring, Seadrill paid approximately $208 million to the shipyard and $917 million was outstanding: $451 million against the Aquila contract and $466 million against the Libra contract.
As part of the global settlement, the shipyard agreed to terminate these contracts. In return, it can now vote on the restructuring plan, participate in the rights offerings under the plan and receive other distributions as a general unsecured creditor. It is also worth noting that an affiliate of Seadrill's largest shareholder, Hemen Investments, has had discussions with the shipyard regarding the potential sale of drillships to Hemen affiliate. In short, John Fredriksen might be buying these rigs for himself, as many market observers previously expected. Seadrill will have an exclusive period up to May 28, 2018, to search for buyers for these drillships.
The yard will receive an allowed general unsecured claim against Seadrill in the amount of $600 million. This claim will be classified as class B3 general unsecured claim with a projected recovery of 32-47%:

Source: docket 1002
Claims against Aquila ($310 million) and Libra ($290 million) are less fortunate as they are put against entities that have nothing inside them, and are classified as unsecured claims in class C3:

Source: docket 1002
Following the deal, it looks increasingly likely that Aquila and Libra will appear in the market and will begin fighting for jobs.
Monthly Operating Report

Source: docket 1104
Not surprisingly, the company's revenue continues to shrink month after month. It is impossible to expect an improving picture due to both the challenging market environment and the fact that Seadrill's management is busy with the restructuring process. However, there's no liquidity crisis, as the company finished February 2018 with $1.18 billion of cash, $134 million of restricted cash and $114 million of marketable securities. Now that the restructuring plan is in place, Seadrill as a business won't have much trouble going through the remaining negotiations, voting process and paperwork due to significant liquidity cushion.
Stock price action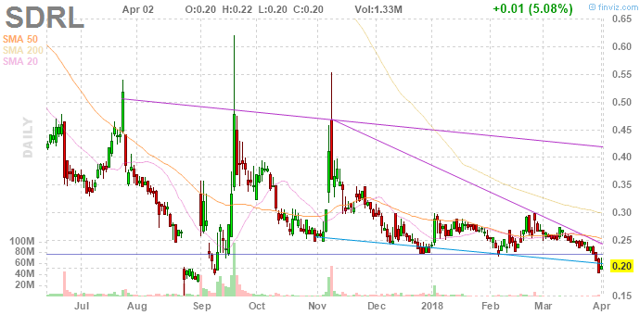 Meanwhile, things aren't that rosy for Seadrill common shares. I have pointed to Seadrill overvaluation on many occasions, and finally the market is starting to move in the fundamentally justified direction. At this point, the market is valuing post-restructuring Seadrill at $6.2 billion (current market cap of $118 million represents a 1.9% stake in the post-restructuring equity, so the full 100% stake is valued at roughly $6.2 billion), which is way above even the most optimistic predictions.
I continue to expect that Seadrill shares will correct further down. Despite the recent decline in price, it is very dangerous to gamble in the company's shares on the long side. Everyone willing to invest in post-restructuring Seadrill will be better off waiting until the restructuring process is over and the new shares begin trading on the stock exchange. While it is currently uncertain what value will be given to post-restructuring Seadrill, it would definitely be substantially lower than $6.2 billion that the market currently assigns to the post-restructuring company.
If you like my work, don't forget to click on the big orange "Follow" button at the top of the screen and hit the "Like" button at the bottom of this article.
Disclosure: I/we have no positions in any stocks mentioned, and no plans to initiate any positions within the next 72 hours. I wrote this article myself, and it expresses my own opinions. I am not receiving compensation for it (other than from Seeking Alpha). I have no business relationship with any company whose stock is mentioned in this article.
Editor's Note: This article covers one or more microcap stocks. Please be aware of the risks associated with these stocks.