In this article, I wanted to look at two funds offered by John Hancock and compare them to draw a conclusion on which one might be more tempting today. John Hancock is a well-known name in the financial industry, offering insurance and investment products - chances are everyone has heard of John Hancock before. It was founded in 1862 and eventually was acquired in 2004 by Canadian insurance company Manulife Financial (NYSE:MFC). It currently has $156 billion in assets under management.
The John Hancock Premium Dividend Fund (PDT) goes back to an inception date of Dec. 21, 1989. It has been renamed a couple of times over its history, most recently in October 2010. It was formerly known as the John Hancock Patriot Premium Dividend Fund II, but has a more simplified name today. This fund has also been merged multiple times over its history with similar funds. PDT has an investment objective of seeking to provide a high level of current income consistent with modest growth of capital.
The other fund to look at today is John Hancock Tax-Advantaged Dividend Income (HTD). This fund has an inception date of Feb. 27, 2004. In my opinion, there's nothing else of interest in its history beyond that. HTD has an investment objective of providing a high level of after-tax total return from dividend and capital appreciation.
Both funds invest primarily in income-type investments: dividend-paying common stock and preferred securities. HTD has the added goal of buying securities that they believe are eligible at the time of purchasing to qualify for U.S. federal income tax rates applicable to long-term gains that are taxed at 20%. It's important to note that both use leverage in their funds as well, with PDT currently utilizing 33% leverage and HTD utilizing 31%.
Performance
The first metric I want to look at is past performance, even though no indication of future results can be measured based on how each fund has historically performed. Take note that both hold a high percentage of utilities and about half of each fund is in preferred securities. With the Fed raising rates, these funds and other interest rate sensitive investments are pulling back here. YTD, both funds are down more than 10%, so I would like to think now is a good time to be considering either fund as they have pulled back. Even when looking at the NAV declines YTD, you can see that market prices have pulled back significantly further - almost by double, in fact.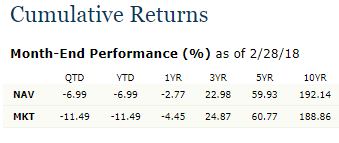 Source - HTD Performance Page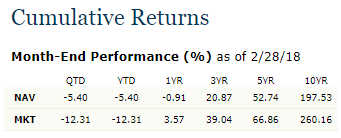 Source - PDT Performance Page
When looking at the 10-year cumulative return for the funds, the NAV returns are quite similar. But the market price has been considerably different, with PDT clearly the strong leader in market price performance for the last 10 years. I'm not sure what is causing this large discrepancy in market price performance given that the NAV is virtually the same.
One of the major factors to consider when looking at any CEF is the premium or discount of the fund. Right now, HTD is trading at a 8.09% discount while PDT is currently trading at a 5.71% premium. If I needed to make a choice right now based solely on this fact, I would be purchasing the fund trading at the discount, HTD. Not only that, but HTD has a one-year z-score of -2.00, while PDT's one-year z-score is 0.20. This means that HTD is exhibiting signs that it's extremely undervalued compared to its average NAV price over the last year.
Its 52-week average discount is, in fact, a 3.74 discount to NAV. If HTD were to simply go back up to its average, that would be a more than 4% gain alone. HTD clearly wins, in my opinion, the battle of which fund will perform better over the next couple months or year.
Distributions
Both the distributions are fairly close to one another, with PDT yielding 7.7% and HTD yielding 7.6%. CEFConnect's website shows that HTD had an average UNII of $0.1207 as of Oct. 31, 2017, and PDT had a UNII of $0.0577. UNII is undistributed net investment income, meaning this is what they had left over after the distributions. Positive UNII is a good sign indicating a fund is less likely to see a distribution cut.
Please note that with regard to other CEFs that utilize option strategies to generate income, UNII is not a reliable metric to use because option money is considered capital gains or losses and not income.
HTD Distributions: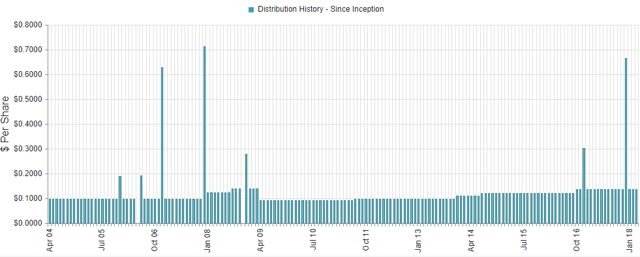 PDT Distributions: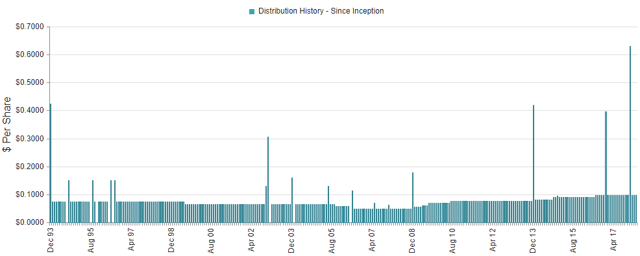 Source: CEFConnect
From their notification of sources of distribution press releases from March 2018, neither is showing ROC used in their monthly distributions nor are they showing any ROC YTD. Both funds have increased distributions a couple of times since 2008. HTD actually tried to raise in 2008-09 and subsequently had to move the distribution back down. I can't really pick a clear winner here, as both are consistent and raise when they can. I like both here.
Holdings
Earlier in the article I had written that both hold a high concentration of utilities and both have a high percentage of preferred securities in their portfolios, possibly making this an opportune time to buy a little bit while these areas are pulling back.
What the holdings for HTD look like: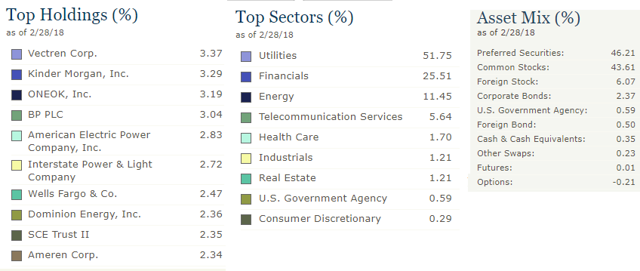 What the holdings for PDT look like: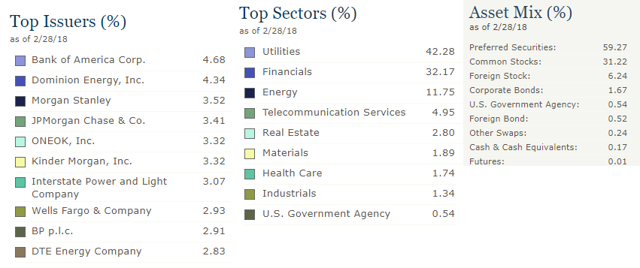 Source: John Hancock Website
HTD and PDT have fairly similar "Top Sectors %" with "Asset Mix %" slightly varying. "Top Issuers %" for PDT must be referring to the holdings being more preferred issued stock rather than common stock.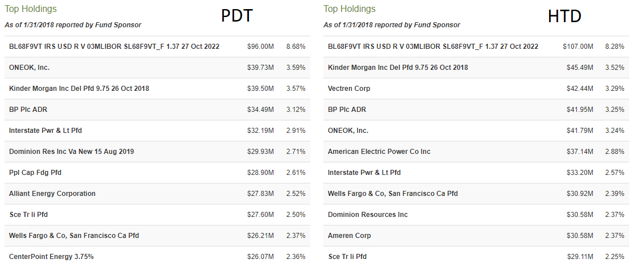 Source: CEFConnect
They share four of the same names in their top holdings, and the largest holding in the funds is actually the same. When looking at the funds' top holdings, it's clear to see they do hold significant positions in utilities and financials, which coincides with the sectors listed above. Yet, with both funds being very similar, I would have to choose HTD as the winner for holdings because having more common stock, in my opinion, offers an opportunity for more capital appreciation.
Conclusion
I like both PDT and HTD for their generous 7.6%+ distributions and consistent long-term performance. It also helps that both distributions are covered with income and capital gains, indicating that we don't have to worry about a distribution cut at this time. These two funds have also had special year-end capital gain distributions for the last two years as an added bonus.
PDT's market price seems to have been pushed into a significant premium over its NAV. I feel that if the market price returned to a discount, as it was in early 2017, then I would be looking at PDT again. HTD has been punished unfairly by the market for whatever reason, which makes no sense to me. Sellers have been driving HTD's market price down further than PDT. I believe that if we were to check back later in 2018 we would see HTD outperforming PDT at that time, as long as nothing significant changed. So my overwhelming favorite and one that I would buy here is HTD.
Which fund would you be buying here? Any questions or comments on other CEFs are welcome!
Disclosure: I am/we are long HTD, PDT. I wrote this article myself, and it expresses my own opinions. I am not receiving compensation for it (other than from Seeking Alpha). I have no business relationship with any company whose stock is mentioned in this article.