By The Valuentum Team
For all intents and purposes, the dividend "story" with General Electric (GE) is over. Not only did GE cut its dividend during the depths of the Great Recession a number of years ago, perhaps a forgivable event, but the latest slashing of the payout November 2017 is just hard to accept. We don't think GE will ever regain its prominence of yesteryear. The company is no longer what it once was due to significant divestitures, and bad timing, or perhaps better described as bad luck, has only made matters worse, in our view.
We have to be fair though. We were once really excited about GE's prospects. It was as recent as March 2015 that we even said, "General Electric's Dividend Growth Is Fantastic." In July 2014, we said that "General Electric Is Not Getting Any Respect" and earlier that year we said that we still liked shares. How things have changed since then though, and while we may have gotten ahead notifying readers about the latest dividend cut that was coming in
May 2017, it happened a lot faster than we could have ever imagined. Could the worst still be ahead of shares, however?
The Fallout at General Electric
Many have criticized the management at GE, and while there might be some merit that there were executive missteps along the way, the fallout at GE might have been more a result of flat-out bad luck. The executive team, for one, sought to learn from the problems that hurt it during the last recession, namely its financial operations, which led it to cut its dividend. During the past several years, it sought to rid itself of its financial operations, perhaps to prevent the very event of having to cut the dividend again. The problem, however, is that financials came roaring back, and regulation may have even put the banks on even sturdier ground. GE seemed to have wanted a more simplified business, and not being a systematically-important financial institution would offer it just that.
Unfortunately, in selling off most of its financial operations, it didn't leave enough wiggle room to handle cash-flow shocks to its core industrial operations. If GE's executive team is at fault, it may be just that the team returned too much of the proceeds from its financial operational sales to shareholders. It should have held on to that capital, instead of pursuing highly aggressive buybacks. However, it's hard to do that when you have shareholders demanding more and more all the time, and right now. We don't think our opinion on this is a matter of "hindsight being 20/20," but the executive team should have known it needed more cushion to handle its obligations, not the least of which were demands that it continue to grow its dividend. But how much cushion is enough?
Making matters worse is that management likely had spent much of the past decade observing the strength of the energy-related end market. The team probably thought it would be a no-brainer to gain more exposure on what could become a secular growth end market in energy, much like aerospace (both energy and aerospace are cyclical end markets but both have growth elements). It's not hard to understand that it may have made some sense to allocate proceeds from its financial operations to endeavors such as buying France's Alstom and going after Baker Hughes (BHGE). These efforts may still come to fruition in coming years (though it may unload its Baker Hughes exposure), but the reality is that energy remains a cyclical business, and management was expanding into energy at a time that energy prices veered from "normalcy" to almost panic prices a couple years ago.
Bad Timing?
The mis-allocation of capital with spending its reserves on buybacks coupled with the unfortunate sales of its financial operations--and the addition of cyclical energy assets--came back to bite management in a big way. We really can't fault the executive team for swapping end market exposure from financials to energy, but we do think the team should have preserved a lot more capital, if it felt that it needed to. There's nothing like cash it the bank when it comes to securing future performance. When GE's cash flow from operations started to falter last year, its aggressive capital-return program left it no room to handle the shock. Here is what we said in May 2017:
We're as surprised as you are by this alert, but we're removing GE from both newsletter portfolios. After rolling our discounted cash flow model forward (2017 first forecast year) and in light of GE's release of its 10-Q late April, which showed surprisingly poor cash flow from operations conversion (negative $1.6 billion in industrial cash flow from operations) and only modest capital spending reductions (two key components of the Dividend Cushion ratio), we no longer have the confidence in shares as we did before. But why the change and why now? New information in the 10-Q, and new forecasts in our newly rolled-forward discounted cash flow model.
In May 2017, we had estimated that normalized industrial operating cash flow would be about $12-$14 billion and industrial gross capital spending would come in at ~$6 billion, putting traditional free cash flow generation at $6-$8 billion, below run-rate cash dividend obligations of $8 billion at the time. Though we removed GE from the simulated newsletter portfolios at that time, largely due to its anticipated free cash flow shortfall, we said there was no need to panic. We didn't expect GE to slash its dividend right away. In fact, we even said it had time to get its affairs in order thanks to the cash it had on the books (it still has a lot of cash on the books). But time wasn't on its side. GE ending up cutting its dividend later that year, the second time in less than a decade.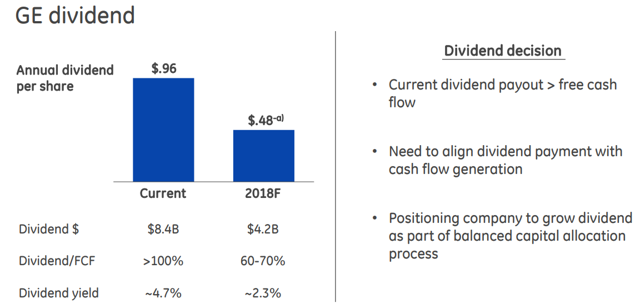 Image Source: General Electric
Dividend Growth Investors Now Have Been Burned Twice
It's just wasn't pretty for management or anyone involved, and the bad timing with respect to portfolio "optimization" exacerbated perhaps some capital-allocation miscues at the helm, but having cut its dividend now twice during the past 10 years, dividend growth investors aren't going to come back anytime soon, in our view. How could they? They may say, "It has been a bull market for 9 years, and somehow GE is cutting its dividend, perhaps near the 'peak' of the cycle, while other industrials are soaring." Yikes, right? It's quite possible that this reason alone is why GE's stock just can't seem to find a "bottom." If GE is no longer the widow-and-orphan equity, which perhaps it never was, is it now just a cyclical industrial with heavy exposure to commodity prices via its energy operations?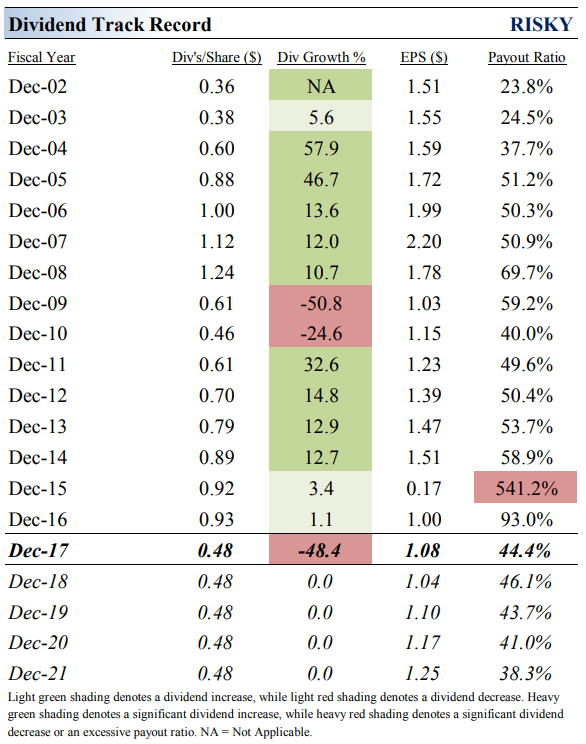 Image Source: Valuentum
General Electric's dividend is still far from healthy, in our view. What we like to look at, and so do the credit rating companies, is the company's net debt position. Now that it is has largely freed itself from its financial operations, GE has become more and more a cyclical industrial, and now one that has a large net debt position. Its accounting is still not easy for the most talented of analysts to figure out, but being more of an industrial makes things a lot easier. Borrowings of $135 billion are considerably larger than the company's cash and marketable securities balance of $82 billion (as shown in the image below). You can see, while we thought GE's balance sheet was a detriment to dividend health due to the net debt position, that it has a large cash balance sitting on the books should have bought it some time with respect to the dividend. What happened?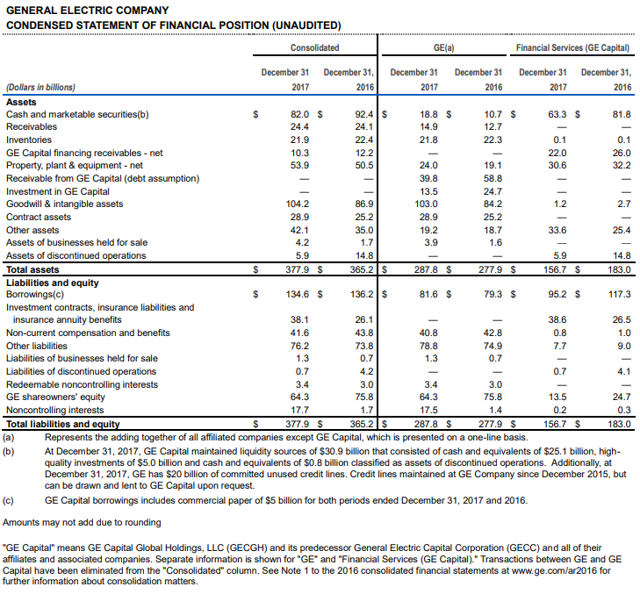 Image Source: General Electric
It's simply incredible how fast management through in the towel with respect to the dividend! GE keeps selling assets, too, having agreed to sell its healthcare technology assets April 2. We ask, "What does management see that we don't?" Why does the board feel like it needs more and more liquidity where it had to sell what is likely a very cash-flow-rich asset stream in the healthcare space. It seems like the writing is on the wall for a capital raise at some point, or else management wouldn't be continuing to sell off its asset base, and further depleting its cash-flow-generating capacity. How much is enough, we ask? Even GE's electrical engineering business appears to be on the auction block. Something is simply not adding up. Is it the coming debt maturities that have everyone on edge? GE has over $50 billion in debt coming due before 2020 (see 'Borrowings' line item in image below).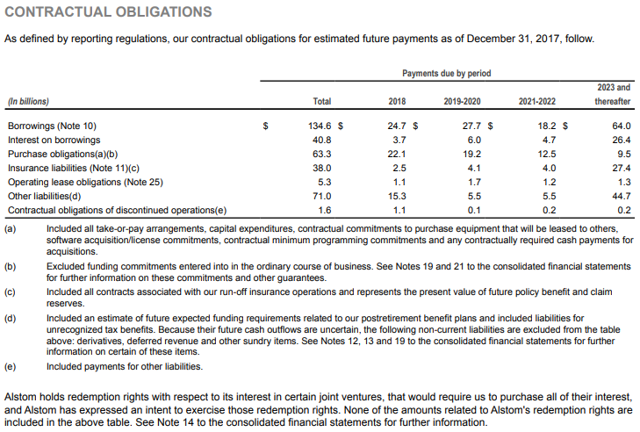 Image Source: General Electric (page 81)
Exogenous Risks Remain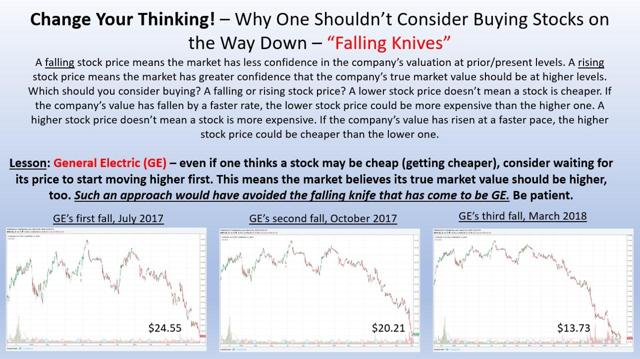 Image Source: Valuentum's Brian Nelson's Twitter account
If GE's net-debt-heavy financial condition and rather unusual operating cash-flow trends aren't concern enough, the risks keep stacking up at the once-sprawling financial and industrial giant. Even Moody's doesn't believe that savings from the dividend cut will amount to much.
GE is not an easy company to get a handle on from an accounting standpoint (even GE itself recently restated the past two years of its earnings), and that's probably why so many investors are spooked as a result of its weak operational cash-flow trends. Are GE's earnings of quality? We're not so sure, especially given recent events. In mid-January, for example, the company announced that it planned to take an after-tax charge related to its reinsurance business in the neighborhood of $6.2 billion, and also add billions more to reserves in coming years.
The news subsequently resulted in an SEC probe, and we're not sure what may come of it. We expect this to be an overhang for shares for some time. "Big bath" accounting seems to have exposed a big red flag with its accounting, and investors can't be pleased. Not only that but there are even more concerns that GE "could face DOJ action over subprime mortgage operations." GE seems to be getting hit with risks from every angle, and it is even exposed to retaliation from the implementation of tariffs by the White House.
The Bottom Line
It's sometimes a blessing when quality names fall out of favor because it can provide a great entry point to investors. The problem with GE is that it is no longer the GE that it once was. It has shed most of its financials operations, and it has doubled-down on energy. It has cut its dividend twice in the past decade and sports a net debt position, and many are worried it may have to further dilute shareholders given coming debt maturities and unforeseen liabilities with respect to an SEC probe that may surface.
Many investors have jumped into GE, perhaps thinking it is simply out of favor, but GE, to us, is a different company with just the GE logo on it. What's more is that GE's portfolio is changing seemingly everyday with businesses it plans to divest. Management seems to be worried about something and is preparing for the worst, in our view. If $80+ billion in cash, for example, isn't enough liquidity, my goodness -- what else could GE be hiding? We don't think Warren Buffett's Berkshire Hathaway (BRK.B) will or should take a stake in GE at any price... just yet. There may be too many skeletons in GE's closet. It's not the company it was during the Financial Crisis.
Our fair value estimate for GE may be optimistic at $22 per share, and it may take years for GE to ever fully realize that value, in our view. With a Valuentum Buying Index rating of 3 and a Dividend Cushion ratio of 0.6, we're just not finding anything remotely exciting about GE's investment opportunity at this time. It may have to become a single-digit stock to get us excited. Then, the risk-reward might tilt in investors' favor. We might grow interested if shares break the down trend, but even then, it might be a false breakout if there is no confidence in the dividend payment (yield). To read more about our valuation of GE, please download its valuation report here (pdf). Image shown: Page 1 of 16.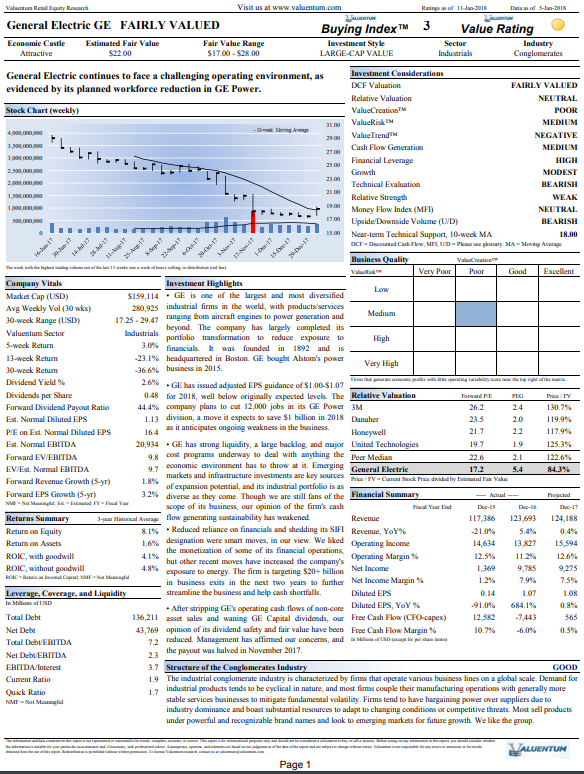 Image Source: Valuentum
This article or report and any links within are for information purposes only and should not be considered a solicitation to buy or sell any security. Valuentum is not responsible for any errors or omissions or for results obtained from the use of this article and accepts no liability for how readers may choose to utilize the content. Assumptions, opinions, and estimates are based on our judgment as of the date of the article and are subject to change without notice.
Disclosure: I/we have no positions in any stocks mentioned, and no plans to initiate any positions within the next 72 hours. I wrote this article myself, and it expresses my own opinions. I am not receiving compensation for it (other than from Seeking Alpha). I have no business relationship with any company whose stock is mentioned in this article.
Additional disclosure: Berkshire Hathaway is included in Valuentum's simulated Best Ideas Newsletter portfolio.