RETO Eco-Solutions: A Front Row Seat To China's Green Construction Boom
Summary
As China moves to environmentally-friendly manufacturing and construction, market growth is seen to outpace broader market and offer a compelling investment opportunity.
With RETO Eco-Solutions patented products, manufactured with higher energy efficiency and lower overall emissions, sales have grown by a near triple-digit rate in recent years.
With the continued investment in environmentally-friendly manufacturing by leading and emerging global economies, the company offers great exposure to the shift in government and consumer infrastructure spending around the world.
A look at the company's financials and growth prospects brings me to believe it is undervalued by as much as 35% for 2018, and a long-term investment can yield high returns.
Investment Thesis
China has been an economic growth engine for quite some time, even as it's been at the expense of the environment. In recent years, as evident with its five-year action plan (chapter 32) released in 2015, the world's number one air and water polluter vowed to clean up its act and shift all public buildings and resources to become environmentally friendly and energy efficient.
As the economic boom continued, the country invested heavily in infrastructure and construction to complement the growing population and urbanization plans put in place a few years earlier. This resulted in a boom in green construction demand in recent years, in which RETO Eco-Solutions (NASDAQ:RETO) is one.
As the industry is set to grow at a high single-digit rate through 2021, the company is enjoying market share capture as they emerge as a strong player that offers a wide array of manufacturing equipment and construction materials which are done in an environmentally friendly manner using less energy and near-zero pollution. As a result, the company has grown sales 87% in the most recent year and 11% in H1 of 2017, outpacing industry-wide growth rates, and is set to continue this outperformance as it introduces its patented products in more regions where the government is investing heavily and in other areas around the world.
Looking into the company's current revenue streams and the potential it has in the Asia-Pacific region, the Middle East and Africa, I believe it is only getting started, and a long-term investment in the company is a solid avenue of exposure to the global shift to environmentally-friendly construction and manufacturing, and a valuation of the company based on expected 2017 and 2018 financials predicts a significant price appreciation potential over the next year.
The Industry: Heightened Demand in the Five-Year Plan
China has had several decades of an economic boom driving significant growth in almost all aspects of its economy, notably in the construction and manufacturing sectors. As a result, however, the country is ranked 7th in the world's most polluted countries and has become the number one air polluting nation by amount of Co2 and other gases polluting the air alongside manufacturing and energy waste in the nation's water supply.
As a result, the country has recently boosted its initiative to protect and reverse some of the pollution in major cities and urban areas by implementing several 5-year plans to shore up urban centers which have been devastated by flooding and work to reduce the amount of carbon emission from their power and industrial plants nationwide.
Even as the country's construction slowed in recent years, it is expected to dominate the global construction market with a 26% stake as urbanization continues to take place, with the country's initiative to have 60% of its citizens living in cities by 2020. In a recent report, it was noted that while advanced economies are expected to grow construction by 2.2% annually, emerging countries, with China included, are expected to grow at a much higher rate of 5.3% annually, totaling an overall growth rate of 4.2%. China, according to research done by BMI Research, is expected to grow its overall construction value by a 7.7% CAGR to over $1 trillion by 2021 with a large portion in public spaces and large projects being done under government guidelines, according to the State Council Green Building Action Plan, which includes energy efficiency and low emission standards.
Another aspect of environmental control in China is urban flooding. As a result, the government put in place a program, as part of its 5-year plan, to adopt what is commonly known as sponge cities, which utilize the rainwater that typically accumulates in flooding and reuses it for whichever purpose presents itself rather than collect it and dump it right back out. The Housing & Urban-Rural Development agency of China has committed $85 million to $128 million in funding for cities to adopt this policy, which will not only save large infrastructure spending in repairing cities after flood damage but also create a more sustained and environmentally friendly working environment in the city.
An Environmental Solution to Nationwide Pollution
RETO Eco-Solutions offers environmentally-friendly products like aggregates, bricks, tiles, and pavers made from mining waste and fly-ash which are manufactured with low energy and near-zero pollution, done by vibration technologies vs. furnace solutions used to form standard bricks and tiles. The company operates through wholly-owned subsidiaries in proximity to both waste mines to gather raw material for manufacturing and to work sites like sponge cities and large urban and rural projects.
The company's main subsidiary, REIT Holdings (China) Limited in Hong Kong, operates the Beijing REIT Technology Development Co., which then operates local development projects in key locations around China, as seen below: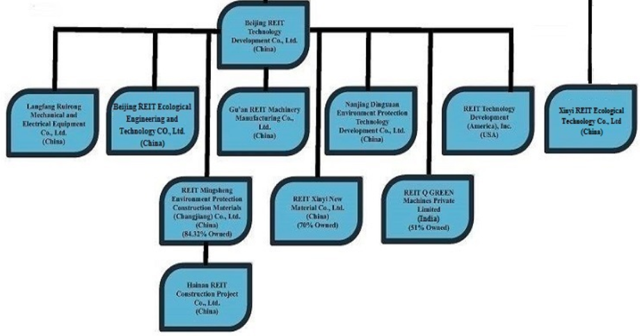 (Source: Company F-1 Filing)
The company operates primarily in China, where it generates the majority of its revenue, but has projects in India, the Middle East, North Africa, Brazil, and Pakistan with additional projects in the United States, Canada, and Mongolia on an on-demand basis.
RETO Eco-Solutions has a large presence in the sponge city development network where it provides solutions with exclusivity at several cities around China, with some degree of competition in others, noted more extensively in the risk section.
Financials: Growing Profits for this Environmental Outfit
For the year ended 2016, revenues grew 87% to $32.4 million from $17.4 million as project manufacturing sales in China surged from $5 million to $12 million. In its H1 2017 report, however, the company reported a slower sales growth of 11%, reporting $14.99 million, compared to $13.5 million in the same period in the year prior. As the company enjoyed healthier margins in 2016, as it controlled operating and compensation expenses but saw a higher costs of goods, its H1 2017 general and administrative expenses surged 61% due to one-time bad debt revaluation and IPO costs of $600,000 and $400,000, respectively, but saw gross margin improve from 47.2% to 50.3%. As a result of these higher expenses, net income grew at a 9% rate in H1 of 2017, compared to 2016's net income surge of 91% from the year prior but excluding these one-time expenses net income saw a 38.7% growth rate.
For full year 2017, I expect the company to report a revenue growth rate of around 25%, given its current market positioning alongside the lack of one-time expenses and lower interest expense, which fell 21% in H1 of 2017. Given the large amount of funding commitments from the Chinese government to promote green construction and its product exclusivity in certain areas alongside the development of new projects around the globe, the company is well positioned to continue and capture more of the $717 billion market.
| | | | | | | |
| --- | --- | --- | --- | --- | --- | --- |
| | Revenues | Gross Profit | Operating Expense | Interest Expense* | Income Tax | Net Income |
| 2017 | $40.5 M | $20.2 M | $6.9 M | $1.2 M | $2.8 M | $9.4 M |
| 2018 | $50.4 M | $25.3 M | $ 8.6 M | $1.2 M | $3.6 M | $11.9 M |
* Assuming no change in debt levels.
A 25% rise in sales means, 2017 revenues will come to around $40.5 million. With a 50% gross margin, gross profit is set to be around $20.25 million which results in $9.4 million in net income assuming 17% of sales in operating expenses, $1.2 million in annual interest expense and a 23% effective tax rate, as reported for H1 of 2017. The company's 22.34M shares outstanding results in EPS for 2017 being around $0.42, a 68% increase over 2016's $0.25. A further rise of 25% in revenues for 2018 results in $50.4 million in sales, $25.3 million in gross profit, $11.94 million in net income and EPS of $0.53.
Valuation: Profit Surges and Potential Emerges
According to my calculations for 2018, which I believe are conservative, given potential revenue growth, the company is set to report EPS of $0.53, which is subject to change, according to any new contracts the company receives throughout the reporting year. As a company I expect will report a consistent rise in revenues until market share stabilization around 2021, I believe a price to earnings multiple of 20x to 25x is warranted, given competitive factors mentioned later, presenting a value range of $10.60 to $13.25 per share, representing a potential for increase of over 35% from current prices.
Risks: Remain Aware as to not Despair
There are, however, several issues with the company's operating environment and operational expenses moving forward evident in the country's shifting spending behavior and other factors.
First, the company does face a significant amount of competition from private and public companies working to capture construction market share in the renewed green emphasis in China and around the world. For some of the projects around China, RETO Eco-Solutions is the sole operating company which brings its perks when it comes to pricing and deployed resources. In the company's manufacturing equipment market, they face tough competition from German manufacturers which are motivated to capture Chinese market share with the saturation in the European markets. Even as RETO Eco-Solutions has a pricing advantage of local manufacturing, it is working on improving its product appearance, which it acknowledges lags those of its direct competitors.
In local regions like Fujian, where the company conducts a large amount of its business, it faces a higher competitive threat where small local companies have a pricing advantage but generally are of lower quality. I believe this can become a hindrance on the company's contract renewals since several of these projects operators are known for their focus of pricing over quality, yet in the long run, the company has the upper hand with higher quality assurance. The company faces similar competition in its construction material products, mostly in the Hainan region of the country but has an advantage over competitors, given its large output potential, whereas its closest competitor only has the capability of producing about 10% of its capacity. This can, however, turn into a more significant headwind as these smaller companies expand production. It does, however, remain the only supplier and manufacturer in the region to produce fully automated equipment, which can help counter the competitive problems given the amount of time and resources it takes to establish this and has the ability to lower maintenance costs.
Another key risk to China's classification as an emerging market are the social and government changes mandating employee pay and benefits. The company paid roughly $1 million in employee compensation and benefits in both 2015 and 2016, and it expects this cost to rise as wages increase, and it hires more personnel to tackle new projects and is mandated to provide pensions, healthcare coverage, and workplace insurance. Even as this expense is set to rise in the coming years, I expect the subsequent rise in revenue to cover it.
Investment Conclusion
Even as some growth-related risks exist, RETO Eco-Solutions is in a prime position to capitalize off the growing environmental drive underway in countries like China and across the globe. As governments continue to focus on energy efficient and low emissions solutions for construction and manufacturing products to form the country's new infrastructure vision of urbanization and smart city solutions, manufacturers, and construction companies around the Hainan and Fujian regions have selected RETO Eco-Solutions to provide both manufacturing equipment and construction materials for new projects, which include sponge cities.
As the company continues to report a rapid rise in revenues, signaling a rise in market share as the industry grows at a slower rate, I believe the company not only has more room to grow into the $700 billion Chinese construction market but also expand globally into other Asia-Pacific countries, the Middle East which is emerging as a key infrastructure spending region and Africa, which is experiencing a spending boom and is expected to modernize in the coming years.
These factors and more, I believe, create a prime investment opportunity in the company for exposure to this high-growth market where a larger amount of spending is being done by worldwide governments each year. Aided by the company's patents in unique manufacturing and construction products and materials, I believe an investment will outperform the broader market through 2021 and that currently the company remains undervalued by around 35% for 2018.
This article was written by
As part of my earnings growth strategy, I invest, trade and write about small under-covered growth companies which don't get much attention from establishment analysts as well as use the strategy to interpret short and long term moves in bigger, well established companies in the United States, Europe and the Asia-Pacific region.-All articles and the information in them are my opinion based on my own research and analysis and should not be taken as investment advice without proper due diligence and advice from a professional financial adviser.
Analyst's Disclosure: I/we have no positions in any stocks mentioned, but may initiate a long position in RETO over the next 72 hours. I wrote this article myself, and it expresses my own opinions. I am not receiving compensation for it (other than from Seeking Alpha). I have no business relationship with any company whose stock is mentioned in this article.
Seeking Alpha's Disclosure: Past performance is no guarantee of future results. No recommendation or advice is being given as to whether any investment is suitable for a particular investor. Any views or opinions expressed above may not reflect those of Seeking Alpha as a whole. Seeking Alpha is not a licensed securities dealer, broker or US investment adviser or investment bank. Our analysts are third party authors that include both professional investors and individual investors who may not be licensed or certified by any institute or regulatory body.