If you were following along over the weekend, you probably had a pretty good idea how the first day of Q2 would go.
To be clear, the mainstream financial news media has run fresh out of euphemisms when it comes to explaining days like Monday, but being the wordsmith that I am, I'll talk my way around stating the obvious.
"Tweet risk" entered the Wall Street lexicon late in 2016 following the U.S. election and it needn't always have a negative connotation. After all, "risk" can be defined as being on the "upside" or the "downside" and the President's tweets have moved markets and individual stocks in both directions on any number of occasions over the past 15 months. So simply stating that markets are subject to "tweet risk" isn't necessarily to say something foreboding. Additionally, you should note that I mean it literally when I say that phrase was enshrined in the Wall Street lexicon shortly after the election. Here's an actual screengrab from a Credit Suisse (CS) note that came out around the inauguration:

(Credit Suisse)
And here are a couple of other examples of the analyst commentary that typified the post-inauguration chatter.
From Bernstein:
Prepare for higher idiosyncratic stock-level volatility under a Trump presidency due to 'off-the-cuff' tweeting.
From Citi (C):
Trump's plan to continue Tweeting directly with his followers and limit the size of the White House press corps also marks a departure from form. We flagged Trump's Tweets as one of the top political risks for 2017 in terms of their capacity to generate confusion and hit share prices.
The point being, I'm not trying to be clever or subtly pejorative when I say Wall Street started talking about "tweet risk" last year. Rather, when I say that was something the sellside was forced to start incorporating into their analysis, I mean just that.
And even if "tweet risk" is used primarily to describe downside risks from Donald Trump's tweets, that's not really any different than saying that stocks are subject to "headline risk."
So there's an elaborate attempt to couch things in the most neutral way possible and make no mistake, that's a lot more effort than Bloomberg and some other financial media outlets went to on Monday in the service of dancing around the issue.
Having thus made every conceivable effort to adhere to decorum and protocol, I think you'll forgive me if I now state the obvious, which is that the President's weekend tweets and the follow-ups to those tweets we got on Monday morning weighed heavily on sentiment to start Q2.
Last week, as tech was struggling to get out from under the steady stream of negative publicity surrounding the Facebook/Cambridge Analytica boondoggle, an Axios article reignited a long-running feud between Trump and Amazon (AMZN), which the President has variously suggested is treating the U.S. Post Office unfairly and not paying its fair share of taxes.
Despite assurances from the White House communications team that there are currently no plans to take action against the company, the President continued to criticize Amazon over the weekend and the rhetoric escalated materially on Monday morning. The shares were already coming off their second straight week of steep losses and thus really didn't need another reason to sell off, but when it rains it pours. Ultimately, the stock buckled under the pressure, suffering its worst single-session loss in more than two years:

(Heisenberg)
Take a look at the Amazon "VIX":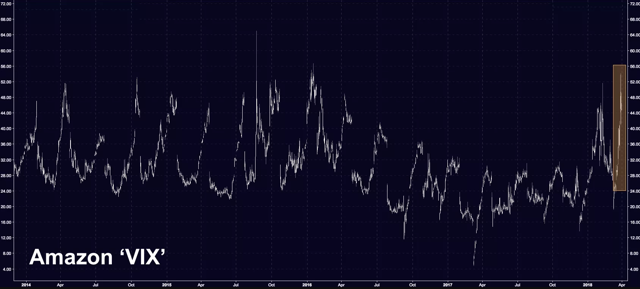 (Heisenberg)
Needless to say, that spike is partially attributable to the turmoil engendered by the President's tweets. I wish there were a way to get around saying that so bluntly, but there's just not. Here's Bloomberg's take, for instance:
First Donald Trump was "obsessed" with regulating Amazon. Then the U.S. president had "no plans" to change policy toward the e-commerce behemoth. Finally there was the tweet.

The back-and-forth whipsawed Amazon shares and sent the stock's equivalent of the Cboe Volatility Index surging to a multiyear high.
And that was published last week - so before the weekend tweets, and before their Monday sequel, and before the additional 5% haircut the shares suffered to start Q2.
I spent a lot of time both here and on my site last week suggesting that just about the last thing the market needed at a time when tech was already looking shaky again, thanks to renewed regulatory concerns around Facebook (FB), was for Amazon to start taking fire on a daily basis. Well that's exactly what's happening and on Monday it helped push the market to its worst start to a second quarter since the Great Depression: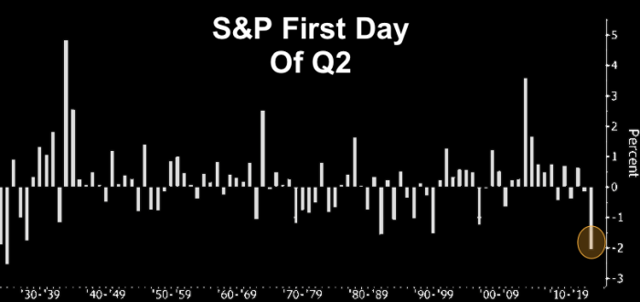 (Heisenberg)
Amazon was the biggest drag on the S&P, which broke through critical support: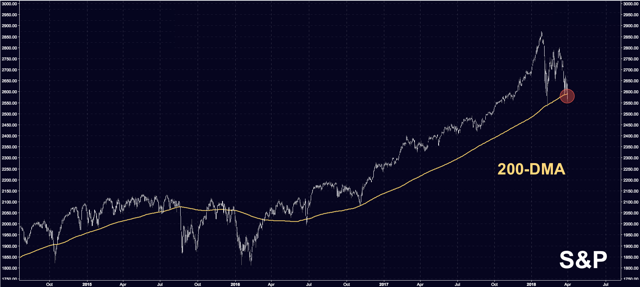 (Heisenberg)
What you saw in U.S. equities today is emblematic of the extent to which markets have apparently lost their patience with the constant barrage of unpredictable headlines. That's important because if we have indeed reached some kind of psychological breaking point, investors will be even more predisposed to overreacting in the event the data rolls over or some other unfavorable news comes across the wires.
Do note that it wasn't just Amazon that took heat from the President over the holiday weekend. He also suggested he would "stop NAFTA" (that's a direct quote) and while that's nothing new per se, the timing leaves something to be desired. That sends an adversarial message not only to Mexico and Canada, but also to China at a time when Beijing is struggling to discern what an "acceptable" agreement with Washington on trade might look like. On Monday, China officially retaliated against U.S. steel and aluminum tariffs when previously announced moves against 128 imported goods went into effect. The Commerce Ministry claims Washington did not respond to a trade compensation consultation request submitted on March 26.
Bear in mind that nothing in the above assessment necessarily says that Trump is wrong. I, of course, have my opinion on that just like everyone else has their opinion, but what's not debatable is that markets are not particularly fond of uncertainty.
Whether it's the Amazon accusations, the NAFTA banter, or the threat to veto the $1.3-trillion spending bill a couple of Fridays ago, the Twitter activity does create uncertainty. The VIX hit a 25 handle for the first time since March 23 today and the safe haven bid was clearly evident in USDJPY and in Treasurys where 10Y yields are now sitting at a two-month low: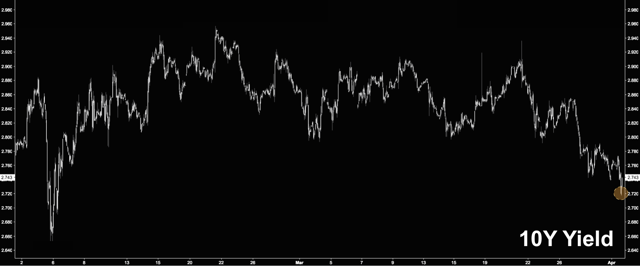 (Heisenberg)
I would also gently suggest that this kind of engineered uncertainty prevents the market from regaining momentum and that could potentially keep institutional investors on the sidelines or otherwise spook the pros. For instance, I'd be willing to bet that some of the selling on Monday emanated from spec longs, whose net position in S&P futs was the second longest in two years as of last Tuesday: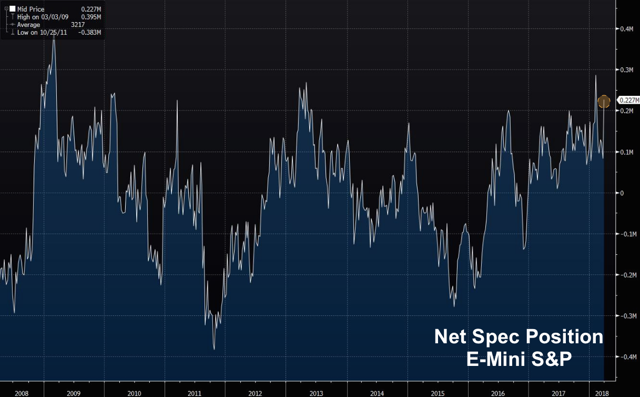 (Bloomberg)
What I would encourage you to do if you're inclined to implicitly surrender even more of your free time to Heisenberg, is consider all of the above with what I wrote on Sunday evening about the setup for this Friday's jobs report.
While expectations are that the March report is more likely to reinforce the "Goldilocks" narrative than it is to mark a repeat of what we got in early February when the unexpectedly hot average hourly earnings print that accompanied January payrolls upended markets, the more jittery everyone is headed into the report, the more prone folks will be to jumping at inflation shadows.