Setting Sail With Effective Use Of Factors
Patrick Nolan talks about how to build a portfolio of factors - and why.
The America's Cup has been the international yacht racing community's battle for supremacy of the sea for over a century. From the early schooners to the catamarans of today, each advancement in boat engineering gave racing teams a leg up. In 1987, the U.S. Stars and Stripes set sail with foils protruding from the bottom of the boat, which enabled most of the vessel to float above the water. With less surface contact comes less drag and higher speeds - a game changer for today's modern racing yachts.
Friction can also hamper the performance of an investment portfolio. The impact of these inefficiencies can become more pronounced over time, and especially when conditions get bumpy. But there are ways to reduce drag that may help you reach your financial goals.
Cost is an obvious one. The impact of paying needlessly high fees year after year will make a marked difference in how much you end up with.
Another inefficiency that may be slowing down performance is market exposure - how "purely" your investments capture the outcomes you're seeking. That's where factor investing can help. Factor-based strategies use scientific, rules-based technology to focus on specific drivers of return, such as momentum, value, quality, size and lower volatility.
In our work, we see financial advisors increasingly using factors in the portfolios they build for clients. In the 7,591 advisor portfolios we've studied over the past 12 months, 4,354 (57%) have some factor product exposure.
As shown in the chart below, the most popular categories are minimum volatility and dividend-paying stocks, but many are bundling multiple factors to help clients achieve goals.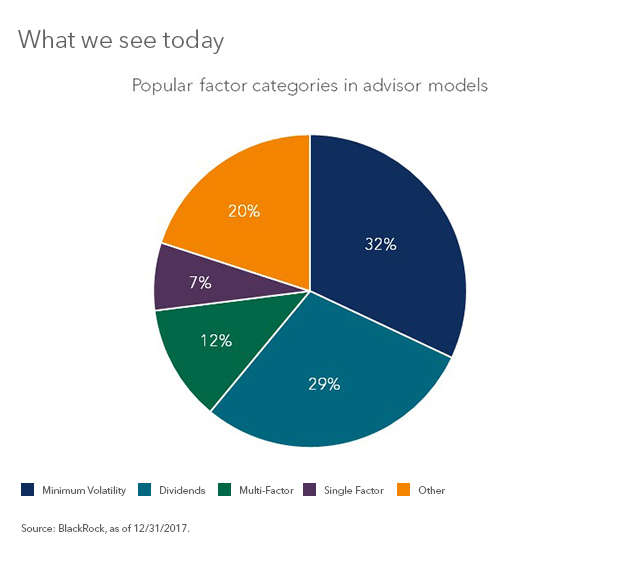 What's a factor?
Every individual security has a set of characteristics, or factors, that explain its return. A company's sector or home country are two examples. While most factors influence returns evenly (not abnormally positive, nor negative), there are a few "rewarded" factors that have proven to demonstrably outperform the market or reduce risk over the long term. Most factor strategies are currently employed in stocks, but smart beta ETFs for bonds are becoming more widespread.
Rewarded factor strategies include:
Value - investing in securities that are cheaper than their fundamentals might suggest.
Quality - investing in financially healthy companies, with strong balance sheets.
Momentum - investing in securities with upward price trends.
Size - investing in smaller companies, which have historically outperformed.
Minimum volatility - which focus on less volatile stocks.
It's worth noting that not every rewarded factor will perform equally well at every moment. However, over a full market cycle, each of the factors mentioned above has proven to be additive to portfolio returns. Investments demonstrating these characteristics could be worth pursuing when you build a portfolio, and keeping your portfolio consistently exposed to them can help create balance in your portfolio. (Something along these lines. Reword to express your thoughts, but don't speak to outperformance.)
One point to consider: building a portfolio of factors without a plan can cause some challenges. Overdiversification, due to too many holdings in your portfolio, can cause these tilts to cancel each other out.
A second consideration is to avoid overweighting a particular factor too much. This can happen, for example, when an investor is too reliant on past returns or peer rankings when choosing funds.
To avoid either fate, look at your factor exposures at the portfolio level. If you see something you didn't intend to under- or over-weight, adjust as needed.
Beyond the simple sail and gybe
Factors aren't a new phenomenon. Underlying return drivers such as value and momentum have been recognized by academics and professionals for decades. What is new is that technology has leveled the playing field, making it easier and less expensive to identify factors, bundle them into products and offer them to all investors - conveniently and at low cost. The growth of these strategies has been remarkable. Today, smart beta ETFs represent more than $100 billion globally.
Using factor products in a portfolio is easier than it's ever been, but it requires a different lens. For example, instead of asking how much of U.S. large-cap stocks are in your portfolio, you may want to ask, "How much momentum do I have?" This will likely give you a different way to evaluate your portfolio's results and a deeper understanding of what drove them.
Like the foils on the America's Cup yachts, factors are instruments that, when used effectively, can strip away drag and provide the boost to help propel portfolios forward.
This post originally appeared on the BlackRock Blog.
This article was written by
BlackRock's purpose is to help more and more people experience financial well-being. As a fiduciary to investors and a leading provider of financial technology, we help millions of people build savings that serve them throughout their lives by making investing easier and more affordable.