Here we go again. The Dow Jones Industrials (DIA), midday Monday, was down over 720 points, and the broader S&P 500 index (NYSEARCA:SPY) was down more, falling 3.16%.
Tech stocks traded down hard again Monday, following last weeks' debacle in that space. Facebook (FB) was down a further 3.3% putting it solidly in bear market territory as market participants believe the company has not done enough to assure users that their identities and data will be secured to give users the privacy they feel entitled to.
Amazon, Inc. (AMZN) fell over 6% as a presidential tweet storm continued, accusing Amazon of using the Postal Service as its delivery boy. Most economists believe that the volume of business that Amazon gives to the postal service actually keeps it in business.
The trade war escalated Monday as China said it would impose 25% tariffs on pork products and recycled aluminum. 10% tariffs would be imposed on some 120 other products imported from the U.S., including fruits, nuts and assorted other goods. Though the total of goods that would see tariffs imposed amounted to just $3 billion out of hundreds of billions shipped to China, it was seen as a retaliation to Trump's tariffs on $60 billion of imported steel and aluminum from China. In trade wars, one thing can easily lead to another. If one country doesn't blink first, we might be on the brink of a full-scale, worldwide trade war.
The Ballast Afforded by Dividend Stocks
Dividend stocks, which give investors a cash back-up of dividend income every month or quarter, are once again proving their resiliency. As the 10-year Treasury bond rises and the interest rate declines another 2 basis points, investors are again seeking the risk-off, safety trade.
Our RODAT Subscriber Portfolio has given up just 36% of the market value that the S&P 500 has. It, and the Fill-The-Gap Portfolio have retreated just 1.14% and 1.3% respectively.
Right on schedule, and regardless of the market volatility swirling around them, several of our holdings paid their dividends Monday.


Iron Mountain Latest Developments
Expanding its business reach, beyond the collection, storage and shredding of company documents, Iron Mountain (IRM) on March 23 announced its Crozier Fine Arts subsidiary was acquiring Artex Fine Arts Services for undisclosed terms.
Artex is a fine arts transportation and collection management company.
Artex CEO John K. Jacobs will join the Crozier team.
In a further development, on March 27, Goldman Sachs initiated Iron Mountain at a Buy rating with a $41 price target, a 31% upside to the March 26th closing price.
The initiation came as analyst George Tong launched coverage on American business services with an Attractive view due to "idiosyncratic opportunities" in the expanding service economy.
Iron Mountain shares were up 2% premarket to $31.90 on that news.
About Iron Mountain
Iron Mountain Incorporated is a global business dedicated to storing, protecting and managing, information and assets.

Organizations across the globe trust us to store and protect information and assets. Thousands of local enterprises work with us, as does almost all of the FORTUNE 1000. From critical business information to geological samples, works of fine art to original recordings of treasured artists, our customers can rely on us to protect what they value and help unlock its potential.
source: IRM Website
The Dividend Perspective
Market prices go up and they go down. The last several weeks has seen the return of tremendous volatility as geopolitical events trigger wide swings coming off of investors' emotional reactions to them.
500 and 600 point swings are becoming increasingly common. The main way dividend investors can steady their nerves is to try to tune out the noise and stay focused on the ever-growing pile of dividends that continue to accumulate in their accounts on a regular basis. The proactive way is to search out those names on their watch lists that are presenting accidentally high yield in response to their compressed valuations.
The Fill-The-Gap Portfolio
The FTG Portfolio contains a good helping of dividend growth stocks, like AT&T (T). It was built with the express purpose of benefiting from this defensive strategy.
Three years ago, on December 24, 2014, I began writing a series of articles to demonstrate the real-life construction and management of a portfolio dedicated to growing income to close a yawning gap that so many millions of seniors and near-retirees face today between their Social Security benefit and retirement expenses.
The beginning article was entitled "This Is Not Your Father's Retirement Plan." This project began with $411,600 in capital that was deployed in such a way that each of the portfolio constituents yielded approximately equal amounts of yearly income.
The FTG Portfolio Constituents
Constructed beginning on 12/24/14, this portfolio now consists of 22 companies, including AT&T Inc. (T), Altria Group, Inc. (MO), Consolidated Edison, Inc. (ED), Verizon Communications (NYSE:VZ), CenturyLink, Inc. (NYSE:CTL), Main Street Capital (MAIN), Ares Capital (ARCC), British American Tobacco (BTI), Vector Group Ltd. (VGR), EPR Properties (EPR), Realty Income Corporation (O), Sun Communities, Inc. (SUI), Omega Healthcare Investors (OHI), W.P. Carey, Inc. (WPC), Government Properties Income Trust (GOV-OLD), The GEO Group (GEO), The RMR Group (RMR), Southern Company (SO), Chatham Lodging Trust (CLDT),Iron Mountain, Inc. (IRM) and Roku, Inc. (ROKU).
Dividend growth investors like us have less to fear from the constant ups and downs in the prices of our stocks. In fact, if dividend income is our main focus, we are basically insulated from the fears that constantly weigh on price-focused investors, especially during scary corrections we are currently experiencing, or bear markets.
I know that some readers' eyes glaze over on some charts and tables and they tune out. But if you devote just a minute and look at this chart, it'll be well worth your time. We have enjoyed nine very recent dividend raises in the FTG Portfolio.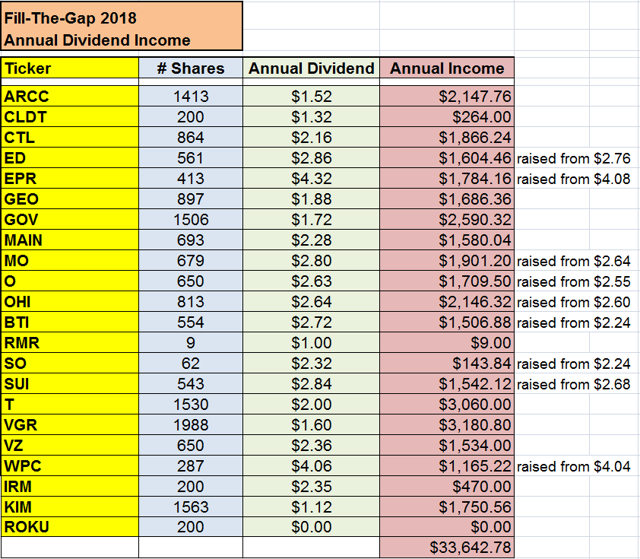 table credit: the author
Your Takeaway
As I write this, the Dow Jones Industrial Average has fallen 3300 points from its recent record high. The S&P 500 on Monday afternoon was off 3.16%. By contrast, Iron Mountain was down only 1.1%.
1.1%/ 3.16% = .30, or 30%
To be clear, investors in search of the reliability and durability of dividends kept a floor on the company's price, such that the price declined only 30% as much as the S&P 500 index.
To illustrate further, had you invested $10,000.00 this past Thursday (the market was closed Friday for the holidays) in the S&P 500, your investment would be worth just $9684 today. In contrast, an investment Thursday in Iron Mountain would be worth $9890 today. This is a testament to investors who gravitate towards solid, dividend growth companies with good business prospects in times of market stress. Doubt and fear tend to lend support to dividend growth stocks in general. That is why the stock prices of the Fill-the-Gap Portfolio are lending comfort to readers who have mirrored in part, or in full, the equities contained therein.
With a Goldman Sachs buy rating with a $41 price target and 31% upside from the March 26 closing price, we retain our buy rating on Iron Mountain as well.
Current buyers will receive an annual dividend of $2.35 and a yield of 7.25% versus its 4 year average dividend yield of just 5.8%. Buyers at these levels can grab 25% more yield and income compared to its average yield point.
Want to retire sooner with higher income? Buy 'em when they're down and they're yield is up.
In these times of extreme fear, you may even outperform the markets as readers have, as investors seek safe haven in government bonds and the type of dividend stocks we've bought and continue to hold for income.
Your Engagement Is Appreciated
As always, I look forward to your comments, discussion and questions. What is your take on the Facebook debacle? Do you think the big data companies will get ahead of the curve and finally persuade users and investors that they'll be able to guarantee a higher degree of user privacy and less exploitation of the data they collect? Do you think the moves on the tariff front are simply tit for tat, or do they represent the opening salvos in a worsening trade war? Please let me know in the comment section how you approach these situations in your own portfolio and how you arrive at your decisions.
Author's note: Should you be interested in reading any of my other articles detailing various strategies to enhance your returns on a dividend growth portfolio, you will find them here.
If you'd like to receive immediate notifications as soon as I write new content, simply click the "Follow" button at the top of this article next to my picture or at the bottom of the article, then click "Get email alerts."
Disclaimer: This article is intended to provide information to interested parties. As I have no knowledge of individual investor circumstances, goals and/or portfolio concentration or diversification, readers are expected to complete their own due diligence before purchasing any stocks mentioned or recommended.
Disclosure: I am/we are long ALL FILL-THE-GAP PORTFOLIO STOCKS. I wrote this article myself, and it expresses my own opinions. I am not receiving compensation for it (other than from Seeking Alpha). I have no business relationship with any company whose stock is mentioned in this article.