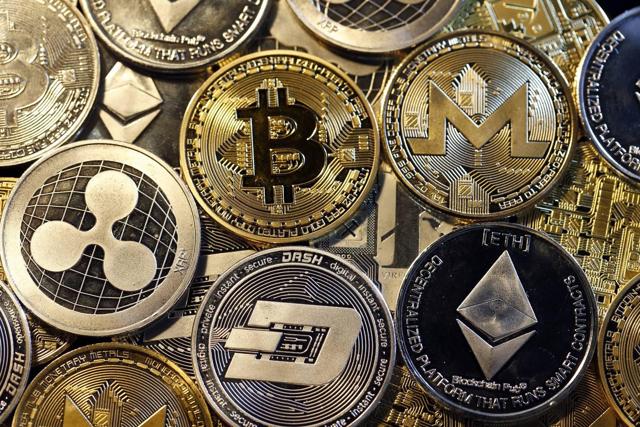 Source: Fortune.com
Bitcoin's Bear Market
Bitcoin's (COIN) (OTCQX:GBTC) meltdown resumed in recent days, after the digital asset's brief rebound over the past week. At the time of writing this article, Bitcoin was trading at roughly $7,386, down an astounding 63% since the $20K top a few months ago. Clearly, this is not "just a correction", Bitcoin is in a deep bear market, and there is no reason it can't go a lot lower from here.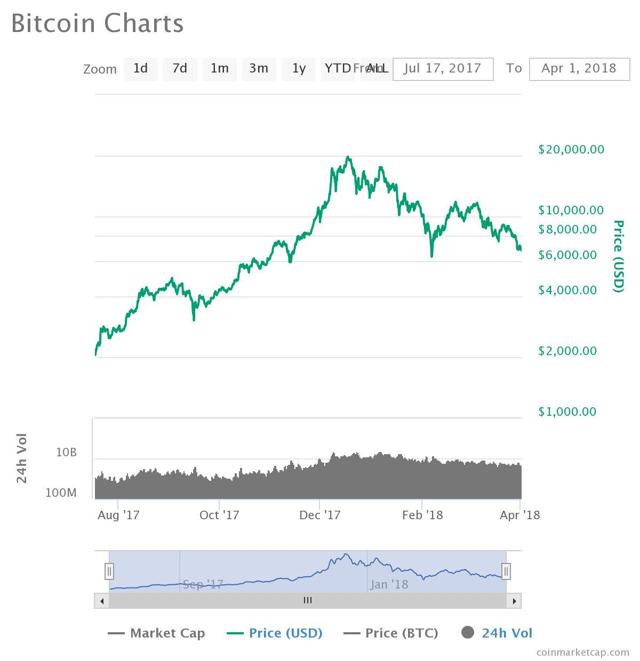 Source: CoinMarketCap.com - This logarithmic chart illustrates Bitcoin's sharp rise and subsequent debacle over the past several months. Bitcoin is on the verge of breaking through major support, next resistance appears to be at $3,000, and then just $2,000 after that.
It's not just Bitcoin that's crashing, it's the entire cryptocurrency complex. And despite the relentless selling, Bitcoin's market share relative to other digital assets has gained in recent weeks.
That's because other coins are crashing even worse. Bitcoin's number two Ethereum has decayed by nearly 75% since its top, and the number three cryptocurrency Ripple has cratered by an astonishing 87% since its top was reached fewer than 3 months ago. Incredible declines all around in the cryptocurrency world, and the bad news is that the trend is still lower with no end in sight.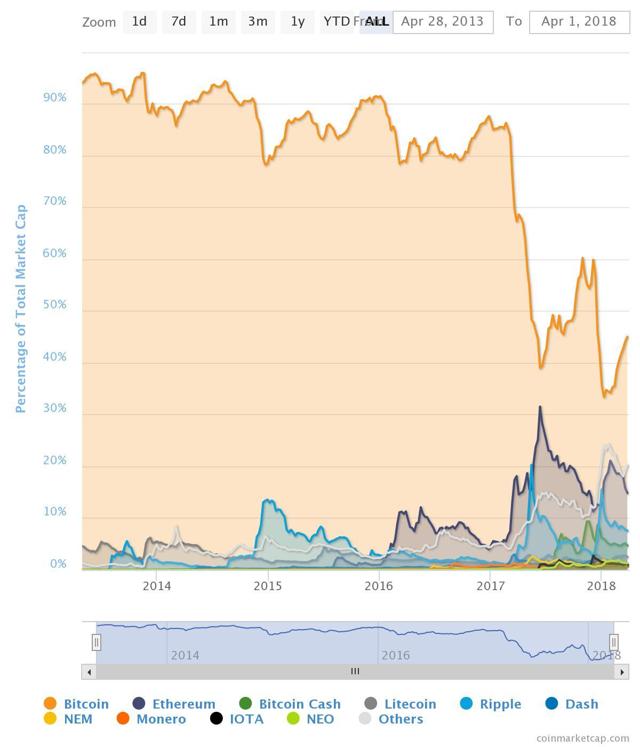 Bitcoin's dominance is going up, while the whole cryptocurrency market slowly implodes in on itself. It appears crypto investors are moving out of altcoins even faster than they are selling Bitcoin.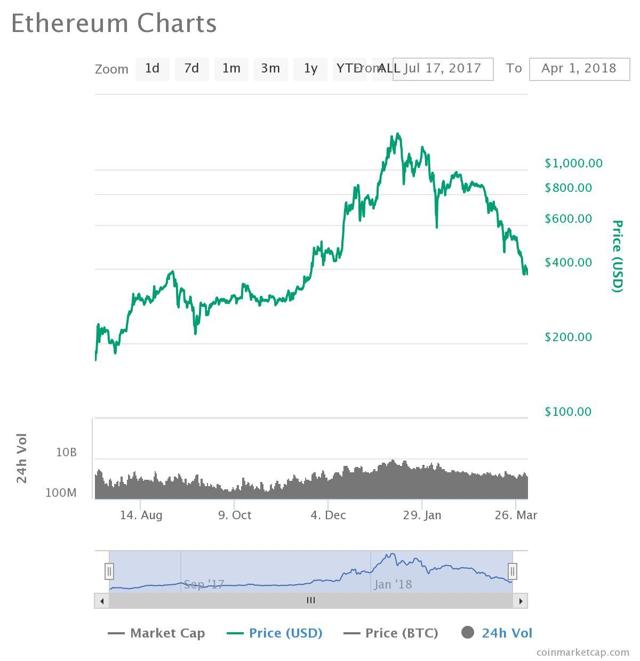 Ethereum appears to be breaking through major support at $400, and is now down by nearly 75% from its highs.
Ripple's spectacular decline. Fewer than 3 months ago Ripple was valued at roughly $150 billion, now its market cap is fewer than $20 billion, an incredible 87% drop.
Negative Developments Continue to Stack Up
Essentially, the Bitcoin rally stalled because the cryptocurrency world is facing an increasing number of fundamental faults and negative developments. Additional government scrutiny and regulation, Google (GOOG) (NASDAQ:GOOGL), and Facebook (FB) ad bans, continuous hacking in the exchange space, perpetual scams to the tune of $9 million per day, limited usability, scale, speed, and cost issues, as well as a slew of other detrimental factors have contributed to the cascading decline in the cryptocurrency world.
Moving in the Wrong Direction
Reddit recently announced it is not going to accept Bitcoin for payments any longer. So, instead of being accepted in more places it appears fewer businesses are spending their time on Bitcoin. It appears that Bitcoin may be moving in the wrong direction on some fronts. Perhaps it's all the volatility. After all, it is difficult to accept Bitcoin as a viable currency when it is in a state of perpetual decline as of late, and can decline by more than 20% in a day on some occasions.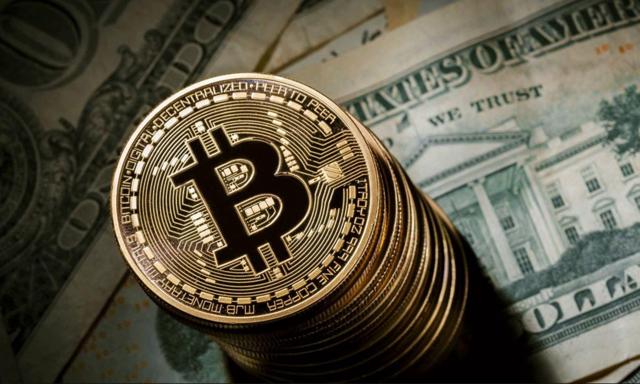 Source: Medium.com
There is also the regulatory element. With all the constant changes going on with Bitcoin and the regulatory atmosphere, certain organizations may not see a point in taking on the additional responsibilities to deal with the unpredictable and volatile digital world.
Loss of Popularity
Fundamental negative developments have led to a loss of popularity in Bitcoin and other digital assets. CNBC is no longer focused on how high Bitcoin can go, but on how hard it can crash. The mass psyche is being influenced very much here. So, most consumers are no longer thinking about how to take out a mortgage to buy Bitcoin. Instead, most are considering how they will pay back debt they accumulated by buying Bitcoin near the top in the first place.
With very little usability, and with the apparent loss of its popularity, many people aren't quite sure why they own Bitcoin anymore. This has led to a loss of confidence in a way, which is one of the primary factors behind the current Bitcoin bear market.
Blockchain Wallets Slowing Down Dramatically
To recognize just how severe the loss of popularity in Bitcoin is, you don't have to go any further than the blockchain wallets data. It took just 1 month to get from 20 million to 22 million total blockchain wallets from early December to early January, when Bitcoin was at its best. Leading up to that, it took about 6 weeks to go from 18 million to 20 million, roughly 2 months to go from 16 million to 18 million, and about 10 weeks to go from 14 million to 16 million.
To keep growth healthy and to sustain the price, the creation of new wallets needs to be accelerating as the numbers of total wallets increase. Instead, this key metric also seems to be headed in the wrong direction. It has taken 3 months, or about 12 weeks to move from 22 million to 24 million wallets. So, the pace of wallet creation is decelerating notably, which is leading to the slump in prices.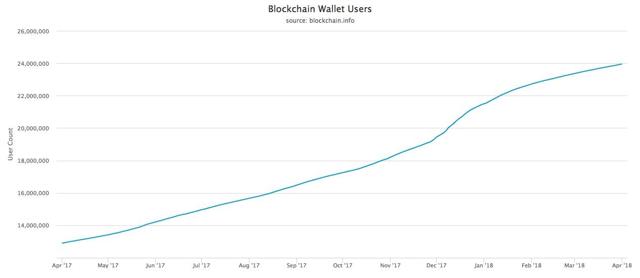 Source: Blockchain.info
Technical View
Technically, the short to intermediate term image is not good for Bitcoin. First, we can clearly see that volume has dropped off significantly in recent months. Next, there is a major support level at roughly $6,000. However, the trend is clearly lower, and if Bitcoin slides below the $6,000 support level, it can easily test the next support level which is all the way down at $3,000.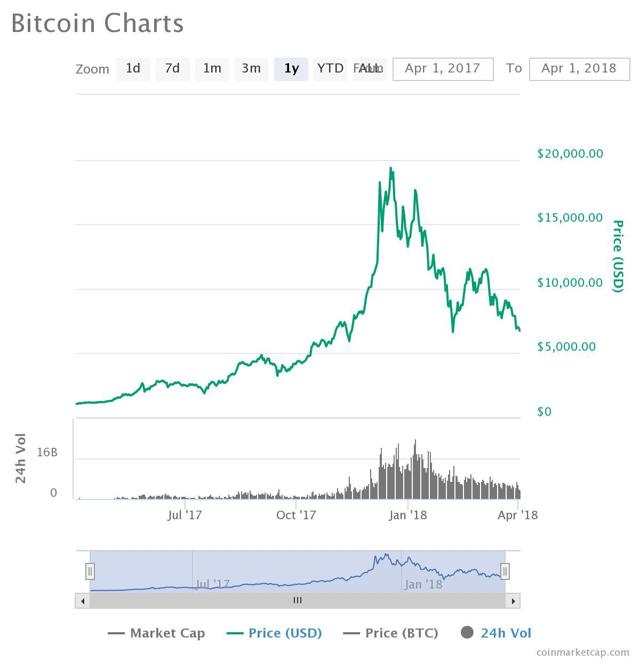 Moreover, if we look at a long-term chart of Bitcoin, we can see that the pattern developing is indicative of prior bear markets. These bear markets lasted anywhere from 6 months to about 2 years. How long will this bear market last? Only time will tell, but it is likely to go on for at least another several months, possibly a lot longer.
Also, we can see that prior bear markets erased 80% or more of the gains achieved in the preceding bull markets. This suggests that if Bitcoin was to follow this pattern again, it would be headed to $4,000 or lower, which puts the price target in line with the $3,000 major support level coming up after the $6,000.

Source: BitcoinCharts.com
The Trend is Not Your Friend Anymore
The bottom line is that the trend is not your friend in Bitcoin any more. Any attempts to "buy the dip" for anything more than a short-term trading opportunity have proven to be attempts at catching a falling knife. There is still an incredible amount of uncertainty surrounding Bitcoin, and without any significant positive developments hitting the wire, Bitcoin and other digital assets are likely to continue their slide lower in the foreseeable future.
Why I Sold Almost All My Bitcoin
The $6K level could present another short-term buying opportunity. But ultimately, it is likely to be just that, a very short-term trading opportunity. And that's if it even occurs. The trend is still lower in Bitcoin, and neither the techncials, nor the fundamentals look very appealing right now.
Yes, the Lightning Network is now being implemented, but it is a long way from becoming widely adopted. Therefore, its implementation in the short to intermediate term will likely play a limited role in relation to Bitcoin's price action. Moreover, other marginally favorable developments are likely to be overshadowed by the negative factors firmly in place around Bitcoin right now. Also, does anyone really know which shoe Bitcoin will drop next?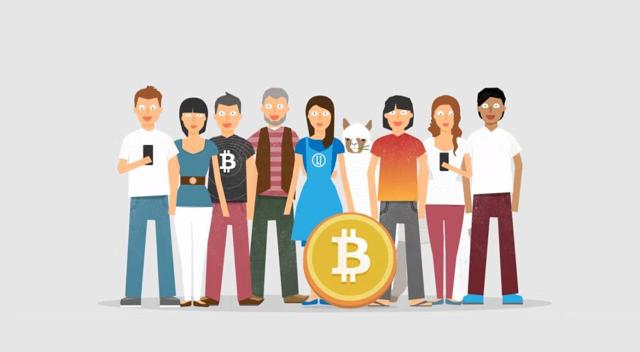 Source: PlayTech.ro
Finally, for Bitcoin to meaningfully turn around, sentiment needs to improve drastically. And there is no indication that this is going to occur any time soon. Moreover, don't expect any real "value seekers" to come in and bid the price up long term any time soon.
Why not? Because, to determine the true value of something, it needs to have clear value metrics. Bitcoin does not. With Bitcoin, there is just supply, demand, sentiment, and price. Right now, sentiment is poor, and demand is soft, so the price will likely continue to melt lower from here. We can only expect higher prices when sentiment improves and Bitcoin becomes increasingly popular once again.
Why I Still Own One Bitcoin
I believe that eventually the world will be ready to accept decentralized currencies on a mass scale. But that time is not now, because it's still extremely early in this "digital currency cycle". Eventually, Bitcoin will likely be worth much more than it is today. I want to buy Bitcoin at lower levels, preferably after a wave of heavy selling or capitulation occurs. It doesn't seem like we've seen the point of extreme pessimism and panic selling just yet. But we may soon.
Note: SA has introduced a new feature. Hit the "Like" button if you enjoyed reading my article. Also, feel free to hit the "follow" link to receive updates about my future ideas. Thanks for reading!
Disclaimer: This article expresses solely my opinions, is produced for informational purposes only, and is not a recommendation to buy or sell any securities. Investing comes with risk to loss of principal. Please always conduct your own research and consider your investment decisions very carefully.
To receive real time updates, and get more information about this idea as well as other topics please visit the Albright Investment Group trading community. Join us and receive access to exclusive content, trade triggers, trading strategies, price action alerts, and price targets. Theses value adding features are available only to members of our trading community, and are not typically discussed in public articles.
Disclosure: I am/we are long BITCOIN. I wrote this article myself, and it expresses my own opinions. I am not receiving compensation for it (other than from Seeking Alpha). I have no business relationship with any company whose stock is mentioned in this article.