Let's Not Put All Our Eggs In The Coastal Cities Basket
Summary
Pundits, many good ones, too, advocate restricting local rules that inhibit denser development because more people should have access to the best jobs.
The nation's economy would be more efficient and GDP would grow faster, they argue.
But they are wrong. Pushing jobs and opportunity out to less affluent cities would lead to better economic results and less inequality.
Left, right and center, economists and other pundits are plunking for a reduction in impediments to building new residences in high-cost cities like NYC and SF where the best high-paying jobs are to be found. See the articles referred to below and John Cochrane's excellent Grumpy Economist blog here as examples. Restricting access to these cities, it is reasoned, contributes to inequality and reduces potential national output.
In fact, the reverse is true, as I will argue in this article. Basically, it would be better to continue to restrict access to the great cities of the coasts. That would encourage smart young people to go elsewhere, building great cities between the coasts.
The basic reason the impediments are okay is quite simple: Building new residences in the densest cities where the best jobs may be found adds to the concentration in a few places of people with the best jobs who are making the most money. Everywhere else falls behind, placing more pressure on smart young people to move to the high-income locations. Thus the high-income cities become more insular and the low-income places become more resentful. And both kinds of places suffer from reduced (real) diversity and lower quality of life.
If all the smart young people moved to the apparently more productive coastal cities, the hollowing out of the nation's heartland would be exacerbated.
The basic argument in favor of more concentration
Chang-Tai Hsieh of the University of Chicago and Enrico Moretti of UC Berkeley explained the perceived problem in a 2017 NBER paper. In "Housing Constraints and Spatial Misallocation," published by NBER May 18, 2017, they argued as follows: Wage differences between cities are twice as great as they were in 1964, which suggests that labor productivity differences between cities have doubled. Therefore, output can be increased significantly by expanding employment in the high-productivity cities "at the expense of the low productivity cities." They call the current situation "spatial misallocation" that lowers aggregate growth.
The high-wage cities, Hsieh and Moretti point out, have "adopted land use restrictions that significantly constrained the amount of new housing that can be built." "Misallocation arises because the constraints on housing supply in the most productive US cities effectively limit the number of workers who have access to such high productivity."
Hsieh and Moretti continued: "We conclude that local land use regulations that restrict housing supply in dynamic labor markets have important externalities on the rest of the country. Incumbent homeowners in high productivity cities have a private incentive to restrict housing supply. By doing so, these voters de facto limit the number of US workers who have access to the most productive of American cities. In general equilibrium, this lowers income and welfare of all US workers."
The argument explained further
In "Whatever happened to the American boomtown?" Published in the New York Times December 6, 2017, Emily Badger surveyed the literature and, echoing Hsieh, Moretti and other economists, focused on how people are blocked from moving to the more prosperous places:
"But the larger problem is that they're blocked from moving to prosperous places by the shortage and cost of housing there. And that's a deliberate decision these wealthy regions have made in opposing more housing construction, a prerequisite to make room for more people."

"As a result, housing prices have soared in the most prosperous places, making them inaccessible to lower-income workers and negating much of the allure of the higher wages there. Over this same time, research shows that high-skilled migrants have clustered in these areas, while low-skilled workers have been more likely to move elsewhere."
In a later article, published December 24, 2017, "What Happens When the Richest U.S. Cities Turn to the World?" Ms. Badger went a step further:
"broad swaths of the country feel alienated from and resentful of 'elite' cities that appear from a distance to have gone unscathed by the forces hollowing out smaller communities. To the extent that many Americans believe they're disconnected from the prosperity in these major metros — even as they use the apps and services created there — perhaps they're right."
In the Yale Law Journal (where I was Managing Editor over 50 years ago), Yale Law School professor David Schleicher published "Stuck! The Law and Economics of Residential Stagnation," where he summarized as follows:
"In this Article, I have argued that state and local governments harm national labor markets and macroeconomic policymaking largely due to countervailing state and local interests."

"Still, the central problem is that state and local policymakers do not have incentives to protect the broader national labor market. Only federal policymakers can be expected to act on behalf of such an interest. As a result, while state and local policies are primary contributors to the mobility problem, the focus of reform must be at the federal level."
Counterpoint
My purpose in this article is to say why these arguments against impediments to building new residences in high-cost cities, while put forward by leading scholars, on balance are wrong. Indeed, I will argue that the decried impediments to building new residences are good for the nation, not only for the residents of the wealthier cities.
The basic reason the impediments are okay is quite simple: Building new residences in the densest cities where the best jobs may be found adds to the concentration in a few places of people with the best jobs who are making the most money. Everywhere else falls behind, placing more pressure on smart young people to move to the high-income locations. Thus the high-income cities become more insular and the low-income places become more resentful. And both kinds of places suffer from reduced (real) diversity and lower quality of life.
If all the smart young people moved to the apparently more productive coastal cities, the hollowing out of the nation's heartland would be exacerbated. Indeed, that conclusion is supported even by some of the economists cited by Ms. Badger:
"[after about 1980] Cities full of highly educated workers like Boston, San Francisco and New York began to pull away. And that pattern, Ms. Giannone finds, has been driven entirely by what's happening with high-skilled workers: When they cluster together in these places, their wages rise even more. That widens inequality both within wealthy cities and between wealthy regions and poorer ones."
If that is true, then encouraging greater concentration would continue to widen inequality, not to reduce it.
By contrast, the best policies would encourage less expensive cities to attract entrepreneurial talent and to make those places more vibrant and, ultimately, more expensive and high-earning.
The virtuous process of city renewal already is taking place - Why hinder it?
Pittsburgh is an example of a city that has become vibrant and innovative over the last few decades, largely due to civic spirit and the presence of two great universities - even after losing steel manufacturing and several major corporate headquarters. See, for example, here. Pittsburgh's detractors say, however, that the city has been designed for the affluent and that it has abandoned its suburbs where most of the manufacturing used to be. Those suburbs remain depressed, it is argued, and the renewal of the downtown has not included any significant manufacturing. See, for example, here.
The Pittsburgh case is a good test of what policy can accomplish and what it cannot accomplish. Policy can utilize existing civic assets to renew the downtown and to attract modern businesses. But it cannot reverse the decline in the need for manufacturing workers, simply because manufacturing now uses fewer workers to achieve the same output (probably by a factor of three), and much manufacturing that requires large numbers of workers can be done so much more efficiently by lower-wage nations.
But creating an affluent city does create jobs for the less affluent because the affluent require many services for which they are willing to pay. For people without modern-economy skills, such service jobs - and entrepreneurship in the services sector - are the best they are going to do.
The role of great universities
Great universities are magnets for educated workers, including in many Midwestern cities such as Minneapolis, Madison WI, Columbus OH, South Bend IN, Bloomington IN, Iowa City, Champaign-Urbana IL, Evansville IN and State College PA, and all of these cities are flourishing as a consequence. See John C. Austin (an educator from Michigan), "Tale of two rust belts," a four-part series published by Brookings.
Smaller towns without universities, unfortunately, often are not able to participate in this new-economy renaissance, but it may be better for their bright young people to move to more successful Midwestern cities rather than going farther away to San Francisco or New York. Columbus Ohio is the subject of a recent mash note by Rana Faroohar of the FT, in which she lauds the city leaders for focusing on digital education to attract employers—and hence young employees.
Low costs also can attract innovation
I have read that Cleveland and Detroit are beginning to have renaissances, as entrepreneurs come in to take advantage of their low costs. Those are wonderful developments. They will afford employment opportunities in less expensive cities and will tend to reduce the economic dominance of the coastal cities.
There is no one formula, but not all programs work
Austin TX, Phoenix AZ, Portland OR, even Portland ME, are experiencing growth of knowledge businesses and are attracting young talent. They may have to determine for themselves how to limit their population growth because a great Metropolis is not for everyone. A diversity of choices between the ways people may want to live is a freedom we ought to embrace.
Why should national policy seek to lure talent away from all those vibrant and potentially vibrant less expensive cities? Such a policy would be the opposite of what the nation needs. Why not encourage the less expensive cities to compete with New York and San Francisco? Their success will enlarge GDP and reduce inequality more than a greater concentration of talent in New York and San Francisco could do.
There are, however, places that probably will not be able to achieve success as centers of innovation. Oklahoma City may be an example, as seems to be demonstrated by a Brookings paper that advocates an innovation district for that city. The city simply does not seem to have the natural resources in education or amenities that make it suitable to compete with the many other cities trying to do the same thing. Places like OC probably should use other strategies to attract other kinds of businesses that prefer its type of environment.
Rural areas and small cities that lack excellent educational institutions also probably cannot achieve success as centers of innovation. Many of those places also are the hardest-hit by the decline of manufacturing and related economic detriments. See, for example, a recent paper on lack of employment in the nation's "eastern heartland" supported by Brookings.
There are no obvious fixes for places like this, but one should note that towns in more rural areas have been falling by the wayside for many decades - that is part of the natural progress of the nation - and if anything could help those places, jobs being pushed out from the coastal cities would be it.
At the local level, it gets complicated
At the local level, where the restrictive rules are made, the politics often get complicated. Some people want to preserve a certain ambience, other people want development. That is natural. And in many affluent areas, the tension plays out grudgingly, as it does in the San Francisco Bay area, which is depicted in a very good article from the New York Times. I am not suggesting that any system is perfect, only that permitting locals to make their own decisions is the better policy.
Where do the less-educated young Americans need new jobs?
A diversity of choices also is the best policy to enable young Americans to find good jobs. The following map comes from a recent study by Martha Moss and Nicole Bateman of Brookings called "On their way? A portrait of young adults." It shows where our at-risk young adults live. And, as a percentage of local population, they do not primarily live in our most successful metropolitan areas. They live in smaller cities and towns all over the United States.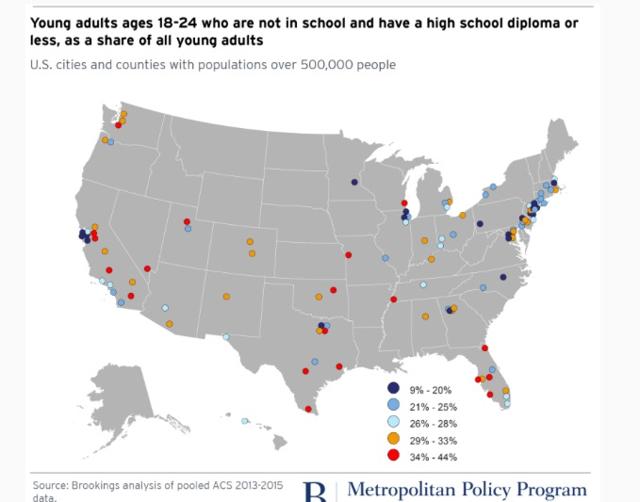 Courtesy of The Brookings Institution here.
The red dots are cities where the 18-to-24-year-old population has a higher-than-average percentage of people who are not in school and have only a high school diploma or less (33% to 44%). The yellow dots are the next most vulnerable at 29% to 33%. In the high-cost coastal cities, the proportion is 20% or less.
These data are important because the American economy is not creating many good jobs for people who have no post-secondary qualification. That job pool has been shrinking for a long time, and it is likely to continue to shrink. The best way (aside from more education) that such less-educated young people are likely to find good jobs is for the places where they live (or places nearby) to become more vibrant centers for more affluent people, who then will demand services that the less educated can supply.
Thus, although my personal emphasis long has been on bringing up the general educational level (see my book The Education Solution), that is a long-term process that may well come too late even for today's 18-to-24-year-olds. Their best hope is that the places near where they live will thrive and grow.
Therefore let the high-cost cities and their exclusive suburbs restrict the building of residential structures. Although that may well tend to entrench the people already there and to enhance their way of life, it also will encourage intelligent young entrepreneurs to set up shop in other places - and thereby those other places may be enabled to flourish and provide opportunities for the many people who already live nearby.
We can help
As investors and citizens, we can help the process of job creation outside the major cities. We can do so by supporting innovative, growing companies and educational institutions. Probably your portfolio already includes some of those investments, like Apple (AAPL), Alphabet (GOOG) (GOOGL), Tesla (TSLA) (oops?) and Amazon (AZN), as well as some smaller ones that you hope will grow more rapidly.
This article was written by
I was trained as a lawyer and practiced in the fields of corporate law and bank regulation in large U.S. firms for 20 years, then decided to do other things. My career has included banking and being an entrepreneur. For seven years I was CEO of a high-tech sports business. I have retired from active business and spend full-time writing, mostly on economic subjects. My books include: InStAbILItY: Booms, Busts, the Fragility of Banks, And What To Do about It 2017 High Rollers: Inside the S and L Debacle (1991) Debt Spiral: How Credit Failed Capitalism (2009) Practical Handbook for Bank Directors (1995), second edition due 2012 Corporate Governance for Public Company Directors (2003) Capitalism for Democrats (2019) Capitalism for America (2019)
Analyst's Disclosure: I am/we are long GOOG, AAPL. I wrote this article myself, and it expresses my own opinions. I am not receiving compensation for it (other than from Seeking Alpha). I have no business relationship with any company whose stock is mentioned in this article.
Seeking Alpha's Disclosure: Past performance is no guarantee of future results. No recommendation or advice is being given as to whether any investment is suitable for a particular investor. Any views or opinions expressed above may not reflect those of Seeking Alpha as a whole. Seeking Alpha is not a licensed securities dealer, broker or US investment adviser or investment bank. Our analysts are third party authors that include both professional investors and individual investors who may not be licensed or certified by any institute or regulatory body.