Monday's market selloff was highlighted by the tech sector. Interestingly enough, Apple (AAPL) fared quite well, only down 0.65%. The same could not be said for chip giant and Apple supplier Intel (INTC), which fell more than 6% on the news that Apple could dump Intel in its Mac computers as early as 2020. Today, I'll discuss the relationship between these two companies and provide my thoughts on the situation moving forward.
Before we discuss the latest report, let's just circle back a bit. I've covered the Intel-Apple relationship in three previous articles (back in 2013, 2015, and 2016). Especially for that first piece, Intel was struggling thanks to the surge in tablets hurting sales of traditional PCs. The chip giant was trying to show it was focused on the future, but it was falling behind.
While Intel has since diversified its business more towards the data center and other internet of things areas, a key move was Intel getting its modems into the iPhone. Part of this was due to the rocky Apple-Qualcomm (QCOM) relationship, but also a way of Apple diversifying its supplier base. This helped the perception surrounding Intel, and shares of the chipmaker have done quite well in the past year, before the recent fall of course.
The financial impact of Apple's potential move to dump Intel isn't estimated to be that large. According to Stifel analyst Kevin Cassidy, Apple only represented 4% of Intel's revenues and 1% of profits last year. Two years from now, if the chip maker continues its growth, those numbers could be even smaller. As the chart below shows, Apple held less than 8% of the traditional PC market last year.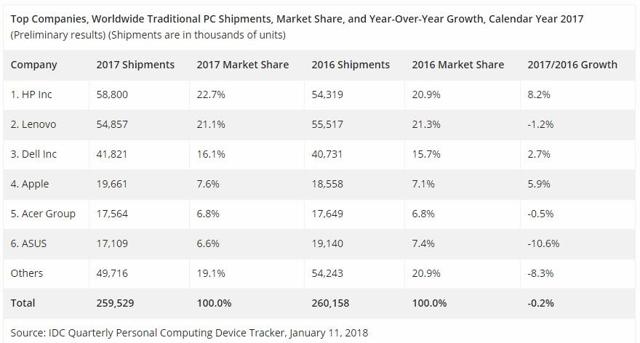 (Source: IDC Q4 2017 PC scorecard)
So what would be the main reasoning for Apple to dump Intel? It likely isn't really for financial gains. The first reason would be of course to bring things in house more, just as Apple designs its own chips for the iPad and iPhone. By having that control, the company can have a more predictable schedule, not relying on Intel to release chips just to launch new Macs. However, as a MacRumors article suggests, this is more about making Apple products work better together:
The Mac chip plans are said to be in the early stages of development and the transition from Intel chips to Apple chips could involve multiple steps, starting with the "Marzipan" initiative coming in iOS 12 and macOS 10.14 to allow developers to create a single app able to run on both iOS and macOS.

By using its own chips, Apple would be able to more tightly integrate new hardware and software, potentially resulting in systems with better battery life -- similar to iPads, which use Apple chips.
Personally, I don't think Intel bulls should take this as a shot against the company. While the Apple-Qualcomm relationship is extremely frosty, I don't see a similar situation between Intel and Apple. I just believe this is a natural progression by Apple to bring more things in house, giving the company more control. This probably is part of Apple's plan for some of its cash pile, spending more on capital expenditures to build out required resources.
The only way that this could have really hurt Intel moving forward is if Apple was planning on making a move down the PC price point ladder. If there was an expectation that the Mac line would be significantly expanded, mainly aimed at boosting market share into the teens, then some Intel bulls might fret at the missed opportunity, especially if other PC companies that rely on Intel lose market share.
In the end, the news about Apple potentially dumping Intel in Macs is just a slight positive for the technology giant and a slight negative for the chip giant. If this was a couple of years ago, where Intel was more reliant on the PC space, I think we would have seen a lot more headlines on this story. While the chipmaker would likely lose some revenues and profits, it's not a major blow given all of the growth moves undertaken in recent years. For Apple, its a way to bring things in house more, allowing more control of product development. In the end, that should tighten the Apple ecosystem, which means better products in the long run, a positive for shareholders.
Disclosure: I/we have no positions in any stocks mentioned, and no plans to initiate any positions within the next 72 hours. I wrote this article myself, and it expresses my own opinions. I am not receiving compensation for it (other than from Seeking Alpha). I have no business relationship with any company whose stock is mentioned in this article.
Additional disclosure: Investors are always reminded that before making any investment, you should do your own proper due diligence on any name directly or indirectly mentioned in this article. Investors should also consider seeking advice from a broker or financial adviser before making any investment decisions. Any material in this article should be considered general information, and not relied on as a formal investment recommendation.