As long-term investors we don't care about short-term price fluctuations and don't have to look out for the current sentiment. We also don't care about the stock price development of a certain company over the next twelve months (or even the next few years). Much more important is the ability of a company to generate above-average results over the long-term and therefore the most important factor guiding our search for investments is screening for companies with a wide-moat and competitive advantage.
The US stock market is extremely overvalued right now and it shouldn't come as a surprise that especially high-quality companies with a wide moat (and the ability to generate above-average returns for a very long time) are not anywhere near being cheap or a bargain. Quality usually has its price and we should be really exited if we find wide-moat companies that are cheap (for example based on a low P/E ratio) or have been declining steeply as this happens rather seldom. Although we shouldn't invest blindly, we have to look carefully at these companies to make sure we are not missing out on a great investment opportunity.
Four Distribution Companies
We can currently find four companies which have a wide moat and seem very cheap. The four companies are the medical waste disposing company Stericycle Inc. (Nasdaq: SRCL), the dental and animal health distributor Henry Schein Inc. (Nasdaq: HSIC), the pharmaceutical and medical supplies distributor McKesson Corporation (NYSE: MCK) as well as the pharmaceutical and medical distributor Cardinal Health Inc. (NYSE: CAH). The wide moat of all four companies stems - among other sources - from the cost advantages generated by the existing distribution network these companies have. And all four companies have been declining in the recent past - Stericycle has lost the most (about 61% since its highs), McKesson declined about 42%, Cardinal Health is down 31.5% and Henry Schein has lost "only" 28%.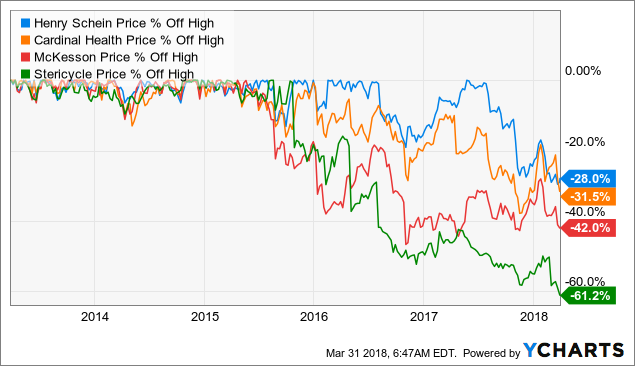 In the next section we first of all look at wide moats in general as well as cost advantages as source for wide moats in particular. Following that, we describe and analyze the four companies briefly before we finish by comparing the four stocks and based on intrinsic value calculations try to decide which of the four would be the best investment right now.
Distribution Networks As Competitive Advantage
Existing distribution systems and especially well-functioning and dense networks of distribution centers in strategical locations and distribution vehicles (trains, trucks, planes) are the source of cost advantages for companies. In the Morningstar study "Not all moats are created equal" the authors provide a good description why distribution networks create cost advantages, that are hard to match for competitors: "Firms that provide goods or services at a lower cost than their peers maintain a competitive advantage because they are able to undercut their rivals on price. Alternatively, they may sell their goods or services at the same price as rivals but achieve a more attractive profit margin." (Not all moats are created equal, p. 3)
These distribution networks are very hard to replicate for new competitors because of two different reasons:
High upfront costs: In a first step, a lot of money is necessary to build a distribution network. Usually a company needs distribution centers in strategical places (which are often expensive as these locations are highly coveted by other companies as well) and - depending on the source of transportation - either trains, trucks or airplanes are necessary to deliver the products. These transportation vehicles are usually expensive as companies need not only one truck, but plenty of them. Altogether, a company has extremely high expenses before it can even start delivering and generate revenue.
Low costs for existing companies: But even if a distribution system is in place and a new company spent millions on building such a distribution system it is still important how dense such a distribution network is. The density and strategical location of distribution centers will determine the costs of goods sold as well as the profitability of a company. And as the distribution networks of already existing companies are most likely denser, the existing companies can still lower prices to put new competitors under immense pressure.
For wide moat firms, it is quite common that these companies have a higher number of moat sources than narrow-moat companies. "Again, this is an intuitive result, as a higher number of moat sources should lead to more-sustainable economic profits. Our research indicates that 75% of wide-moat firms derive their competitive advantage from more than one moat source, compared with just 60% of narrow-moat firms." (Not all moats, p. 6) All four companies addressed in this article have not just one moat, but at least two. Or to put it a little different: The wide moat and competitive advantage of these companies stems from two different sources. In case of Stericycle and Henry Schein, aside from cost advantages there are also switching costs that come into play and widen the economic moat of these two companies. For Cardinal Health and McKesson, network effects also play a role and supplement the already wide moat created by cost advantages due to distribution networks and the resulting cost advantages. Companies with its moat stemming from cost advantages and network effects have a 10-year trailing return on equity of 17.8% and companies with the moat sources cost advantage and switching costs have a return on equity of 14.3% over 10 years on average (see: Not all moats are created equal, p. 10).
In the following sections we look at all four companies individually and start with Stericycle.
Stericycle is a company that specialized in collecting and disposing regulated substances (like medical waste and sharps as well as pharmaceuticals and hazardous waste). The company also provides secure information destruction and hard drive destruction services as well as communication services for companies. Aside from the United States, Stericycle operates in 21 other countries and has over 1 million large and small business customers.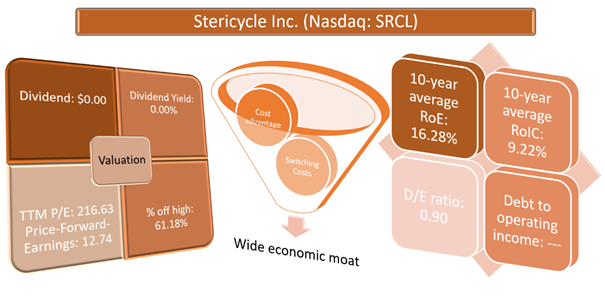 Stericycle has mostly grown through acquisitions and has completed almost 500 successful acquisitions, but especially the Shred-It acquisition was seen very critical by investors for several different reasons. First of all, the company probably overpaid for the deal and Stericycle has now a lot of goodwill on its balance sheet and rather high debt levels. But the more important reason why investors should be concerned is Stericycle risking its wide moat. Let me explain: Stericycle has an established network of processing and transportation locations in each country as well as a vast transportation network that is focused on route efficiency. This advantage has been built over two decades. By shifting away from the highly regulated disposal of medical and hazardous waste to secure information destruction, Stericycle is moving away from being a wide moat business as the secure information destruction business is much easier to enter for competitors.
However, Stericycle can expect a growing revenue as the overall market will grow in the next decades due to megatrends like aging population and older people usually require more medical attention leading to an increased medical waste. These megatrends will also be advantageous to McKesson, Cardinal Health and Henry Schein. For Stericycle additional regulations as well as the increasing enforcements to comply to the regulations also come into play and should have a positive effect on its business as well as the trend that more and more companies might use third party waste management services.
McKesson is based in the United States and distributes health care systems, medical supplies and pharmaceutical products. McKesson is a global leader in healthcare supply chain management solutions, retail pharmacy and community oncology. McKesson provides medicines, medical products and healthcare services to provider, pharmacies, governments and healthcare organizations. The distribution solutions segment distributes branded and generic pharmaceutical drugs; the technology solutions segment provides clinical, financial and supply chain management solutions to healthcare organizations.
In North America, McKesson's pharmaceutical distribution and services business is the largest pharmaceutical distributor in the United States with more than 40,000 customers. The U.S. pharmaceutical distribution segment has three primary customers like independent retail pharmacies and institutional healthcare providers like hospitals, health systems, integrated delivery networks and long-term care providers.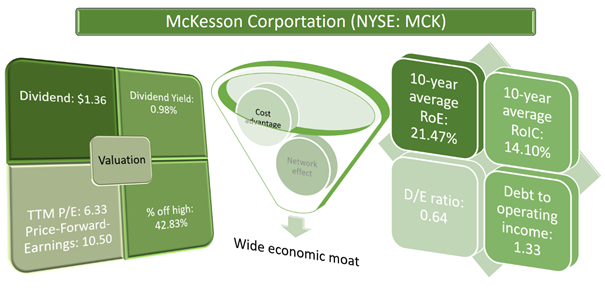 A big threat for McKesson as medical distributor are the ongoing political discussions - mainly in Washington - about drugs prices being too high and especially spending for pharmaceuticals and the medical system are growing too fast. Right now, we don't know if investors have to fear any disturbance from the political system, but new regulations from Washington could have a major impact on the entire industry. A second important aspect is the ongoing discussion about the opioid epidemic. But on the other hand, McKesson will also profit from the aging population and the necessary medical attention, which means more items to distribute.
Cardinal Health is a healthcare services and products company that was founded in 1979. The company is split in two different segments - the pharmaceutical segment and the medical segment. The company is providing customized solutions for hospitals, healthcare systems, pharmacies, clinical laboratories and physician offices. The medical segment manufactures, sources and distributes Cardinal Health branded medical, surgical and laboratory products in the United States, in Canada, Europe and Asia. The pharmaceutical segment distributes branded and generic pharmaceuticals, specialty pharmaceutical and over-the-counter healthcare and consumer products in the United States. This segment is responsible for 90% of total revenue but has much lower margins than the medical segment.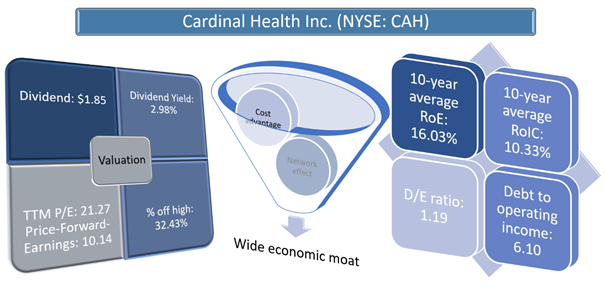 Although there are not really problems with the business of Cardinal Health, the results are kind of mixed and pharmaceutical revenue declined extremely in 2013 and 2014 and in 2017 profit from the pharmaceutical segment declined in the double digits (after it grew about 20% in 2016 and 2015).
From 2013 till 2016 earnings per share could increase, but in 2017 EPS declined again and in the years before earnings per share weren't really stable. For Cardinal Health we also have to point out the increased debt levels (especially debt to operating income is rather high), which could become an important factor when interest rates keep rising. Big threats to Cardinal Health's business model are also the discussions about too high drug prices and the ongoing discussion about the opioid epidemic (see McKesson) and a potential political decision could have effects on revenue as well as profitability.
Henry Schein
Henry Schein is mainly a distribution company, focused on dental supplies, animal health and medical supplies. 96% of revenue stems from distributing consumable products, small and large equipment, surgical products as well as laboratory products and diagnostic tests. Henry Schein is the number one dental distributor and the number one animal health distributor in the world. Aside from distribution, the technology and value-added services group of the company provides software, technology and other value-added services to health care practitioners. This segment is only contributing about 4% to total revenue but generates much higher operating margins than the distribution segment and contributes a relative high amount to net income. Although the company operates in 34 countries, 63% of total revenue in generated in the United States.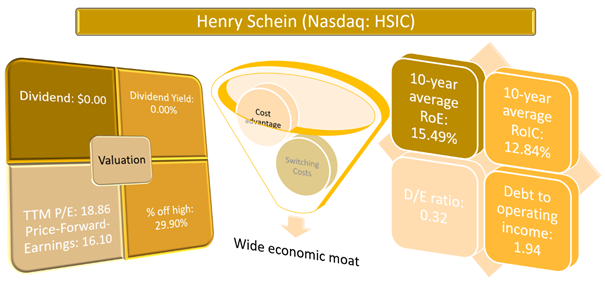 Henry Schein is not just selling a lot of recession-resistant products (although there might be some slight fluctuations, medical and dental supplies are needed in times of boom as well as in times of recession), but also has a wide moat due to its distribution system like McKesson and Cardinal Health.
Which Company To Invest In?
The silver bullet would be investing in all four companies and minimizing risk by diversification and investing in four good companies at the same time. However, if you have to pick just one company, it depends on what you are looking for. If you are looking for dividends, Cardinal Health would probably be your favored pick as Stericycle and Henry Schein pay no dividends at all and are not intending to start paying a dividend in the near future and McKesson's dividend yield is still below 1%. Cardinal Health is the only company with a dividend yield close to 3% right now.
But leaving dividends aside, McKesson is in my opinion the favored pick as it has the highest return rates and shows stability. Not only is the return on equity the highest, but also the return on invested capital. According to the above-mentioned Morningstar study, companies with cost advantage as source for wide moats have a trailing 3-year return on invested capital of 11.1% and a trailing 10-year return on equity of 16.2% on average. We have to keep in mind, that these RoIC and RoE are already well above average, but McKesson is even beating these numbers. McKesson's RoIC is 14.10% and the RoE is 21.47% which shows what a superior company McKesson is.
Intrinsic Value Calculation
Of course, we are searching for superior business models and companies that are able to outperform competitors. But we also have to look at the current price the stocks of these companies are trading for, because it is not enough to just have a great business (and the stock is extremely overvalued).
Calculating the intrinsic value using a DCF calculation shows, that three of the four companies are valued almost for a zero-growth scenario. Using a 10% discount rate and the free cash flow of the last twelve months, Cardinal Health needs to grow its FCF about 0.8% annually and Stericycle as well as McKesson need to grow about 2.5% annually to be fairly valued right now. Henry Schein however has to grow 8.6% a year to be fairly valued.

If we assume 3% growth for perpetuity - which is for wide moat companies absolutely realistic - three of the four companies are undervalued right now. Only Henry Schein has to grow over 8% for the next decade in order to be fairly valued. The highest growth rate I would expect for McKesson and Henry Schein, but - as mentioned above - the company needs high growth rates in order to be fairly valued. McKesson on the other hand is significantly undervalued if we assume at least 5% growth for perpetuity (which is realistic). And once again, McKesson is the preferred pick of the four.
Conclusion
Among many quotes from Warren Buffett, there is one very famous quote about the interplay between the quality of a company and its valuation:
"It's far better to buy a wonderful company at a fair price than a fair company at a wonderful price." (Warren Buffett)
In most cases we have to decide between the quality of a company and its price, because high-quality companies are seldom cheap and extremely cheap companies are seldom high-quality companies. In very rare cases we have the opportunity to buy a wonderful company at a wonderful price and we don't have to decide. McKesson is a high-quality company for a wonderful price. In another article, I predefined $120 as preferred entry point for McKesson, but the company is also a buy at current prices.
Disclosure: I am/we are long SRCL. I wrote this article myself, and it expresses my own opinions. I am not receiving compensation for it (other than from Seeking Alpha). I have no business relationship with any company whose stock is mentioned in this article.
Additional disclosure: If not otherwise disclosed, all charts in this article are my own work.