One Thing Is Going Right For General Electric
Summary
A lot of turmoil has hit General Electric over the past year as surprise after surprise has hammered the business.
You wouldn't think that one of its hardest-hit businesses in recent years would be a contributor to the company's improvement, but that's what's happening.
The segment also has attractive catalysts and management is innovating to find excellent value.
This could be a great rebound for the company, but my preference is for the segment to be sold off.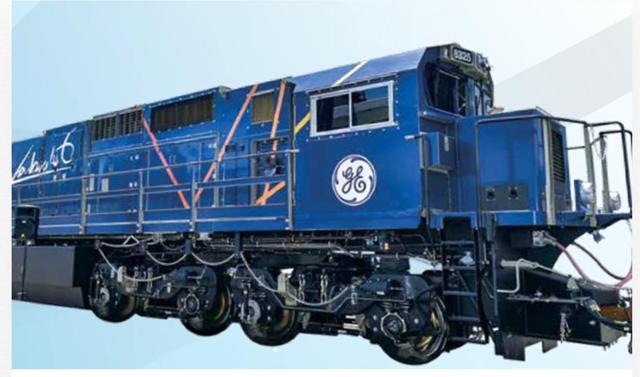 *Taken from General Electric
For all the pain shareholders in General Electric (NYSE:NYSE:GE) have been through in the company over the past year, there do exist several bright spots to consider. One that I haven't talked about previously, but that could be on the verge of posting a recovery, is the conglomerate's Transportation segment. Despite falling sales over the past couple of years now, an aging fleet of locomotives and management's efforts to think outside of the box may be setting the stage for attractive value in the years to come.
Transportation has suffered
2017 wasn't a particularly positive year for General Electric's Transportation business. As you can see in the graph below, both revenue and segment profit hit an at-least five-year low. Revenue fell from $4.71 billion in 2016 to $4.18 billion last year for a drop of 11.4% year-over-year. What's more, sales in both years were substantially lower than in prior years, especially 2015 when revenue totaled $5.93 billion.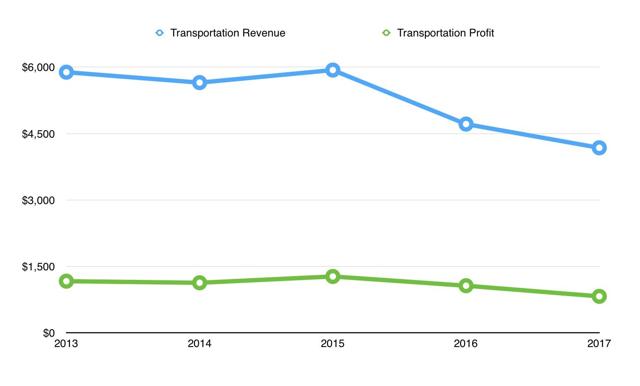 *Created by Author
Profits have also fallen materially in the recent past. After hitting $1.27 billion in 2015, they plunged to $1.06 billion in 2016 before finally dropping further to $824 million last year. Because a sizable portion of the business' sales come from the construction and sale of locomotives, mining equipment like drive systems, and engines for both onshore and offshore drilling rigs (all of which are asset-intensive businesses), margins tend to be slim anyways. This means that a dollar drop in sales should lead to a much larger decline in profitability.
When I first began looking at these figures, I figured that like other parts of General Electric, Transportation is undesirable and should be offloaded for whatever management can get. I do still feel that the business should be spun off, but after a deeper dive I am of the opinion that management has some attractive catalysts that, if they act on, can generate enough value to warrant an attractive purchase price for the segment.
Locomotives have a long-term catalyst
I'm a big believer in the role that railroads will likely continue to play in the development and operation of the US economy, but the past couple of years have been tough for some key players in this space. I have long written of the issues that railcar manufacturer and leasing management company Trinity Industries (NYSE:TRN) has faced (as well as talked about the upside of it since I owned shares in the business). The same kind of negative trend has affected companies like General Electric, which produces and sells locomotives to key customers globally.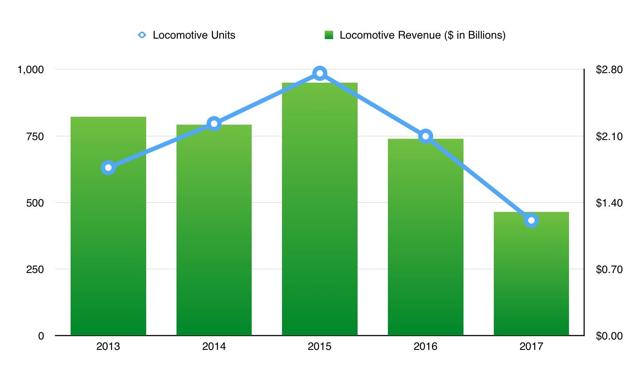 *Created by Author
In the graph above, you can see the trend that locomotive unit sales have taken over the past five years. After rising from 631 units in 2013 to an impressive 985 units in 2015, we saw orders tank. In 2016, sales fell to 749 units, while 2017 saw a further contraction to a paltry 433 units. The reason for this decline stems from a hit taken to global commodity markets. As you can see in the image below, we saw a large drop in tons transported by rail (using Class I railroads) following 2014, driven in large part in the US by the burst of the shale market. In the image below that, you can see that the dip experience should be temporary. Between 2015 and 2040, tons transported should grow by 41%, with a nearly 12% increase occurring between 2015 and 2020.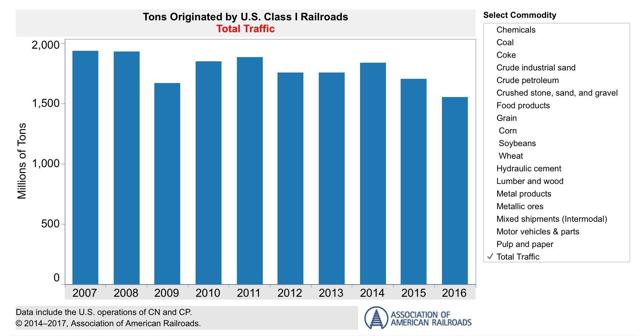 *Taken from the Association of American Railroads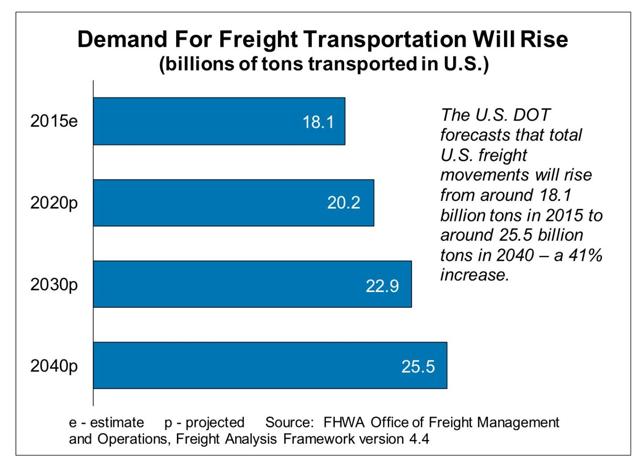 *Taken from the Association of American Railroads
Although hundreds of units don't sound material for a business as large as General Electric, the high price tag of the units means that even small changes can affect sales in a big way. Revenue associated with locomotives dropped from $2.66 billion in 2015 to $2.07 billion in 2016. In 2017, results were far worse, having declined to $1.30 billion. Fortunately, the rest of the Transportation segment held up well. Even though sales of locomotives declined a great deal, the drop from them representing 45% of the segment's sales in 2015 to just 31% of the segments sales is a positive.
After a couple of down years, though, we appear to be at or near an inflection point. Management stated in their 2017 annual report that they are seeing some recovery in Class I railroads, both in terms of intermodal transportation and in commodity carloads. This is great news in and of itself, but what could compound the situation in the company's favor is the fact that the fleet of locomotives continues to grow older every year.
*Created by Author
Take, for instance, Union Pacific (NYSE:UNP) and Norfolk Southern (NYSE:NSC). In the graph above, you can see the average age of these two railroad operators' fleets over the past decade (ending in 2017). Over this timeframe, Union Pacific has seen its fleet's average age grow from about 16.3 years to 20.7 years. For Norfolk Southern, the picture has been even worse. In 2008, the average age of its fleet stood at 18.9 years. Today, that number is 24.4 years, with each year posting a new high. Union Pacific does not post the average retirement age of the locomotives it removes from its fleet, but Norfolk Southern does.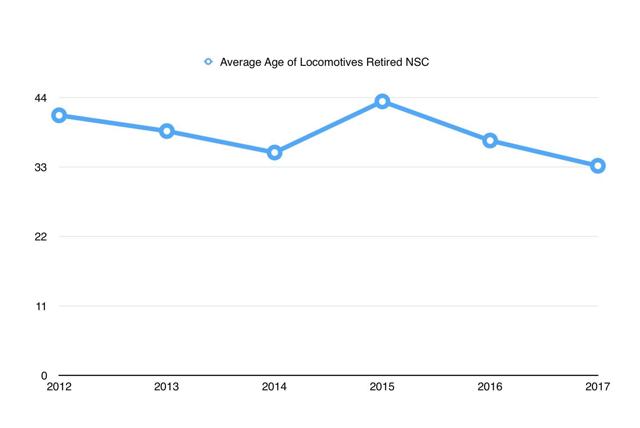 *Createdy by Author
In the graph above, you can see that since 2012 (with the exception of 2015), we have experienced a sizable decrease in the age of the units it's removing from its books, with that figure now at 33.2 years. This means that even while the company's fleet is growing older, it's retiring younger locomotives every year. What makes this even more interesting to me is the fact that this is all taking place at a time when a larger percentage of at least Norfolk Southern's units are classified as being older. In 2008, only 53% of the company's locomotives were older than 10 years. By 2017, that number had grown to 73%.
Not every company is reporting an aging fleet. Take, for instance, the case of Canadian Pacific Railway (NYSE:CP). From 2015 to 2017, the company saw the average age of its locomotives plummet from 25 years to 12. This occurred because of management reducing its standard direct current locomotives from 412 units to 254, dropping the age of those from 30 years to 15, and because management increased its high-adhesion alternating current units from 769 to 818, dropping their average age from 10 years to just 6. However, Canadian Pacific is by far an exception to the rule.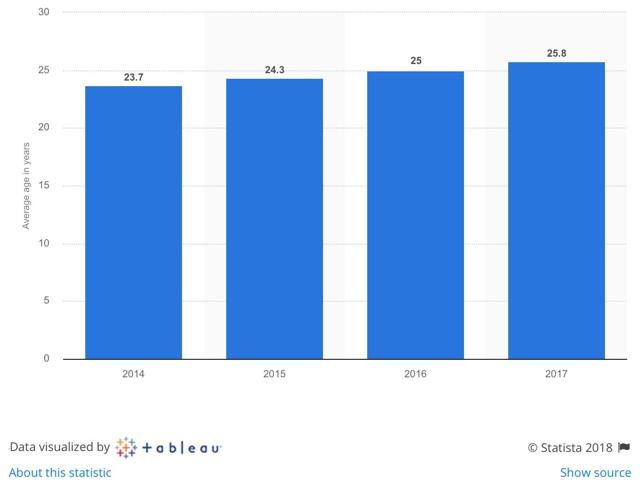 *Taken from Statista
Today, there exist over 140 thousand miles of rail in the US alone that's operated by at least 538 private operators (only seven of whom are Class I operators). Of these players, it looks as though the average age of locomotives continues to increase. In the image above, you can see what has happened just between 2014 and 2017. Based on the numbers, the age of locomotives in North America on the whole has risen from 23.7 years in 2014 to 25.8 years today.
Placing a life expectancy on locomotives is nearly impossible to do because there are countless factors in determining how long each unit will survive. That said, we are left with some clues. As I already mentioned, Norfolk Southern is seeing the age of retired units approaching 30 years, while Canadian Pacific's reduction in older units appears to have been around the 30+ year mark. One interesting piece of data can be seen courtesy of the Bureau of Transportation Statistics.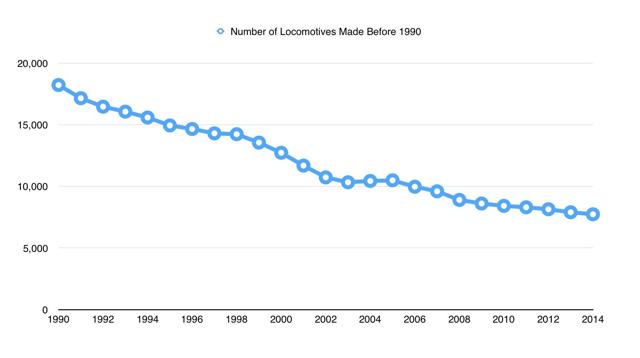 *Created by Author
In the graph above, you can see the decline in the number of locomotives created before 1990 between 1990 and 2014 (the last year for which data is available). In 1990, there were 18,227 units created prior to that year. By 2014, the number fell by 10,490 units, or 57.6%. The youngest of the units at the end of 2014 still on the rails stood at 24 years of age, but it's highly probable that there were some at or above the 30 year mark. When coupled with the aforementioned data, this means that we are likely to see additional churn from railroads in the next 5 years as a larger and larger percentage of locomotives approaches that threshold.
In the event of a recovery in this space, it's highly probable that General Electric will be a significant beneficiary. According to the Bureau of Transportation Statistics, there were 1,040 locomotives delivered in the US alone in 2014. While we don't know the share that General Electric had in the US, we do know that total units sold that year globally numbered 796. To try and collect further information, I contacted some publicly-traded railroad operators and the only one that responded to me, Union Pacific, said that they only buy their locomotives from two sources: General Electric and a subsidiary of Caterpillar (NYSE:CAT).
Given the significant market share General Electric appears to have, it already has a nice stake in the industry, but what will help to ensure the business' success upon a rebound in this space is the suite of services it offers. Partnering with Intel (NASDAQ:INTC) and other firms, General Electric has managed to create what it calls its Global Performance Optimization Center. Using state-of-the-art technology, the center keeps and manages real-time data on over 17 thousand locomotives spread across 23 countries. Every day, the firm receives over 2.5 million messages that relate to locomotive performance, speed, and other significant factors that it uses to help optimize vehicle performance. With that kind of option for customers, not to mention the economies of scale it surely generates thanks to its large market size, the business must be a viable consideration for any railroad operator.
Management's niche business adds value as well
Not only will a recovery in the locomotive space, combined with an aging fleet among some major players, lead to stronger sales in the future, management is also focusing on providing innovative services to its customers who want to maximize their locomotives' productivity. Today, the conglomerate runs what it calls 'GEMS' (GE Manufacturing Solutions), a 1 million square foot facility employing over 500 employees in Fort Worth, Texas.
In the past, General Electric has taken on locomotives from around 30 of its customers and modernized them. By fitting them with the newest technology, these older units (many of them around 25 years of age) have seen fuel efficiency improve by up to 10%, while maintenance and repair costs have fallen by as much as 20%. Pulling power is expected to expand by up to 25%, while average life expectancy of modernized units should grow by between 15 and 20 years. All of this generally costs only about 40% of what buying a new locomotive would. Customers have included not only Norfolk Southern, which is buying kits from General Electric so they can perform the upgrades themselves, but also Canadian Pacific.
In 2017 alone, the company managed to upgrade 170 units, but that's just the start. Today, the business has orders for around 1,000 units that it's hard at work fulfilling. In addition, as part of its $1 billion contract with Ukraine that was announced in February of this year, not only will General Electric manufacture and sell to Ukrainian Railways new locomotives, it will also be working on the modernization of the country's existing units.
Takeaway
Beyond any doubt, General Electric has had a tough time with its Transportation business in recent years, but the tide appears to be turning in the segment's favor. With attractive catalysts for locomotives coming up, both from an industry perspective (over the next 5 years) and from the perspective of its modernization opportunities (many taking place and ramping up right now), it's likely that the future will look better for this part of General Electric's business than the recent past has been. Due to the non-core nature of Transportation, I would still be interested in management divesting of this segment (or most of it), and if the firm can appropriately convey the value opportunities of the business, then it wouldn't be unreasonable to expect investors to pay a premium for it because of the industry improvement and attractive catalysts.
This article was written by
Robust cash flow analyses of oil and gas companies
Daniel is an avid and active professional investor. He runs Crude Value Insights, a value-oriented newsletter aimed at analyzing the cash flows and assessing the value of companies in the oil and gas space. His primary focus is on finding businesses that are trading at a significant discount to their intrinsic value by employing a combination of Benjamin Graham's investment philosophy and a contrarian approach to the market and the securities therein.
Analyst's Disclosure: I/we have no positions in any stocks mentioned, and no plans to initiate any positions within the next 72 hours. I wrote this article myself, and it expresses my own opinions. I am not receiving compensation for it (other than from Seeking Alpha). I have no business relationship with any company whose stock is mentioned in this article.
Seeking Alpha's Disclosure: Past performance is no guarantee of future results. No recommendation or advice is being given as to whether any investment is suitable for a particular investor. Any views or opinions expressed above may not reflect those of Seeking Alpha as a whole. Seeking Alpha is not a licensed securities dealer, broker or US investment adviser or investment bank. Our analysts are third party authors that include both professional investors and individual investors who may not be licensed or certified by any institute or regulatory body.