In November 2017, on a long journey to the Olaroz-Cauchari Basin in Northwestern Argentina, I had the opportunity to spend time with Richard Seville, CEO and Managing Director of Australian-based Orocobre (OTCPK:OROCF). Orocobre is best known as the only lithium brine explorer to bring meaningful new capacity to the market through a Greenfield operation in over 20 years. During our discussion we covered many topics, but the key take-away points were around the challenges and obstacles to bringing a new lithium brine facility to market. It was also good to get Seville's insight into what has changed in the market - the latter is relevant to junior miners and investors alike who are trying to develop or bring to market lithium projects.
My investment thesis remains unchanged: invest in late-stage exploration and early-stage production companies along with companies that offer some form of strategic value, such as a well-positioned land package or end-user relationship. Consumer uptake rates for new technologies such as electric vehicles and energy storage systems have taken flight, lithium prices are firming up well above $10,000 T LCE, and new lithium supply is required. However, existing producers such as Albemarle, SQM, and Orocobre have announced their plans to increase production, while new Chinese investment into Greenfield projects across the Americans and Australia, will ensure that fresh capacity enters the market. It is my opinion that the window of opportunity for early-stage lithium explorers has closed, which is why I urge investors to focus on companies that meet the criteria noted above.
A maturing demand landscape and firming price structure
A limited amount of new lithium supply, coupled with the need to feed new Asian production assets, has spurred lithium carbonate prices to all-time highs. It is my opinion that outside of China, lithium pricing will trend at a 30% discount to Chinese domestic pricing (see chart below). This means that pricing outside of China will still need to play catch-up until the end of CY2018. Due to the rapid transition of the energy evolution, over the midterm it is hard to determine the exact amount of lithium chemicals that are required to fuel new applications. There are scenarios built out around the penetration rates of electric vehicles but ultimately the limiting factor is battery manufacturing capacity.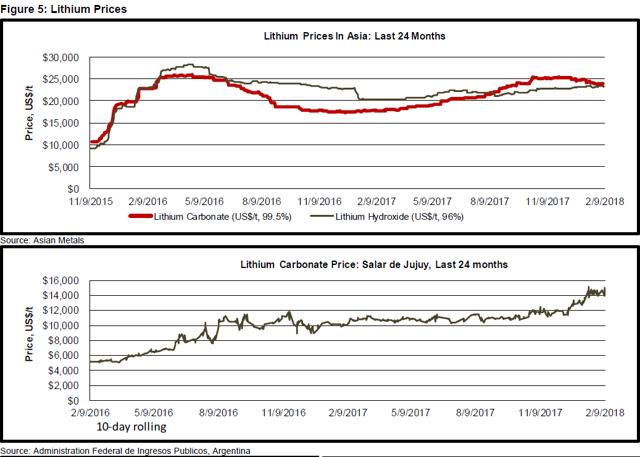 In order to run a battery and material plant, raw materials are required as feedstock input. Simply looking at the rate of expansion and the number of new facilities that are under construction in China, it is clear that a significant supply of new lithium will be required to enable the creation of these assets. My experience in the energy technologies business has shown me that large assets are not constructed to sit idle; rather, they are constructed with 80% of their future production capacity already allocated. Battery manufacturers are usually booked out 12 to 18 months. The battery business tends to grow as new supply exceeds current demand. This means that the largest part of new asset construction is already booked out for years to come.
The same equation obtains in the lithium supply business. Major lithium producers will not spend hundreds of millions of dollars to expand existing assets unless there is firm demand in the market for additional capital. Nor does it benefit existing producers to flood the market with supply, because this has a big impact on their own earning statements. In my opinion, existing producers will continue to monitor the state of their customer order books and determine what the actual state of new supply is, then make informed decisions around expansion plans. It is also important to appreciate that the vast majority of financing for lithium projects is coming from strategic players who understand the supply and demand factors within the market. If these strategic companies felt that a tidal wave of supply would suppress market pricing, they would avoid placing large investments into a sinking production ship. Project financing continues to become available because the market is expected to remain in an undersupply scenario throughout the next stage of growth. Material producers risk having their assets sit idle unless they secure their supply of chemicals. For all of these reasons, expensive lithium has triggered a race for large strategic players to secure supply.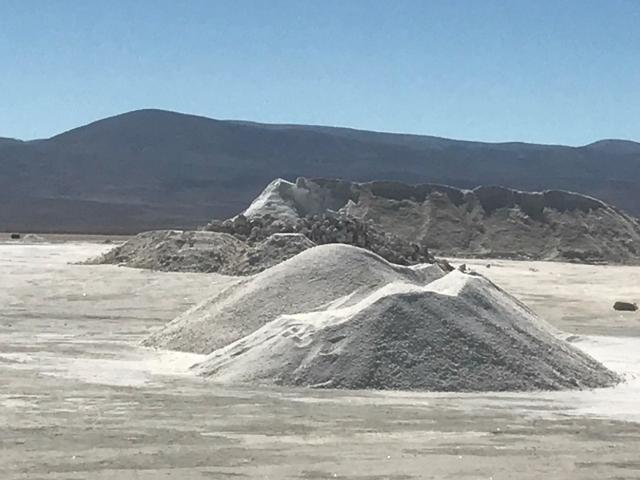 (Northwestern Argentina Salt Flats – Author Supplied)
My own analytical conclusions are shared by Richard Seville, who offers the following feedback: "it will absolutely stay above $10,000, and the supply side response is so slow and muted"; he continues, "I am not getting pushed back these days on pricing, the idea of a tidal wave in oversupply hasn't happened".
Financing is becoming increasingly available
Richard Seville made a statement concerning lithium project financing that I have referenced dozens of times since our conversation: "This wasn't going to be a gold project in Arizona, banks wouldn't touch it, so we searched for the right partners". This statement really does summarize the financing situation for lithium projects. Orocobre in its early days was able to secure a relationship with Toyota Tsusho, the strategic trading arm of Toyota Motors (TY). As a joint venture partner on all of the projects, Toyota Tsusho has brought in Japanese commercial lenders who successfully financed Stage 1 of the Olaroz project on very favorable terms. In January 2018, the joint venture partnership announced that Toyota Tsusho (OTCPK:TYHOF) will invest A$282 million into Orocobre, with the majority of the proceeds earmarked for Olaroz Stage 2 expansion. Orocobre has also completed an independent capital raise to increase its cash position and support the financing of the Japanese lithium hydroxide facility. I fully expect that Toyota Tsusho will bring in commercial lenders to fill the gap in the Stage 2 expansion at Olaroz and its related hydroxide facility development.
With Toyota Tsusho in Orocobre's back pocket, Orocobre has had the ability to expand production and to better position itself within the global lithium supply chain as a value-added player. It is my expectation that the company will continue to build the Olaroz facility through multiple expansion stages and add complimentary assets to enhance shareholder value. In a presentation given by Richard Seville in December 2017, he alluded to the possibility of an entrance into the Chinese market. These types of options become easier to entertain with a strong commercial partner supporting the company's efforts.
Seville's position on the issue is reflective of the market transactions that continue to occur: "financing is now available, and that's a big deal. Massive sovereign risk is not a consideration in Argentina anymore. The demand for lithium has never been stronger and prices are firming up above $10,000T. That makes it easier compared to a backdrop of $5,000T – timing is everything".
Without financing, a project can be sold to a strategic purchaser (as we saw with the sale of LithiumX to Nextview Holdings in Q1 2018). Financing can be exceptionally difficult to obtain. As an example, Lithium America's (LAC) project at Cauchari sat idle for a number of years because the country's political landscape was not investor friendly, because electric vehicles sales failed to materialize, and because lithium prices remained low. In the past two years, with billions being invested into new battery manufacturing capacity, a number of strategic players have surfaced who are looking to secure supply. This has led to billions of dollars being invested by large battery and material manufacturers, along with Asian investment firms and automakers:
March 2018: CATL announces $66 million investment into North American Lithium, which will allow the company to expand its current product offering from spodumene concentrate to lithium carbonate.
February 2018: POSCO announces supply agreement and investment into Australian lithium play Pilbara Minerals (OTCPK:PILBF).
January 2018: Toyota Tsusho, the strategic trading arm of Toyota Motors, invests nearly A$300 million into Orocobre in consideration for 15% of the company
December 2017: LithiumX, a Toronto-based lithium junior exploration company, announces that Nextview Investment will acquire all of the outstanding shares in the company for $265 million.
November 2017: Million Surge, a wholly-owned subsidiary of GCL, makes a sizable investment of $30 million into Millennial Lithium (OTCQX:MLNLF)
March 2017: Talison Lithium, a joint venture between Albemarle (ALB) and Tianqi, announces they will expand production at the Greenbushes lithium site.
January 2017: One of China's largest battery materials companies, Ganfeng, confirms a direct investment into Lithium Americas that will allow the company to move its Cauchari Basin project into production by 2020.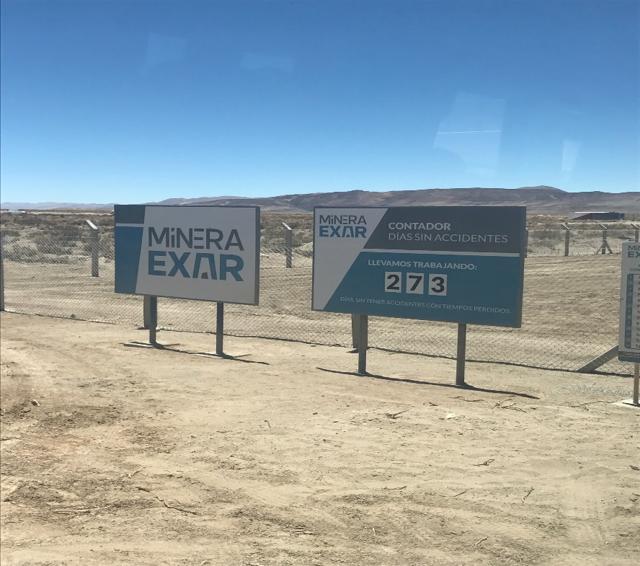 (Signage to Lithium Americas facility in Northwestern Argentina- Author Supplied)
Supply side has remained muted
A common theme within the lithium supply market has been the so called "tidal wave" of new supply that will chop lithium prices in half and decimate the industry. As an investor in this space for nearly six years, I have been patiently waiting for the anticipated new wave to arrive. It is important to note that both new supply and new demand have historically failed to materialize, but this situation has changed over the past two years. Consumer increase and government mandates are forcing automakers to increase the number of electric vehicles on offer, which is driving investment into the battery manufacturing business. In turn, this is driving down the cost of battery technologies, which is opening up the market for stationary energy storage systems. Demand is well on the rise and industry forecasts indicate robust growth over the next decade in both primary and secondary applications.
The lithium supply chain is now playing catch-up to demand from end applications. As noted throughout this document, lithium supply is not a faucet that can be easily turned on and off to match demand. With an average development time for a new brine and hard-rock facility pegged at 5 years, and assuming that financing is in place, the next wave of supply will not arrive until 2022-23. At that point, the industry will need to already be planning for the next stage of growth, because increased demand for electric vehicles and energy storage systems will require much more lithium supply.
In short, the reason that new supply never arrived was because of slow uptake in new technologies and lack of financing, which are interrelated. Richard Seville said it best last November, "they told me one year ago that a tidal wave of supply was coming, then again in March and again in May. Where is it?" Despite the successes that Orocobre has achieved in the past year, shares in the company are under attack and are now trading well below the Toyota investment price point of A$7.50/ share. Although the market fundamentals continue to improve, which will ensure that new players enter the market, there is still no reason to believe that there is oversupply in the market.
Seville goes on to provide his opinion of what transpired on the supply side: "looking at it very simply, projects that were going to be there, didn't happen. Supply projections didn't happen. More material will be supplied this time around because financing will be there and demand is there and high prices are there, but not all of the projects will go through. Concentrates will be shipped to China, things are happening, but it still isn't enough."
In 2016-17, dozens of companies formed, raised capital, and flocked to Argentina to lock up land packages and undertake exploration programs. This process has seen some successes and some failures. Despite most of these newly formed junior exploration companies having no expertise or knowledge concerning the development of lithium projects, at least a few projects will still find their way to market beyond 2022, due to shortage in supply and high lithium price.
My expectation is that a few high-quality lithium brine projects will come to market over the next few years. The companies that have already attracted investment or acquisition will likely move forward over the next five years:
Lithium America - The company was successful in recruiting Ganfeng as a strategic offtake partner for their portion of lithium chemicals produced at Cauchari. For those unfamiliar with Ganfeng, the company was established in 2000. The Ganfeng group is the largest integrated lithium producer in China, with a total capacity of around 30,000 tonnes per annum of LCE. Ganfeng's products include lithium metal, lithium hydroxide, lithium carbonate, lithium fluoride, and lithium chloride. The companies reached a financial agreement that will see Ganfeng invest over $190 million in exchange for approximately 19% of the outstanding shares of Lithium Americas. A private placement was completed for around $50 million and a $125 million project debt facility has been established that will allow the company to quickly move into construction in 2019. In addition to arranging the financing, the companies have established the terms of an offtake agreement that will see Ganfeng have access to a large component of finished goods delivered from the Cauchari site at market prices.
LithiumX – One of the more important 2017 transactions was the acquisition of Lithium X (OTCPK:LIXXF) by Chinese investment group Nextview for $265 million, or $2.61/ share. Nextview is a large Chinese resource-focused organization that has teamed up with Tibet Summit to establish a $1.5 billion investment fund for acquiring overseas mining assets with a focus on new energy resource sector. Lithium X is a junior lithium exploration company focused on its flagship project, the Sal de los Angelese project in the Argentina region of the Lithium Triangle.
In addition, I believe that both NeoLithium (OTCQX:NTTHF) and Millennial (OTCQX:MLNLF) will be able to attract the necessary capital to finance stage one of their projects; alternatively, they are well-positioned to be acquired by a strategic player looking to enter the lithium production market through the acquisition of advanced-stage lithium explorers. It is my opinion that large chemical and mining and companies in the lithium supply chain will seek to secure supply through direct investment or full ownership of high-quality assets.
NeoLithum - In January 2018, the company released updates to their Preliminary Economic Assessment, or PEA, which positions the company to focus on building out its infrastructure. In 2018, the company is seeking to strengthen its technical team, receive necessary environmental and construction permits, complete a second drilling and pumping season, and deliver an updated resource calculation. Further, the company will continue the construction of its pilot plant, which paves the path into the feasibility study. In my opinion, the most significant development in 2018 will be the release of NeoLithium's project financing strategy. Based on a recent company report, the 3Q Project will require an initial investment of US$490 million, which is a significant amount of capital for any junior lithium exploration and development company. It is important to note that without the financing, shares in the company could experience price volatility but will likely stabilize at a higher price level once a financing strategy is in place. An alternative approach may be for the company to position itself for an acquisition, as we have seen with LithiumX.
Millennial Lithium – This is a really interesting company for a few different reasons. The most interesting part of the company's story is their ongoing capital raises with various Chinese groups. In February 2018, the company completed a capital raise for $7.7 million with two Chinese groups, these being: (a) a subsidiary of Lamtex Holdings Limited; and (b) Stand Virtue Limited, a subsidiary of GCL Poly Energy Holdings Limited. Each of these subscribers is associated with Million Surge Holdings
Shares in the company have been free-falling well below the most recent placement level without any appreciable cause. In my opinion, if an investor seeks to gain exposure to an advanced-stage lithium exploration project with financial backing out of Asia, then Millennial Lithium could fit the bill. This is especially true since the stock is now trading lower than its recent placement level.
Lastly, there is Advantage Lithium (OTCQX:AVLIF), a very strategic player that is actively developing their flagship project in the Olaroz-Cauchari Basin. Their project is a spin-off from Orocobre's exploration land package that straddles the property of Lithium America and is only 15 km away from Orocobre's production facility at Olaroz. The Cauchari project is 25% owned by Orocobre, which also controls around 30% of the company's shares and which has recently commented that a portion of its recent capital raise is earmarked for development efforts at Cauchari. In my opinion, Advantage Lithium is one of the most strategic, publicly-traded, junior lithium-exploration companies in the market today.
In addition, there are a few other high-quality lithium projects around the world that I expect to be brought to market over the next 5 years, such as the North American Lithium hard-rock project in the Canadian province of Quebec. Since the summer of 2017, North American Lithium has been completing volume shipments of spodumene concentrate into the Chinese market for final processing and integration into the battery supply chain. CATL, the largest Chinese lithium battery manufacturer, recently announced a $66 million investment into the project to expand its capabilities to produce up to 23,000 T LCE per year. The investment into Quebec by CATL will likely have positive implications for Nemaska Lithium (OTCQX:NMKEF), who is also advancing their flagship project in the region. Nemaska Lithium recently updated the markets on their financial strategy which include three components: streaming, equity, and debt. Nemaska shareholders are waiting on final sign-offs to determine the long term value in the company, especially since there could be a large equity component to the financial package.
Disclosure: I am/we are long AVLIF, OROCF. I wrote this article myself, and it expresses my own opinions. I am not receiving compensation for it (other than from Seeking Alpha). I have no business relationship with any company whose stock is mentioned in this article.
Editor's Note: This article covers one or more microcap stocks. Please be aware of the risks associated with these stocks.