In late December of 2017, Baidu (NASDAQ:BIDU) signed a strategic agreement with the Xiongan New Area in Hebei province, China. The purpose of this agreement is to convert the new economic zone outside of Beijing, into a state-of-the-art "smart city."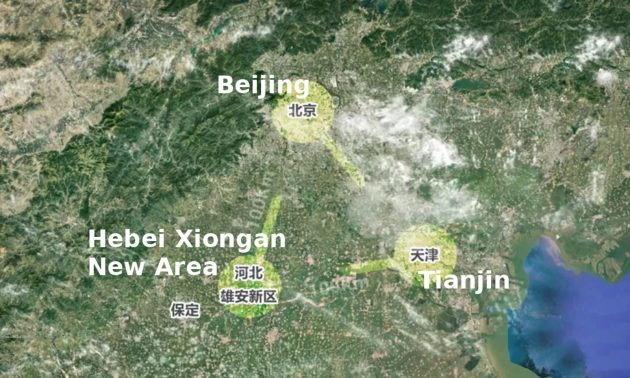 Source: Asia Times
This engagement by government to fast track the AI technology of Baidu shows the potential and also helps to fast track the development, providing a competitive advantage against competitors. Baidu is positioned to become one of the world's leaders in autonomous vehicle technology. They operate in the largest auto market in the world, have a government-backed project, and are leading the charge with their Apollo program.
Xiongan New Area - Smart City
Xiongan New Area sits ~100km to the west of Tianjin and ~100km to the south of the capital city, Beijing. The goal of the project is to construct, from scratch, an environmentally friendly city to relieve overcrowding. Currently, the zone is 100 sq km, but this is planned to expand to 2,000 sq km and house upwards of 2.5 million people. The city is planning on having new AI tech in transportation, education, healthcare, payments, and environmental protection.
As an initiative, the government has decided to use the zone as a "testing ground" of sorts for AI technology in the hopes of creating a model smart city. This is where Baidu comes into play. The company's "Apollo" program, their autonomous vehicle unit, has been signed to power the new cities vehicle infrastructure. This would include street cleaners and public bus transportation. It is important to understand that the Apollo project represents the underlying AI technology, and not the car itself.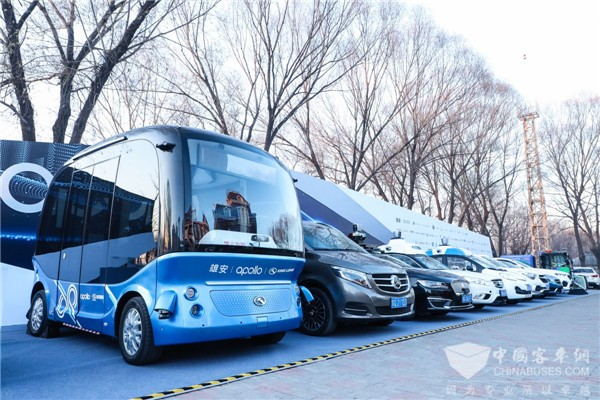 This is a giant leap forward for the technology. Government had before been hindering testing of the tech, only allowing testing under very specific conditions. Compare this to U.S. companies, such as Google (GOOG), who have already booked millions of public road miles. After the Xiongan agreement, the government has essentially allowed Baidu a "playground" for its Apollo program.
It appears the Chinese government is changing its tone towards AI-powered vehicles. Earlier this week, Baidu became the first company to receive licenses for testing in Beijing. The company has already sent 5 Apollo cars on a public road test in the Yizhuang district of Beijing. The company also completed another test held in Xiongan earlier in the week. This test, however, was performed on a 5G network from the help of ZTE and China Telecom (CHA).
AI Lab
Xiongan is going to have a unique environment for Chinese AI companies. Instead of competing with one another, the government is signing contracts with the likes of Alibaba (BABA), Tencent and Baidu for them to focus in their respective areas.
The Xiongan New Area is going to be primarily powered on Baidu's cloud-computing infrastructure. This is the perfect situation for Baidu. The government is supporting the advancement of their technology and after, is going to be a steady source of income to keep the city running.
Alibaba is planning on cooperating with Xiaomi (XI) to enhance traditional city tools with AI capabilities. Examples of this include parking meters, smart parking, and supermarkets without cashiers. There are three main areas that Alibaba will focus on: logistics, fintech (with help from Tencent), and technology.
China vs. US
China is behind the game on autonomous driving, when compared with the U.S. The government has been very strict on testing and this has caused companies to fall behind. However, this looks to change soon. There is a perfect mix of scandal and support that will propel Baidu's Apollo program forward. We have already mentioned how Xiongan will support the Apollo program's testing and innovation, providing more freedom to expand. The new ingredient is the Uber mishap in Arizona.
As a result of a self-driving mishap in Arizona that hit and killed a woman crossing the street, U.S. companies are now halting their public road testing. This is going to hinder the U.S. in the long run, allowing time for the Chinese to catch up.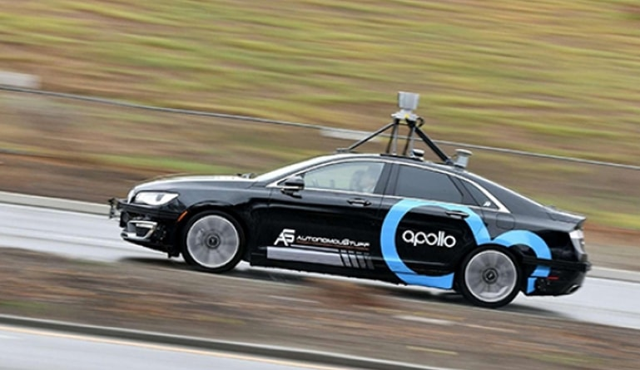 Source: Tech Funnel
As tragic as the U.S. deaths are, Baidu now has room to catch up and make autonomous driving a mainstay in future societies. Already far behind on public testing compared to American companies, the combination of Xiongan support and a short testing break in the U.S. will allow Baidu to prove itself and open up even more segments to its business. The Apollo program is most likely going to be seeing significant revenues within a decade as the Chinese initiate other smart cities, as long as testing proves successful.
Financials
The opportunity for autonomous driving is huge. One study reported that revenues would reach $1 trillion by 2040 collectively. Another study even claims the market will be $7 trillion by 2050.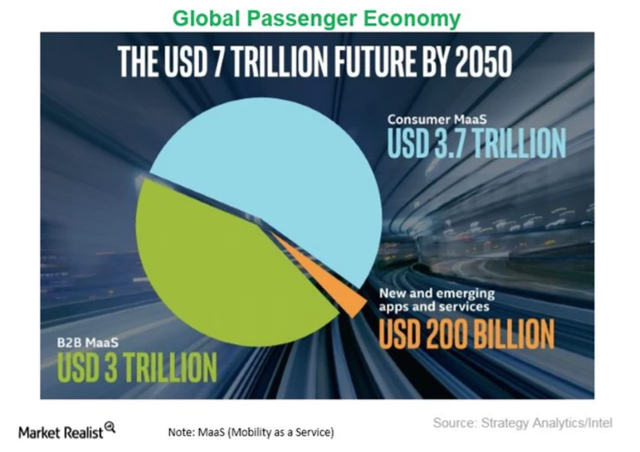 Considering China is the world's largest auto market, Baidu is poised to become a frontrunner. Below is the chart showing vehicles sold in China per year.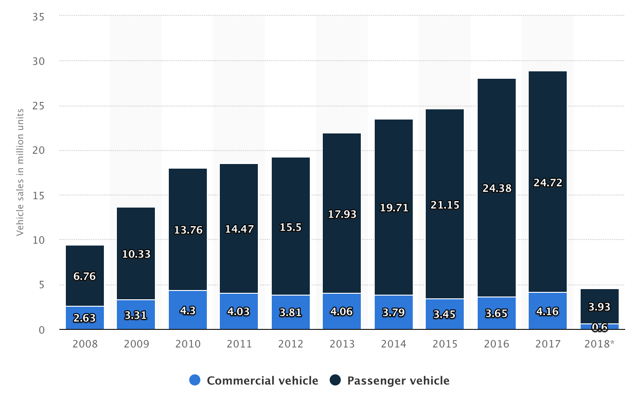 Source: Statista
This is just the China market, and provides a large target market for the company. There were a total of 32.7 million cars sold in the Asia-Pacific markets last year. Markets in India and China are seeing increased demand for vehicles and will continue to see this for the next few years.
Baidu has two operating segments, Baidu Core and iQiyi. This should change next year as iQiyi (IQ) IPO'd last week. Baidu's autonomous driving unit is grouped within the Core segment along with about 15 other projects. Because of this the specific numbers for Apollo are blurry. What we do know is that the company is going to invest in 100 self-driving vehicles by 2020. Baidu pumps ~$1.5 billion into R&D per year towards AI technology. In fact, the Chinese government has put laws in place that will require at least 50% of cars sold by 2020 must have some autonomous features.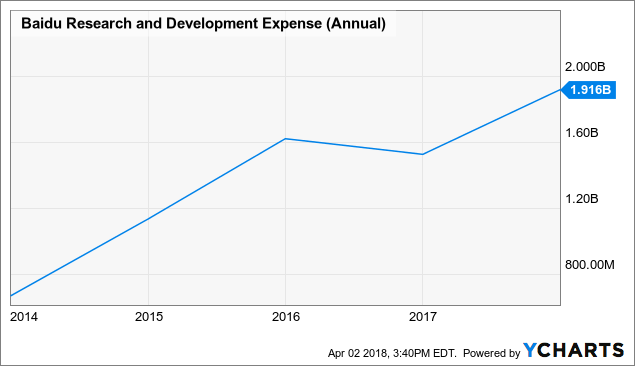 There are a couple different roads Baidu could go down to secure revenue, although none are certain yet. One way is to sell mapping systems. This would allow developers within Apollo to use the mapping system that Baidu has in place, in order to further their own autonomous driving projects. This eliminates the need to start from the bottom and can speed up development. The second way, is to sell simulation systems. Baidu is very familiar with harvesting data from its search segment. The data harvested from driving tests and other studies, can be sold to developers to lessen the extent of testing and also provide a basis for other, troubleshooting tests to take place.
While there are no certainties yet, Baidu has options and also has the technology to accomplish these very soon.
Conclusion
Baidu is positioning itself for a successful future. The company is constantly harvesting data from its tests and customers. Being able to sell this data and to other Apollo developers will create a large revenue stream. With about 500 smart cities proposed in China and being the largest auto market in the world, the future clearly holds demand for the company's technology - not to mention the other segments that Baidu operates. The future is evolving towards AI, and Baidu is making sure it is a contender, if not a leader in this revolution.
After the falter in the stock price seen in March, Baidu is becoming a stronger opportunity for investors. The future potential of the company and its technology is unprecedented in the Chinese markets and will only get stronger through the Apollo program. This is just one aspect of Baidu, but investors would be hard-pressed to find another company with so much potential, that is also being funded and pushed along with government intervention.