Over the past nine years, Microsoft (MSFT) has been operating in the background (to some extent) to produce a search engine that can one day rival Google.
Although people may not be aware of the capabilities of Bing, the similarities between Google (GOOG, GOOGL) and Bing are narrowing every year. It is for this reason alone that I believe Bing's market share has improved dramatically — from under 10%, to racing its way towards 25%.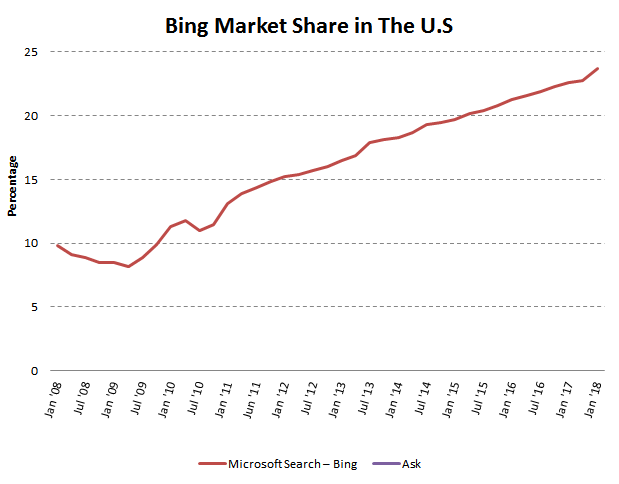 Source: Statistica
However, there is something else that could dramatically drive users to Bing. Ex-Goldman Sachs trader Anton Kreil recently tweeted a link to an NBC article that showed the real extent of Google's data collection. He noted in his tweet that the data they have on him would take days to download.

Source: https://twitter.com/AntonKreil
After running a test, we found similar results to Anton's. The data Google holds on everyone is enormous; they seem to track — and assume — much information about their users.
After the recent Facebook controversy, it would not be unusual to see Google in the spotlight at some point.
Mark Zuckerberg is expected to testify before the House energy and commerce committee, April 12th (this is unconfirmed but widely reported). It's possible that Zuckerberg would imply that his company is doing nothing out of the ordinary and it's an industry-wide practice to gather such lucrative information. This could bring a spotlight on other tech data hoarders, i.e. Google.
We heard the same rhetoric in 2009 from the Banking Sector regarding lousy subprime loans. All the top CEOs said that subprime selling was normal practice, everyone knew what was going on, it was common.
You can see below that the gap between Google and Bing is narrowing, in the U.S. at least. In fact Google's market share has been slowly declining in the US since 2014.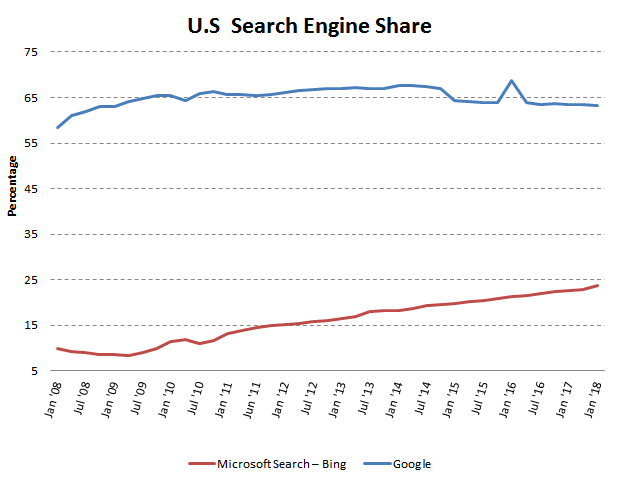 Source: Statistica
Negative news and pressure on Google search could drive users to opt for a better alternative.
Source: Alphabet 10K
Microsoft Today
Microsoft stock has staggered with the overall market; the market as a whole is still somewhat nervous. Trade, rates, and inflation are all matters that investors are concerned with. Microsoft has an edge regardless of what happens.
The company expects revenue in Q3 to grow around 14%. Revenue from productivity and business processes is expected to decline to ~9%.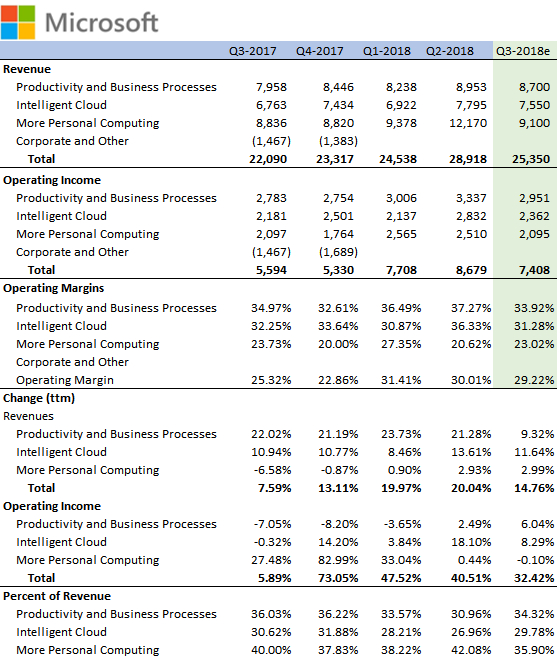 Source: MSFT 10Q - managements estimates
Microsoft's Intelligent Cloud revenue has been growing; the segment revenue grew 56% year-over-year, which is $5.3 billion in cloud revenue - or 18% of total revenue.
Microsoft has noted that this segment will become more profitable heading forward as margins are set to increase - the company put this down to Azure.
All investors I've spoken to have also been paying close attention to Azure sales; sales jumped 98% year-over-year in Q2.
Microsoft Azure is a cloud computing service created by Microsoft for building, testing, deploying, and managing applications and services through a global network of Microsoft-managed data centers - Microsoft Azure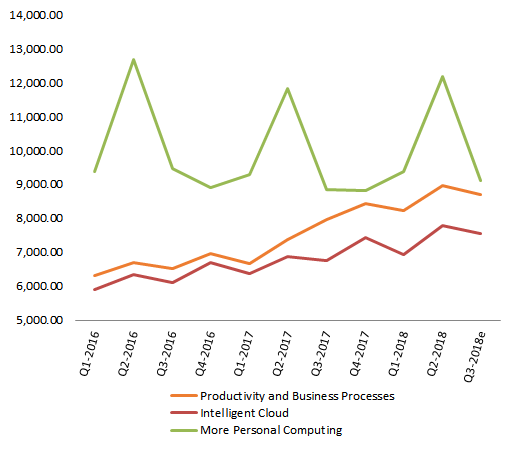 Source: MSFT 10Q
Office 365 has also been an enormous success ever since they moved over to a more cloud-oriented model - it was a massive hit with users.
The low cost to entry discourages piracy. Why download a corrupt and potentially virus-riddled version of Microsoft Office when you can pay a small amount every month for the full package, along with regular updates?
Consumers and businesses have taken to Office 365. The growth in its sales are up 41% year-over-year in Q2. Microsoft also noted subscriptions increased by 17% to 29.2 million - this boosted total revenue by 12% year over year.
Upgrade / Downgrade History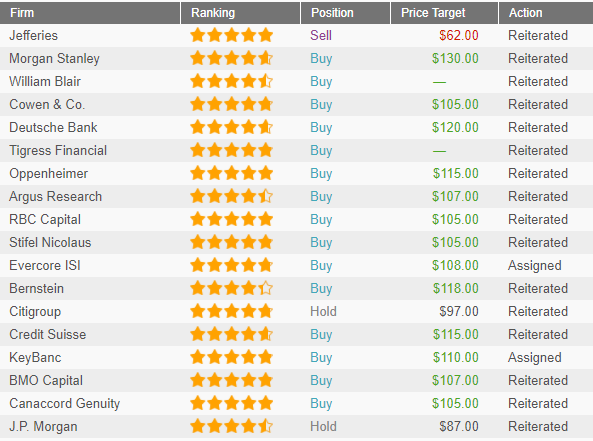 Source: Analyst data from Tipranks.com
MarketWatch mentioned that majority of John DiFucci's low ratings for Microsoft were due to the cloud market:
While the cloud market may get bigger, Microsoft's profit margins will be lower, and the competitors here are not software companies with expectations of very high margins, one is a retail company that is used to razor thin margins, namely Amazon's (AMZN) AWS.

Given the competitive market and need to invest in both capex and operating expenses, profitability along AWS's level may prove elusive for Azure for several years, if not much longer," DiFucci said. – Market Watch
Morgan Stanley Says Microsoft Market Cap Could Hit $1T
Recently Morgan Stanley upped their estimates for Microsoft, saying that the stock has a 49% upside - they expect the cloud market to double to $250B. However, they did not give a time horizon.
Microsoft shares have rocketed 44% in the past 12 months; they are up ~3% YTD.
Microsoft will soon announce third-quarter results (April 26th). The market's expectations are high going into this quarter. You've seen from the model above we used management's estimates for revenue; the market is assuming around $25.77 billion in revenue - that's 9.4% year-over-year change.
Final Note
Microsoft will be a serious competitor to Google Search at its current growth rate. The growing market share numbers in the U.S. already prove that Microsoft could be a dangerous competitor.
Mark Zuckerberg's interview could shine some light on the data-gathering business model that could lead to more regulations on how companies gather data from its users.
Choosing to invest in Microsoft would be wise at these levels in my opinion. The room for growth in Bing search along with the other Microsoft segments remains robust.
With solid segment performance, I am buying Microsoft shares with targets of $100; this should give a ~13% upside.
Disclosure: I am/we are long MSFT. I wrote this article myself, and it expresses my own opinions. I am not receiving compensation for it (other than from Seeking Alpha). I have no business relationship with any company whose stock is mentioned in this article.