The company that doesn't pioneer, doesn't take chances, and merely goes along with the crowd is liable to prove a rather mediocre investment in this highly competitive age. - The Father of Growth Investing (Philip Fisher)
Trading Analytics
Welcome to another edition of Integrated BioSci Rounds Report. As usual, we'll elucidate notable trading analytics for the day, recent insider transactions, and interesting market developments. Without further ado, we'll take a look at the overall market. Notably, the iShares NASDAQ Biotechnology Index (IBB) traded down by $4.22 at $102.5 (for -3.95% loss). Moreover, the SPDR Biotech (XBI) exchanged hands $3.88 lower at $83.85 (for -4.42% decline). It's likely that investors were trading with negative sentiment for the day. Regardless of the market's daily inclination, there are substantial prospects in the bioscience sector: one that delivers hope for patients while rewarding supporters with substantial wealth in the long haul. In terms of specific equity, Arcus Biosciences (RCUS), a newly formed cancer immunotherapies innovator, made our notable trade of the day.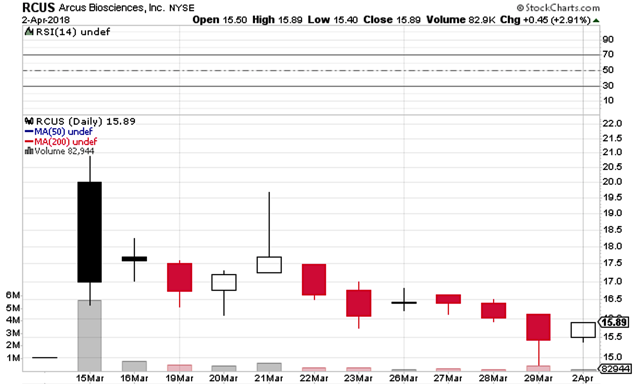 Figure 1: Notable BioSci movers. (Source: StockCharts).
In the midst of a down market (where nearly all bioscience stocks traded south), Arcus managed to exchange hands $0.45 higher at $15.89 for +2.91% profit. The company was founded in 2015 by Juan Jaen and Terry Rosen. Corporate strategies centered around the development of cancer drugs based on known but under-exploited biology. Interestingly, President Jaen also started Flexus Biosciences - a firm that sold its preclinical IDO inhibitor asset to Bristol-Myers Squibb (BMY) for $800M in upfront and $450M in milestone payments. With the IPO of 8M shares at $15, the firm raised $138M cash on March 19 for the pipeline innovation.
That aside, Arcus experienced substantial insider purchases. On March 19, 2018, Mr. Jaen bought 66,666 shares for the total of $999,990 to bring his total ownership to 2.9M counts. Moreover, CEO Rosen accumulated the same amount to raise his total shares ownership to 4.0M. Furthermore, Director Kathryn Falberg acquired 30K shares for $450K and upped her stakes to 97K.
Insider Transactions
In monitoring insider transactions, one should analyze the data with the grain of salt. That being said, we wish to share with you the quotes from the Former Fidelity-Magellan Manager (Peter Lynch): "Insiders might sell their shares for any number of reasons, but they buy them for only one they think the price will rise." As shown in table 1, there were three interesting transactions from the genetic-testing company, Invitae Corporation (NVTA) that attracted our attention.
| | | | | | |
| --- | --- | --- | --- | --- | --- |
| Company | Insider | Shares Traded | Date | Value | Shares Owned |
| Invitae Corp. | Randal Scott (Exec COB) | +44,444 (+1%) | 04/02/2018 | +$199,998 | 3,550,669 |
| Invitae Corp. | Baker Bros. Advisors LP (10% owner) | +1,111,111 (+17%) | 03/28/2018 | +$5,000,000 | 7,553,553 |
| Invitae Corp. | Randal Scott (Exec COB) | +66,666 (+2%) | 11/22/2016 | +$399,996 | 3,506,225 |
Table 1: Notable insider transactions. (Source: Dr. Tran BioSci)
On April 2, Executive Chairman of the Board (Randall Scott) bought 44.4K shares at $4.50 for $199K to raise his ownership to 3.5M shares. Mr. Scott also accumulated 66.6K shares for $399K back on Nov. 22, 2016. Back on March 28 this year, the 10% owner (Baker Brothers Advisors) acquired 1.1M shares for $5M to increase their ownership to 7.5M.
Bioscience Catalysts
On March 29, 2018, the FDA granted the expanded approval of blinatumomab (Blincyto) for the treatment of adults and children with B-cell precursor acute lymphoblastic leukemia ("ALL") who are in remission but still have a minimal residual disease ("MRD"). Indicative of the presence of cancer cells below a threshold undetectable under the microscope, MRD signifies a high risk of relapse. Innovated by Amgen Inc. (AMGN), Blincyto earned the priority review and orphan drug designation. And, it was approved under the accelerated approval pathway. The said pathway is granted for drugs with the side effects to clinical benefits being reasonable and are used for treating serious conditions with unmet needs.
Final Remarks
As the final note, the various companies that we featured (Arcus, Invitae, and Amgen) can be promising investments due to the significant insider purchases. Be that as it may, one should conduct further due diligence prior to committing to the purchasing of shares. Of note, there is a higher-level intelligence Round Report available published in advanced and exclusively to subscribers of Integrated BioSci Investing. In the said research, we provided specific guidance on how you can manage the potential oncoming recession as well as other investing strategies.
Author's Notes: We're honored that you took the time to read our market intelligence. Founded by Dr. Hung Tran, MD, MS, CNPR, (in collaborations with Analyst Vu, and other PhDs), Integrated BioSci Investing ("IBI") is delivering stellar returns. To name a few, Nektar, Spectrum, Atara, and Kite procured over 424%, 97%, 163%, and 83% profits, respectively. Our secret sauce is extreme due diligence with expert data analysis. The service features a once-weekly exclusive Alpha-Intelligence article, daily analysis/consulting, and model portfolios. Subscribe to our marketplace now to lock in the current price and save money for the future.
Disclosure: I/we have no positions in any stocks mentioned, and no plans to initiate any positions within the next 72 hours. I wrote this article myself, and it expresses my own opinions. I am not receiving compensation for it (other than from Seeking Alpha). I have no business relationship with any company whose stock is mentioned in this article.
Additional disclosure: I like to inform our readers of Seeking Alpha's recent policy change, in which the company implemented the paywall (not only to my articles but to all articles that are published over 10-day). This is in place, as the company is, after all, a business. And, the revenues from ads are not adequate to support the high-quality research that the company is providing. If you are a REAL TIME FOLLOWER, you will be notified immediately of our new research for you to continue to benefit from our due diligence. You can also gain access to all of my old articles and much more by taking the 2-week FREE trial of my marketplace, Integrated BioSci Investing.