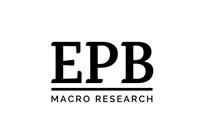 Corporate Spreads
The bond market has a wide range of information and you often need to step outside of the Treasury market to see the entire picture.
Looking at the spread between Baa Corporate bond yields, investment grade bonds, and CCC corporate bond yields, junk bonds, can provide information regarding credit risk, economic activity, and equity market risk (SPY). Monitoring the junk bond market in isolation (JNK) can provide decent information but the spread between junk grade (JNK) and corporate grade (LQD) gives a more three-dimensional view of credit markets.
When the spread between Baa and CCC corporate bonds widens or gets larger, that is a leading indicator of increased credit market risk, and equity market risk. When the spread compresses or gets smaller, that historically has been an indication of more favorable market conditions and a green light for increased risk taking.
Below are several charts across different periods of time of the Baa-CCC corporate bond spread.
The first chart shows a long-term view of the Baa-CCC corporate bond spread.
In the chart below, it can be seen that the corporate bond spread bottoms prior to economic distress and spikes during market turmoil.
Looking back to 2007 shows the trough in the spread occurring several months before the start of the recession in December.
Furthermore, the spread bottomed in 2014 and rose rapidly, forecasting the credit market scare in 2015-2016.
Lastly, the corporate bond spread has made another bottom, a higher low compared to the 2014 bottom, and has been widening for over 13 months.
Baa-CCC Corporate Bond Spread: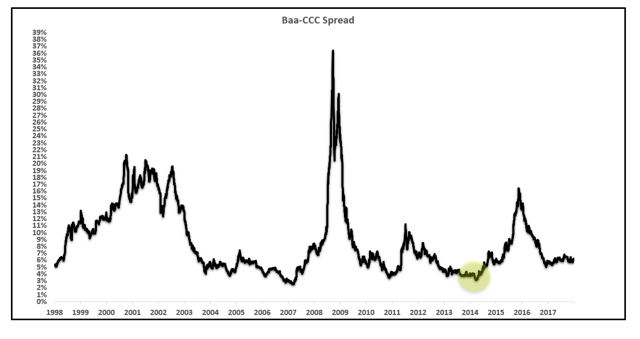 Source: FRED, EPB Macro Research
Of course, there are many other factors that play into economic and market conditions but this indicator, which historically has been very reliable, should have given investors pause over the past several months which could have helped avoid this recent drawdown in the equity market (SPY).
Yes, the S&P 500 only had a ~10% drawdown, but many other stocks suffered very quick 20%-30% drops.
The chart below shows the bottoming of the spread in March of 2017 at a spread of 5.05%. The spread today is over 100 basis points higher.
Baa-CCC Corporate Bond Spread: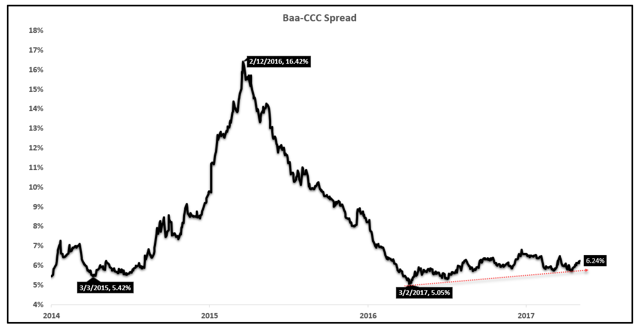 Source: FRED, EPB Macro Research
When the corporate bond spreads start to widen, the prudent thing to do is to de-risk your portfolio.
It is comforting for the optimists that in this equity market sell-off, the spread did not spike as it typically does in sharp stock market drops.
Baa-CCC Corporate Bond Spread: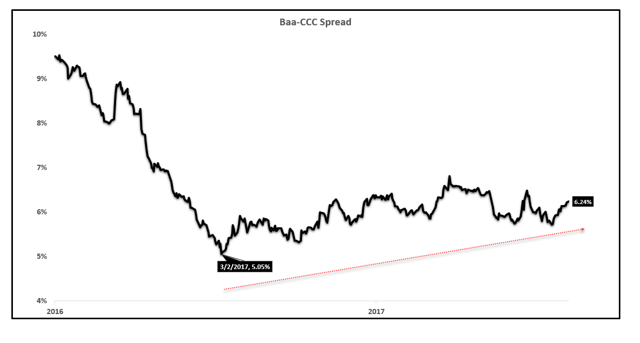 Source: FRED, EPB Macro Research
The widening of the corporate bond spread is a leading indicator of credit risk and equity market risk. It can also be a leading indicator of slower economic growth.
The 30-1 Treasury spread, or the difference in yield between the 30-year bond and the 1-year treasury bill, has contracted to the lowest level of this economic cycle, only 87 basis points wide, which is another leading indicator of slower growth and equity market risk.
30-1 Treasury Spread: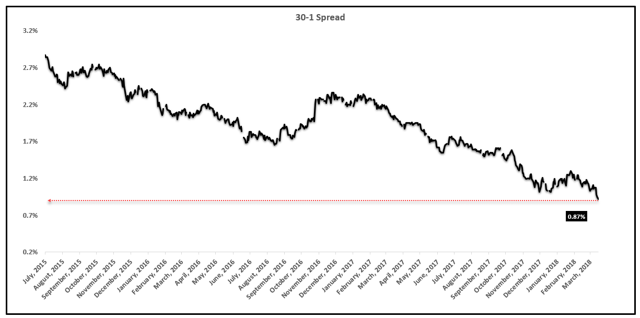 Source: FRED, EPB Macro Research
Both of these leading indicators are proving to hold true as the stock market has started to decline and the economic data has undeniably started to slow.
This week, the Census Bureau released to Construction Spending report. The Construction Spending report is very important and currently represents $1.27 trillion annually.
The Value of Construction Put in Place Survey (VIP) provides monthly estimates of the total dollar value of construction work done in the U.S. The United States Code, Title 13, authorizes this program. The survey covers construction work done each month on new structures or improvements to existing structures for private and public sectors. Data estimates include the cost of labor and materials, cost of architectural and engineering work, overhead costs, interest and taxes paid during construction, and contractor's profits. Data collection and estimation activities begin on the first day after the reference month and continue for about three weeks. Reported data and estimates are for activity taking place during the previous calendar month.

- Census Bureau
Total construction spending growth decelerated from 3.98% last month to 3.03% as of this latest report.
Construction Spending Year over Year Growth: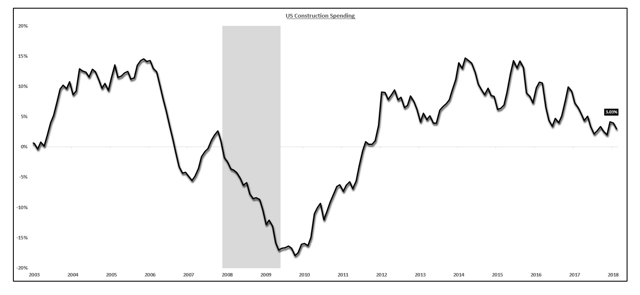 Source: Census Bureau, EPB Macro Research
While a growth rate of 3.03% may sound good on the surface, it is important to remember that we are focused on the rate of change in growth rather than the absolute level.
To put the decline in perspective, in 2016, Construction spending growth reached nearly 11%. There is no argument that growth is slowing across the entire economy. A $1.3 trillion dollar segment of the economy is grinding to a halt as the chart above clearly indicates.
Furthermore, residential construction spending, a subcomponent of the report, also showed a deceleration in growth, down to 5.43% from 6.25% last month.
Residential Construction Spending Year over Year Growth: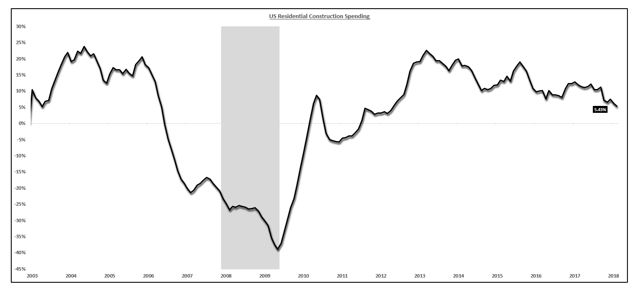 Source: Census Bureau, EPB Macro Research
The trend in growth for residential construction spending is even more pronounced, declining from 13% at the beginning of 2017 and nearly 20% in 2015.
At EPB Macro Research, the growth slowing call began in 2017 with the bottoming of the corporate bond spreads and the compression of the yield curve.
During the declines of February and March, subscribers to EPB Macro Research never had more than a 25% weighting to stocks, which helped outperform the market during those risky months.
Both the corporate bond spread and the yield curve will be important to monitor going forward.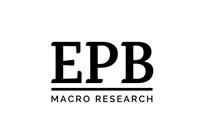 EPB Macro Research is my premium service on Seeking Alpha. EPB Macro Research provides no-spin, unbiased and in-depth macroeconomic analysis that is used to forecast markets and generates a portfolio based on which asset class is likely to outperform over the next 1-2 years. Most economic analysis is biased, unreliable and unaccountable. EPB Macro Research is fully transparent, providing a full track record of all the changes to the model portfolio.
Currently, there is a free trial available so there is no risk in trying EPB Macro Research. This free trial window will be closing soon. Join EPB Macro Research for free and see how in-depth, consistent and evidence-based macroeconomic forecasting can be added to your personal investment process. Click Here for more information about EPB Macro Research. Act now before the free trial expires!
Disclosure: I am/we are long TLT, IEF, SHV, GLD, SPY. I wrote this article myself, and it expresses my own opinions. I am not receiving compensation for it (other than from Seeking Alpha). I have no business relationship with any company whose stock is mentioned in this article.
Additional disclosure: Short JNK, EWI, XLV