The ones who are insane enough to think that they can rule the world are always the ones who do." ― Stefan Molyneux
The second quarter of 2018 got off to a rough start of trading Monday with all the major indices down better than two percent on the day. Worries about an escalating "trade war" continue to dog equities. I think first quarter earnings reports which will start to hit the wires in mass in two weeks, should help stabilize the market.
In the meantime, I continue to deploy my "dry powder" into the market almost exclusively via Buy-Write orders. I am particularly targeting the beaten-down biotech sector, especially attractive names that have recent and significant insider buying. Here are two biotech stocks that meet that criteria that I have deployed this strategy against over the past two trading sessions.
Company Overview
Adaptimmune Therapeutics (ADAP) is a U.K.-based clinical-stage biopharmaceutical company, focuses on the provision of cancer immunotherapy products based on its proprietary SPEAR T-cell platform. Its platform enables to identify cancer targets; find and genetically engineer T-cell receptors (TCR); and produce TCR therapeutic candidates for administration to patients. The company came public in the first half of 2015 and has a market cap of just over $1 billion. The shares trade just over the $11 level.

Pipeline: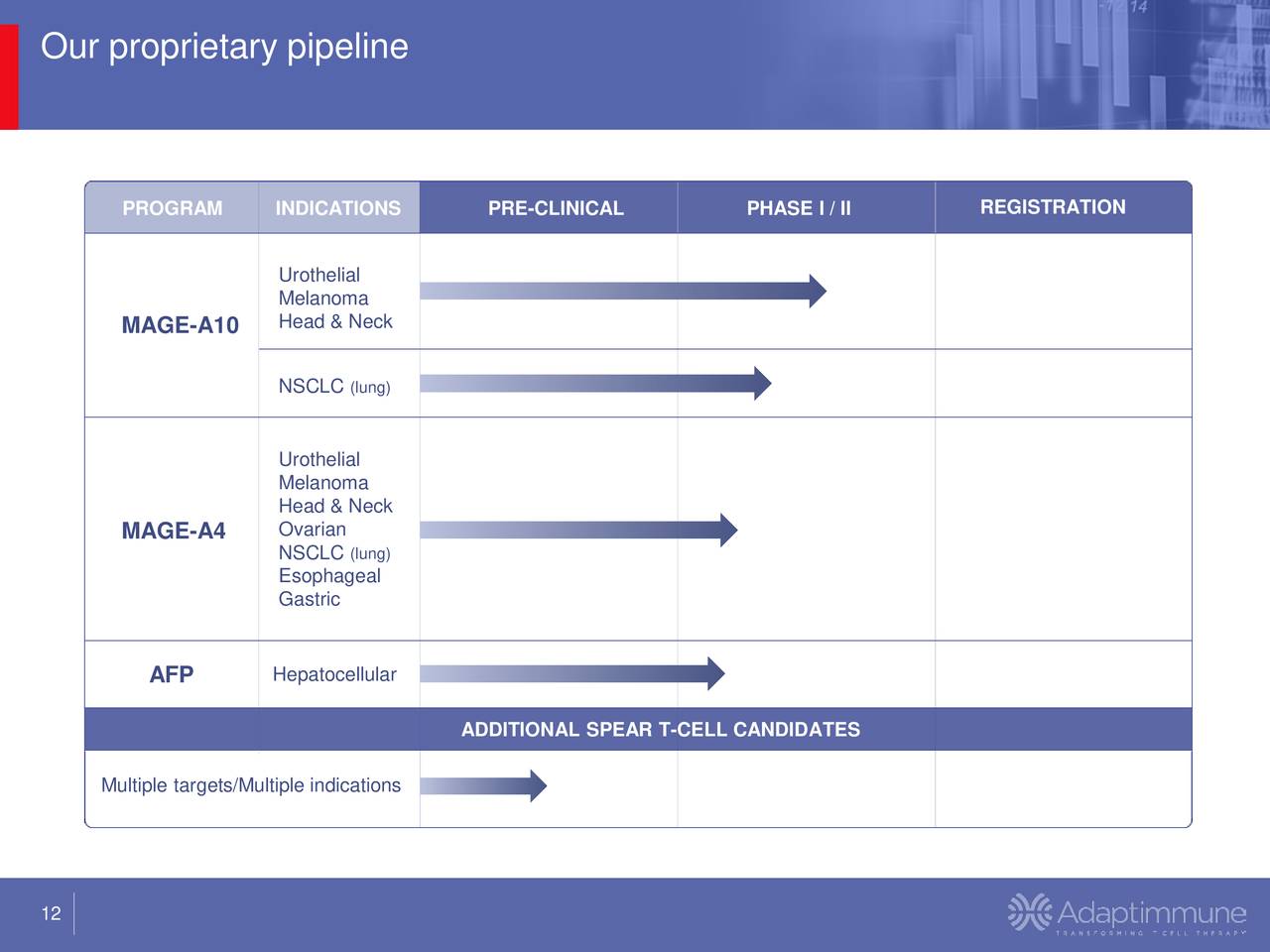 Source: Company Investor Presentation
As can be seen by clicking here, the company has a vast early to mid-stage pipeline with multiple 'shots on goal'. The company released encouraging trial results both in mid-March and last November.
Insider Buying
What caught my eye on this British based biotech concern was the insider buying happening in its stock recently. Insiders made myriad insider purchases outright as well as option exercises in March. For a full run down of these transactions, click here.
Analyst Commentary & Balance Sheet
The positive trials results in Mid-March, saw three analyst firms reiterated Buy or Outperform ratings on the stock. These included Cowen & Co., Leerink Swann ($15 price target) and Raymond James ($20 price target, up from $11 previously). This is what the analyst at Raymond James had to to say about his optimism for the company's prospects
We are maintaining our Outperform rating and increasing our price target to $20 (previously was $11) for ADAP given our increasing confidence in the company's TCR franchise. Yesterday, the company reported 4Q17 financial results and provided an update on its TCR programs. Key takeaways include: 1) three partial responses (PRs) achieved by the NY- ESO TCR among four patients with myxoid/ round cell liposarcoma (MRCLS); 2) a slew of additional data readouts expected throughout 2018, including the first efficacy results from the MAGE-A10 and MAGE-A4 studies anticipated in 2H18; and 3) a cash runway through early 2020. With growing evidence from the NY-ESO TCR, multiple clinical data readouts expected from the wholly owned assets in 2018, a marquee partner like GlaxoSmithKline to move the NY-ESO program into pivotal studies, and a strong cash position of $188 million (pro forma), we continue to recommend shares of Adaptimmune to long-term, risk tolerant investors.
The company ended 2017 with just under $190 million in cash on hand.
Adaptimmune has several potential trial milestones on the horizon for 2018 as well.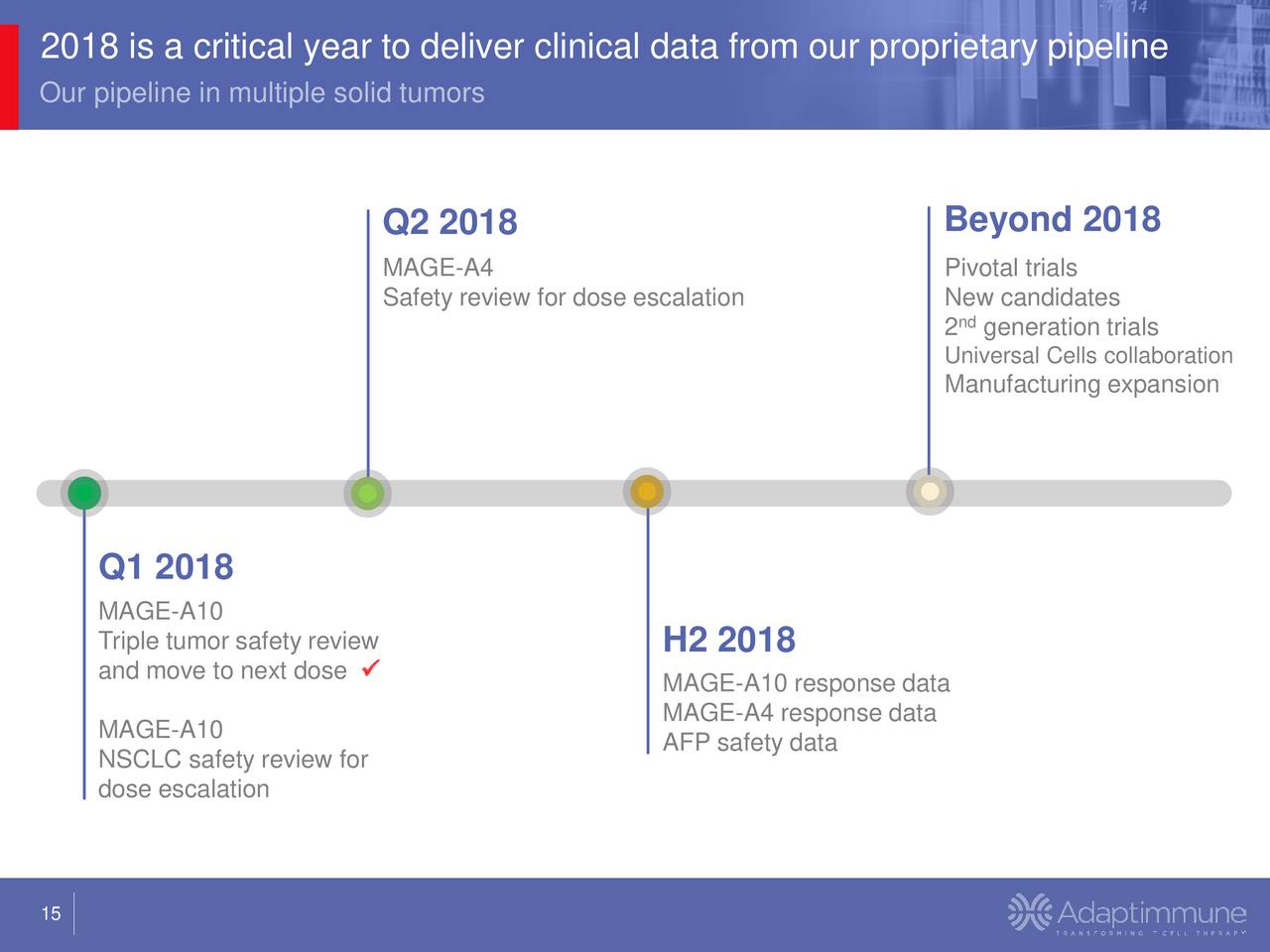 Source: Company Investor Presentation
Option Strategy

Using the September $12.50 call strike, fashion a Buy-Write order with a net debit of between $8.80 to $9.00 a share (net stock price - option premium). This mitigates downside and sets up a more than solid return for its under six month 'hold' period. A slow accumulation of shares on dips seems another prudent strategy for those investors not comfortable with simple options strategies.
The military state is the final form to which every planned economy tends rapidly." ― Isabel Paterson
I have started to believe in recent years that the most important executive at most small Tier 3 and Tier 4 biotech/biopharma concerns is not the CEO. It is also not the Chief Medical Officer or the head of Marketing. It is the CFO.
Planning for and funding operational needs while clearly communicating and keeping to plans with shareholders are paramount to credibility (and one's stock price). Doing this while ensuring not placing the company in a position that puts it behind the 'eight ball' in capital raise negotiations can be a tricky balancing act. Those who do it well can enhance the valuation on their stock. Doing it incompetently can erode stock value.
We saw that again last week as the stocks of Sorrento Therapeutics (SRNE) and genetic testing concern Invitae (NVTA) got hammered because of poorly received capital raises. Meanwhile, investors barely batted an eye on similar raises that were well-received with Xencor (XNCR) and Heron Therapeutics (HRTX).
Invitae decided to raise some $55 million late last week via a secondary offering. It was not the amount of the raise that set investors, it was the price ($4.50 a share) of the offering. Given where the stock ($7.02 a share) started the week, it seemed more of a "fire sale" than a capital raise.

Invitae was somewhat under the gun as it has just over $75 million in cash and marketable securities on the balance sheet at the end of 2017. Cash used in operating activities in 2017 amounted to $97.7 million which gave it at least three quarters of 'cash burn' left. Quarterly cash burn should start to come down markedly as samples/sales ramp up significantly in the year ahead. My opinion is that the company did a very poor job in negotiating the terms of this deal.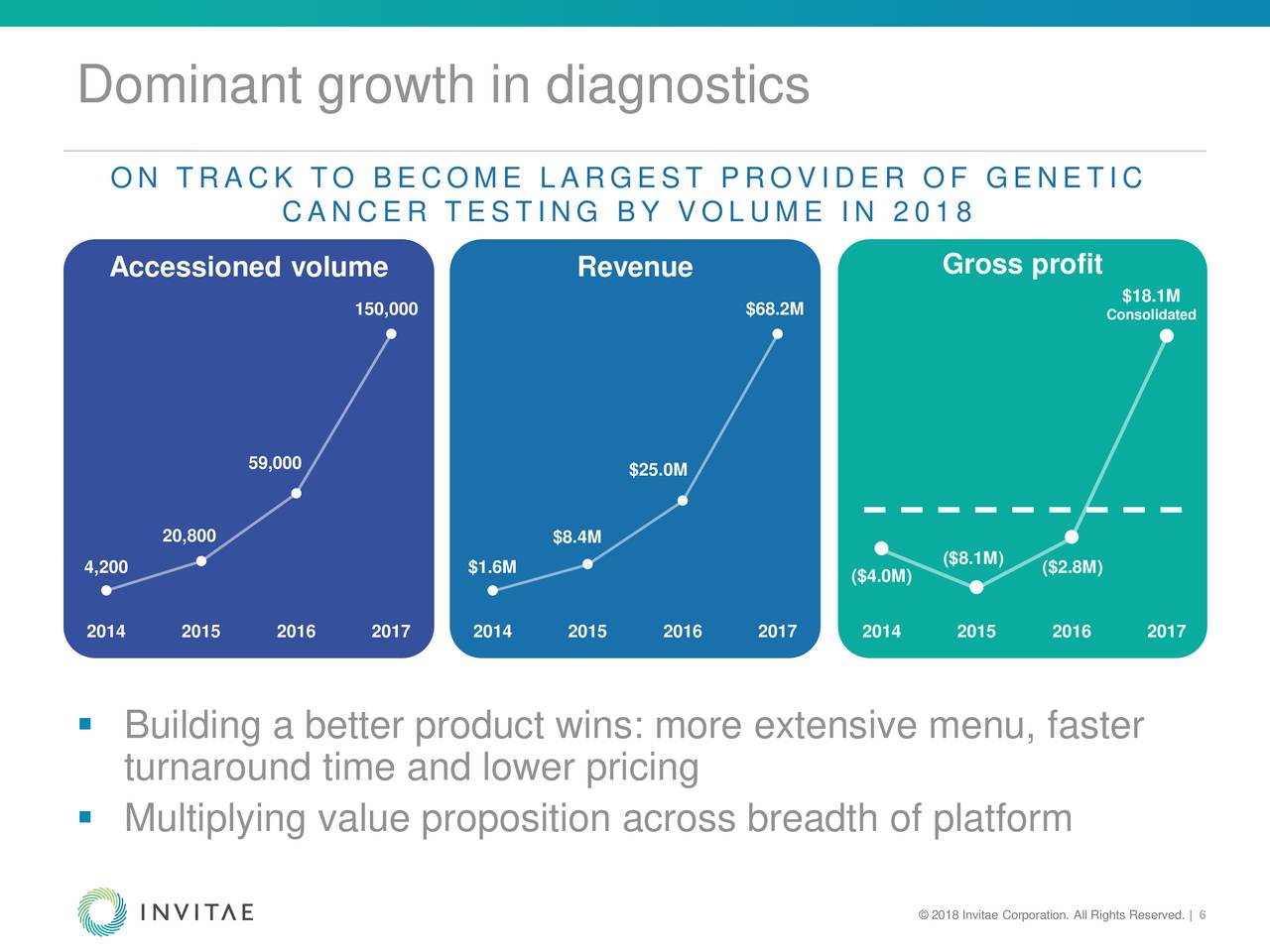 Source: Company Presentation
As can been seen in the chart above, the company is in the midst of a major period of growth. Management has guided they expect at least $120 million in revenue in FY2018 after just less than $70 million in FY2017. They also expect to test at least 250,000 samples and continue to bring the cost per test down.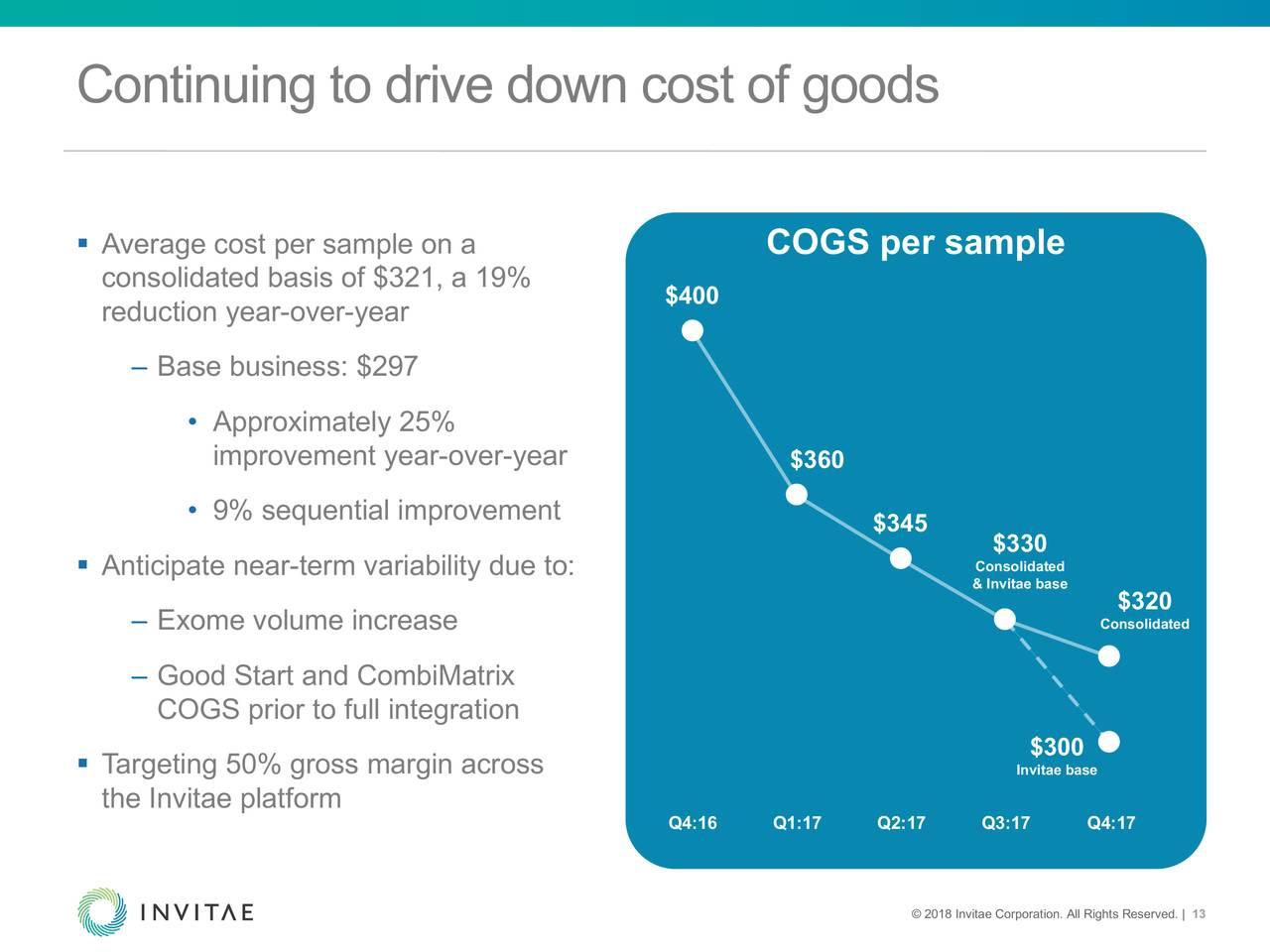 Source: Company Presentation
Invitae has a huge secular tailwind behind it as the genetic testing market is expected to roughly triple to a ~$10 billion annual pace over the next five to six years. I also think eventually all the testing data the company is warehousing will turn into a valuable data analytics asset as well.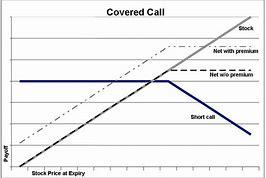 I decided to "hold my nose" and double down on Invitae using Buy-Write orders to help mitigate some risk late last week. I also find it somewhat comforting that Julian Baker (who is listed as a beneficial owner) of the Baker Bros. bought just over $5 million of the secondary offering. The Execution Chairman of the company also bought $200,000 of the secondary offering. If one of the best investors in the healthcare space and another officer of the firm can get over their disappointment on how this capital raise was conducted, I guess I can as well.
There's a whole generation growing up thinking...the government exists to care for them." ― Dave Ramsey
If you would like to get these types of articles as soon as they are published, just become a real-time follower to the Insiders Forum by clicking here, hitting the big, orange "Follow" button, and selecting the "real-time
Disclosure: I am/we are long ADAP,HRTX,NVTA,SRNE,XNCR. I wrote this article myself, and it expresses my own opinions. I am not receiving compensation for it (other than from Seeking Alpha). I have no business relationship with any company whose stock is mentioned in this article.